Oregon, and the Pacific North West in general, is full of beautiful places perfect for outdoor getaways. Renting a treehouse is a perfect way to get the most out of a trip while enjoying nature away from the hustle and bustle of city life for some much-needed R&R. Here are a few of our top picks for top rated Oregon treehouse rentals on Airbnb.
The TokinTree Treehouse in Cave Junction, Oregon
Located in Cave Junction, the TokinTree is a cannabis-friendly treehouse that can accommodate up to four people. The property is open only to adults 21 years older and above. It does not allow kids and pets.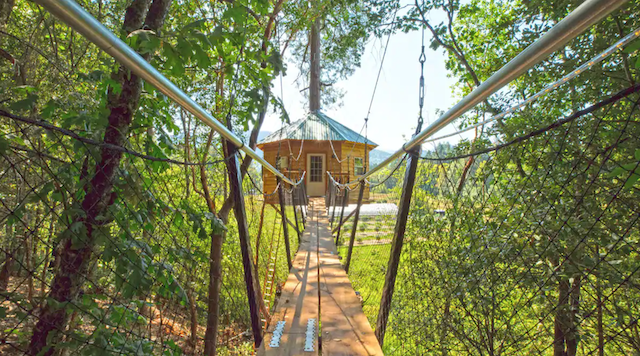 What is unique about the property is that the house is built around the tree so the tree trunk becomes the focal point of the house. You also need to use a short bridge to get to the main door of the treehouse. From there, you can access a simple, yet very cozy open space built on two levels with an incredible view of the surrounding areas.
The treehouse is comfortable for 3-4 people and also features a modern bathroom and plenty of space for lounging and sleeping including a sleeping area in the small loft that kids will love. which also gives you a fantastic view of a cannabis farm. You also get to enjoy some complimentary cannabis as part of the deal.
River West Treehouse Near The Deschutes River in Bend, Oregon
The Riverwest Treehouse, located in Bend in the quiet neighborhood of Westside, promises fun for the whole family with its ample space and great location. The Deschutes River is a major attraction and just a stone's throw away. Take a short walk and you will find the river trail a mere 100 yards away.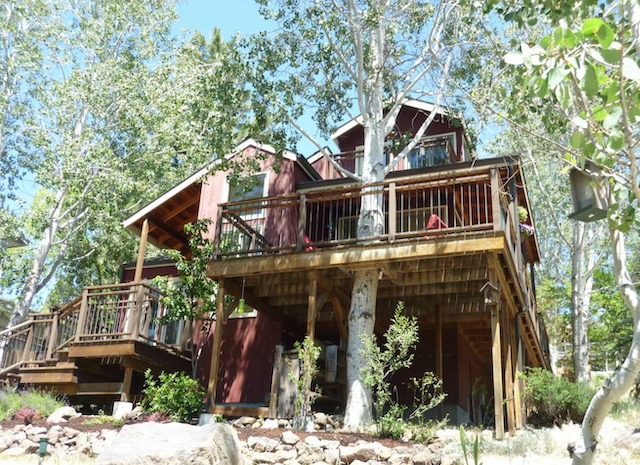 This multilevel home comes elegantly furnished with all the creature comforts including a dining area, front deck, a well done up gourmet kitchen, an outdoor grill, a fire pit, a laundry area, and a walk-in shower. With 2 bedrooms and 2 bathrooms, this house is perfect for 2 families or 6 guests.
The area has a lot to offer in terms of restaurants, breweries, and stores and they are just a short walk away from the property. Downtown is a mere 10 minutes away. If you are looking for some adventure, a short 30-minute drive (or less) will get you to Mt. Bachelor and the beautiful Cascade Lakes.
Magical Treehouse in Mt Hood, Oregon
The Magical Treehouse takes "glamping" or "glamorous camping" to a whole new level. Suspended between 3 large fir trees, this magnificent abode is situated on a 20-acre property with a pond.
With a queen-size bed in the main bedroom, a loft with 2 twin beds, and a composting toilet, this house is comfortable for a small family or 3 – 4 guests. It comes with amenities like a gas heater, a mini-fridge, a microwave, and a coffee pot to make you feel at home away from home.
Guests have access to a picnic table and gas grill. Getting to the treehouse is an adventure in itself, as you need to go up a spiral staircase to reach the entrance. This magical house sits on a property at the base of Mt. Hood, and it is about an hour from downtown Portland.
Treehouse in Portland, Oregon
If you are short of time and looking for an oasis of calm right in the city, this sylvan retreat will take your breath away. Located in southwest Portland and in close proximity to the Lewis & Clark College, it is a 13-minute drive to downtown and an 8-mile walk to the bus line. The Tryon Creek State Park trailhead is at a distance of 08 miles and the Marshall Park trail system just 20 steps away.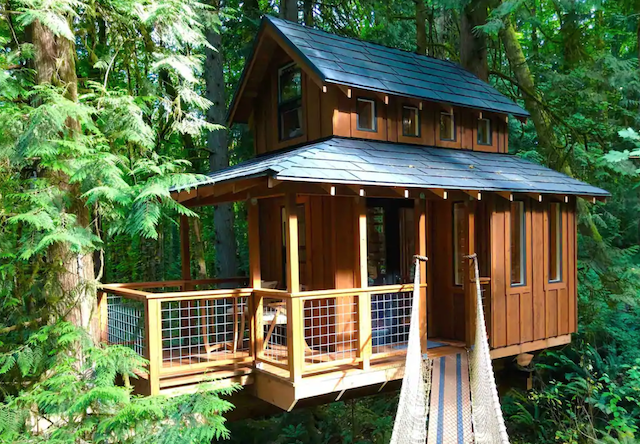 Surrounded by Cedar, Fir, and Maple trees of the nearby Marshall park, this spacious property comprises a seating area, a reading nook, a deck and a sleeping area with a Queen size bed. To add to the sense of adventure you need to cross two suspension bridges to get to this lair in the trees designed by Pete Nelson.
The property also has a 1-bedroom guest suite on the lower level that is also accessible to guests renting the property.
The Forestree Treehouse in Cave Junction, Oregon
Situated close to the Oregon Caves National Monument, the Redwood National Forest, and the Oregon coast, there's plenty to do if you are on an adventure holiday. The Forestree treehouse is 32 feet off the ground and surrounded by opportunities for hiking, fishing, and rafting. Getting to the treehouse is an adventure on its own and involves climbing three flights of stairs, crossing two suspension bridges, and then climbing another set of stairs.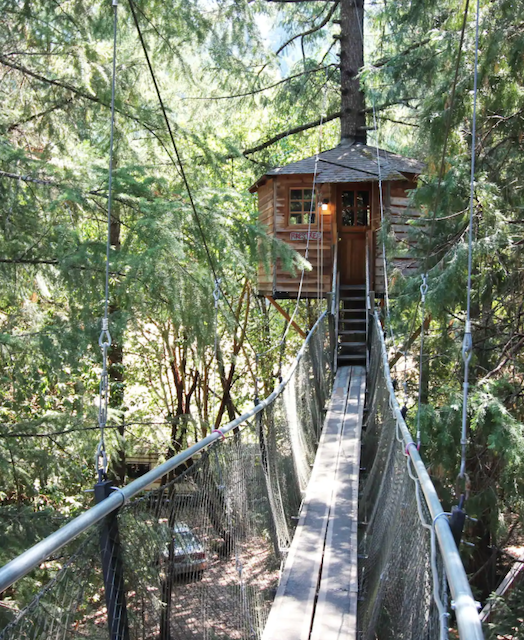 This spacious single room unit accommodates 4 to 5 people and comes with a queen-size bed and single bunk beds. While the treehouse does provide some comforts like a mini-refrigerator, it does not afford much in terms of privacy since the toilet and sink are separated by a thin curtain.
On the plus side, you're saved a trip 30 feet down if you wish to use the washroom in the middle of the night. There are regular bathrooms available on the ground level though. The property serves a full style breakfast in season and a continental breakfast during the offseason.
Off the Grid and Forty Feet Up Treehouses in Tiller, Oregon
This is a treehouse with a difference. This charming house is modeled after the Fire Lookout Towers of the early 1900s. Located in Tiller, Oregon, the treehouse is hoisted 40 feet up and can be accessed only by climbing up four flights of stairs.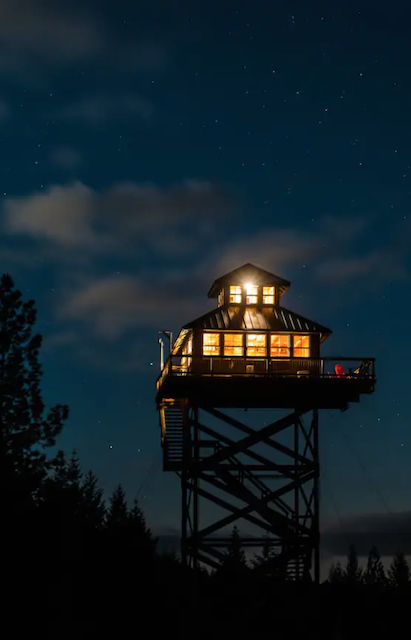 But the astounding 360-degree view more than makes up for it. If you are looking for a place where you can commute with nature, gaze at the stars and listen to the music of the wind, the Summit Prairie is where you need to be.
With 1 bedroom, 3 beds, and 1 basic bathroom, this abode in the heart of Umpqua National Forest has glass windows that surround the house and decks, offering visitors a truly astounding view of nature in all her glory.
Relax, reflect, and renew your spirits in majestic solitude surrounded by a 40-acre meadow and 160 acres of private land. Majestic splendor indeed!
Pleasantree Treehouse
The Pleasantree is part of the Out 'n' About Treehouse Treesort in Takilma, Oregon. The resort is about 12 miles outside of Cave Junction, Oregon, and is close to the Oregon Caves National Monument, the Redwood National Forest, and the Oregon coast.
As with other treehouses in the area, there's plenty to do here and visitors can go rafting, hiking, and fishing. Pleasantree, situated 30 feet above the ground can easily sleep 4 to 5 people, with a set of single wide bunk beds and sleeping loft accessible by a ladder.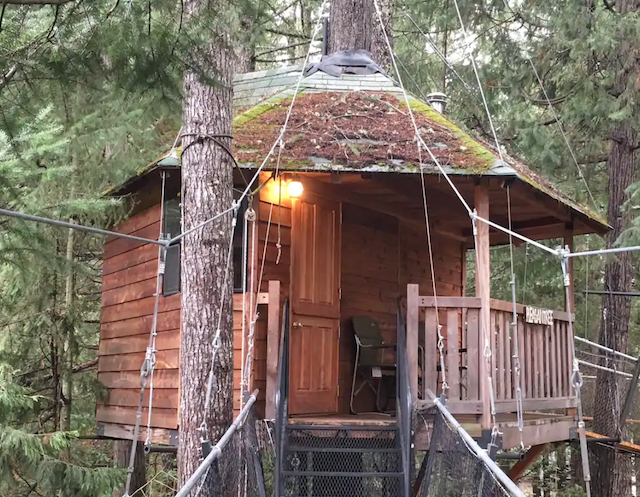 You will find a toilet and sink located on the main level under the sleeping loft area. You can access this room by climbing 3 flights of stairs and crossing 2 suspension bridges.
This is the go-to-treehouse if you want to get as close to the real thing as possible without having to do without modern day comforts.
Majestree Treehouses
The Majestree is another treehouse found at the Out 'n' About Treehouse Treesort. As with other treehouses, Majestree is also close to the Oregon Caves National Monument, the Redwood National Forest, and the Oregon coast. Visitors have a lot of activities to choose from, such as hiking, fishing, and rafting.
Majestree is very popular because it can sleep a group of 6 to 7 people comfortably. Amenities include a kitchen with a microwave, toaster oven, coffee pot, and mini-refrigerator. There is a full bathroom with a toilet, sink, and shower.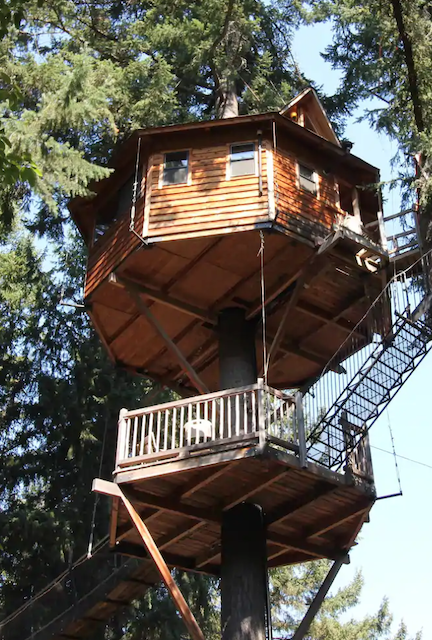 You are a long way away from the ground since the treehouse sits 47 feet off the ground and you can only reach it by climbing up a flight of stairs and crossing a suspension bridge.
Wine Country TreeHouse & Herbal Farm
Head to the Wine Country TreeHouse and Herbal Farm if you are yearning for a serene experience after the hustle and bustle of city living. Tranquil and relaxing, the treehouse sits atop a hill and is located in the Dundee Hills of the Willamette Valley.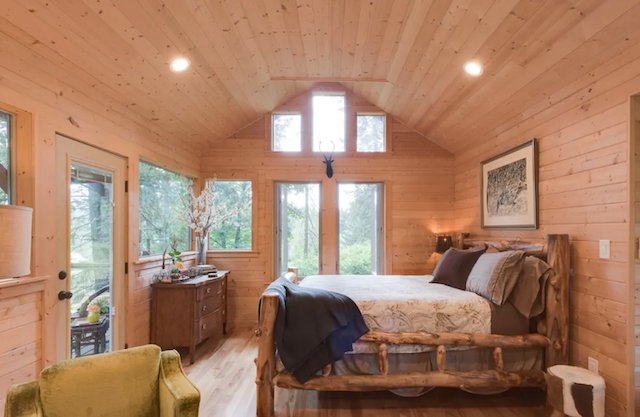 This treehouse is centrally located in Deer Haven, which is famous for its wine excursions and boutique restaurants. It is known for its unique design, as unique as its designer Pete Nelson of Animal Planet's TreeHouse Master. With 1 bedroom, 3 beds and 1 bathroom, this quaint cottage is large enough to accommodate 5 guests.
You can sit by the garden and watch hummingbirds and butterflies. A slice of the quiet and peaceful country life awaits visitors at the Wine Country TreeHouse. It comes with a refrigerator, a microwave and hot and cold water
The Blue Pearl Treehouse in Eugene, Oregon
With 4 bedrooms, 4 beds, and 2 bathrooms, the Blue Pearl Treehouse in Eugene is more than just a nook. Large enough for up to 08 guests, this beautifully done up space is nestled among the redwoods and offers a breathtaking view of the area.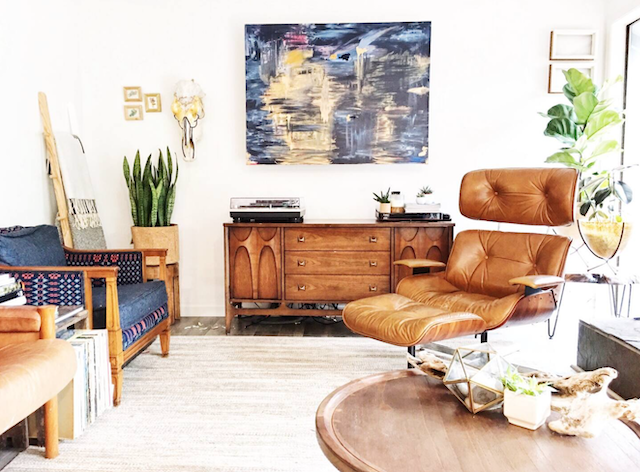 Peppered with modern amenities and adorned with various arts and crafts the Blue Pearl offers all the comforts of home while allowing you to soak in the splendor and serenity of the surroundings with the wooded South Hills in the neighborhood.
With the forest in your backyard literally speaking you get to take in the expansive view from the elevated view and enjoy some magnificent sunrises and sunsets. With rivers and mountains located a short drive away from the property there's a lot to do and see.
If you have the time to spare, at an hour's drive to the West, you reach the stunning Pacific Ocean where you can enjoy whale watching, surfing, and exploring tidepools and lighthouses as you sample the best of the local fresh caught seafood dishes.
Westside Treehouse in Bend, Oregon
Located in Bend, Oregon, this 3 bedroom (offers only 1 bedroom to guests),
1 bed treehouse sits in a quiet Westside residential area. The three-story treehouse though secluded and tranquil is near restaurants, coffee shops, and the Newport Market, should you and your family decide to take a leisurely stroll.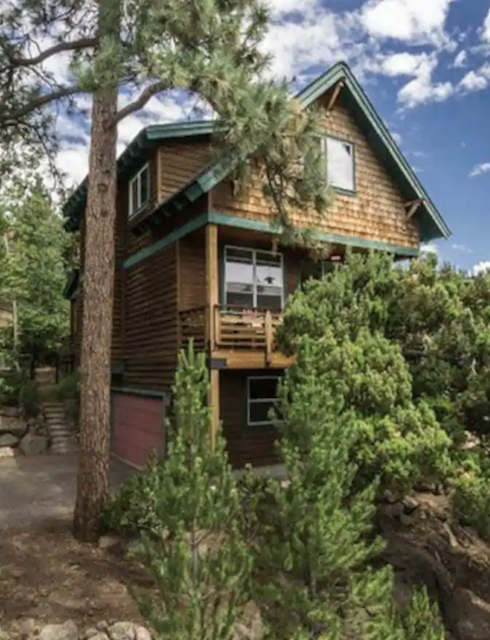 Artistically decorated, this cozy three-story house also comes with a well-furnished dining room, living room, a sunny deck, and some fabulous views. The master bedroom on the top floor comes with a private bath and a walk-in closet.
The Westside Treehouse is ideal for couples and families looking for a quick holiday or for a stopover on a long road trip.
You can also bike around downtown Bend or to the Deschutes River if you'd like to take in the sights in the area.
The Klickitat Treehouse in White Salmon, Washington
If you are looking for a hideaway in the trees or a wooded retreat this is it. Supported by Douglas Fir trees, the Klickitat Treehouse is a 500-square-foot modern alpine house designed to give you a taste of the mountain lifestyle. Designed with clean lines, neutral palettes, and natural light, this luxurious retreat comes with floor to ceiling windows, skylights, and a breathtaking view.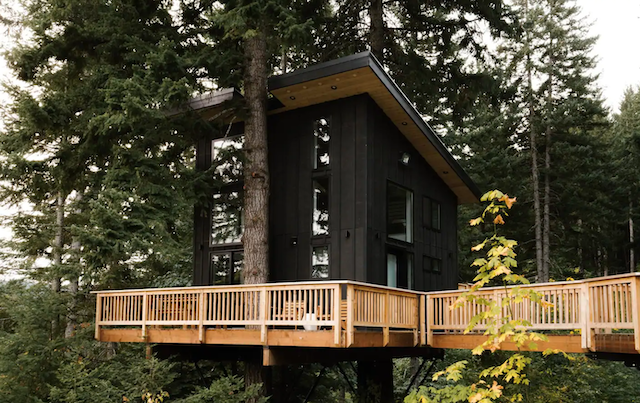 Sitting 20 feet above the ground, the treehouse offers sweeping views of the valley, and of course Mount Adams. A mountain lifestyle need not be spartan which is why the treehouse offers amenities such as heating, air conditioning, indoor and outdoor showers, a kitchen, and a fire pit.
With 2 bedrooms, 3 beds and 1 bathroom this escape is perfect for a small family or 6 guests.