If you're looking for a Texas retreat, ensure you have some trees to shade you from the Texas sun while enjoying the outdoors. Check out Airbnb's selection of scenic treehouses that'll actually leave you revitalized at the end of your stay, as all vacations should. They're every bit as comfortable as home and much easier on the eyes if you have an affinity for nature.
The Machan Treehouses in Dripping Springs, Texas
Dripping Springs is one of Texas' smallest cities and has a number of unique places to stay at. The Machan Treehouse offers a romantic getaway with nature. The treehouse has 1 bedroom and 1 bathroom, making it perfect for couples to relax.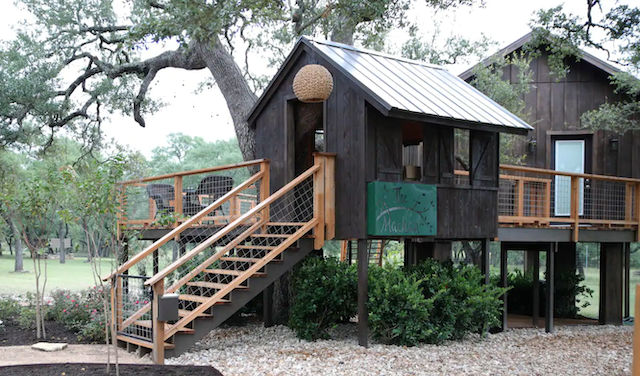 The treehouse with bamboo walls and thatched ceilings has a predominant African décor. It comes with a private deck from where you can look out for the wildlife on the property or even gaze at the stars if you are so inclined.
The property does not allow pets or kids below the age of 12.
Stand Alone Private Lake Travis Yurt Treehouse
More than a treehouse, but rather a luxurious abode in the trees complete with modern amenities is what you'll get in this 2 bedroom Stand Alone Treehouse. This is a house that will have you coming back not only for its comfort and convenience but also for its picturesque surroundings.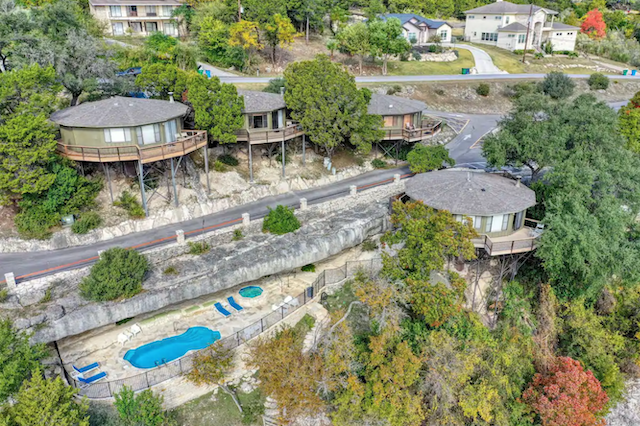 This treehouse can accommodate up to 5 guests and comes with a community pool and grill area for small parties. You'd also be within walking distance to the Lake Marina which has boat rentals and many other leisure activities. Grocery stores and restaurants are only two minutes away not to forget Lakeway City Park which is about 5 miles from the property.
Trendy South Congress Treehouse Studio in Austin
Imagine your childhood daydreams come to life in this designer treehouse, where you are free to revel and play among the treetops. The modern ensuite studio has rustic charm blended with urban chic touches. Inside you will find a large oak tree growing right within its center Once in there will be no cars or neighbors to worry about—just birdsong and sunlight
Amazing Log Treehouse Cabin on the Colorado River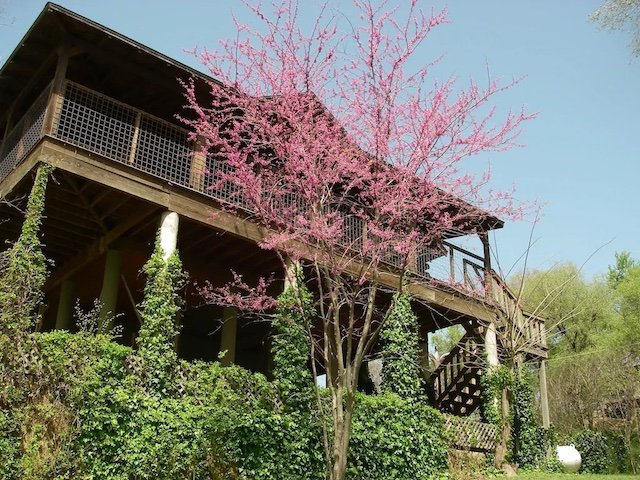 Soak up the outdoors as you spend a vacation in this beautiful two-bedroom and 2.5 bath log cabin nestled high amongst the Pecan, Sycamore, Mimosa, and Redbud trees for optimal views of nature from the upper deck! Escape city life with this wooded sanctuary, perfect for taking in all that nature has to offer.
Located along Buffalo Creek just off Highway 82 with an easy drive into McKinney or Dallas. This property offers everything needed to enjoy all Bryant amenities as well: restaurants/fast food joints, grocery store, gas station a short distance away with its own American Legion BBQ every summer Saturday night 6-8 pm compliments of Linda Mae Yarbrough Jr/Sr Memorial Post 23
Custom Treehouse Near Whitewater Amphitheater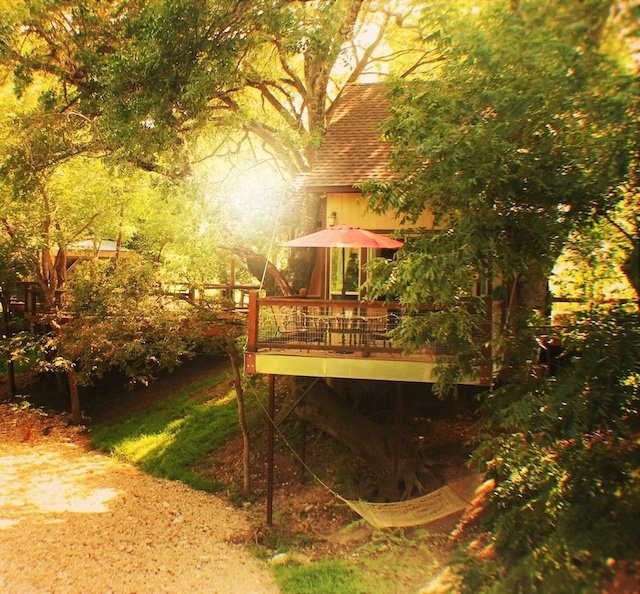 The moment you arrive at the property and see the enormous eighty-foot cypress trees with decades-old wild Mustang grapevines hanging from their limbs, and a 100's-footbridge that takes you safely across the seasonal creek to your private treehouse, you realize you are in a special place.
The perfect escape from the city, the Extraordinary Treehouse offers a unique vacation experience. High up in one of several large hardwood trees that line a seasonal creek, you will find your own custom cabin with attached private deck and living/dining area with open kitchen, an expansive loft space above accommodates 2-3 people for additional sleeping arrangements and bathroom.
Escape the City to The Extraordinary Treehouse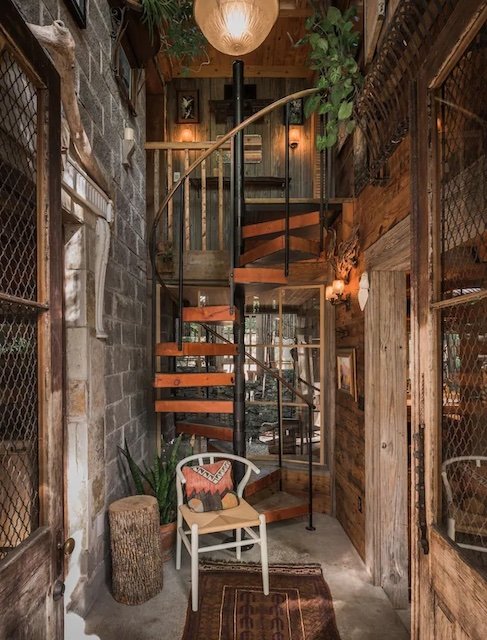 This treehouse was built in 1952 and sits on 150 acres of sculptured gardens. Tucked away in the heart of Little Forest Hills, this timeless refuge is truly extraordinary. The property includes a treehouse unit with one bedroom, one bath, living room, sitting area with gas fireplace/wood stove, kitchenette, and loft study area perfect for writing or working at your computer.
There is a king-size bed upstairs as well as two twin beds tucked into the window seat downstairs. Sliding doors offer plenty of sunlight, providing beautiful views from every angle and windows showcase an awe-inspiring forest trail.
Secluded Treehouse Cabin
This cabin's secluded location will provide you with the peace of mind you'll want away from the city. It's tucked deep in the woods near Texoma Lake, but close enough to feel like part of nature while still having all the comforts from home! The living room features plenty of space for group gatherings and game nights so your memories made here won't be one that any cardboard or digital image can recreate. The full kitchen is perfect for those who love to whip up their own dishes. The cabin includes 2 bedrooms and two bathrooms and an awesome deck perfect for enjoying a cup of coffee and watching for nearby wildlife.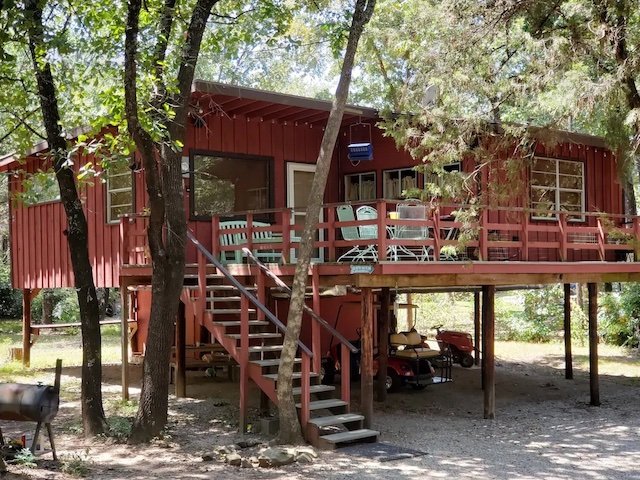 The Treehouse On Lake Travis in Lakeway, Texas
This treehouse rental is really more of a lakeside luxury resort than a treehouse but if relaxation and peace is your agenda it does the job beautifully.
If that isn't enough, every room in this 2 bedroom, 2 bathroom treetop manor is fitted with windows that give you a full view of the lake from any part of the house. By the end of your stay, you'll want to make this your home.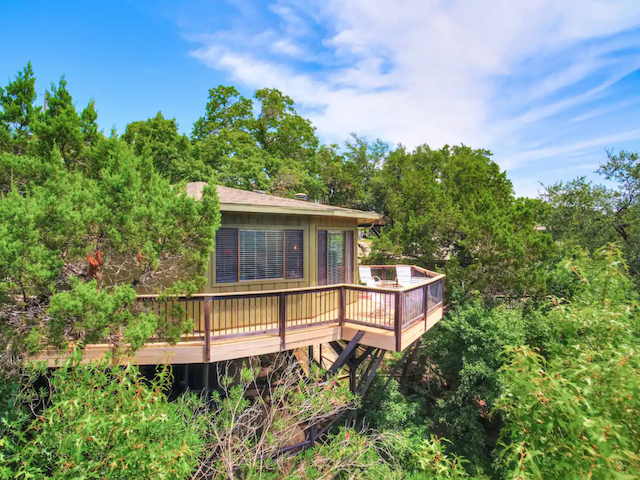 The amenities in the living space are all top-notch. The bathrooms are basically mini-spas.
For your leisure activities, there's a swimming pool, hot tub, and a BBQ area. For more excitement head to the Lakes Marina which is only a couple of steps away.
Newly Built Creekside Treehouse in Forestburg, Texas
If you're looking to head away from the hustle and bustle of the city and take in the slow pace of the country this newly built 2 bed, 1 bathroom luxurious house sits on a 300-acre farm out in the rural countryside one hour North of DFW is where you should be.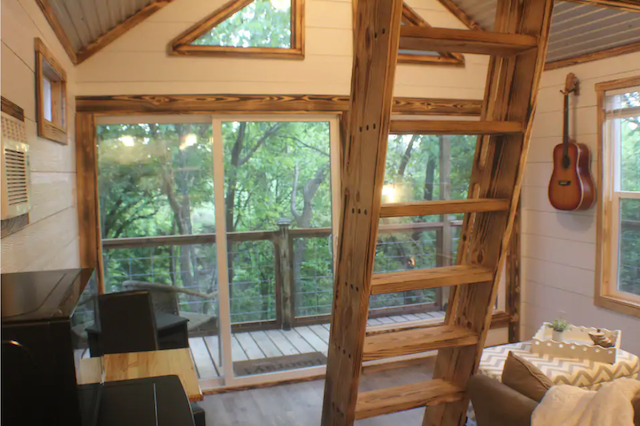 The entire house is built on wooden planks like the stilt houses of Thailand with a lavish and comfortable interior.
There's plenty of solitude to be had from napping in a hammock to relaxing around the fire or communing with nature at this idyllic weekend getaway.
Surprise! Surprise! There's a zipline too and plenty of exploring for the adventurous at heart.
The Birdhouse by Skybox Cabins in Glen Rose, Texas
Dubbed the birdhouse because of the creative way in which it incorporates living trees in the living space, this treehouse will not only satisfy your appetite for adventure but also your childhood dream of living in a treehouse.
It's beautifully lit and offers a number of breathtaking views from the high perches. Most of the furniture is made from light-accented wood to contrast the dark oak outside. It's like living in an old wood cabin your grandfather or great grandfather might've made, but don't worry, the toiletries and kitchen are still modern.
You are guaranteed at least one concert a day from local birds in the hardwoods and if you're lucky you might even catch a deer sighting.
The Nest by Skybox Cabins in Glen Rose, Texas
This one-of-a-kind treehouse cabin offers an experience you won't soon forget. With a unique construction that combines the seclusion and wonder of a treehouse with an open and airy modern design sense, you can make honeymoon memories that will last a lifetime.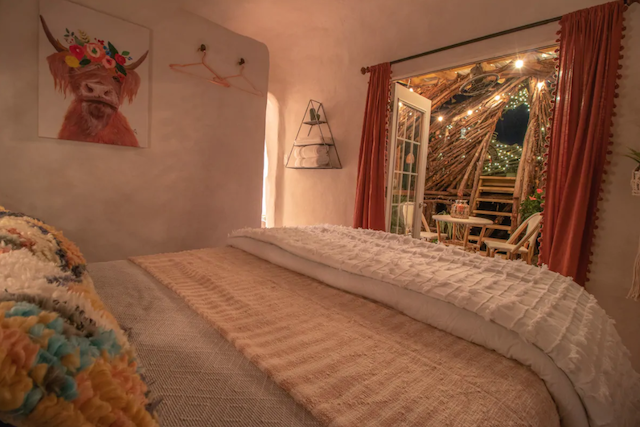 Featuring all of the amenities you could want—including a queen-sized bed, kitchenette, and a full bath with a walk-in shower—in addition to all the natural wonders at your doorstep, you won't want to miss out on a romantic trip to this magnificent home among the trees.