If you're looking for a Texas retreat, ensure you have some trees to shade you from the Texas sun while enjoying the outdoors. Check out Airbnb's selection of scenic treehouses that'll actually leave you revitalized at the end of your stay, as all vacations should. They're every bit as comfortable as home and much easier on the eyes if you have an affinity for nature.
Redwood Tree Haus – Cloud Lane – Houses for Rent in New Braunfels, Texas, U
With 2 bedrooms and 1 bath, the Redwood treehouse in New Braunfels, Texas can easily hold 8 people and is ideal for large family gatherings. It has the ambiance of a quiet cabana and faces a large swimming pool. The interior will make you feel like you're living inside the carvings of a humongous tree.
Everything from the walls, to the floor and the furniture is made from gleaming wooden beams with wide windows that open to the natural beauty outdoors. With plenty of space for rest and play this treehouse is ideal for kids.
There's also an underground play area with swings and free climbing. If you're hell-bent on making this an outdoor and active excursion experience for your family, Redwood Treehouse is the way to go.
The Machan Treehouses in Dripping Springs, Texas
Dripping Springs is one of Texas' smallest cities and has a number of unique places to stay at. The Machan Treehouse offers a romantic getaway with nature. The treehouse has 1 bedroom and 1 bathroom, making it perfect for couples to relax.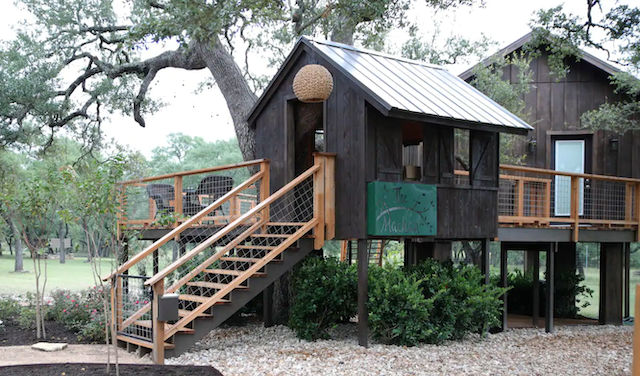 The treehouse with bamboo walls and thatched ceilings has a predominant African décor. It comes with a private deck from where you can look out for the wildlife on the property or even gaze at the stars if you are so inclined.
The property does not allow pets or kids below the age of 12.
Leaf Treehouse at HoneyTree Farm in Fredericksburg, Texas
The Leaf Treehouse at HoneyTree combines modern elegance with medieval design. From the outside, it looks like a modest old fort but the interiors are lavish, cozy, with marble tabletops and warm wooden undertones. Oh, and there's an outdoor hot-tub on the upper-deck to soak all your troubles away.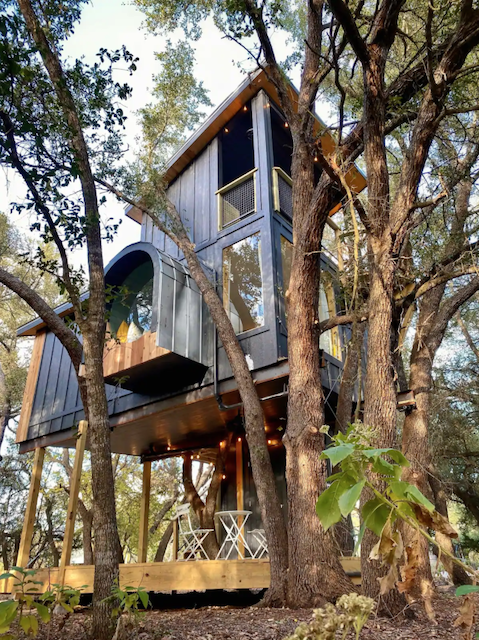 The treehouse comes with 1 air-conditioned bedroom, 1 bed and a bath, a fully stocked kitchenette, bathroom essentials and an iron press for your clothes. If you're looking for a fairytale getaway perched right between sturdy live oaks, for that perfect romantic interlude, the Leaf Treehouse should be on your list.
Stand Alone Private Lake Travis Yurt Treehouse
More than a treehouse, but rather a luxurious abode in the trees complete with modern amenities is what you'll get in this 2 bedroom Stand Alone Treehouse. This is a house that will have you coming back not only for its comfort and convenience but also for its picturesque surroundings.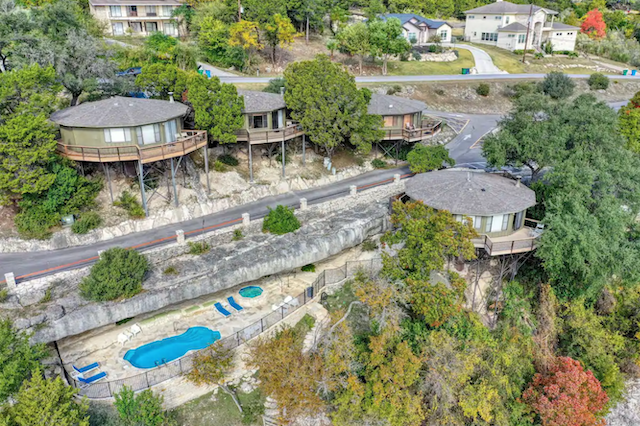 This treehouse can accommodate up to 5 guests and comes with a community pool and grill area for small parties. You'd also be within walking distance to the Lake Marina which has boat rentals and many other leisure activities. Grocery stores and restaurants are only two minutes away not to forget Lakeway City Park which is about 5 miles from the property.
Hobbit Tree House in Weatherford, Texas
Nothing spells holiday and rejuvenation like a retreat into a magical forest with abodes that look like they're straight out of a J. R. R. Tolkien book. This 2 bedroom plus 2 kid's bunks hobbit house 15 feet off the ground is the perfect summer getaway. Perched on a magnificent deck on the very edge of a waterfall you can look forward to relaxing under the night sky serenaded by owls and coyotes.
With its rustic wooden decor and modern comfort, this cozy house combines the best of both worlds while making you feel like you've stepped into a fantasy.
From river tubing or kayaking in the rapids of the Brazos River to relaxing on rocking chairs or in a hot tub, there are loads of things to do
The Treehouse at Prayer-E-Land in Terrell, Texas
Childhood dreams are made of these. Don't let the minimalistic design fool you, because the interior of this quaint treehouse is something out of a storybook. This 1 bed, 2 bath house is perfect for a couple and packs everything you need for a magical sojourn in the trees.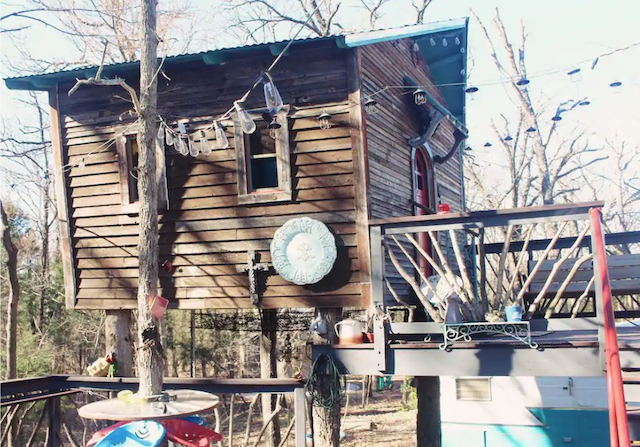 Whether you're looking for a quiet getaway with your special someone or wanting to spend some time by yourself this tiny hideaway is straight out of your childhood dreams but with modern-day comforts like a coffee machine, a refrigerator, and a microwave. It also comes with a large patio with plenty of seating and a fabulous grill on the deck.
Sapling Treehouse at HoneyTree Farm in Fredericksburg, Texas
Combining luxurious modern-day comforts with a rustic wooden charm, this treehouse is pure bliss. The open concept invites plenty of natural light. Offset by the cool wooden tones and warm shades of the furniture and decor, this 1 bedroom, 1 bed, 1 bathroom treehouse creates an atmosphere of bliss and relaxation.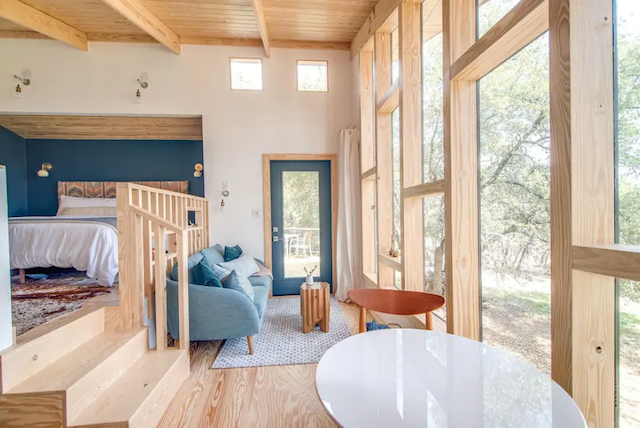 Stilted among young oaks and overlooking the beautiful Palo Alto Creek and the distant hills that lie beyond the wooden cabin is a great place to stay, secluded in the heart of nature.
You can enjoy a king sized bed, a completely appointed kitchenette, a large master bath with double rain showers, a soak tub and a romantic gazebo with a cue grill sitting on the upper private deck.
The Treehouse On Lake Travis in Lakeway, Texas
This Airbnb rental is really more of a lakeside luxury resort than a treehouse but if relaxation and peace is your agenda it does the job beautifully.
If that isn't enough, every room in this 2 bedroom, 2 bathroom treetop manor is fitted with windows that give you a full view of the lake from any part of the house. By the end of your stay, you'll want to make this your home.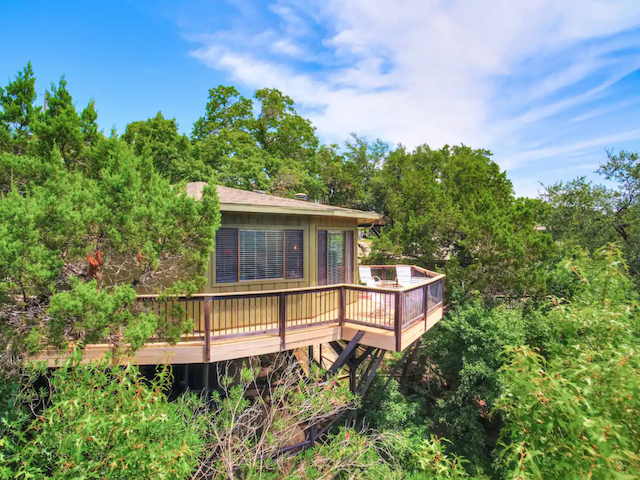 The amenities in the living space are all top notch. The bathrooms are basically mini-spas.
For your leisure activities, there's a swimming pool, hot tub, and a BBQ area. For more excitement head to the Lakes Marina which is only a couple of steps away.
Majestic Oak Treehouse in Celeste, Texas
And now we are back in a fantasy land with another scenic location that looks like a page out of a kid's fairytale book. Named after its surroundings it has been erected between, the Majestic Oak treehouse, you'll have to walk up a ramp three stories above the ground to get to the front door.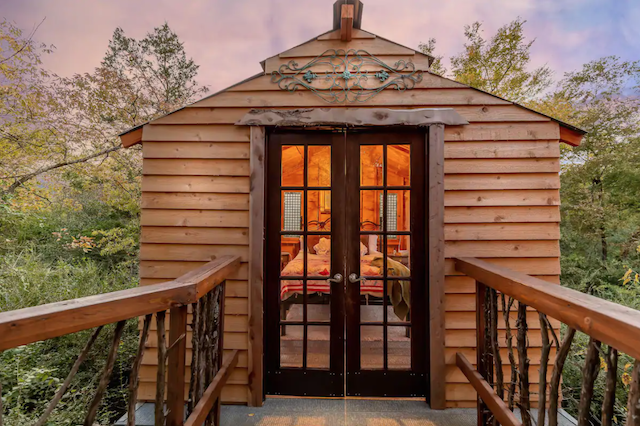 What better way to bring nature's glory into the house than by inviting nature itself? A giant oak tree runs through the center of this 1 bedroom, 1 bathroom, 5 beds house that is comfortable for upto 7 guests.
The outdoors feature boardwalks that go through a breathtaking fairy forest and lavender fields. From nature trails, and a well stocked pond to Simon the Donkey and Henry the Goat, you'll find all these and more here.
Newly Built Creekside Treehouse in Forestburg, Texas
If you're looking to head away from the hustle and bustle of the city and take in the slow pace of the country this newly built 2 bed, 1 bathroom luxurious house sits on a 300-acre farm out in the rural countryside an hour North of DFW is where you should be.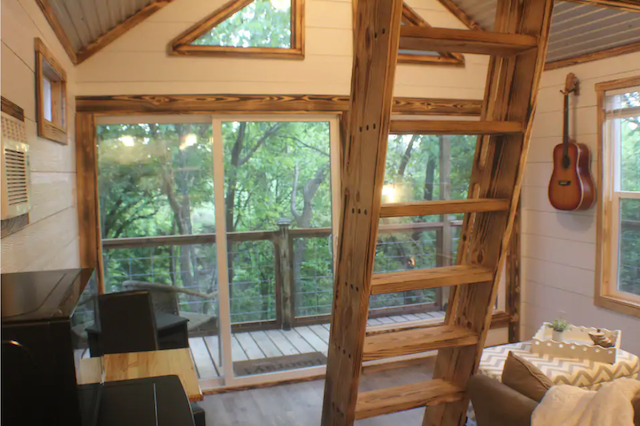 The entire house is built on wooden planks like the stilt houses of Thailand with a lavish and comfortable interior.
There's plenty of solitude to be had from napping in a hammock, to relaxing around the fire or communing with nature at this idyllic weekend getaway.
Surprise! Surprise! There's a zipline too and plenty of exploring for the adventurous at heart.
The Birdhouse by Skybox Cabins in Glen Rose, Texas
Dubbed the birdhouse because of the creative way in which it incorporates living trees in the living space, this treehouse will not only satisfy your appetite for adventure but also your childhood dream of living in a treehouse.
It's beautifully lit and offers a number of breathtaking views from the high perches. Most of the furniture is made from light-accented wood to contrast the dark oak outside. It's like living in an old wood cabin your grandfather or great grandfather might've made, but don't worry, the toiletries and kitchen are still modern.
You are guaranteed at least one concert a day from local birds in the hardwoods and if you're lucky you might even catch a deer sighting.
Live Oak Treehouse at HoneyTree Farm in Fredericksburg, Texas
Everything is better in a treehouse don't you agree? And, when it is a 1 bedroom, 1 be, 1 bathroom luxurious treehouse cabin in the trees, it is even better. Built among a cluster of oaks on the Palo Alto creek, this luxurious fortress in the trees is perfect for a romantic getaway for two.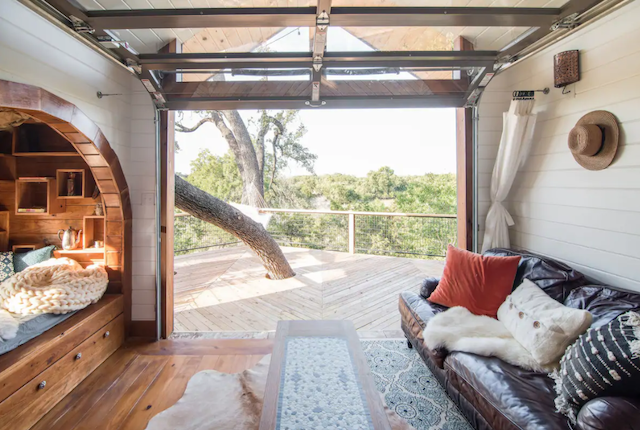 From a private candle-lit outdoor bathtub to a king bed and twinkling lights, this treehouse promises a magical experience complete with a loveseat and a hammock. The upper deck offers a stunning view of the Palo Alto creek and hill county.
A unique feature of the interior design is its rounded windows with a backdrop of flora and fauna since nature is the strong theme here. You can spend all day lazing in the hammock on the upper deck. Pure bliss for sure!
Ryders Treehouse in Baird, Texas
You'll feel on top of the world when you stay at this amazing treehouse cabin. With spacious areas both up in the trees and on the ground, you'll never run out of places to relax. At ground level, the yard has a swinging bench, a fire pit and a screened cooking area for some outdoor dining.
Take the spiral staircase up to the cabin and let the incredible view take your breath away. Many nooks and crannies await your discovery. When it's time to hit the hay, snuggle up on the comfy double bed, or fall asleep under the stars in the outdoor hammock.
Southern Dream – Brand New Luxury Treehouse
Bring the beauty of nature to your doorstep at this jaw-dropping treehouse. Nestled among the trees and neighboring a scenic pond, this cabin will make you forget your troubles the moment you lay eyes on it. Large floor-to-ceiling windows allow you to gaze out onto the wonderful scenery.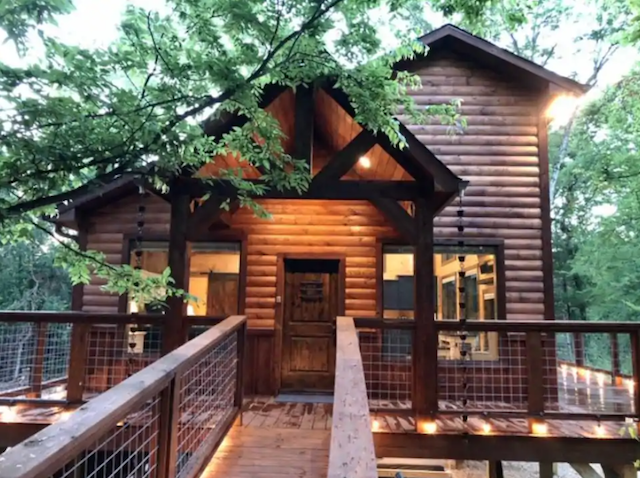 The mix of rustic décor and modern design sense is a joy to experience. Additionally, you'll find a hot tub out in the gazebo, a fire pit, and a swinging queen-sized bed under the patio.
The Nest by Skybox Cabins in Glen Rose, Texas
This one-of-a-kind treehouse cabin offers an experience you won't soon forget. With a unique construction that combines the seclusion and wonder of a treehouse with an open and airy modern design sense, you can make honeymoon memories that will last a lifetime.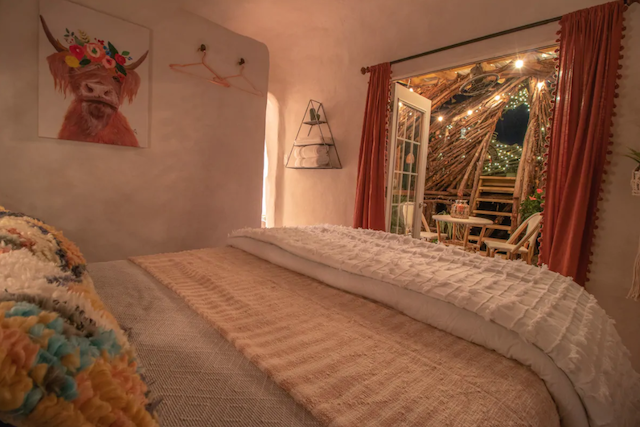 Featuring all of the amenities you could want—including a queen-sized bed, kitchenette, and a full bath with a walk-in shower—in addition to all the natural wonders at your doorstep, you won't want to miss out on a romantic trip to this magnificent home among the trees.