Each piece of gear you dedicate space and weight to in your pack is a part of a balancing act. While everything you bring is essential, the right sleeping pad ranks high in "ability-to-totally-change-your-trek." Afterall, it doesn't matter how epic the trip is if you're too groggy to appreciate the awesome.
So, let's break down six key metrics to consider before you select the perfect sleeping pad to strap to your pack: thickness, warmth, size, durability, weight, and packed size.
Our Picks For The Best Backpacking Sleeping Pads
To help get you to the best sleep of your backpacking life we've compiled a list of five top performers we'd be willing to take to the backcountry. Each pad scored high marks in every category, but in recognition of the diverse needs of different backpacking styles we're serving up a list that calls out the "best pad for the job" in our humble opinion.
No matter where your trek takes you we feel confident one of these winners will be a standout pad for when you're laying down.
Best for Ultralight Backpacking
Therm-a-Rest NeoAir Xlite Inflatable Sleeping Pad

Thickness: 2.5in
R-value: 3.2
Size: 20in x 47in (Sm); 20in x 72in (Rg); 25in x 77in (Lg)
Packed Size: 3.3in x 9in (Sm); 4in x 9in (Rg); 4.5in x 11in (Lg)
Weight: 8oz (Sm); 12oz (Rg); 16oz (Lg)
Denier: 30D
The Xlite offering from Therm-a-Rest's NeoAir comes in three sizes. Our ultralight backpackers will love the option to keep weight to a cool 8oz with the smallest pad (20in x 47in), or splurge on a larger size while still keeping it light. The regular (20in x 72in) and large (25in x 77in) pads weigh in at 12oz and 16oz, respectively. Packed sizes stay competitive at 3.3in x 9in (Sm); 4in x 9in (Rg); 4.5in x 11in (Lg). If you have room for an extra pair of pants, you have room for a Xlite. When it comes to durability a 30D rating isn't nothing, but it's best to keep it in mind when clearing your sleeping surface. The 2.5in thickness is enough-but-not-too much and helps keep this pad quick and light. With a R-value of 3.2 it's a solid three season option. For those interested in a pad suited for cooler climes, see our next pick.
Best Cold Weather Option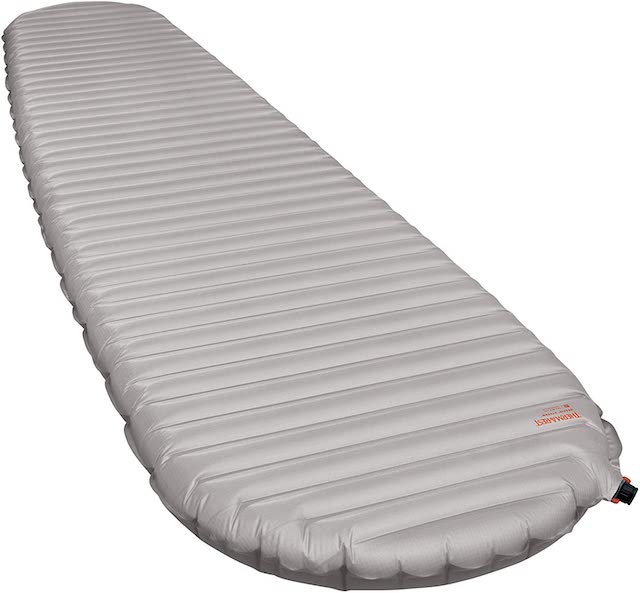 Thickness: 2.5in
R-value: 5.7
Size: 20in x 72in (Sm); 25in x 77in (Lg)
Packed Size: 4in x 9in (Sm); 4.5in x 11in (Lg)
Weight: 15oz (Sm); 20oz (Lg)
Denier: 70D (bottom) / (30D top)
Tough, thick, and with insulation that will keep you toasty; Therm-a-Rest meant business when they designed this sleeping pad. With a 5.7 R-value this is our nomination for cold weather treks. The added warmth shows up as added weight—but not as much as other winter options. The smaller pad (which we'd call "regular") has a 20in x 72in sleeping surface and weighs 15oz. The large offering adds five full inches in both directions (25in x 77in) and weighs 20oz. Creative use of varying denier fabrics on top and bottom also helps keep the weight down on this tough mat. The underside is a rugged 70D with a lighter, but sturdy 30D fabric for the top. A 2.5in inflated thickness keeps this mat competitive with the other sleeping pads on our list. the Xtherm may be slightly heavier, but this doesn't appear to affect the packed size. It keeps pace with it's ultralight cousin in the NeoAir line measuring at 4in x 9in and 4.5in x 11in for the small and large, respectively.
Best Hybrid Tech

Thickness: 2in
R-value: 3.3
Size: 21.5in x 72in
Packed Size: 4in x 9in
Weight: 16.9oz
Denier: 40D
Chatter from the backpacking community is creating a positive buzz around this pad—calling it innovative, extra comfortable, and well balanced. We're here to validate the hype: it's a comfortable pad. While the thickness clocks in lower (at 2 inches) than our other picks, the key to comfort is its bonded insulation layer. Sea to Summit uses AirSprung foam cell technology to provide a cushiony layer of insulation that packs down when compressed. Add a slightly roomier size (21.5in x 72in), an R-value of 3.3, and you get one comfy, three-season pad ready to hit the trails with you. The weight is a little on the high side (16.9oz) due to the extra-plush, but the packed size stays tight at 4in x 9in. With a 40 denier rating, it has some resilience to keep you sleeping soundly, even atop of rough terrain.
Best Lightweight Foam Option

Thickness: .75in
R-value: 2.6
Size: 20in x 51in (Sm); 20in x 72in (Rg)
Packed Size: 20in x 4in x 5.5in (Sm); 20in x 5in x 5.5in (Rg)
Weight: 10oz (Sm); 14oz (Rg)
Made from: Molded closed cell foam
Everyone can appreciate the modern invention of closed cell foam. It's soft, dense, and feels downright luxurious when backcountry camping. On the flipside, the foam is still heavier than air and definitely bulkier. For those who want a little opulence without too much added weight, the Z Lite Sol Ultralight is for you. With a lower R-value of 2.6 we would categorize this pad as a "fair weather" option (think two-and-a-half seasons, maybe three if it's unseasonably warm). Leveraging the density of foam to allow for a lower thickness of .75in helps keep the weight and size down compared to other foam mats. The Z Lite comes in at 14oz for the regular (20in by 72in) and 10oz for the small (20in by 51in). Packed sizes are definitely in a different ballpark from the inflatables on our list—but it's all part of the trade. The regular pad measures 20in x 5in x 5.5in packed, while the small manages to shave an inch with dimensions of 20in x 4in x 5.5in.
Best for a Budget
Klymit Static V Lightweight Sleeping Pad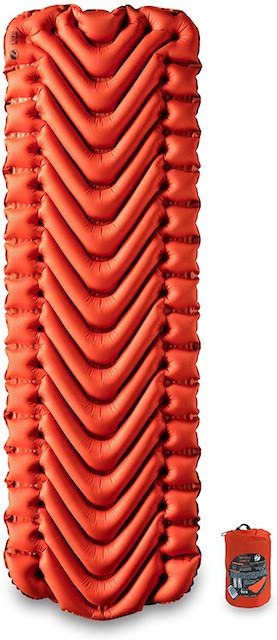 Thickness: 2.5in
R-value: 1.3
Size: 23in x 72in
Packed Size: 3in x 8in
Weight: 18.1oz
Denier: 75D
For the budget backpacker, our favorite is Klymit's Static V Lightweight pad. Don't let the price mislead you—this is a serious mat and makes great use of an innovative baffle design. It also lands the bonus title of "tough stuff" because, with its 75 denier rating, it's built to take a beating. At 18.1oz it's a little heavier than all but our cold-weather option, but for the added weight you're getting more durability, a good amount of sleeping surface (23in by 72in), and thickness that keeps up with our other category leaders. A word to the wise: heavy denier does not equate to insulation—this is fair weather only mat, at 1.3 R-value. Final packed size is an impressively compact 3in x 8in—beat only by the smaller size of our ultralight pick.
Things to Consider
Thickness
This one may be an obvious consideration: the thicker the pad, the more comfortable you're going to be laying on it. It means fewer rocks find their way to your ribcage and more distance between you and the ground. The tradeoff is that more thickness means more weight. If you're a diehard side sleeper, though, those extra ounces could be the difference between waking bright-eyed and bushy-tailed or dazed-and-confused. Things to keep in mind when choosing thickness: you can get more bang for your "weight buck" with inflatable air pads, but foam (or Sea to Summit's AirSprung cells) tend to score higher in the comfort department.
Warmth
Leaving considerations of plushness we come to our next category: warmth. Although warmth is not necessarily related to thickness, the two are often linked. Warmth isn't a factor for every excursion, but when it is, it's an important one. Losing body heat to the ground doesn't just make for a less-than-ideal sleeping experience, it could quickly become a safety concern. Picking a pad with the right R-value for your trek is crucial. Current backpacking wisdom tells us that if you want an "all around" sleeping pad (read: three seasons, winter not included) you can get away with R-values at or above a 3. For winter camping and treks, always pick a pad that exceeds 5 and do your research. So, if a seasoned winter camper that sleeps hot says their 5.5 R-value pad came up short on a particular trip, consider getting a specialized winter pad for that adventure.
Size
Gone are the days of one or two sleeping pad sizes. Modern sleeping pads come in a range of sizes and shapes, all aimed at shaving inches and ounces so that every little bit of mass is dedicated to useful, usable surface area. A number of factors come into play when selecting a sleeping pad size such as your height, if you're an active sleeper, or if you'd be willing to sacrifice a bit of length to reduce weight. Some sleeping pad lines offer sizes that target the ultralight crowd by paring their designs down to only support the sleeper's core and most of the limbs, but feet and heads are left to fend for themselves.
Durability
Let's talk about durability—because it doesn't matter how great a sleeping pad is at the beginning of the night if by morning you're sleeping on the ground thanks to a hole. If you're going to strap a mat to your pack for trek after trek, it has to have the moxie to keep up. To gauge the durability for sleeping pads, look to denier. The higher the denier, the thicker the fabric and the more of a beating it can take. As with everything else, higher denier results in higher weight. For fast packers and veteran trekkers accustomed to taking special care with their gear (and that have solid patching skills) a 30D rating is sufficient for most terrain. Those looking to throw their roll down without much concern: shoot for a denier count closer to the 70's. It'll give you peace of mind and save you from a deflation-induced backache.
Weight
Weight is the sum of all the previous factors—literally. Every mil of thickness, inch of space, a layer of insulation, and denier of durability adds up to ounces and grams. If choosing a sleeping pad is an equation, weight would be what we set it all equal to; then it becomes a matter of how much pad can we get for "x amount" of weight. When it comes to considering weight, keep in mind that there is no magical sleeping pad that will shield you from frigid cold, pack down to a whisper, and hover around a magically light 10 ounces. In scenarios where every gram matters, stick with inflatable sleeping pads and mild weather. If you want to see a glacier pass in winter, make peace with the fact that you will be adding major ounces to get a high enough R-value to handle your cold weather aspirations.

Packed Size
It's something to consider, but we prefer to rank this metric last. First, there are some items that just can't be changed (refer back to those hypothetical glacial plans: 5+ R-value = essential). Second, size often just "is what it is." Some pads pack down to almost nothing and can be slipped into the body of your pack in a roll the same size as a canteen or change of clothes. Others—were looking at you, foam pads—have to be strapped to the outside. Inflatable air pads only take up as much room as the fabrics they're made of, compressing and deflating down to the size of a small tarp. Foam pads are the bulkiest by far. Self-inflating inflating pads are considered a popular middle—but if it's a middle ground you're looking for, we prefer to skip self-inflating and opt for air pads that have bonded foam insulation (see our Sea to Summit pick). The biggest hurdle to getting a smaller packed size is usually warmth considerations: if packed size is a top concern we recommend planning your trips accordingly and staying away from winter hikes.