Imagine rolling hills and scenic landscapes that look lovely no matter which season it is. Shopping, dining, nature, and wildlife all alongside log cabins with ponds and mature trees that sit on acres of land. If this is the kind of thing that makes your heart long for a holiday, Nashville is the place to go. These cabins offer full baths, king-size beds, fire pits, and hot tubs among many other modern amenities to make life more comfortable. Have a look at some of them below- some will even let you bring Fido along at an extra fee so the whole family can be together!
Hickory Ridge Log Cabin in Nashville, Indiana
Thinking of going on a vacation to the woods? Hickory Ridge is where you need to be. Surrounded by trees and just 5 miles from the Brown County State Park, you will be fully enclosed in nature. Enjoy beamed ceilings and wood floors as well as a big stone fireplace when you need to warm up in cooler weather.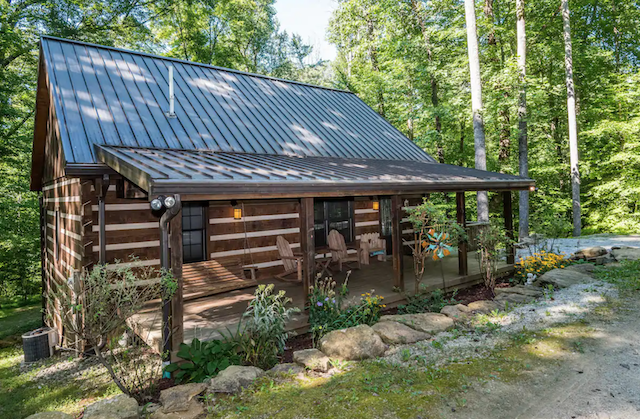 On the patio, you can relax in the bubbling hot tub and gaze at nature- you may even spot a deer or two. On the deck are a fire pit and grill so you can enjoy some barbecue stories before checking in for the night. The sofa has a pull out bed if you need one, and the family room has a 27" HD TV, Wii gaming system, a billiards battle, and a selection of movies. Here, you are assured of having a great time!
Big Buck Log Vacation Cabin
Where else can you get a cabin with a pond outside to fish and an outdoor hot tub to chill in while your friend or significant other grills something on the outdoor grill? Stay at Big Buck Vacation Cabin and enjoy all of these. Located halfway between Bloomington and Nashville, you will have access to plenty of outdoor activities.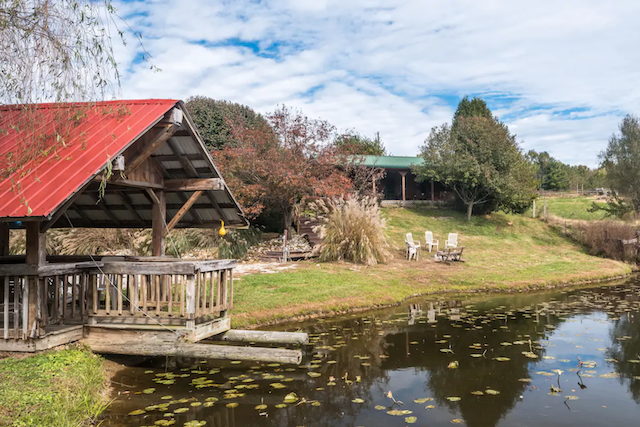 This quaint space is also pet friendly and you pay a non-refundable fee of $30 when you check in with your furry friend so the whole family can come. If you choose to stay indoors, you will have a DVD player and Nintendo NEC Classic console at your disposal. You can also socialize while preparing a meal because the living room, dining area, and kitchen all share a common space.
The Gathering Place Cabin on White Oak Hill
Nice, warm colors on this Frank Lloyd Wright style cabin create a charming space just two blocks from the village of Nashville. You will find restaurants, art galleries, a playhouse, shops, breweries, and wineries so you know you will always have something to do and somewhere to go.
Indoors, you will have the Master Suite with a queen-size bed, a large private bath with tub and shower combination while the kitchen is fully equipped and the living room has a natural gas fireplace. Make breakfast and enjoy it in the dining room or on the sun porch while taking in the beautiful landscape. If you need to stretch your legs, the Brown County State Park is just five minutes away!
Covered Bridge Log Cabin
This is the place to go for a getaway that you won't forget in a long time to come. The quaint Covered Bridge Cabin is secluded but within 'shouting distance' of the Bill Monroe Memorial Bluegrass Park as well as restaurants, antique shops, studios, and craft galleries in downtown Nashville.
If you choose to stay indoors, you can warm up in front of the wood-burning fireplace or enjoy some satellite TV on the 40" screen. The sleeper sofa is great for kids or extra guests to crash if need be while others rest in the loft-style bedroom in the King-size bedroom. End busy days in the steaming outdoor hot tub on the backside deck and make the most of your getaway here!
Crossing Creek Cabin
Give your significant other or family an amazing vacation at the Crossing Creek Cabin. You will be off Wallow Hollow Rd and just 5 minutes from downtown Nashville and the North entrance of Brown County State Park. This cozy space has a king-size bed and one bathroom and was the homestead of Edith Hale in the early sixties; a resident artist who loved painting the gorgeous setting.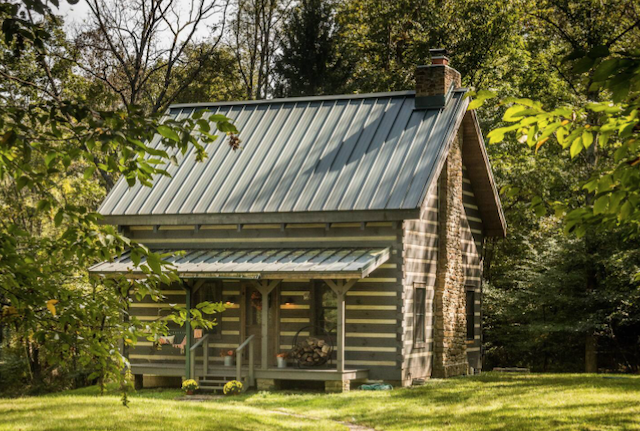 You can unwind in the steamy hot tub underneath the stars and follow it up with a relaxing time around a crackling fire in the backyard. Because this single loft log and chink cabin was built around a majestic stone fireplace from pre-Civil war times, it has the original swing arm for cooking kettles still intact. Welcome here to stay cozy and enjoy a break in the picturesque environment.
Pond's Edge Log Vacation Cabin
Welcome to Pond's Edge Cabin where you will find a 1-acre pond on the property and a 4 person hot tub to relax in the evening while enjoying the views. This authentically furnished log cabin boasts a fully stocked kitchen and rooms with numerous large windows that deliver plenty of natural light and offer gorgeous views.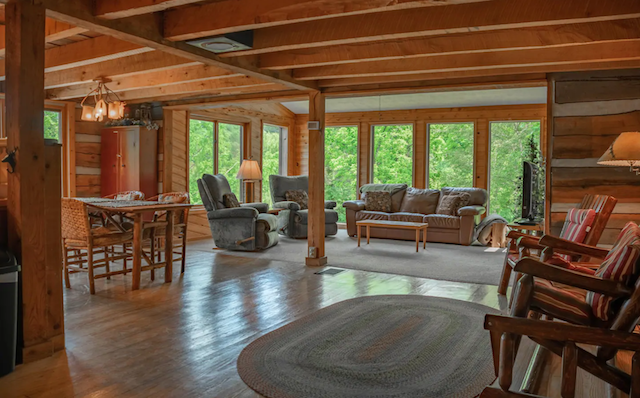 Upstairs, a game room with plenty of room and a pool table offers the perfect environment to relax and share a common time for everyone on the property. High-speed fiber-optic Wi-Fi is available so you can enjoy some online time or stream your favorite shows. If you were thinking of a vacation spot to spoil your loved ones, this rustic space is it.
Rock Ridge Log Vacation Cabin
The Rock Ridge Log Cabin sits atop a ridge overlooking a valley so you can just picture the amazing views from it. Warm and secluded, you have a large covered porch with a swing and bistro-style seating from where you can enjoy the beautiful Brown County. The open-plan main area is perfect for socializing while the new, fully equipped kitchen has an island and wood table so meal preparation will be fun and immersive for everyone. A $30 non-refundable pet fee means you can bring your pets too, and enjoy playing in the new game shed.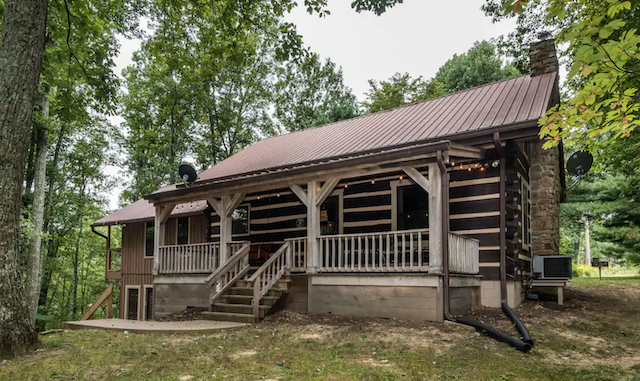 The large deck out back has a hot tub, grill, fire pit, and a large table and chairs where you can enjoy gathering to pass time as well as enjoy the beautiful outdoors. The main bedroom has a queen bed, twin trundle beds, a bathroom, and a balcony overlooking the woods as well as floor-to-ceiling windows. The other bedroom has a queen bed, a love seat, and a full bathroom with a hairdryer. At just 15 minutes from Nashville, you will be able to easily choose whether to go out or stay indoors.
Simple Blessings Cabin
Simple Blessings Cabin rests on 16 acres between the IU campus and Nashville and is made from hand-hewn poplar logs harvested from the land in the 1970's. Indoors, the kitchen has a hammered copper sink and broken-edged granite counter tops while the living room has a gas-burning log stove as well as a 48" flat-screen TV for your entertainment. Cell phone reception may be spotty and the gas log stove is seasonal so may be turned off at the owners' discretion.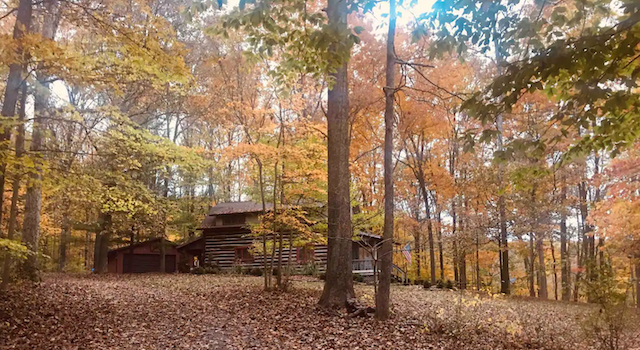 The outdoors is peaceful and quiet and instead of cars and people, you will encounter deer, squirrels, birds, and wild turkey so you can truly reconnect with nature, family, and friends. The yard has a fire pit, chairs, starter firewood, and enough room to throw a football. At 12 miles to Nashville, you can take part in shopping, horseback riding, dining, and zip-lining so there is no end to the fun you can have while here.
Cozy Cabin Close to University
The Red Rabbit Inn is 15 minutes from the Indiana University campus and 20 minutes from Nashville so there's plenty of outdoor activities including shopping and dining that you can fill your days with. It is beautifully landscaped and secluded and has a wooded pond in a serene setting.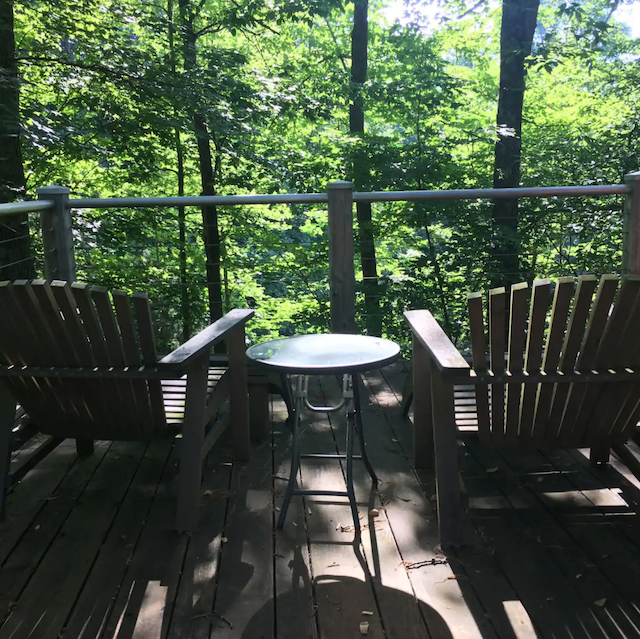 Bring your significant other for a romantic stay and enjoy the fire pit, gas grill, and outdoor hot tub on your private deck. The cabin itself includes a loft bedroom with king-size bed and bath, a full kitchen, gas fireplace, WiFi, and satellite TV to entertain you when you decide to stay indoors. Get a holiday to remember for both of you here; you will love it!
Blue Moon Log Cabin
Blue Moon Log Cabin is tucked away in a green vale and will summon scenes out of a fairy tale for you. The mature trees frame the landscape and present you with the getaway you had in mind so bring your significant other and fall in love all over again. At just 5 miles from downtown Nashville, you will have access to the shop, dine, and plenty of other activities.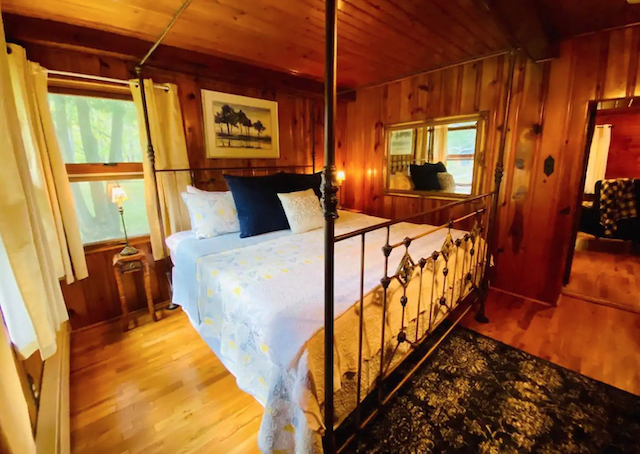 Indoors, you can share a warm cup of coffee from the coffee bar or a glass of wine from a winery nearby. Tell stories and reminisce on the porch swing while waiting for the sunset. End the day with a cozy dip in the hot tub on the private deck while you enjoy gazing up at the stars and you will be sure to come back again.
Modern Nashville Home in the Woods
Plāhaus Cabin is located in Brown County, Nashville, with the beautiful woodlands providing a serene environment to unwind and have that romantic experience to reaffirm your true love.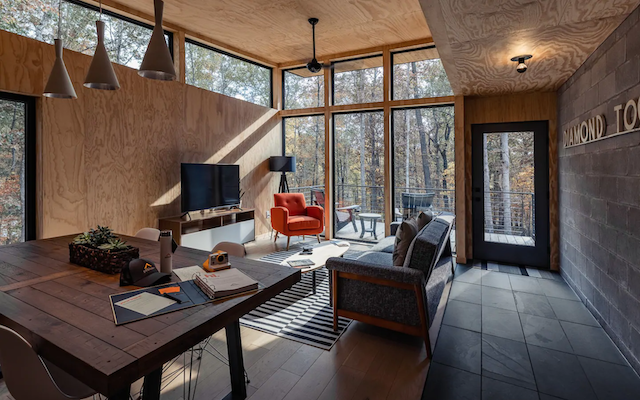 The home is newly constructed with modern architecture and superb fittings and finishes. It can host 2 couples since it has 2 bedrooms with a total of 3 beds. A balcony overlooks the beautiful woodland- the view is truly breathtaking.
For entertainment, you have a smart TV and various board games, books, and cards. Outside there is a fire pit where you can have memorable evenings as you warm your feet and create a romantic bond- there's wood available on site at all times.