Are you looking for a place to relax and reconnect with nature? The answer is in Hot Springs NC; nature, gorgeous cabins, and all the modern amenities you need create a recipe for the perfect getaway. Treat yourself or your family to one of these rustic log cabins and you will be glad you did because the memories will last you all a lifetime!
Romantic Treehouse Cabin with Fireplace & Hot Tub
If you are looking for a quick getaway destination, you've found it here. Whatever special occasion it is- honeymoon, secluded retreat, romantic getaway or vacation, you will find great ambiance at Cabin 4.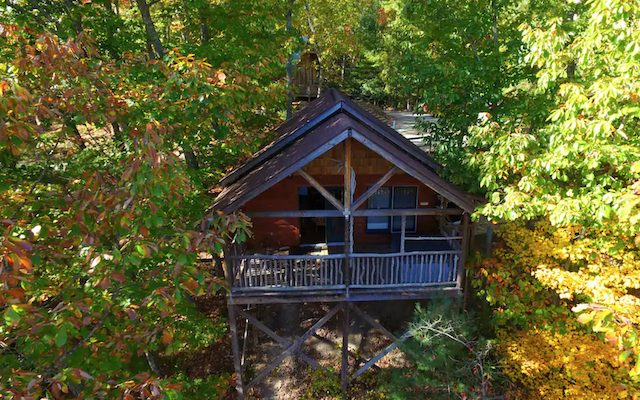 This is the newest cabin on the property and is a genuine log cabin. The bedroom has a queen bed while the lounge has a gas fireplace. Enjoy ROKU TV as well as strong WiFi or sit at the deck and enjoy views of Lover's Leap. Unwind in the hot tub then share some wine at the bistro table with two chairs. You can prepare your own romantic breakfast because the kitchen has an oven, microwave, small fridge, coffee maker, pots, pans, and baking dishes. You are guaranteed to feel the warmth at this cabin.
WagonTrail Cabin
Experience beautiful nature at the Wagontrail Cabin. Nothing gives a more romantic ambiance than a log cabin and this one goes beyond; with views of the Pisgah National Forest, the Appalachian Trail, the French Broad River, Buncombe Turnpike, and the town of Hot Springs, NC.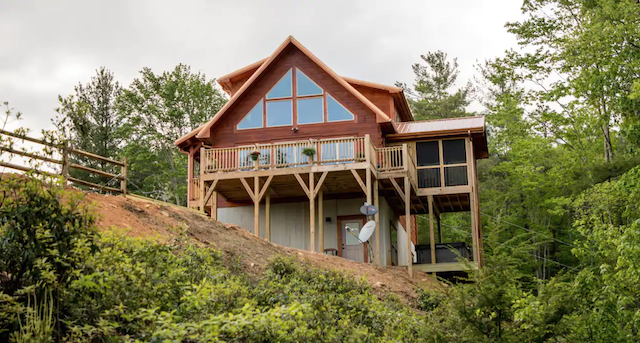 There are two screened-in porches, and one is for a luxurious hot tub. A front loader and dryer ensure cleaning will be a breeze and with custom tiles, granite, and cabinets, the aesthetics are simply amazing. Dual-zone central heat and air deliver comfort indoors for when you simply need to lounge. You will find everything you need here, and a lot more.
Chickadee Cabin
This cozy and convenient cabin is a ten-minute walk from Hot Springs' amenities like shops and mineral tubs. Pet friendly at a small extra fee for your pet, this is a great spot to escape to for a while for the whole family. With beautiful gardens, WiFi, a well-fitted kitchen, and a jetted tub in the master bedroom, you will be completely at home here.
The covered porch is the perfect spot to enjoy a cup of coffee while listening to the birds sing. The cabin is extremely clean and air conditioning will make sure you have to stay cool in hotter weather while the remote-operated mini-split heating system is there to help you stay comfortable when it gets cold. While here, you will have access to all rooms, the porch, the gardens, and the parking area.
River Magic Cabin with Hot Tub
This luxurious cabin is on four acres of land and has the most amazing river and mountain views. It is an authentic log cabin and with the cathedral beamed ceilings, you will love the architecture. Make this your getaway spot and have the time of your life sharing the hot tub on the covered porch.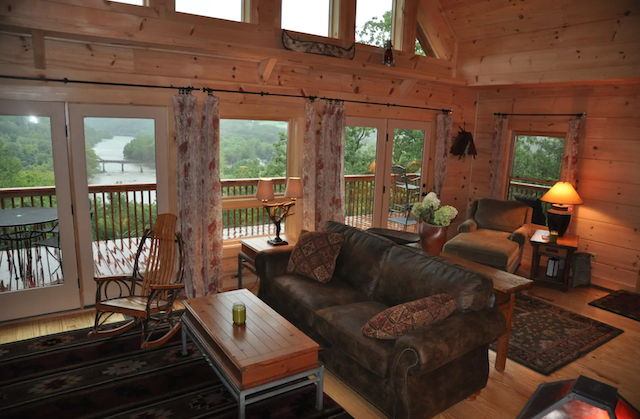 The gourmet kitchen is fully equipped and the master suite has a luxurious mattress. On days that you don't want to stroll outside in the gorgeous countryside, stay in and make use of the high-speed WiFi, HDTV, Blu-ray, and designer linens. The stone wood-burning fireplace ensures you can stay warm while lounging indoors on chilly days. Firewood is available so all you need to do is show up and have a great time.
The "Otter Cabin" on Spring Creek
The Otter Cabin is a beautiful, rustic space that evokes warmth and peace. You will have access to a heritage trout spring with a deep swimming hole and on the other side of the creek, you will hear the Norfolk-Southern train passing by. You will enjoy privacy and at the same time proximity to downtown shops and restaurants as well as the Appalachian.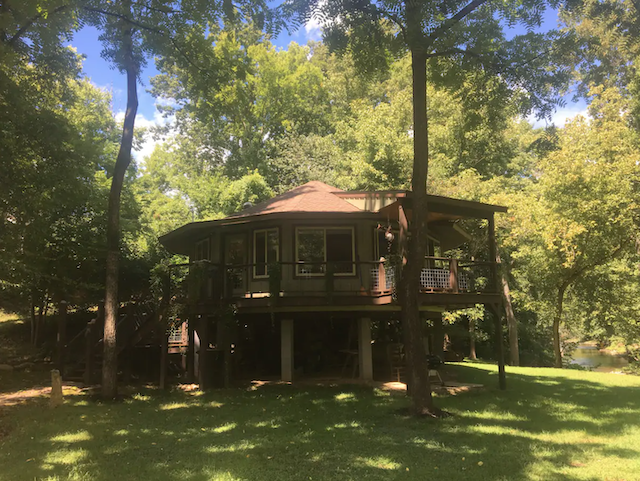 The outdoor sitting area has a cliffside firepit and hammocks so you can lounge here while sharing stories. There is spring creek frontage on three sides and plenty of wildlife including see, otter, and resident herons. The amazing sights and sounds make it a great option for a short, romantic stay.
Broadwing Farm Pine Cabin
This beautiful pine cabin is one of three on Broadwing Farm. If you need a quaint vacation spot that will offer you the perfect blend of nature and modern amenities, your search ends here. You will have a loft, a full kitchen, WiFi, and ROKU during your stay here. Indulge yourself and a significant other in the private outdoor tub that's filled with fresh mineral water.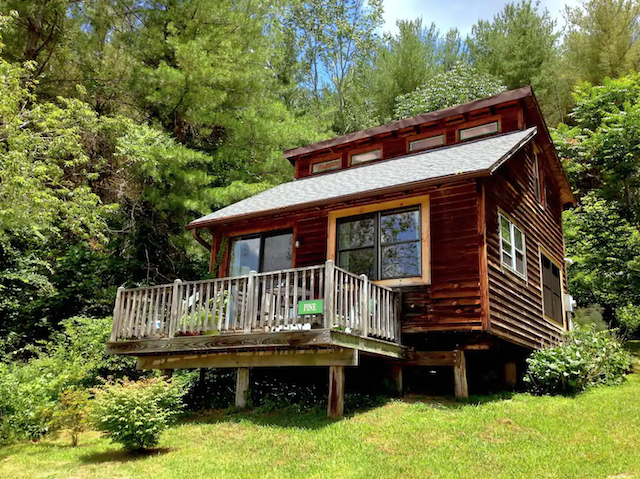 Enjoy breathtaking views of the Pisgah National Forest out front and the French Broad River Valley out back. Because we have a 98 acre farm, we are glad to share our harvest with guests so you can expect vegetables, herbs, and fruit in season. We know you will love it here because you can choose to lounge indoors, hike, fish, or stroll on the Appalachian trail.
Cabin 5 at Mountainside Cabins
This is an inviting single cabin that's perfect for a young family, like a couple with a small child. You will have a full-size bed with all linens, a full kitchen, a private bathroom, and a common area with a couch. In the screened-in porch, there's a bench swing on which you may reminisce about your first date or rekindle warm memories.
Spend some time in the private backyard and utilize the fire pit, outdoor grill, or picnic table. Take amazing photographs with the backdrop of the mountains and enjoy local honey, soap, and coffee on site. If you need firewood and charcoal, you will also have access to some and at an additional $40 per stay, you can bring one or two dogs. This cabin is a great spot to spend a few days in the peaceful quiet of the mountains.
Hot Springs Hideaway at Treehouse Cabins
These gorgeous Hot springs cabins are located in North Carolina off High Mountain road. There are 4 of them and cabin #3 is a couples haven. It has a hot tub and is best suited for couples on their honeymoon, who love the outdoors with a touch of style.
This cabin has all the modern amenities to make all guests comfortable. There is fast and reliable wifi, ROKU TV, and outside on the deck, a tree grows through it and there's a great view of Lover's Leap trail.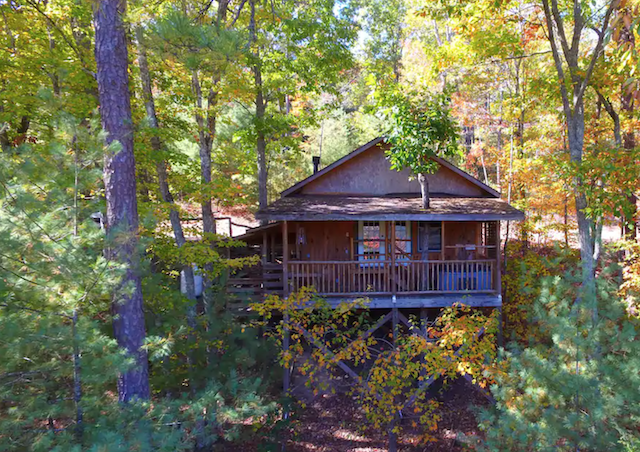 There is a moderately equipped kitchen with a mini fridge, microwave oven, a coffee maker, an induction plate among other appliances for your convenience.
Due to COVID-19 protocols, we encourage our clients to make bookings of more than 2 nights so we can have 48 hours in between bookings for our able team to sanitize and clean the cabin thoroughly in preparation for the next guest so cleanliness is assured.
Cabin 4 at Mountainside Cabins
This is one of five private cabins on a quiet mountain road with amazing mountain views all around. Perfect for couples or couples with one child, you will find everything you need here. A full-size bed to rest in, a full kitchen to prepare or warm meals, and a common area with a couch to relax in.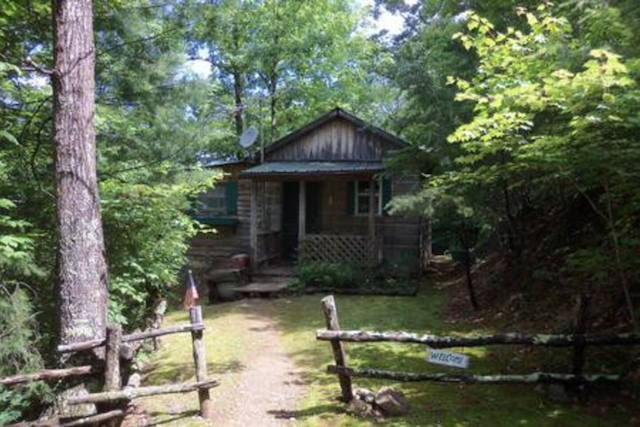 The private backyard has a picnic table, a fire pit, and an outdoor grill so you can tell stories or share a meal while enjoying the beautiful views outside. If you have a dog, you can bring them along for just $35 extra and make it a complete family trip. You will find local soap, coffee, and honey if you would like to use it, carry it as souvenirs, or take it to someone back home as a gift. Whatever you need, we most likely have it so you're free to ask.
Sanctuary at Big Pine Cabin
This inviting three-bedroom beauty is hand-hewn with logs made from trees that were cut from the property. A full kitchen with stainless steel appliances and granite countertops awaits you here. Any nature lover will be glad when the deer, black bears, turkey, and other wildlife pass by to visit as they can be observed through the large picture windows.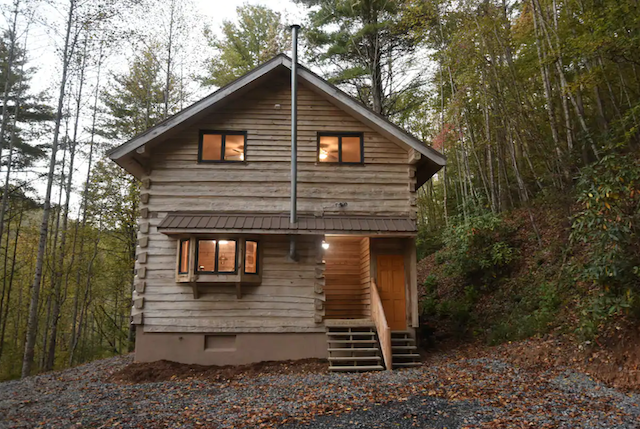 Bring along your significant other and share gorgeous views of the starry nights or enjoy the outdoor fire pit that is right in front of the old barn on the compound. Privacy is guaranteed as you will drive up a winding driveway and over a large culvert so the cabin is not visible from the road. Here, you will enjoy all types of weather from rain to shine. The skylights in each bedroom give you the experience of sleeping under the night sky after taking a relaxing bath in the antique claw foot tub so you will be sure to come to visit again.
Mountain Rock Cabin
The Copper Stills Cabin is as unique as they come; made from rock and timber, the outside will wow you just as much as the indoors will. With forest all around you and countless activities you can take part in, you will be glad you came. Although phone signals tend to get weak, WiFi has got you covered and you can make and receive calls as normal when you enable WiFi calling on your smartphone. Save the gate, door, and WiFi codes before getting here so that you can connect when your signal is too weak.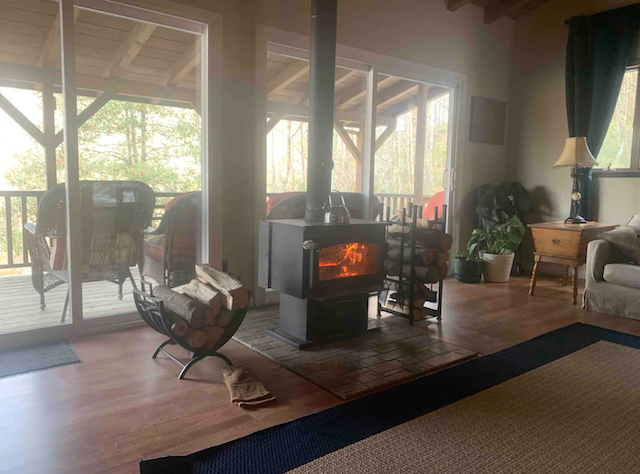 Get access to all rooms except the garage area during this season and make sure to make bookings of more than six nights in order to keep cross-contamination due to Covid to a minimum. Enjoy golf, water parks, banking, sightseeing, and activities for small children at little or no cost just a short drive away. This is where memories get made