Yoga is one of the best workouts you can conveniently do while trotting around the globe. Aside from it is good for relieving stress and back pains, yoga also does not require you to be inside a gym with fancy equipment. All you basically need is a flat surface and a yoga mat.
Quick changes in time zones can change your body clock which leads to losing some sleep and feeling a bit queasy. One of the best ways to feel energized while traveling is to insert a little bit of fitness routine in your itinerary, but we all know this could be challenging at times.
What to Look For in A Travel Yoga Mat
Lightweight and packable. The last thing you need while traveling is excess baggage and a mat that would require too much of an effort to fit in the bottom of your suitcase.
Durable. You need a yoga mat that you can use for a long time anywhere you might be in the world.
Provides strong grip. With all the stretching and headstands you will be doing, you need a yoga mat that provides a strong grip to avoid any slips and accidents.
If you are still searching for the best yoga mat to take with you on your next trip, you are in luck because we have done all the research for you.
Our Picks for The Best Yoga Travel Mats
Gaiam Foldable Yoga Mats
For only 24USD, you will get to have this yoga mat that folds to a 10×12 compact square. You can easily fit this in your carry-on or overnight bags. The Gaiam foldable yoga mat is 2mm thick and has a sticky texture which provides stable footing, so you can do your yoga poses without having to worry about slipping and tumbling. This is perfect for yogis who love to travel often. You can purchase this yoga mat on Amazon.
Manduka eKO Superlite Travel Yoga and Pilates Mat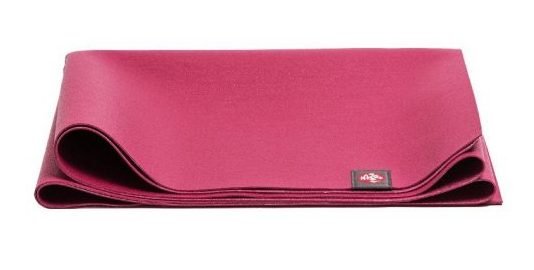 Next on our list of the best yoga mats for traveling is Manduka eKO Superlite Travel Yoga and Pilates Mat. When they say Superlite, they mean it. This yoga mat is only 1.5 mm thick, but it provides an excellent grip. You can fold it and it will fit in your luggage or small purse. This would make practicing yoga in your hotel room far away from home possible. This yoga mat from Manduka is made from biodegradable materials, so you will not only keep yourself healthy by taking this yoga mat on trips, but you will also be saving mother Earth. It is 99% latex-free and has a closed-cell design that will not absorb bacteria, so you won't need to worry about washing it every time you come home from a trip. This is also great for long-term use since it has a tightly woven scrim that resists tearing and stretching. You can purchase this light, durable, and earth-friendly yoga mat for your next trip here.
Plyopic Travel Yoga Mat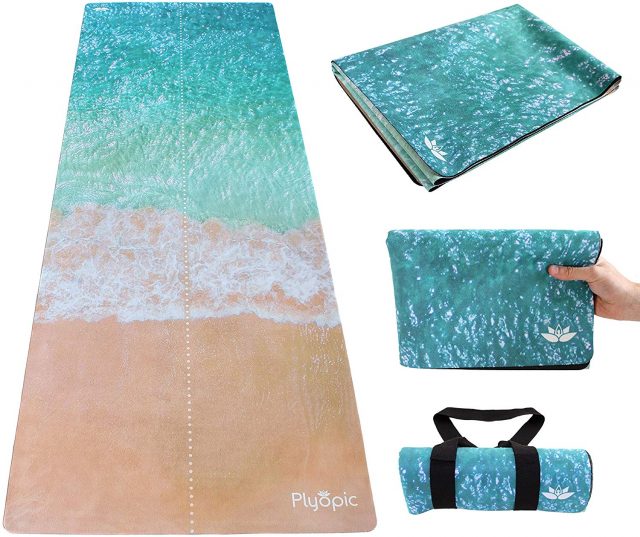 This travel yoga mat from Plyopic is portable and eco-friendly which is perfect for yogis who are frequent flyers and care about the environment. It is a 3-in-1 mat and towel which saves so much space for your essentials. Its sweat-grip technology allows you to perform all types of yoga, yes, even hot yoga. It is super lightweight and can be rolled up or folded to easily fit in your suitcase. It also comes in amazing designs such as beach face, nebula, and Persia which will give your yoga session an extra mood lift! You can order your preferred design here.
Tunods Fitness Thin Eco-Friendly Travel Yoga Mat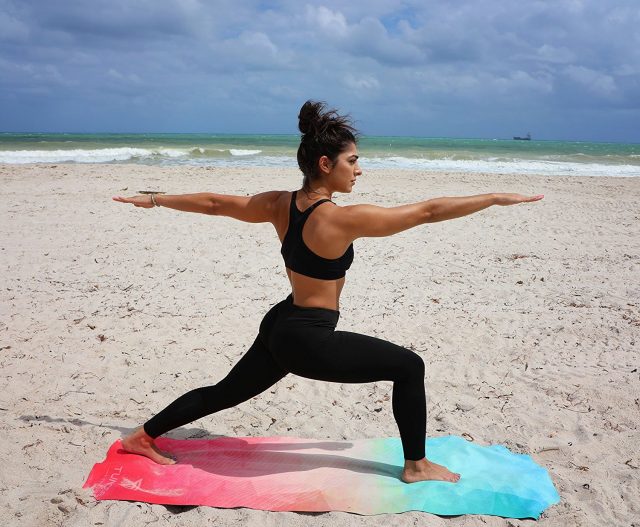 This travel yoga mat from Tunods Fitness is perfect for doing hot yoga, Bikram, pilates, aerobics, or even simple stretching in your hotel room. Unlike other yoga mats that have to be rolled to be packed, Tunods Fitness yoga mat towel can easily be folded without having cracks or creases afterward. You can fit this at the bottom of your trunk. With its 1mm thickness and 1.9lbs weight, this is perfect for traveling. You can even fit this in your office purse and have a quick yoga session on your lunch break. It is also eco-friendly, odor free, and machine washable. You can purchase one on Amazon.
The Travel Yoga Mat by Yoga Design Lab
Yoga Design Lab introduces their luxurious ultra-foldable mat and towel in one. This travel yoga mat was designed in Bali and has features that make it perfect for hot yoga, Bikram, pilates, and barre. The more you sweat, the better the grip. Aside from it is lightweight and foldable, it is also made of natural tree rubber plus microfiber made from recycled bottles. By purchasing Yoga Design Lab's travel yoga mat, not only you are taking care of your health, you are also taking care of the environment. Yoga Design Lab also offers a great deal of 10% off or more if you buy two or more of their items. You can check them out in Amazon. The best part about purchasing the travel yoga mat by Yoga Design Lab is that for every purchase, $1 goes to support youth yoga programs in need.
Yoga Paws' Yoga Gloves and Socks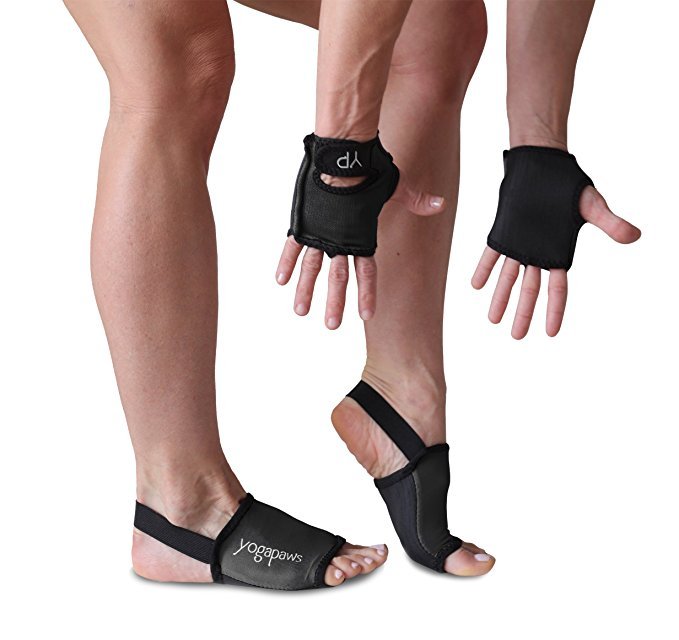 No room for a yoga mat or a towel in your carry-ons? That is not a problem! With Yoga Paws' hand and feet set, you can still enjoy the benefits of a full-sized yoga mat. The gloves are super sticky and the socks have a strong grip. You can just simply slip them on and practice yoga anytime and anywhere. Yoga Paws hands and feet set to have a durable yet minimalist design which gives you a barely-there feeling when you do your yoga poses. The material used consists of stretchy and breathable mesh to maintain airflow on both hands and feet. Yoga Paws' durability and portability make it perfect for yogis who like to travel light. If you are one who likes to do yoga every day and travel light, you can check these items here.
Jade Travel Yoga Mat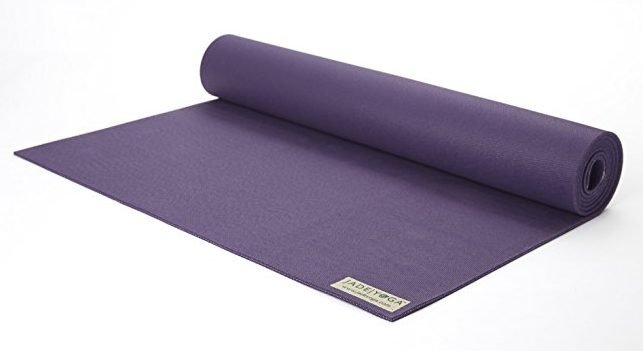 There are so many things to love about Jade Travel Yoga Mat. First, it is made of sustainable materials. It is also non-slip and provides great grip during your yoga session. It is lightweight and can be conveniently packed in your suitcase, so you can continue with your daily yoga routine wherever you are in the world. Also, Jade Travel Yoga Mat has partnered with Trees for the Future and they plant a tree for every mat sold. Help plant a tree today by buying a Jade Travel Yoga Mat here.
Khataland YoFoMat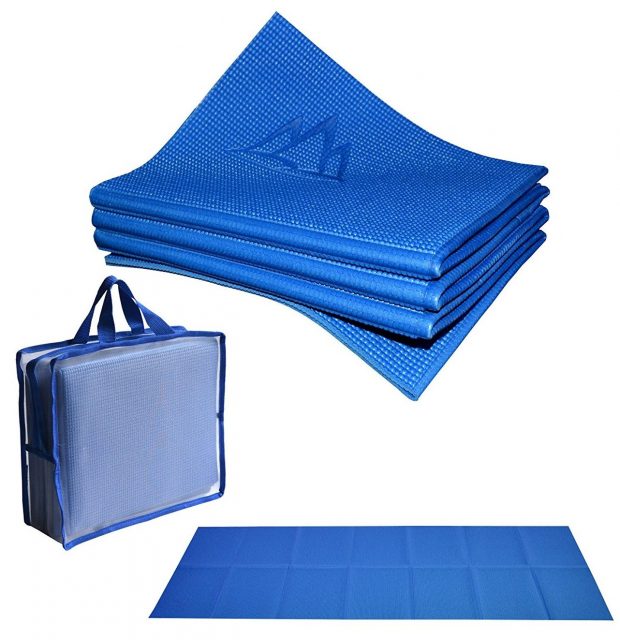 If you would like a travel yoga mat that is lightweight yet extra long, then this YoFoMat is for you. It is 183 cm long and 61 cm wide, yet it can fold into a large book size which you can easily fit in your suitcase. With its high-density and non-skid features, this can be used on any surface and perfect for professional yoga and pilates sessions anywhere. You can order one on Amazon.
Honest Yogi Travel Yoga Mat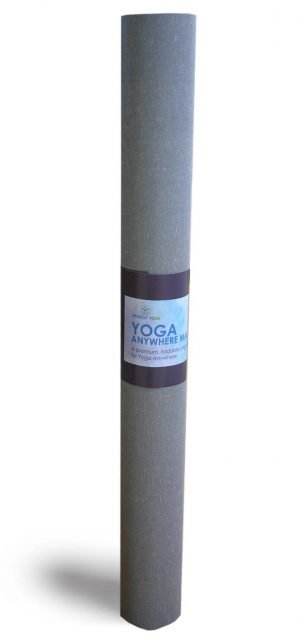 Honest Yogi Travel Yoga Mat promises to let you practice yoga anywhere with comfort. It is lightweight and can be folded easily to fit in your small bag. It has a two-sided surface that provides floor grip to avoid slips and accidents. It is also eco-friendly and is made of 100% natural tree rubber. Quality is not something that Honest Yogi skimped on their travel yoga mat. The mat is made of tightly woven top surfaces which give the necessary grip that yoga and pilates activities require. Order one now at Amazon to keep on practicing yoga in your hotel room or Airbnb to remove the soreness and stress long flights give.9 YOGA MATS PERFECT FOR TRAVEL