I have to be honest, I have only camped once in the last 15 years. I loved camping as a kid, but now I just don't want to sleep on the ground or have to deal with all the setup and takedown required with camping. There still is the tranquility that comes from being in nature, out in the woods, and the time to enjoy each other's company around the campfire, likely with horrible cell phone reception that keeps you off of the phone and allowing your mind to actually rest.
This past winter we experienced just that at a luxury cabin in Colorado. Since we are not interested in roughing it camping, we have found glamping is more our style.
Glamping means staying in larger tents or other accommodations with beds and other amenities you would expect at a hotel, but in the middle of nature. It is somewhere between camping and staying at a hotel and allow travelers to be in the wilderness without roughing it at all. Glamping can be in large tents, tipis, treehouses, cabins, tiny homes, and all other sorts of converted shelters. Here are 22 amazing glamping spots in the United States.
Alaska
Borealis Basecamp
At Borealis Basecamp, is an amazing place to stay in Alaska while glamping. The modern geodesic dome that allows plenty of room for aurora-viewing and relaxing. Local foods are served and plenty of activities are available for those who wish to explore the Alaskan frontier.
Mountain West Glamping Spots
Zion Ponderosa Ranch Resort (Zion National Park, UT)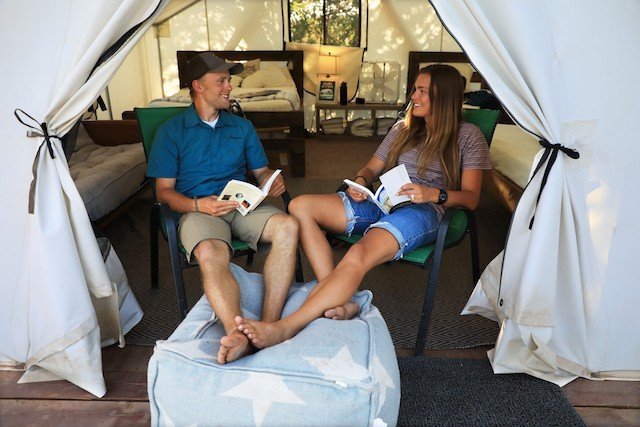 Zion Ponderosa Ranch Resort is located in Southern Utah next to Zion National Park. The resort has onsite activities like zip-lining, horseback riding, bungee trampolines, yoga, Jeep and ATV tours, paintball, and stargazing, just to name a few. Experience Zion National Park by going on a guided hiking tour, jeep tour, or a full-day adventure of canyoneering.
The glamping tents at Zion Ponderosa include electricity, comfy beds and access to hot showers.
Royal Gorge Cabins (Cañon City, CO)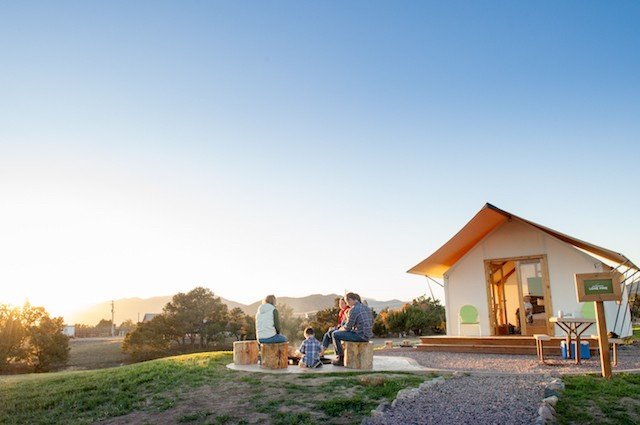 Echo Canyon River Expeditions, the leading whitewater destination resort in central Colorado opened four glamping tents as part of its Royal Gorge Cabins.
The glamping tents provide the close-to-nature appeal of camping but with a comfortable bed, screened windows, private porch, picnic table and fire ring, multiple electrical outlets and free Wi-Fi. The tents offer spectacular views of the Sangre de Cristo mountain range. The accommodations are nice, but the real reason you would stay at the Royal Gorge Cabins is to take advantage of the rafting adventures.
US Western Coast Glamping
Caravan Outpost (Ojai, California)
While camping has never really interested me, I have long found glamping intriguing. So I was pretty excited to try it out for the first time at Caravan Outpost in Ojai, California. Eleven vintage Airstream trailers are offered, each full of retro decor like a turntable, vinyl records and paperback books. The tiny kitchens are well stocked to allow guests to prepare their own meals. The outdoor area is beautifully landscaped giving it a lush, tropical feel. A large communal table is available outside as is a fire pit perfect for roasting hotdogs and marshmallows.
My husband, Jason, and I spent one night here during the spring and loved the combination of the comforts of a hotel with the perks of camping. We enjoyed an hour of conversation around the campfire at night while making s'mores. But when we were ready for bed we crawled under nice sheets and a warm blanket on a real mattress–not something filled with air. In the morning we borrowed bikes and enjoyed a scenic ride along the Ojai Valley Trail. Our first experience to glamping was perfect, and we will definitely do it again.
Wendy – EmptyNestersHitTheRoad
Safari West (Santa Rosa, CA)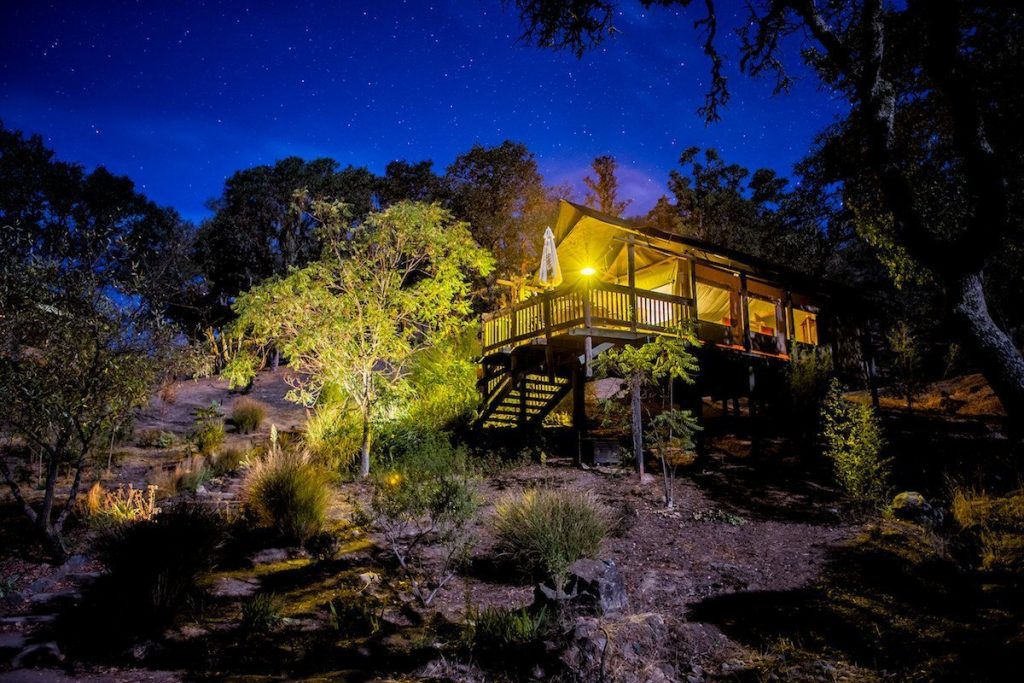 Nestled on 400 acres in the heart of California's wine country, Safari West is home for over 400 exotic mammals and birds and brings the Serengeti to Sonoma. Guests can spend the night in glamping in luxury tents which are imported from Africa and are built on high wooden platforms with spacious decks. Pale green canvas walls enclose plush beds, hot showers, and rustic but elegant trappings. There are polished wood floors, gleaming copper basins in the private bathrooms, and one-of-a-kind hand-hewn furniture.

Ventura Ranch KOA Holiday (Santa Paula, CA)
About a 90-minute drive from downtown Los Angeles, Ventura Ranch KOA Holiday is a campground perched on the foothills of the Topa Topa mountains, overlooking an expanse of green, carpeting the valley between Ojai and Santa Paula. A beautiful stream flows through the site where kids can hop onto rocks or throw them into the current.
Instead of hard, dirt floors and a midnight walk to use the loo, KOA offers guests cozy cabins with lofts perfect for tucking in kids and a closing master bedroom for parental privacy. They have hot showers, full kitchens, and attached bathrooms beside their warm, fluffy beds. For glamping accommodations they have safari tents and whimsical teepees available for those who want to say they slept in a tent.
They don't have to mention the soft mattress and the chic decor within. Still, children huddled around a firepit, millions of unobstructed stars and an opportunity to bond with loved ones and/or business colleagues can be reward enough for getting outdoors.
Rina Baraz Nehdar – L.A. Family Travel
Belcampo Farms (Siskiyou, CA)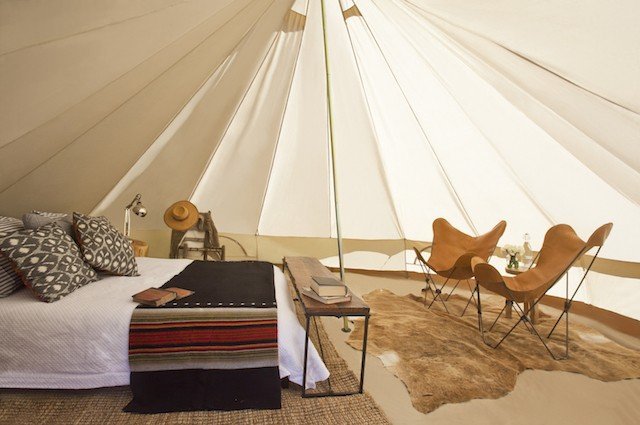 Every Summer at Belcampo Farms, Meat Camps, retreats, and farm stays can be enjoyed while glamping in luxury tents on the farm orchard located in Siskiyou, California. Throughout the day you will learn all about meat cookery and enjoy farm to table, chef-prepared meals. While you're camping in the area, go rafting, fly fishing, hike to waterfalls, explore lava caves, or meditate (Mt. Shasta is known as a spiritual vortex).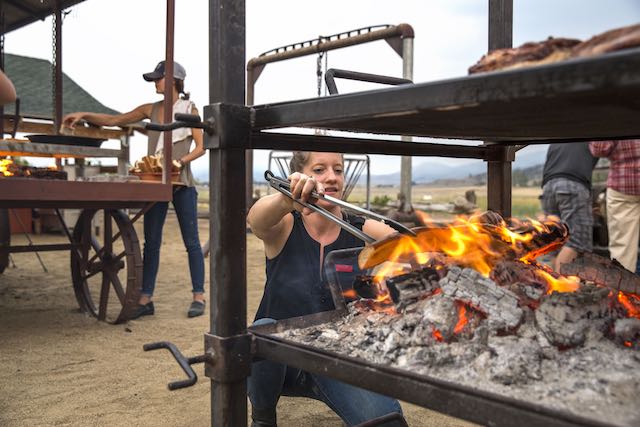 Southwest US Glamping
Beavers Bend Glamping (McCurtain County, Ok)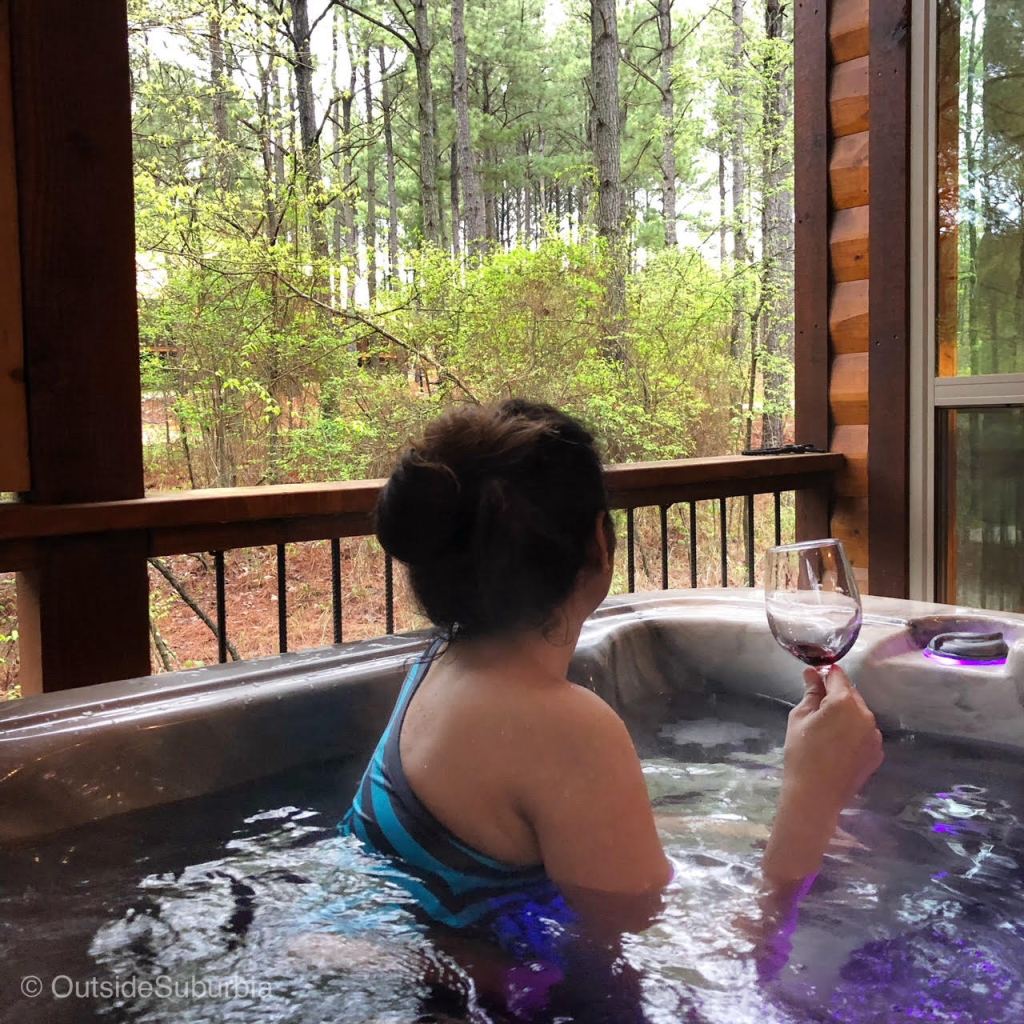 The cabins near Beavers Bend is perfect for a romantic glamping getaway in the Oklahoma the wilderness. Being only 3 hours away from Dallas, Beavers Bend State Park is the perfect Spring or Fall getaway. The cabins in the area have everything you need for a weekend in the woods – hot running water, electricity, air conditioning or heat, granite counters, fireplaces, hot tubs, and cozy linens. You can enjoy hiking, canoeing, swimming, fly fishing, and other water sports during the day and spend your evenings in luxury cabins during your getaway at Beavers Bend Oklahoma. You can charter a speed boat or a pontoon boat and explore the lake, go kayaking or canoeing or even go hunting.

River Man Trail rides is in the Ouachita Mountains in the heart of Southeast Oklahoma just 10 miles west of Broken Bow and have beautiful horses. It is the perfect place to spend a few unplugged days with your loved ones away from the city. If the idea of roughing it or parting with the creature comforts doesn't really appeal to you, then you are sure to love the cabin in Oklahoma.

Priya Vin – Outside Suburbia
Dreamy Tree House (Spicewood Springs, TX)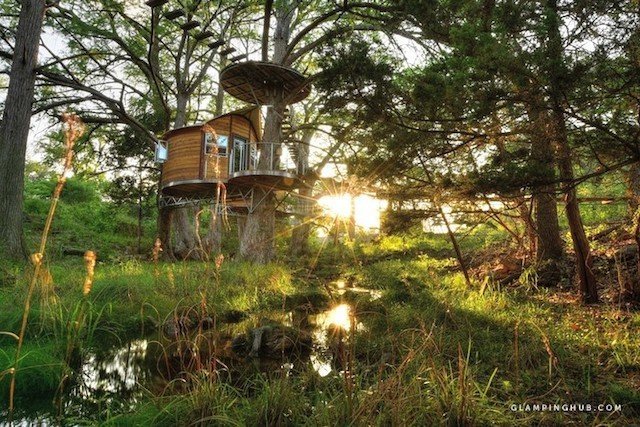 These are two identical tree house rentals, Juniper and Willow, each is a single-room tree house that sits above the cypress-lined creek.
Outside, each has a small porch with chairs, a small table, and incredible views of the surrounding woodlands and creek. Glampers staying at one of these two tree houses have access to shared, rustic bathrooms—including two showers—picnic tables, a pool, a small lake, a barbecue, and other communal spaces. The bathrooms are just a short walk from these tree houses.
North East US Glamping
Tipis at Mountain Horse Farm (Naples, NY)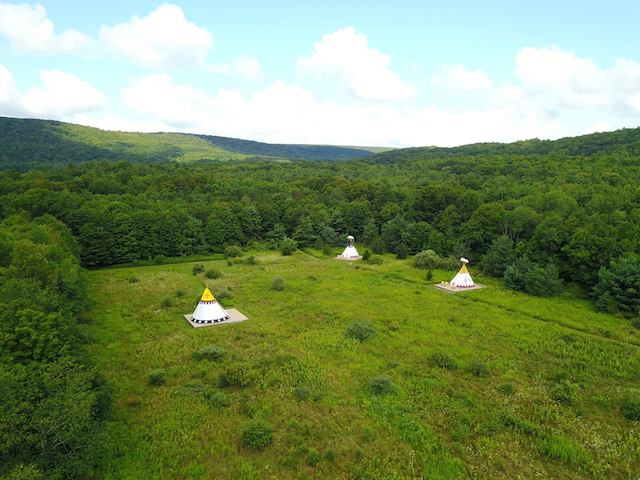 A truly multifaceted property in the Finger Lakes area of New York, Mountain Horse Farm is part bed and breakfast, part wellness retreat. Nestled amongst 33 acres of bucolic and peaceful scenery, the property offers traditional, handcrafted Sioux-style tipis that provide seclusion from the rest of the property (as well as from each other), choice of queen or king beds, critter and mosquito guards along the bottom of the tipis and all openings, table and chair, trunk with extra blankets and access to a large outdoor firepit.
The Firelight Camps (Ithaca, NY)

The Firelight Camps glamping experience at La Tourelle Resort & Spa offers guests the chance to explore the resort's 70-acre property in the Finger Lakes area of New York, ending at Ithaca's famous gorge waterfalls. Overnight accommodations include a safari tent featuring hardwood floors and covered sitting porch. Complimentary s'more kits are offered for nightly roasting by the communal fire and guests receive battery powered lantern lights for telling ghost stories. Firelight Camps also offer complimentary locally-crafted breakfast at the communal lobby tent each morning as well as a complimentary happy hour each night with local Finger Lakes wine and beer. es. Firelight Camps also offer complimentary locally-crafted breakfast at the communal lobby tent each morning as well as a complimentary happy hour each night with local Finger Lakes wine and beer.
Gather Greene (Coxsackie, NY)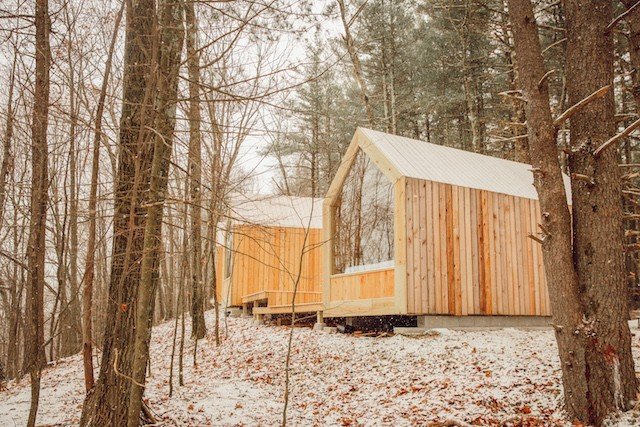 The nature retreat and event space is situated on 100 picturesque acres in New York's Hudson Valley and offers 17 tiny-house cabins. The high-end glamping accommodations measure 160-square-feet and have one wall made entirely of a single pane of glass, providing breathtaking views of the surrounding landscape.
Eastwind Hotel & Bar (Windham, NY)
The boutique property opened in 2018 in New York's Catskills and was originally built as a bunkhouse for hunters and fly fisherman in the 1920s.
There are three secluded A-frame Lushna cabins in the woods, complete with a queen-size bed with plush Frette linens, Faribault wool blankets, and Zenology bath products. Guests can also take advantage of the hotel's amenities while still being surrounded by the great outdoors.
Huttopia White Mountains (Albany, NH)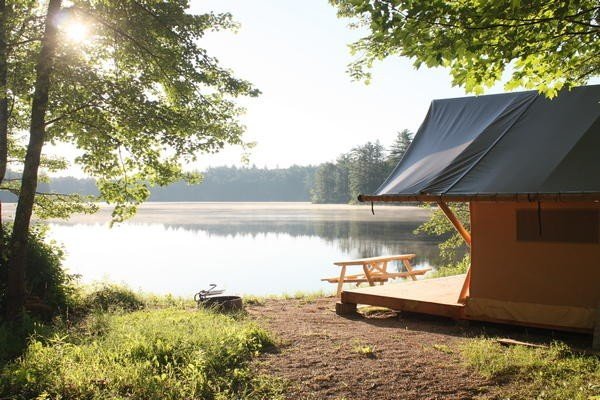 Huttopia White Mountains is a secluded glamping haven located on Iona Lake in Albany, New Hampshire, in the heart of the White Mountains. Canvas glamping tents are available with linens, fire pit, small fridge, and cookware. Outside your tent, you can relax by the swimming pool, swim, kayak or fish in the pristine Iona Lake.
For food, they offer pizza and French-style pancakes in the evening, a camp store stocked with wine, a bar open all day, and a terrace you can relax at any time. (Concerts held in the summer!) Huttopia is a relaxing, luxurious getaway that can be enjoyed by couples looking for a romantic retreat in the wilderness, or by families looking to get their kids out into nature with some of the comforts of home.
Southeast US Glamping
Westgate River Ranch Resort & Rodeo (River Ranch, FL)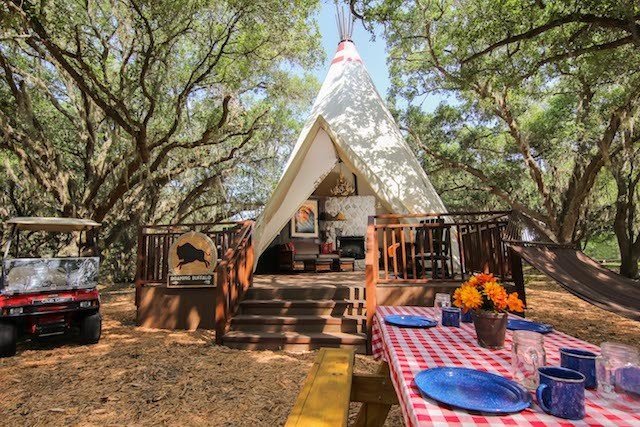 At Westgate River Ranch Resort & Rodeo, located an hour south of Orlando, glampers can choose between a glamping tent or luxury tepee. Enjoy air conditioning, a refrigerator, beds, private patios, microwave, private gas grill, electrical outlets, morning coffee service, and personal glamping concierge. The Luxe Teepees also features a double-sided rock hearth fireplace, leather furniture, private en suite bathrooms with vanity and porcelain cast iron claw bathtub and shower, personal golf cart rental, unlimited Ranch activities and more.
The only thing glampers need to worry about is choosing from the Ranch's many activities, which include horseback riding, airboat and swamp buggy rides, an adventure park, archery, trap and skeet shooting, a weekly Saturday Night Rodeo and more.
Coldwater Gardens (Milton, FL)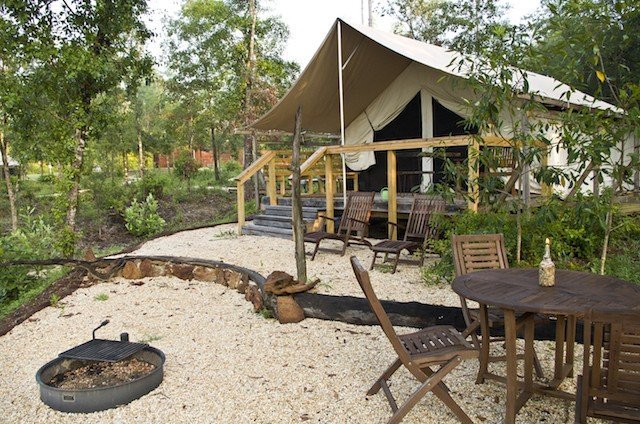 For a more secluded and luxurious experience, Coldwater Gardens is a serene sanctuary awaiting you. A secluded agrotourism destination unlike anywhere else in northwest Florida, the 352-acre property has glamping tents, a modern treehouse, and private cottages.
Elatse'yi (Ellijay, GA)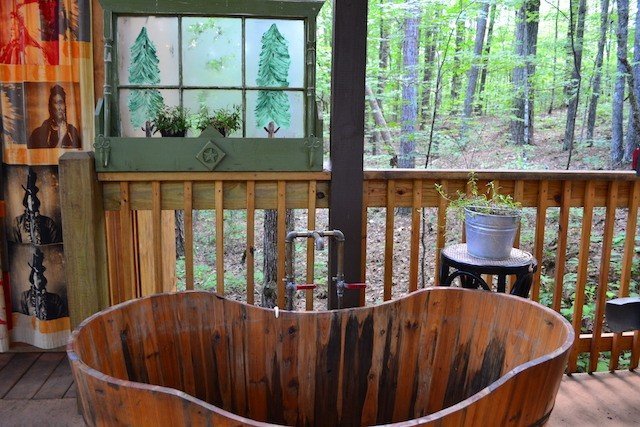 At Elatse'yi, you can choose accommodations like an Airstream to an authentic geodome, complete with outdoor soaking tubs perfect for stargazing. Located just north of Atlanta in Ellijay, Georgia, here you can take up archery, hike mountains, commune with alpacas and meet new friends as your international hosts cook for guests around an Argentine grill in the heart of the North Georgia Mountains.

The Tents at Mountain Cabin (Waynesville, NC)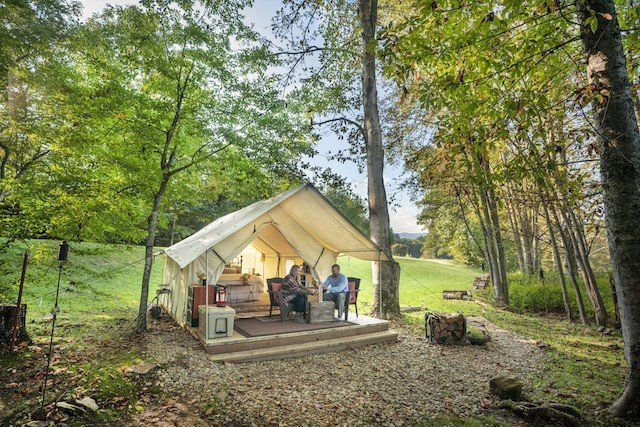 Located in Waynesville in the Smoky Mountains of North Carolina, guests in the Tents at Mountain Cabin enjoy a spacious and private creekside canvas tent cabin with an additional covered porch to provide the ultimate outdoor overnight glamping experience. The tent has a real mattress, luxurious bedding, and outdoor creekside shower. Upon arrival, the porch cooler is stocked with fresh locally baked pastries, Greek yogurt, oatmeal, granola & fresh fruit for breakfasts during the stay.
Midwest Glamping
MAGIC Tipi Retreat (Park Hills, MO)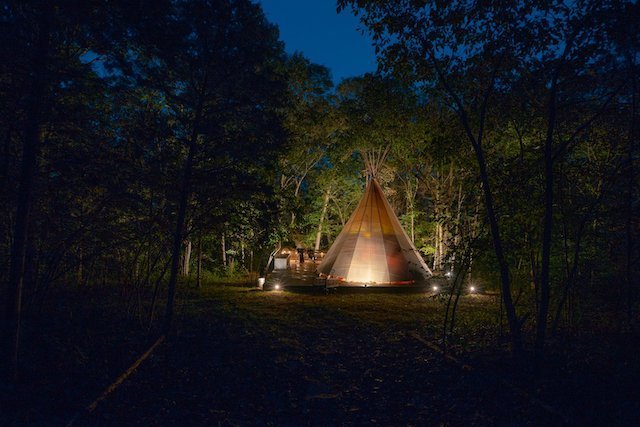 Enjoy luxury in the Ozarks. These tipis are fully equipped with clean sheets, hot showers, firewood, smores, and much more. The tipi has two queen beds, toiletries, and bedding including electric blankets for the colder evenings. The tipi is tucked away in the woods on a 16-acre property where secluded forests envelop the maintained grounds. Also available are additional services such as private hot tub access, fitness and spa, professional massages, sound bath, instructional courses, intimate wedding services, and vow renewals. Even your meals can be provided with ingredients from local farms.