Ventana Big Sur lies near Monterey, California nestled between the rugged coast of the Pacific Ocean, and is the epitome of wild luxury with, of course, cabins available. With redwood trees towering above and the crashing waves below, the serenity of nature surrounds you.
Accommodations
Ventana's 59 rooms and suites are set on the 160-acre property in small and secluded groups to ensure maximum privacy and peace. The buildings clearly take inspiration from the beautiful natural world around them, decorated with rich tones and using wood and leather to create contemporary luxury. Each room or suite features a bed fit for kings, as well as a large private balcony or patio to let the outside in and allow you to soak up your magnificent surroundings.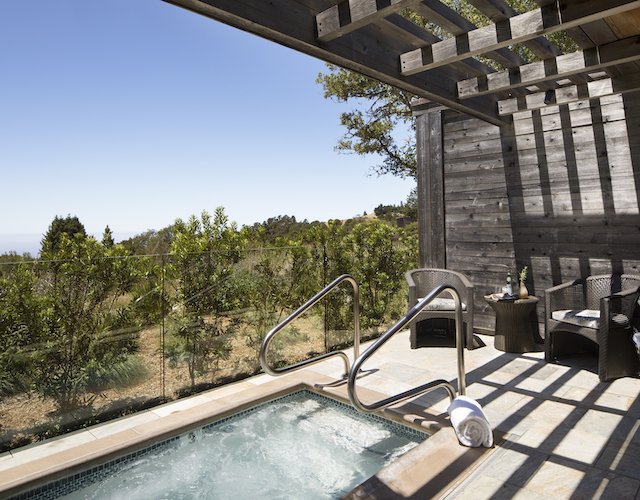 Bigger houses are available for larger groups or families and if you want to connect with nature on a deeper level, opt for glamping, where you'll fall asleep to the sound of the forest under a blanket of stars in a glammed-up tent cabin.
Food & Beverage
With Ventana Big Sur's new inclusive model, meals are included with your stay, and upgraded options such as alcoholic beverages are available for separate purchase. You can dine in-room, poolside, or at The Sur House restaurant.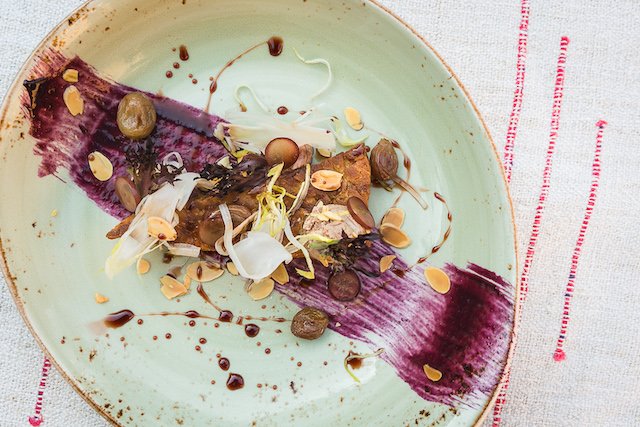 A unique and fun way to enjoy both food and nature is to take advantage of their Picnic menu that can be set up throughout the property with a map of hidden spots to enjoy.
Activities
As a guest, you'll have access to many activities and amenities to enjoy throughout your stay.
The Pools & Bathhouse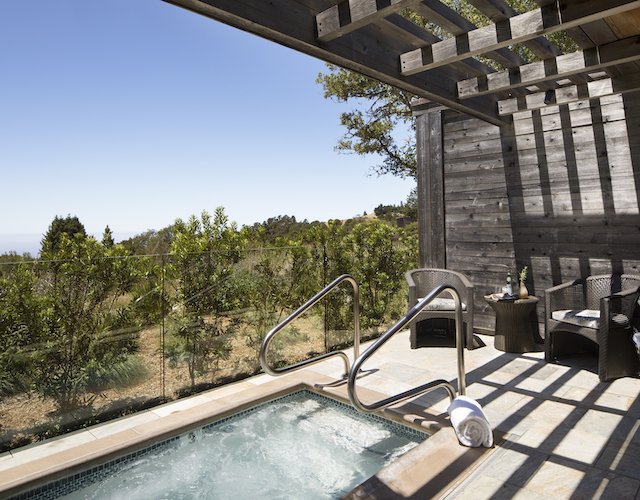 There are two heated outdoor swimming pools, one features an infinity hot-tub, and there are additional pools and hot tubs in some of the cabins. For an even more relaxing and immersive soak, retreat to the Japanese hot baths adjacent to the Mountain Pool, and enjoy a serene communal-bath setting traditionally believed to foster emotional intimacy. Separate areas for men and women are provided, or you can meet in the middle for a co-ed experience. The baths are heated to 104 degrees year-round.
The Excursion Outpost
At the Excursion Outpost, where anything and everything you'll need for your adventures can be found. Grab some camping chairs and card games to enjoy around the fire or take a tripod with you on a hike (kitted out with Patagonia day packs) to catch that perfect shot. Tackle Big Sur on a bike – try the Rocky Ridge Trail in Garrapata State Park for a challenge! With the rough waters of Big Sur, kayaking should be enjoyed with the proper equipment, preparation, and local advice; the experience is one that won't be forgotten.
Alila Experience
The Alila Experience program provides workshops and activities focused on connecting you with yourself, your partner, and nature. At an additional cost, you can go through a cheese journey, learn to mix cocktails like a master, you can enjoy private yoga, tai chi, qi gong, or meditation class to add some extra movement into your vacation.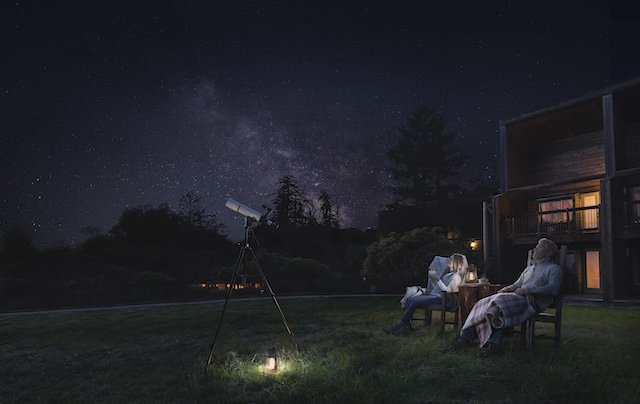 While some of the experiences might seem common like a photography hike, there are many unique workshops you likely never considered. At the Falconry experience, for example, you'll learn about the role of raptors in the Big Sur environment, see a flight demonstration, have a meet-and-greet with the bird.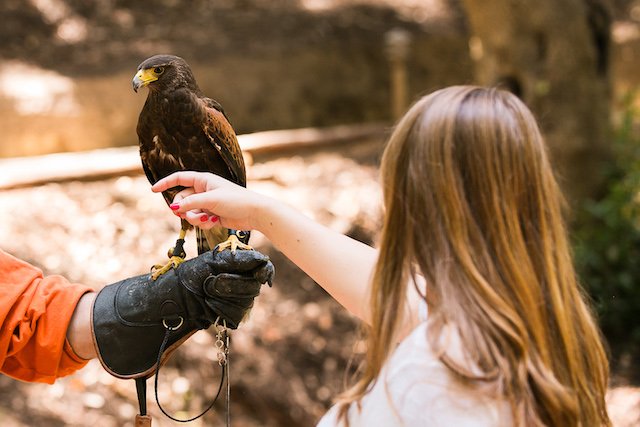 Nearby Activities
Point Lobos State Preserve is home to two scuba diving sites: Bluefish Cove and Whalers Cover. Expect swaying, luscious underwater forests, and dense populations of marine animals swimming through the brightly colored oceans. There are several other sites nearby, including Jade Cove and Carmel Bay. Big surfers will enjoy the swell near Ghost Tree and the northern end of Molera Beach, and windsurfing and kiteboarding can be enjoyed by anyone, with beautiful scenery surrounding you on the wild waters.
Weddings at Ventana Big Sur
Ventana Big Sur offers the memory of a lifetime with their weddings. With a backdrop worthy of a famous painting, your special day can become just that more special. There are plenty of locations around Big Sur to make your big day the biggest of your life, from canyon vows to canopied sunset receptions. Redwood Cathedral is rustic yet elegant, and brings nature into the wedding day, with ocean views from the Sur House Terrace & Bar, complete with oversized wood-burning fire, where you'll also indulge in decadent cuisine.