Whether it's hiking, skiing, or sightseeing, Yosemite National Park has countless natural wonders to experience. Any vacation to Yosemite will be a memorable one, but to make it even more memorable, you'll want to find the absolute best accommodations available. Featuring convenience and luxury, accommodations for couples or families and everything in between, this list contains the top cabins in and around Yosemite National Park. Read on to find your ideal Yosemite vacation home.
Yosemite West Cabins
"Alpenglow 2" Chic 2 Bedroom Cabin
Whether you're traveling with your family or just a special someone, this chic cabin will meet all your needs. With accommodations for up to 8 guests, you'll have plenty of room in this amazing cabin. The open kitchen and dining area is sleek and spacious, with granite flourishes that are carried on throughout the rest of the cabin.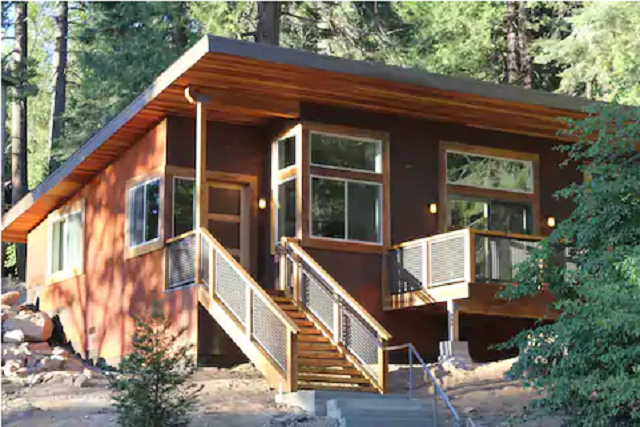 You can cozy up next to the fireplace, or sink into the soaker tub for some relaxation time. Head out onto the porch to grill up a meal, or just enjoy the view.
"Yosemite's Tree Haven" 2 Bedroom Cabin
Luxury meets rustic charm at this stunning cabin. Surrounded by trees, this cabin features plenty of opportunities to take in the view. Head out onto the deck or second-floor balcony and let the wonder of nature wash over you. The living room also has large windows for taking in the beautiful scenery. There is also a lovely stone fireplace.
Other amenities include two bedrooms, two full baths, and a fully stocked kitchen. You'll be able to enjoy all that Yosemite National Park has to offer in comfort and style.
Half Dome Loft 3 Bedroom Cabin
Make your next Yosemite vacation one remember at this spectacular cabin. The bright, airy interior will make you feel right at home, with ample natural light and vaulted ceilings. You'll have plenty of room, with sleeping arrangements for up to 10 guests.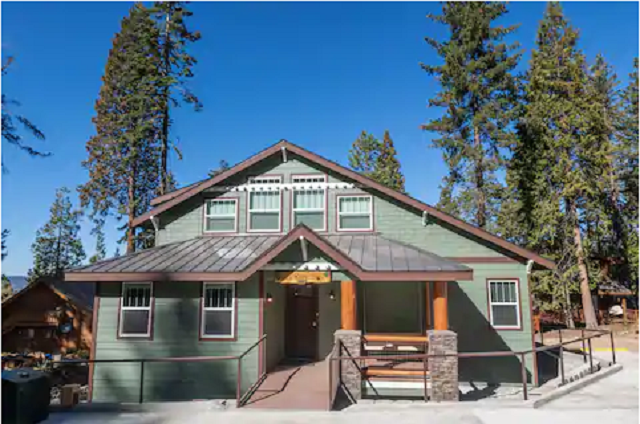 A large loft area features several bean-bag chairs and room to stretch out, watch TV, or enjoy some board games. Enjoy your meals in the spacious dining area, or head outside for dinner under the stars. Then, you can relax on the porch swing and take in the beauty of nature.
Yosemite's Dogwood Manor
With Yosemite National Park right on your doorstep, this cabin provides convenience, amazing views, and ample comforts, all in one beautiful package. The warm, modern interior is immediately eye-catching, and you'll love all the wonderful accommodations at your disposal. Three spacious bedrooms and three baths allow for up to 10 guests.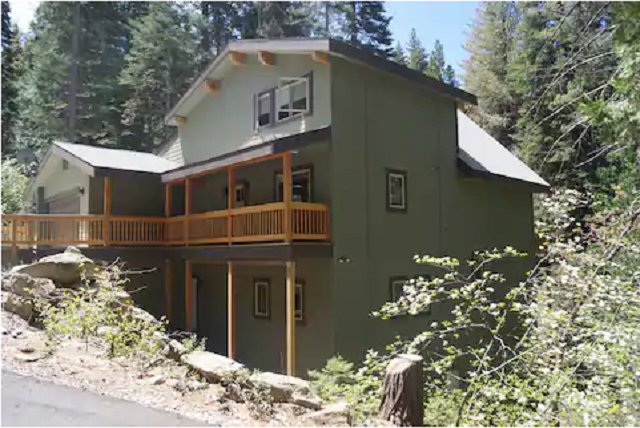 The lounge area is both classy and comfortable, in addition to providing a wonderful view of the surrounding trees. You can relax on the deck, grill up some food, or head out into the park for fun in the great outdoors.
Yosemite's Alpine Aerie 3 Bedroom Cabin
Enjoy life among the trees at this amazing cabin. Two large decks bring the forest to you, giving the feeling of soaring among the trees. From there, you can grill up a meal or simply enjoy the view. Inside, the cabin is as comfortable as it is impressive.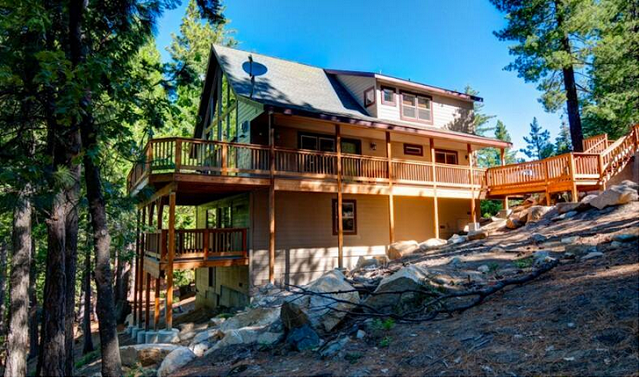 Challenge your friends or family in the game room, or retire to the spacious, open living/dining/kitchen area. It comes complete with a breakfast bar and plenty of seating. With three bedrooms and three baths, you and all your guests will feel right at home.
Boulder Ridge 3 Bedroom Cabins
Located just 25 minutes from renowned Yosemite Valley, you'll have fun right at your fingertips at this terrific cabin. Its slick, modern interior is immediately eye-catching. It features three queen-sized beds, as well as two full baths, a full kitchen, and a living and dining area.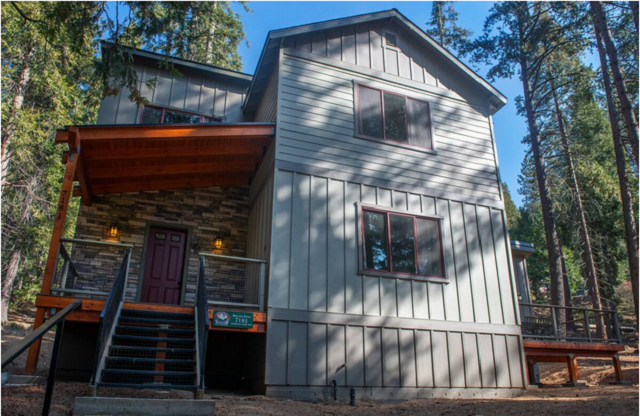 Outside, you'll have access to two decks, a grilling station, and plenty of room for outdoor dining or relaxing and taking in the sights. For a truly memorable Yosemite vacation, this cabin can provide everything you need and more.
"Alpenglow 3" 2 Bedroom Cabin
For a sleek, modern take on the classic cabin, you can't go wrong with this grand Yosemite cabin. The elegant and classy décor is ideal for anyone looking for a premier cabin experience. Have a glass of wine next to the lovely fireplace, or prepare a fantastic meal in the full-service kitchen.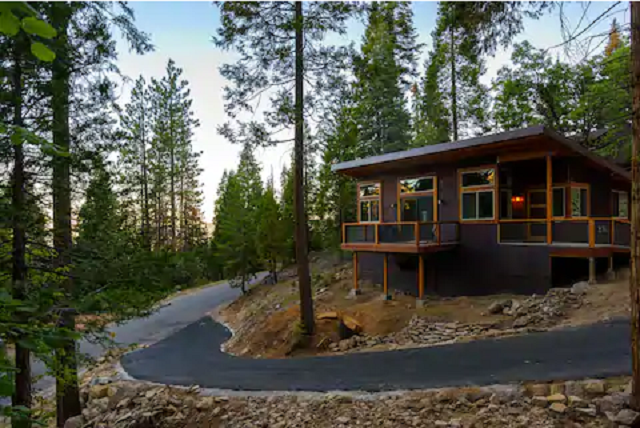 Take the fun outdoors, where you can indulge in the scenery from the deck, or even grill up some dinner. You'll have room for up to 8 guests, with two plush master suites and a sofa bed in the living room.
Yosemite's Sport Chalet 3 Bedroom Cabin
Take your Yosemite vacation to the next level at this snazzy cabin. The rustic flourishes and modern design sense make for a fantastic combination. There is no end to the comforts available here. Three lavish bedrooms can accommodate up to 10 guests. You'll also have access to three full baths, a cozy living room with a wood-burning stove, and a dining area with a view.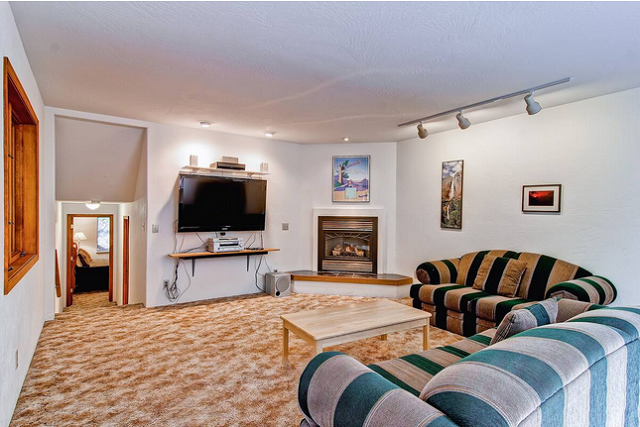 A second sitting area features a large screen TV and another fireplace. You'll be so enamored with the amenities, you may forget that Yosemite National Park waits just outside your door.
Wawona Cabins (Located within Yosemite National Park)
Friends Lodge
Find your home away from home at this incredible lodge. With three bedrooms, three baths, and room for up to 14 guests, you can bring the whole family and then some. The sprawling wrap-around deck features a hot tub, grilling station, and dining area. Additionally, you'll find a second-floor balcony for relaxing and taking in the scenery.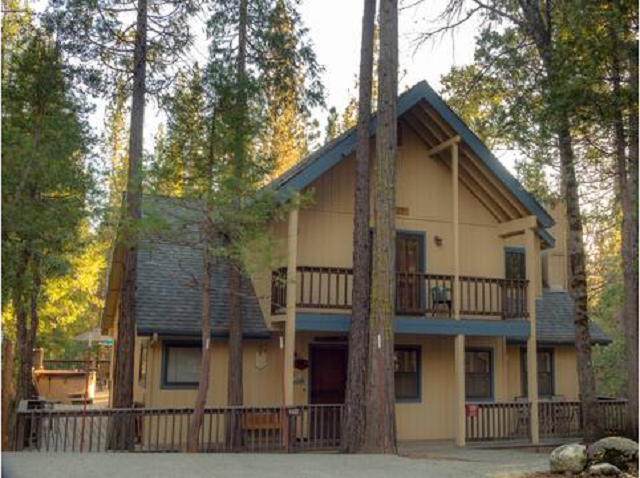 Inside, the enormous kitchen and dining area is perfect for breakfast with family or friends. You'll also have access to a game room with a foosball table, a separate lounge/office area, and a wood-burning stove.
Arrow Lodge 4 Bedroom Cabin
Indulge in the wonder of nature at this luxurious cabin. Tucked away among the trees of a private forest, you'll have all the peace and quiet you desire. Take in the serene scenery from the great room, where floor-to-ceiling windows offer a great view and tons of natural light.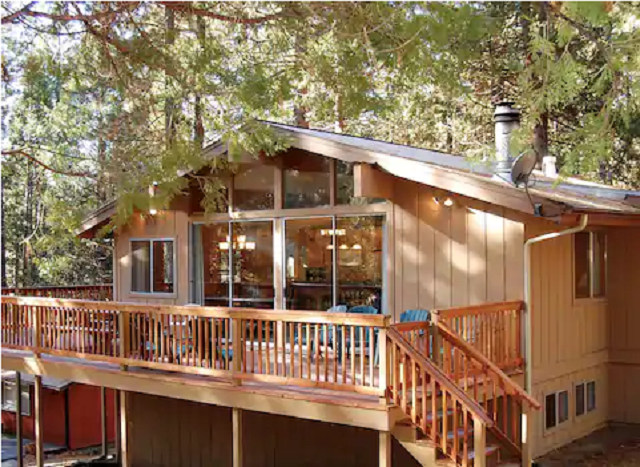 Or, you can relax on the deck, where you have ample seating and even a grill. Other amenities include a game room, four bedrooms, 2.5 baths, and a full kitchen. Don't miss out on a chance to make your Yosemite trip unforgettable.
Wawona 3 Bedroom Cabin
Fun and fantastic living await you at this lovely cabin. The moment you walk in the door, you'll be charmed by this amazing Yosemite vacation destination. The spacious living area features a homey feel with bright, cheerful splashes of blue. A lofted game room is perfect for entertainment on a rainy day.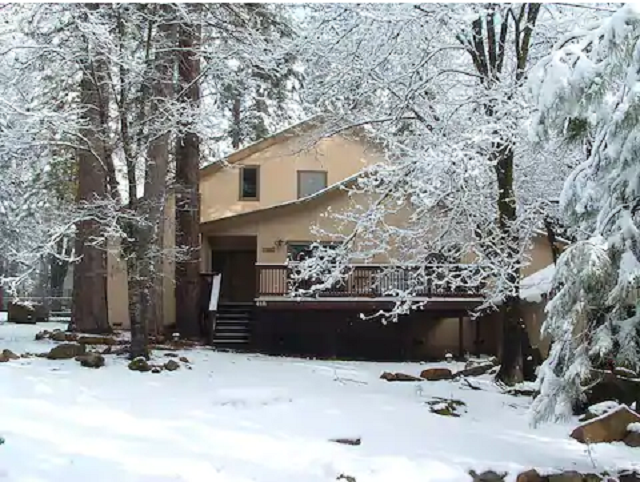 The large, open kitchen and dining area allows for mealtime with the whole family. And you can always head out onto the deck to enjoy the tranquil scenery. The cabin also features three bedrooms, two baths, and a fireplace.
Luxury "Buss Stop Cabin" With Hot Tub
This luxurious cabin is your chance to escape the daily grind and experience something truly amazing. Surrounded by trees, you'll have the beauty and serenity of nature right on your doorstep. An expansive outdoor area includes many amenities, including a central stone patio, a hot tub, and an outdoor dining area complete with a grill.
Inside, you'll find even more to love about this fantastic cabin. The living room features plush leather couches and a fireplace. The dining and kitchen area is spacious and bright. And there are enough sleeping arrangements to allow for up to 10 guests.
Creekside Birdhouse Cabin with Hot Tub
For something a little different, come try out this amazing cabin. Its unique construction lives up to its name, giving the impression of a giant birdhouse. It features a spacious loft sleeping area, a quaint wood-burning stove, and a large couch, big enough for the whole family to enjoy.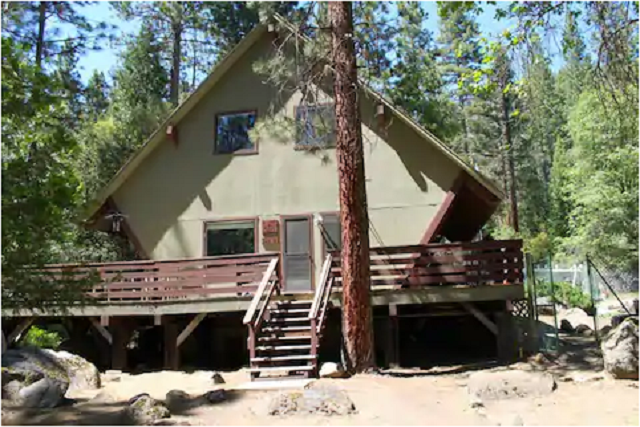 Outside, you'll find a wrap-around deck with its own list of fun perks. Grill up a meal and enjoy an outdoor dining experience with friends or family. And after you've had a long day of exploring Yosemite National Park, you can have a soak in the hot tub and wash away your fatigue.
Fish Camp Cabins – 2 miles to Yosemite's South Gate
Tree Top 3 Bedroom Cabin
For a bright, cheery experience that puts you right in the heart of nature, this cabin truly can't be beaten. It features a number of homey touches that will immediately charm you. A stone fireplace in the cozy living room is perfect for gathering around on a chilly day. The cabin is stocked with puzzles and games for a rainy day.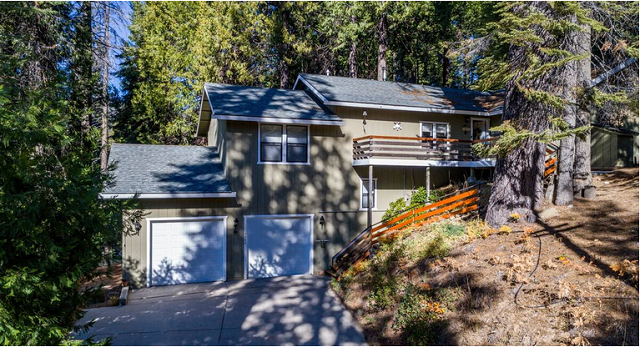 You'll also find a full kitchen, three bedrooms, three baths, and ample deck space. And as it's only a few miles from Yosemite National Park, you won't have to go far to experience all the wonders of nature.