The USA is full of amazing national parks and beautiful wilderness that are perfect for hiking. If you are enjoy hiking when you travel, here are 25 different destinations, perfect for you.
Joshua Tree, California
Joshua Tree National Park is an amazing park that makes for a perfect destination for hiking. The park is fascinating and includes 671.4 square miles of designated wilderness. Its landscape has been sculpted magnificently by strong winds and occasional torrents of rain. A rich cultural history, dark night skies, and surreal geologic features make this an amazing wilderness to vacation in Southern California.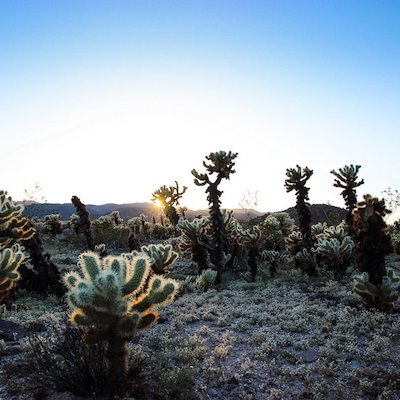 Joshua Tree is a great place to visit in the winter to escape the cold of places in more northern locations and is perfect as part of a Southern California road trip. Avoid hiking during July and August because it is just too hot and people die each year.
Asheville, North Carolina
Contributed by Carrie from TrainsPlanesandTukTuks.com
Asheville, North Carolina is a great base for a hiking vacation. Located in a valley in the Blue Ridge Mountains, it's surrounded by 5,000-foot peaks.
Asheville is within an hour's drive of Pisgah, Nantahala and Cherokee National Forests, Shining Rock, Middle Prong and Linville Wilderness Areas, and Great Smoky Mountains National Park. As a local, I don't have to look hard to find a new trail to explore every weekend.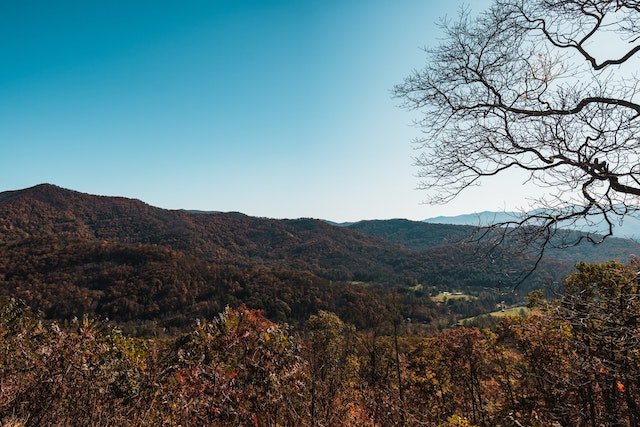 Asheville's hikes offer two things: Views and waterfalls. Easy waterfall hikes include Triple Falls, Catawba Falls, Skinny Dip Falls, and Crabtree Falls. If you want long-range, panoramic views and colorful sunsets, head to Black Balsam Knob or Craggy Gardens.
Backpackers will want to check out the Art Loeb Trail and Carvers Gap to Highway 19E — two of the nation's most view-packed backpacking trips.
When you finish hiking, head into downtown to grab a beer at Bhramari or Burial Breweries, or enjoy a barbecue feast from 12 Bones or Luella's.
Sedona, Arizona
Contributed by Maggie from TheWorldWasHereFirst.com
If you're looking for the ideal destination for hiking in the USA, then look no further than Sedona, Arizona. This small town in northern Arizona makes for an excellent stop while on a road trip from Phoenix to the Grand Canyon and is noteworthy for its iconic and beautiful red rocks.
Sedona is the dream destination for outdoor lovers with countless well-maintained and marked hiking trails scattered throughout the town and its surroundings. There is something available for all levels of ability and you're sure to be awestruck by the sheer beauty of the dramatic red rocks.
If you're looking for a moderately difficult hike, the Devil's Bridge Trail is always a popular option as the 4.5-mile loop is one of the most well-known in the town. If you're looking for something a bit more challenging, then make sure to check out the beautiful West Fork Trail, which is considered to be one of the top 10 hiking trails in the United States.
All in all, if you're looking for the perfect hiking holiday, then look no further than lovely Sedona, AZ.
Michigan's Upper Peninsula
Contributed by Sherry of Travel-Mi.com
Some of the most scenic hikes in the United States are located in Michigan's Upper Peninsula. Hiking in Pictured Rocks National Lakeshore offers scenic views of Lake Superior, numerous waterfalls, fine sandy beaches, and of course, Pictured Rocks. For a closer look, hikers enjoy the North Country Trail that follows the shoreline along Pictured Rocks.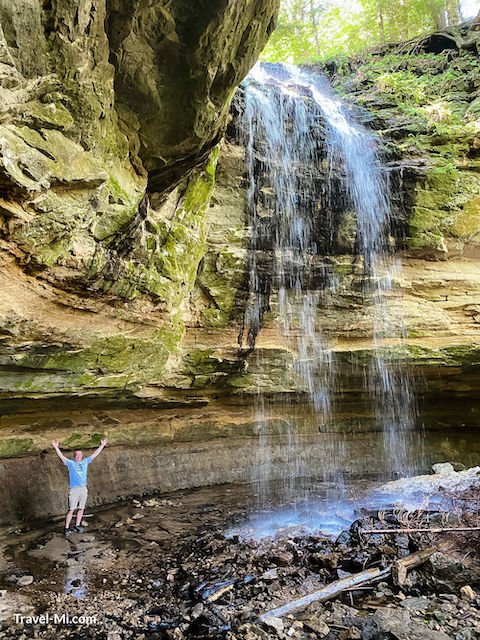 Tannery Falls, one of the most beautiful Upper Peninsula waterfalls, is located in Munising, Michigan. This incredible 40-foot waterfall flows over a sandstone cliff into a canyon that provides incredible hiking. To find the falls, you will hike through a dense forest with tall scenic rock and sandstone formations. Hiking boots are a must along this trail as you will need sure footing along the narrow and sometimes steep pathway. The Miner's Falls trail, also located in Munising, is also a great hiking trail leading to a 50-foot waterfall. This hike is 1.2 miles round trip with wooded scenery along the way.
Bend, Oregon
Contributed by Nina of OregonIsForAdventure.com
You could spend a month hiking around Bend, Oregon, and barely scratch the surface. With the Cascade Mountains in your backyard, a beautiful river that flows through the city, and the high desert weather, Bend, Oregon is a dream for adventurers, particularly hikers.
Just walking around town you'll find several areas for hiking along the Deschutes River. You can even stop for a craft beer before continuing along your walk! The Pilot Butte hike is the place to go for one of the most epic sunsets over the city.
To the southeast of the city, Newberry National Volcanic Monument is a great place to explore for a day to two. Gorgeous strolls along the lakes, waterfalls along the creek, and summiting Paulina Peak are just a few of the excellent hikes near Bend.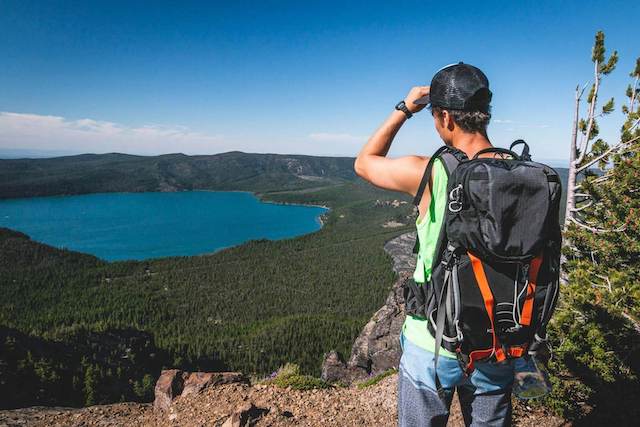 To tackle the monstrous mountains that line the west of the city, you'll need to lace up your hiking boots and maybe even pack a tent if you want to make it a multiday adventure. While there are way too many hikes to mention, a favorite is South Sister. This is a 12-mile out and back grind up the third tallest mountain in the state. Hover over Middle and North Sister and gaze over the other peaks stretching for miles and miles.
If this one is a bit too much, try taking the 9-mile moderately difficult hike to the Green Lakes. Here you'll get to see South Sister looming to your left while to your right, you'll get views of Broken Top Mountain. The Green Lake themselves are gorgeous and there's even backcountry camping available here as well.
Hiking is definitely one of the best things to do in Bend, Oregon, but do keep in mind many (not all!) hikes are often only accessible from around June-October due to weather conditions and road access.
Columbia Falls, Montana
Contributed by Jamie Harper from FlyByTheSeatOfOurPants.com
Glacier National Park is a hiker's paradise. With lakes, rivers, waterfalls, high mountainous viewpoints, and glacial valleys, hiking in the area will bring joy to every explorer.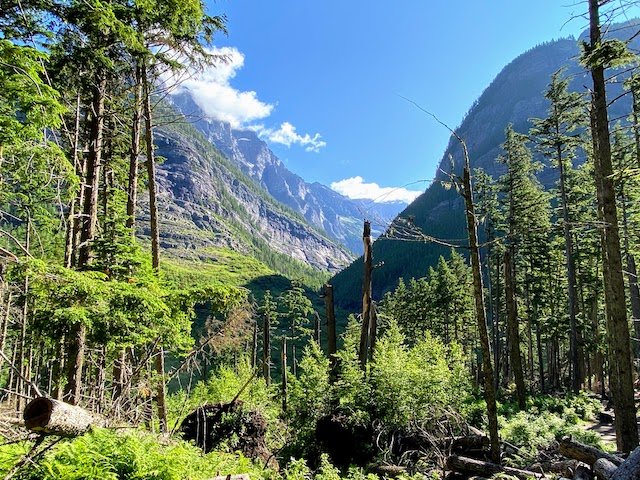 The city closest to Glacier that provides accommodations and has plenty of eating options is Columbia Falls.
In town, you must try Mudman Burgers and loaded nachos at Gunsight Saloon. You'll find easy access to affordable and on-the-go food with a Smith's Marketplace on Main Street.
From Columbia Falls, it's an easy drive to Apgar Visitor Center, the entrance to Glacier National Park.
For the most popular hikes start with the Trail of the Cedars and continue to scenic Avalanche Lake. You'll find Lake Mary, Virginia Falls, Mary's Falls, and Baring Falls are all along the same trail. Hidden Lake is a boardwalk high up in the highest point in the park making it a barren walk in alpine land.
For longer hikes, visit the most beautiful waterfall, Florence Falls. Hike one-way from the Logan Visitors Center along the Highline trail (don't miss the slight detour to Grinnell Glacier overlook!) to the loop shuttle stop. Get more details and descriptions for hikes in Glacier National Park
With over 700 miles of trails in Glacier National Park, a hiker will never run out of fantastic options to explore.
Vail, Colorado
Contributed by Jen from Flourishing Over 50
Most people know and think of Vail, CO as a destination for supreme skiing. What many people don't know is that Vail is a great place for hiking in the summer and early fall. Not only does Vail have great hiking, but the crowds are much less than at more popular hiking destinations (like National Parks). Also, there are great places to stay at very reasonable rates as it is considered the low season and you have access to many of the great restaurants that Vail has to offer without the winter crowds.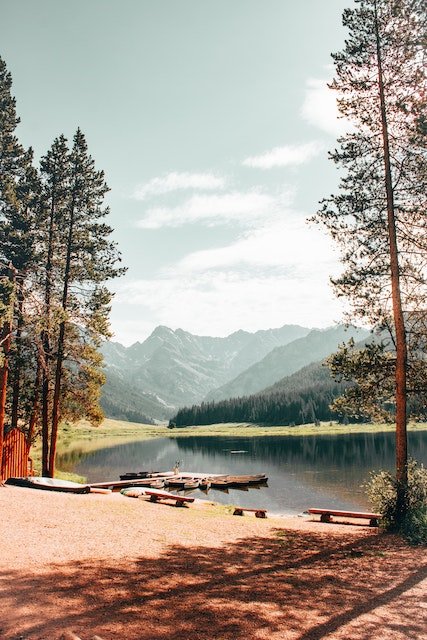 The great thing about Vail as a hiking destination lies in the variety of hikes in the area. You can do some easy, shorter hikes close to town (and can get there via the city bus) or you can venture into more advanced hikes further in the mountains.
Close to town and accessible by the local bus is The North Trail. Further away from town, a favorite of locals and quite less crowded is Shrine Ridge Trail which also takes you to Shrine Mountain if you are up for going a bit further. For longer hikes, consider Upper Piney River Falls, Booth Falls or Pitkin Lake Trail.
Moab, Utah
Contributed by James Ian from Parks Collecting
Moab in Utah is a perfect destination for hikers and adventure lovers. The town, which is well set up for tourists with plenty of accommodations, restaurants, adventure outfitters, and stores, is just five miles from the entrance to Arches National Park.
Arches have plenty of really great hikes, from easy walks on flat paths to the full-day loop through Devil's Garden. This epic trail has three connected sections of increasing difficulty and goes to a total of eight arches, including Landscape Arch, which is the longest single-span arch in North America. Another iconic hike in the national park is the three-hour out-and-in hike to Delicate Arch, the most famous arch in the park.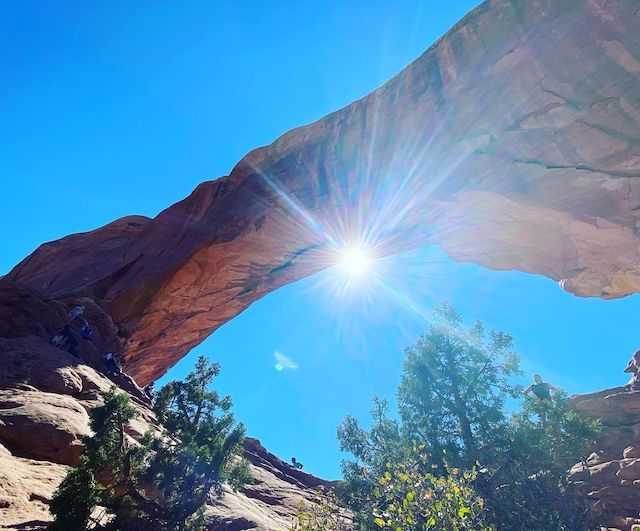 There are plenty of areas outside the park near Moab for additional hikes. Dead Horse Point State Park and Canyonlands National Park are also nearby, and the area is riddled with slot canyons. The truly adventurous can even combine hiking with canyoneering and rappel down canyon walls, hiking through canyons in between! Guided trips can be arranged in Moab.
Ouray, Colorado
Contributed by Tanya from Rad Family Travel
If you love hiking and all kinds of outdoor adventures, then at 7,792 feet elevation, Ouray (pronounced YOU-ray) is the perfect spot for you to park yourself in Southwest Colorado.
Give yourself at least three days and nights in this part of the San Juan mountains, because the hiking and outdoor recreation options are vast and numerous.
One of the best waterfall hikes in the area is Chief Ouray Mine via Upper Cascade Falls. This steep hike with gorgeous views the entire way gains 1800 feet in elevation in the first 1.7 miles and includes a bit of cautious hiking along some ledges. Once you've taken in the gorgeous waterfall, don't miss the short bit to the Chief Ouray Mine where you can walk through the old bunk room.
Soak in the town's hot springs after any of this area's hikes. Ouray and the surrounding area is also known for the eye-popping Million Dollar Highway, iconic Colorado jeep rides to old ghost mining towns, and over high mountain passes. canyoning, rock climbing, white water rafting, SUP and kayaking, fishing, mountain biking, gondola rides, and more.
Plus, nearby Mount Sneffels Wilderness offers wonderful alpine hikes and lakes when you embark early on longer hiking trails like the Blue Lakes Trail. Ouray makes a great base with camping options, hikes, waterfalls, and hot springs right at your feet.
Brevard, North Carolina
Contributed by Anna from StuckOnTheGo.com
Brevard is in the heart of Transylvania County otherwise known as The Land of Waterfalls because of the 250 waterfalls in the area. It is surrounded by Pisgah National Forest and close to Gorges State Park and DuPont State Recreational Forest. The opportunities for hiking are endless.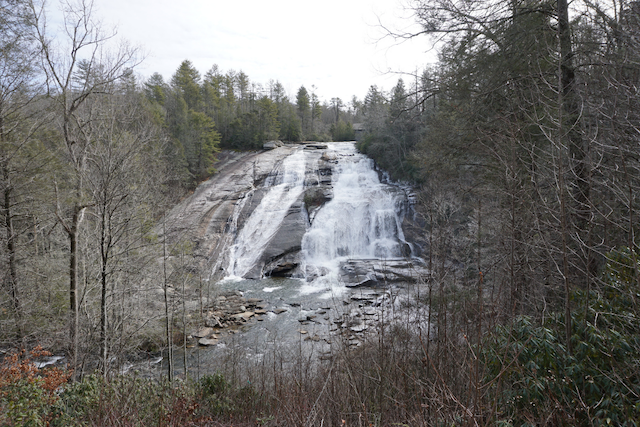 In DuPont, you can take the High Falls Loop and the Triple Falls and Hooker Falls Trails offshoots to see three different stunning waterfalls. This area may be familiar to any Hunger Games fans as this was one of the filming locations. In Gorges State Park the most popular trail is the Rainbow Falls trail where you'll find both Rainbow and Turtleback Falls.
Other popular trails in the area are Graveyard Fields which is right off of the Blue Ridge Parkway and the Art Loeb Trailhead. Graveyard Fields has an easy hike to a small waterfall and then a longer one for those who need a better workout. Art Loeb is more popular with serious hikers and backpackers. These are some of the best trails in the Southeast. There is no shortage of hiking opportunities in Brevard!
Pinnacles National Park, California
Contributed by Michelle from Silvas Travel Tribe
The great thing about hiking in Pinnacles National Park, one of the newest parks in the system, is you enjoy it without the crowds. Rock climbing, hiking, exploring caves. There's something for everyone.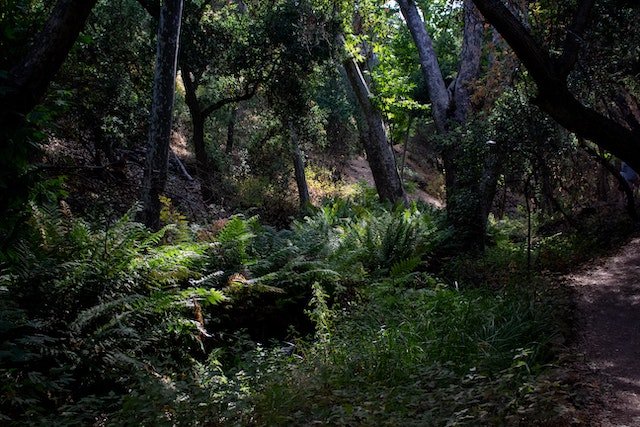 First, choose your entrance. The east side from Hollister, CA is accessible via CA-25. The west side entrance just outside of Soledad, if coming from Monterey on Hwy 101.
From the east side the Moses Spring – Rim Trail Loop is just over 2 miles through Bear Gulch talus cave and ancient rock formations. If you want a challenge that takes you to the highest elevation in the park the 9-mile round trip Chalone Peaks Trail rewards with extensive valley views.
The west side offers an easy hike on the Balconies Cliff-Cave loop at just over 2 miles. You'll want your headlamp with you if caves are open because it allows hands-free lighting. If those high spires call your name, leave from Chaparral parking lot to the Juniper Canyon Loop through a series of switchbacks to the High Peaks area. Leave early and by the time you get to the peak elevation, you see condors swooping across the sky catching warmth from the early morning sun.
Salt Lake City, Utah
Contributed by Deb from TheVisaProject.com
Salt Lake City is a hikers' heaven any time of the year except for winter when everyone flocks here to ski and snowboard. Be it mirrored lakes in mountains, roaring waterfalls, natural thermal pools, or just the view of the city- there are hikes packed with all kinds of possibilities. So if you are a hiker and traveling to the USA, Salt Lake City is a must.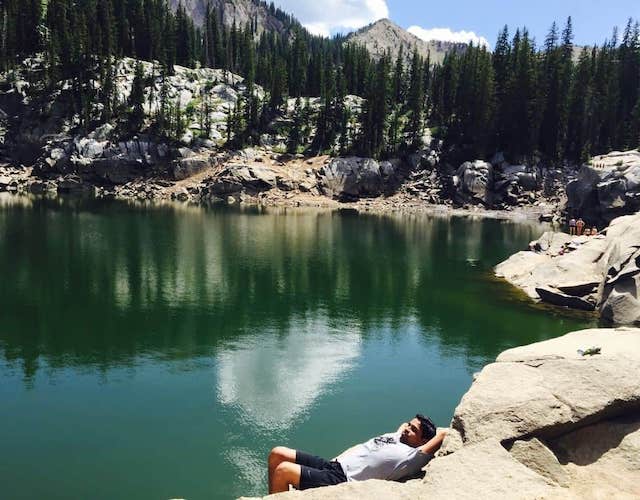 One of my favorite hikes is the Living Room hike that rewards you with a collection of rocks that are in the shape of couches, lounge chairs, and even loveseats at the top. It is very close to the city so you will have a great view of the city while watching the sunset.
Then there are many hiking trails in Big Cottonwood Canyon that would take you to many gorgeous lakes like Lake Catherine, Lake Mary, and Willow Lake.
The best part is that there are easy hikes as well as moderate and difficult ones. So no matter what your level is, you will find a few hikes meant for you.
Springdale, Utah
Contributed by Rhonda from TravelYesPlease.com
The small town of Springdale, Utah is a fantastic destination for hikers thanks to its close proximity to Zion National Park.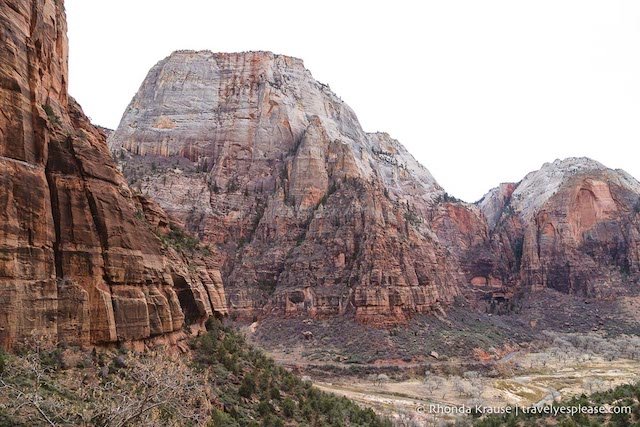 Zion is well known for its adventurous hiking trails, many which make their way to viewpoints overlooking the stunning Zion Canyon. Some classic, popular hikes in the park include Angels Landing, The Narrows, and Observation Point.
Since Springdale is located immediately outside the park's south entrance, hikers can spend more time on the trails and less time travelling to the park.
In addition to its prime location for visiting Zion National Park, Springdale also has a convenient shuttle system into the park. For much of the year, private vehicles are not allowed on the Zion Canyon Scenic Drive, where most of the park's best hiking trails start from, so by staying in Springdale visitors don't need to worry about finding parking in town or at the Zion visitor center.
Leadville, Colorado
Contributed by Kristen from YonderlustRamblings.com
Colorado's no stranger to amazing mountain towns and hiking destinations, but the quaint town of Leadville is unique! Not only is the town itself steeped in mountain history and roots, it maintains this identity in a raw, unfiltered way, all while providing an optimal base for exploring the best peaks in the Rocky Mountains!
Leadville may be small in comparison, but this gives it a refreshingly genuine feel. Its secluded and prime location provides hikers with easy access to a string of 14'er summits, including the highest point in Colorado, Mount Elbert!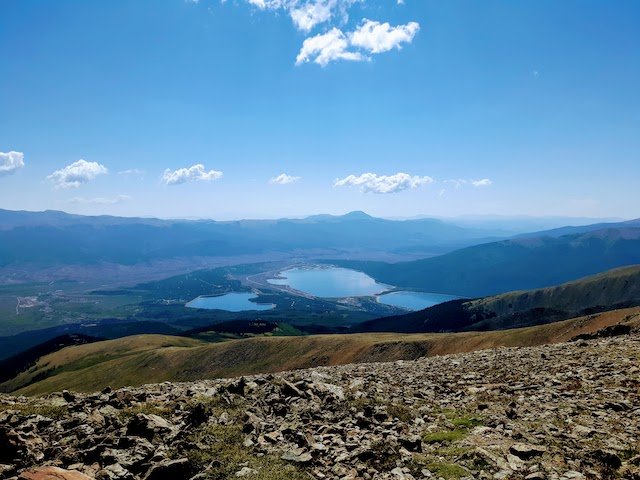 For hikers looking for challenging climbs, there's no better base than Leadville. In addition to Mt. Elbert, there are also neighboring 14'er peaks like Mt. Massive, Mt. Sherman, Mt. Harvard, and others! If climbing 14'ers isn't your thing, there's plenty of base-level hikes also! Twin Lakes, Turquoise Lake, and Timberline Lake are all idyllic bodies of water that provide a haven of characteristically Colorado trails, with fewer crowds! There's also the hike to Hagerman Tunnel, where visitors can pass through the trail's "ice tunnel". Leadville also has an 11-mile long multi-use trail that winds through the town, perfect for hikers, bikers, and dog walkers alike!
Government Camp, Oregon
Contributed by Clarissa from ModernHipsterMama.com
Government Camp, Oregon is in the heart of Mt. Hood National Forest. With temperate summers and gorgeous snow-filled winters, Mt Hood has enough hikes and waterfalls to keep you busy for weeks! And with next-to-no poisonous spiders and snakes, you can focus on the beauty around you – instead of the dangers around you. Little Zigzag Falls is an easy hike that's even stroller-friendly, perfect for toddler educational activities. Or if you're kidless, it's absolutely worth the trek up to Tamanawas Falls, which is one of the most beautiful waterfalls in the entire Pacific Northwest. There's nothing quite like reaching your hiking destination and being rewarded with fresh, crisp mountain water for a quick break.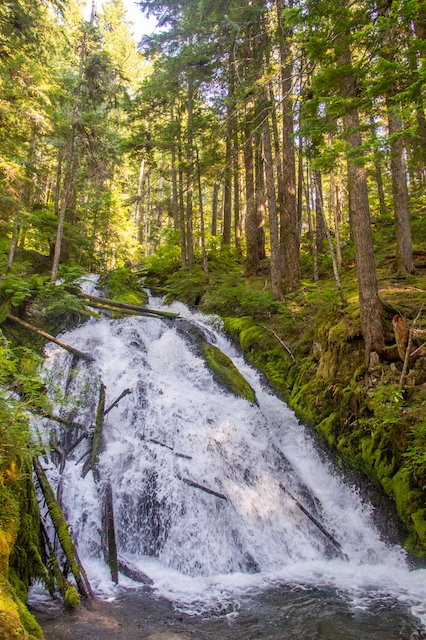 If you'd rather be rewarded with views of Mt Hood, you can head on the Bald Mountain trail. And if you'd like to camp out, there's nothing quite like an overnight stay at Trillium Lake. There are so many other ways to explore Mt Hood National Forest, so you'll just have to come to visit and discover your own favorites!
Bar Harbor, Maine
Contributed by Moshe of TheTopTenTraveler.com
Bar Harbor, on the northern edge of Mt. Desert Island, is the gateway to Acadia National Park. This little town offers a variety of accommodation options, beautiful views of Frenchman Bay, great restaurants, outdoor gear shops, souvenir shops, and easy access to the park. Hulls Cove Visitor Center – the main entrance to the park, is only 10 minutes' drive from downtown Bar Harbor. If you don't want to pass through the Visitor Center, you can use road 3 south or 233 directly into the park.
There are many hotels, inns, and B&Bs to choose from – some are downtown, others are on the road leading to it (5-7 minutes' drive), and they might have better views of the bay. After a long day at the Park, make your way to Downtown Bar Harbor for dinner in one of the many restaurants – from lobsters to burgers or pizzas, and even Thai and Indian restaurants can be found here. Other activities in Bar Harbor can be whale watching or visiting the Abbe Museum and learn about the native people of Maine.
Bar Harbor is a fun town, with everything one might need before or after a long day of hiking at the Acadia National Park.
Stowe, Vermont
Contributed By Karen at OutdoorAdventureSampler.com
Nestled in the Green Mountains, Stowe, Vermont is the perfect hiker destination. Trailheads to climb Mount Mansfield, the highest peak in Vermont, are located nearby. The Long Trail, Vermont's 265-mile thru-hike, traces the ridgeline of Mansfield as it continues all the way to Canada. This world-class hiking area also has plenty of trails to explore in the surrounding Worchester and Sterling mountain ranges.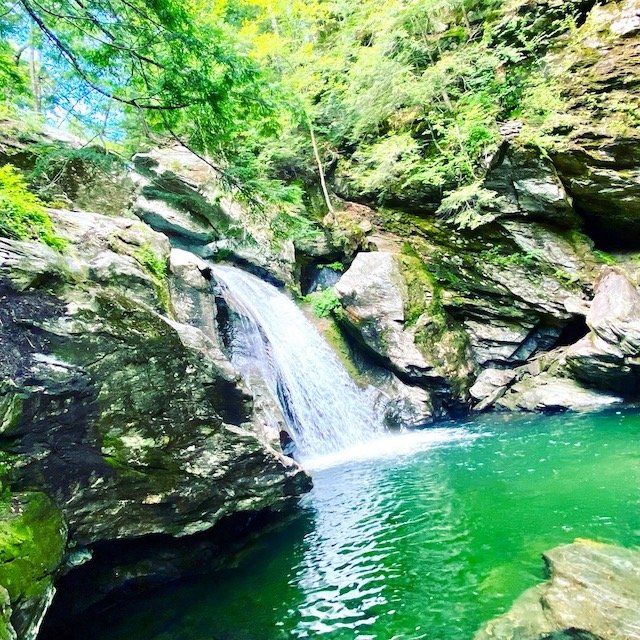 Vermont is rated as the best state for fall foliage by Trip Advisor. Therefore, outdoor adventurers flock to Stowe to enjoy the fall colors. The popular Stowe Pinnacle hike gives sweeping views of the entire Waterville valley in all its autumn finery.
If peak bagging isn't your thing. Stowe boasts hikes to two spectacular waterfalls. Bingham Falls and Moss Glen Falls are easy hikes to stunning cascades.
After an exhilarating hike, head to the Trapp Family Lodge. Finish off a day on the trails with a flight of German-inspired craft brew in the outdoor beer garden as you watch the sunset over Mount Mansfield.
Jackson, Wyoming
Contributed by Megan from MeganStarr.com
One of the most fantastic hiking destinations in the United States is Jackson, Wyoming. While Jackson may not present several hiking opportunities in the city, it is what is situated right outside of it that makes it truly epic. Jackson is a great base for both Grand Teton National Park, as well as Yellowstone National Park which is perfect for kids or the whole family.
Both of these renowned parks, as well as the accessibility of the Bridger-Teton National Forest and Shoshone National Forest, make Jackson a fantastic destination for hiking enthusiasts.
Grand Teton National Park is the closest hiking area to Jackson and it is located a mere 5 miles from the city. The famous national park is a hiker's paradise with its amazing alpine backdrops, rich wildlife, and peaceful rivers, lakes, and streams. It also has some very iconic hiking trails that you can enjoy during the warmer months (July and August are the best time to visit Grand Teton National Park). However, winter in Grand Teton National Park is just as wonderful as you can go snowshoeing or cross-country skiing.
One of the most popular hiking trails close to Jackson is the Cascade Canyon Trail. This trailhead can be reached by taking the Jenny Lake Ferry that leaves every 15 minutes or walking 2 miles around Jenny Lake to the trailhead. Alternatively, you can embark on another epic hike at Taggart Lake. This iconic hike allows you to check out the mega-monoliths for three miles until you reach the lake. Regardless of your skill level, Jackson has something for everyone! And, an added bonus is that you will have the opportunity to be in the vicinity of two of America's most beloved national parks!
Charlottesville, Virginia
Contributed by Megan from VirginiaTravelTips.com
There are some fantastic places to go hiking in Virginia but one of the best cities to use as a base for Virginia's best trails is Charlottesville. Hiking near Charlottesville is underrated and many active travelers don't realize that this city is the gateway to Shenandoah National Park and some of the hikes along the Appalachian Trail.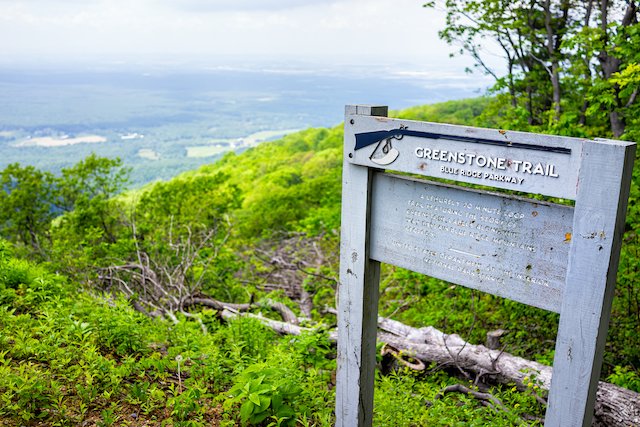 Another great thing about the hikes near Charlottesville is that there is trail for every skill level. One of the easiest hikes in Charlottesville is still within city limits in Kemper Park and it is called the Saunders-Monticello Trail. This out-and-back takes you to Monticello, one of Virginia's most famous historical sights.
If you're a seasoned hiker and wanting to opt for something a bit more challenging, be sure to head to Shenandoah National Park and try the Riprap Trail. This loop will take you to a waterfall and involves a bit of scrambling. It is challenging but well worth it in the end.
Many hikers tend to head to the west coast to experience some of America's best hikes, but if you stick around the East Coast, you will certainly be able to find some wonderful hiking options near Charlottesville, Virginia.
Seattle, Washington
Contributed by Dani Ward from Diapers in Paradise
Seattle, Washington is a hiker's paradise. There are literally thousands of hiking trails near Seattle, just within an hour or two of the city. Whether you want to climb mountains, explore the rainforest, see gushing waterfalls, find a ghost town in the middle of the forest, or take a leisurely walk through one of the many nature parks within the city itself: there is something for every type of hiker in Seattle. It is the Emerald City, after all.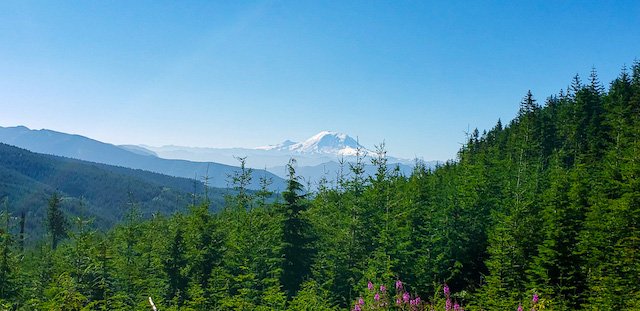 Seattle is nestled between the waters of the Puget Sound and the mountains of the Cascade Range, making it an outdoor adventure junkie mecca. Some of the area's most popular hikes are actually very close to the city. Cougar Mountain, Tiger Mountain, and Mt. Si are all nearby and have excellent hiking trails. Rattlesnake Ledge is a little further out, but is one of the most popular hikes in the Pacific Northwest.
To get the true Seattle hiking experience, don't miss Poo Poo Point. Despite the off-putting name, this iconic hike to the top of Tiger Mountain will leave you with breathtaking views over the surrounding cities as well as Mt. Rainier in the distance. This is also a prime launch point for paragliders during the summer. Have a picnic and watch them jump, or join them if you're feeling brave!
Bishop, California
Contributed by Dhara from RoadtrippingCalifornia.com
As the largest town in the Owens Valley in eastern California, Bishop is a popular getaway destination for outdoor enthusiasts: hikers, climbers, landscape photographers, campers, and nature lovers all have more than one reason to visit Bishop, CA.
Bishop Creek Canyon, with several lakes and stunning scenery, is home to a multitude of hiking trails. Whether you are looking for day hikes or multi-day backpacking, you will be spoiled for choice in the area around Bishop.
The Little Lakes Valley trail starts at 10,000 feet above sea level, and can be done as day hike or a backpacking trip. It is one of the most beautiful trails in the area, and is not super strenuous.
For an epic hike, try the trail to the summit of Mount Whitney, just about an hour south of Bishop! Mt. Whitney is the tallest peak in the lower 48 states, and most hikers do this trail as overnight. Or hike the loop trail to see the ancient bristlecone pines, the oldest trees on the planet.
Whatever hikes you choose to do, you will love the Eastern Sierra, and Bishop makes the perfect base, with camping and lodging, as well as restaurants and outfitters that can guide you.
Lake Tahoe, California
Nicole from American SW Obsessed
Lake Tahoe is the largest alpine lake in the US and it lies on the border between California and Nevada. It sits in a basin at over 6,000 feet high surrounded by the Sierra Mountains. One of the best ways to see the stunning views around the lake is to go hiking.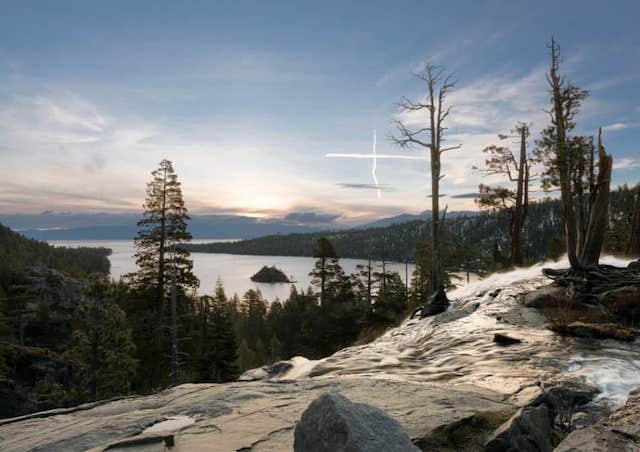 There are numerous trails around the lake to choose from. It takes about three hours to drive around the lake and the scenery changes from North to South.
In the winter, Lake Tahoe is known as a ski destination but in the summer you can still use the gondolas to access areas to go hiking.
You can explore the Skyline Trail Hike by taking the gondola to Heavenly and then hiking this two miles trail. The gondola ride is 2.4 miles long to the Observation Deck. All along you will have panoramic views of Lake Tahoe and the Carson Valley.
Another favorite hike around Lake Tahoe is the Rubicon Trail in Emerald Bay. This trail is 16.4 miles long but you only need to do the first 1.5 miles from the visitors center to take in amazing views of Emerald Bay. On this hike, you will trek through the Redwoods and Pines and probably even see a bald eagle. This trail is mostly flat and has gorgeous scenery.
Poconos, Pennsylvania
Contributed by Derek and Mike of RobeTrotting.com
One of the best destinations in the United States for hikers is the northeastern region of Pennsylvania. There you'll the Pocono Mountains, a region dotted with forested peaks, glacial rock formations, mountain lakes, and ribbons of well-kept hiking trails and camping spots. You'll find upscale resorts, camping spots or you can book a Poconos Airbnb for a cabin or lake house. Wherever you choose to stay, you'll be surrounded by great hiking.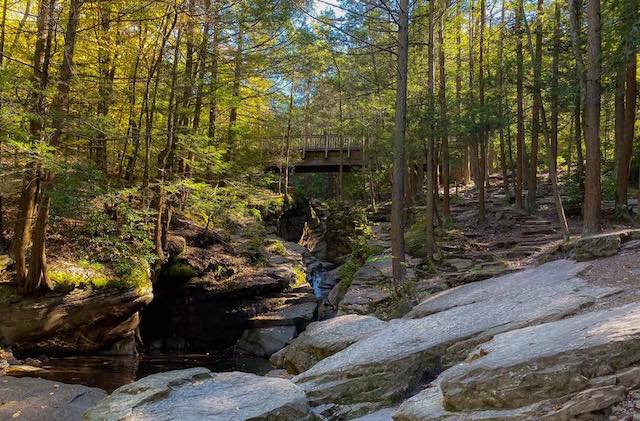 The region boasts huge swaths of state game lands and protected green spaces, so the natural attractions abound. One of the most well-known hiking spots is Ricketts Glen State Park. It touches three Pennsylvania counties with over 13,000 square acres of forest. The park system is home to 22 named waterfalls including the 94-foot Ganoga Falls.
The largest lake in the Poconos is Lake Wallenpaupack which is surrounded by trails, cabins, and camping spots. It's also famous for fishing and boating. In the winter, nearby trails are popular with snowmobilers and those looking for winter hikes. It's also one of the best fall foliage sites in the state with the massive lake making a gorgeous mirror to reflect the colors as you explore the trails.
Glacier National Park Hiking
Submitted by Jessica Averett from Bring-The-Kids.com
Glacier National Park has some of the most beautiful hikes in the entire United States. Between the majestic mountains, the glacial lakes, and the stunning wildflowers, it's nearly impossible to find a better place to hike. While there are plenty of long hikes and overnight backpacking treks, some of the best hikes in Glacier National Park are short hikes and are easily accessible even with young children.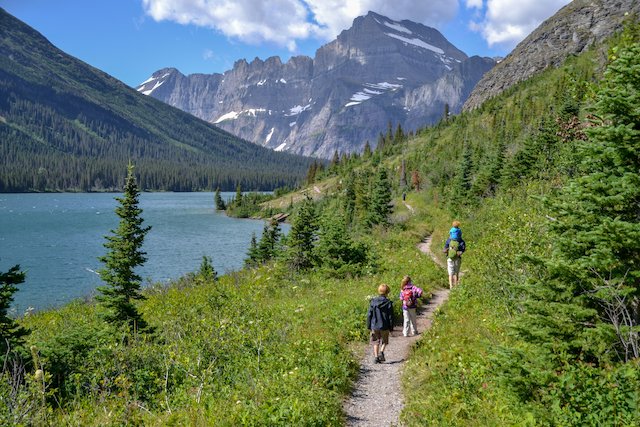 If you take your kids hiking to Glacier, make sure to take them on the Avalanche Lake trail and also to let them enjoy playing in the snow at the top of Logan Pass. While you're there, make sure to always carry bear spray with you and make plenty of noise though, as wildlife is abundant. To beat the crowds, aim for being at your trailhead before 8 am, or if you enjoy late afternoon hiking, plan on heading out around 3 pm.
Cape Cod, Massachusetts
Contributed by Shobha from MarthasVinyardTourist.com
As a multigenerational vacation destination, Cape Cod has plenty of hiking and walking trails suitable for people of all abilities. Hiking is a popular activity because it is a fun family activity that almost all the members of a family should be able to do together.
For easy family hiking, the rail trails are made from disused railway trails and tend to be flat and paved. You share the rail trails with cyclists but there is plenty of room for everyone. The Cape Cod Rail Trail is the longest rail-trail running for almost 26 miles through some of the most scenic parts of Cape Cod. One of the Cape Cod resorts, Oceans Edge Resort in Brewster even abuts onto the Cape Cod Rail Trail. If you stay at the Oceans Edge, for example, after breakfast you can just walk down to the entrance and start your Cape Cod Rail Trail hike without worrying about where to park your car. Another popular rail-trail is the shorter Shining Sea Rail Trail that runs through the town of Falmouth and around cranberry bogs.
There are also 12 hikes on the Cape Cod National Seashore park that take you through a variety of terrain and areas of biodiversity. On your hike you may pass through marshes, beaches and woodlands, one of the famous Cape Cod lighthouses or even an Audobon wildlife sanctuary.
In addition to federal lands, Cape Cod has its own state parks as well as conservation areas that provide many hiking trails. You can also take a guided hike through specific terrains like dunes, beaches, and woodland which will help you understand the ecological system that you are seeing.