Cabins in Duluth Minnesota can provide serenity surrounded by the outdoors with modern amenities with a dash of glamour. Enjoy being on the coast of Lake Superior while also being near the town of Duluth where you can check out the town.
These cabins offer you all this and more, so check them out and you might find one that will be just right for sparking up the romance with your significant other- or bringing you all closer together as a family.
Log Cabin Home Overlooking Lake Superior
Superior Pine Tree Lodge Cabin sits just 5 minutes drive from Duluth, Minnesota. This beautiful log cabin is like no other and is strategically built in the woods on a little hill with a breathtaking view of Lake Superior.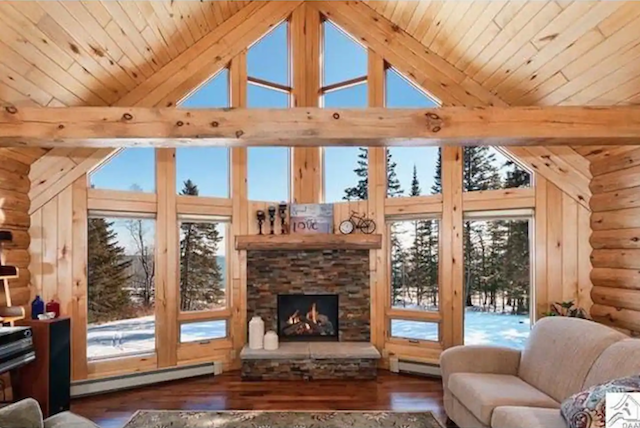 It has 4 private bedrooms on three floors that can host a maximum of 10 people. The cabin is suitable for that unforgettable family vacation or an epic romantic getaway.
There is a full kitchen available to guests and other amenities available include an indoor fireplace, WiFi, assorted board games,  children's books and toys among many others. The private backyard has a BBQ grill and a fire pit so you can spend evenings outdoors. If you're looking to interact with nature, this is the perfect stay for you; only an hour's drive to five different State Parks.
Brule River Cabin in Brule, Wisconsin
Located on the bank of Brule River, Wisconsin, the Brulé River Cabin Rental is an experience-packed hub for a family vacation or a romantic couple's nature exploration. Even that much-needed solo adventure is available here as the cabin provides the ultimate stay that will never fail to bring nostalgia.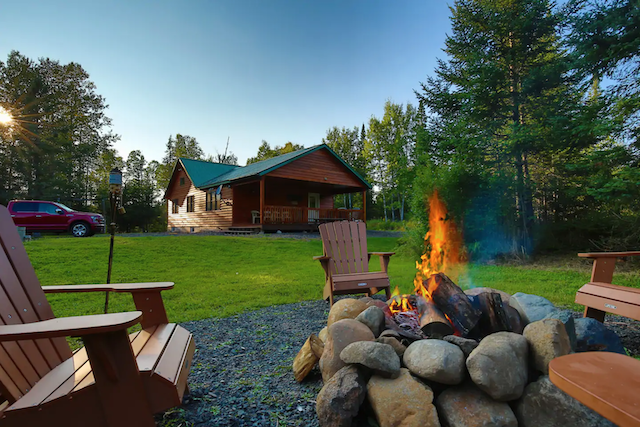 Here, you can unwind and find bliss in nature with plenty of fun activities including fishing because it's located on the Box Car Hole, canoeing, nature walks, and many more. Direct access to the water from the cabin and a screened-in gazebo gives you the chance to relax privately right on the shore. This cabin is a nature enthusiast's haven so come reconnect with nature and have a great time.
Cliff Point Cabin on Lake Superior
This gorgeous cabin, Cliff Point, is a cabin that is like no other. Enjoy a scenic view of the lake from the dining room or deck and stroll along the cobblestone beach then go back to warm up around the outdoor fire ring. Silver Cliff, Spirit Mountain, Two Harbors, and  Gooseberry Falls are all really close by so you just have to choose which location you want to spend the day at.
Indoors, the master bedroom has a soaker tub and a Tempur-Pedic mattress that will leave you feeling relaxed and well-rested enough to have more adventures for the rest of your stay. Play cards or watch movies in the lower levels on those days you would rather stay indoors and you will go back home with a pocket full of lovely memories!
The Buffalo House Cabin in Duluth, Minnesota
The Buffalo House is located in the North Woods; secure and beautiful. The gracious host will escort you to your cabin after handing you the keys and there you will find a guidebook with plenty of valuable information. Remote but close to town, Jay Cooke State Park is this cabin's backyard so outdoor enthusiasts will have the time of their life.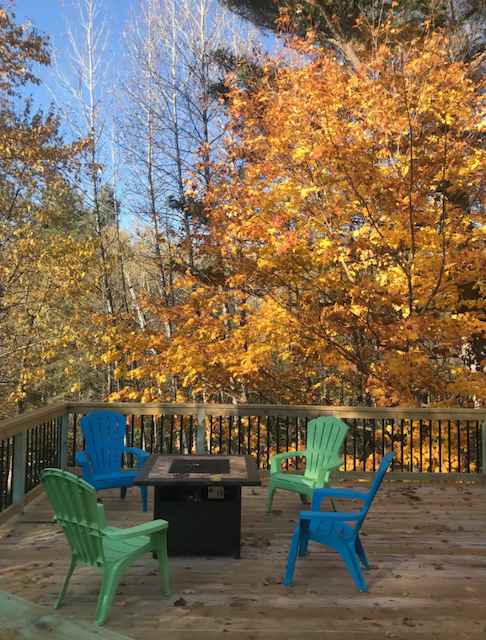 Enjoy the volleyball courts, softball fields, and campsite because the cabin is within the property of the Buffalo House Bar and Restaurant. Retreat back to your space and cozy up in the sauna or around the firepit and you will be sure to make some valuable memories around here!
Secluded Lakeshore Cabin
This beautiful Lakeshore cabin on 2 acres awaits you and your family or friends to beautiful cabin life with an 'Up North' feel. Enjoy a swim, paddleboards, sailboat, kayaks, and rowboats on the quiet lake with a screened gazebo at the shoreline.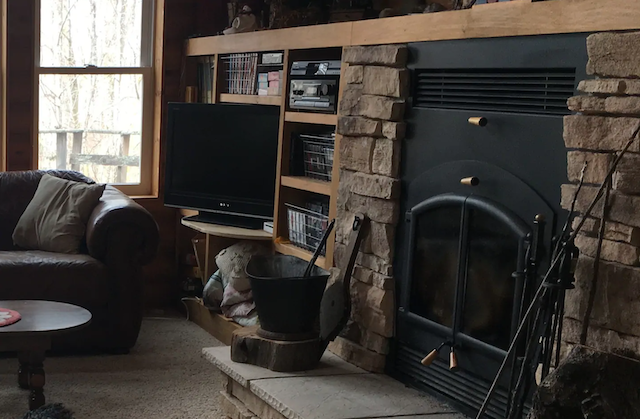 The house itself has a large open family room with a fireplace, a fully fitted kitchen, a dining area, and a sunroom. The large deck has a table, chairs, and gas grill while the room on the upper level has ping pong, a pool table, and pinball so you're assured of hours of fun whether you stay indoors or venture out. In case you need to quickly catch up with some work, use the free WiFi to connect and stay productive while you holiday!
Mirror Lake Resort Cabin
This beauty is a new cabin on a lake in 26 acres of wooded land. It feels serene and secluded but has easy access to the highway. If you're outdoorsy, you will have the time of your life because the area is ATV and snowmobile-friendly not to mention the hundreds of miles of riding trails that you can access directly from the cabin.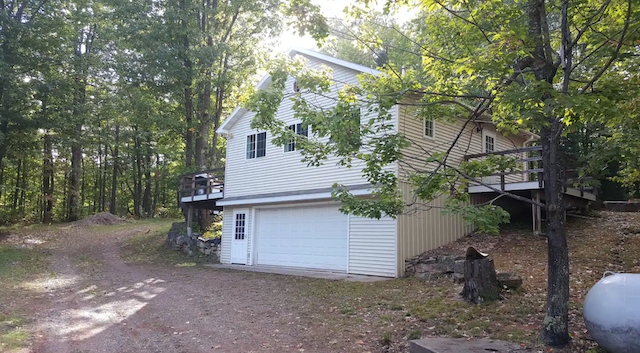 Located just 15 minutes from Moose Lake, 30 minutes from Duluth, and 35 minutes from Hinckley, you have the option of touring the local brewery, casino, movies, plays, etc. Step out into town if you have some extra time to burn and you will be delighted by the beauty of the town and the convenience of it all.
Cozy Parkplace Cabin
This rustic and romantic cabin has the best in-the-woods decor combined with top-quality modern conveniences. The fully stocked kitchen will enable you to have the perfect indoor days as you can prepare whatever meals you want at any time.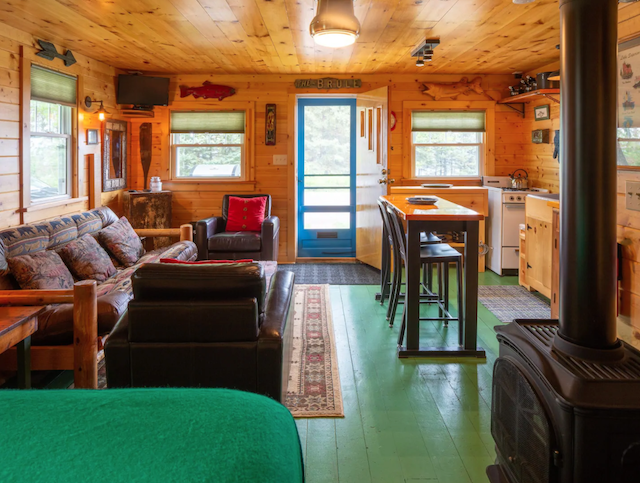 Enjoy telling stories around the gas grill on the deck or take it to the compound in the side yard where you can warm up around the bonfire ring. If you want your pet to accompany you, pay a one-off $20 fee for the housekeeper. Whether you want to enjoy the views, go for a walk in the woods, or have a quick stroll to do some shopping in town, you will love this modern and cheerful cabin that is welcoming all year round.
North Shore Lake Superior Cabin
This Lake Superior Cabin is near the French river and the beauty of the woods gives it the perfect rustic feel. You can fish all year round and hike or stroll to your heart's content to town or in the trails nearby. Walk down to the river, cross the road for some lovely lake views, or even go to the railway line and you might be in time to see the train go by.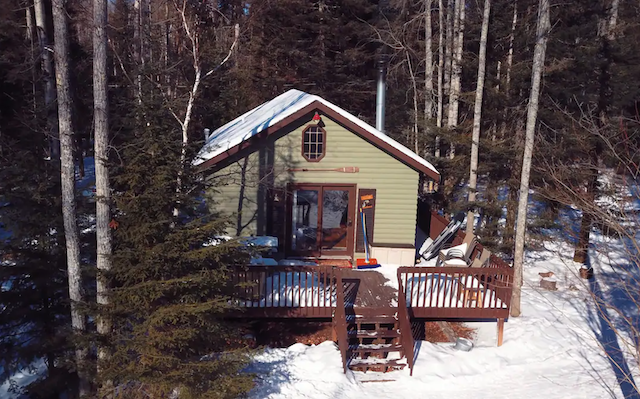 If you prefer to stay indoors and lounge, you have a full kitchen with a dishwasher and a full bath with a claw foot tub and shower. A wood stove, large TV with dish and WiFi make the indoors that much more fun. A fire caldron outside near the cabin will help you stay warm on cold nights when you want to enjoy the outdoors.
Cedarwood Hideaway Cabins
This beautiful cabin is off-grid and is perfect for anyone who wants to experience the wilderness close to town. Battery camp lamps and propane lights in the 20 acres of woods mean you will have enough room to roam and have fun. Bring your own water, cooler, pillows, and blessings, and have an experience you won't forget.
If you decide to relax indoors you will enjoy books, games, a guitar, and art activities for the whole family. If you come with young children, consider the ponds outside, and the hard floors and heat sources indoors and keeps them safe from these potential hazards. Otherwise, come to Cedarwood Hideaway ready to make memories because this will be a cabin you won't forget any time soon!
Small Cabin on Island Lake in Duluth
This small cozy cabin is right on the shore of Island Lake's hydro-electric reservoir which is opened for fishing in summers. The lake reservoir is the most beautiful lake in the region and it is ideal for honeymooners and families who love the feel of being outdoors.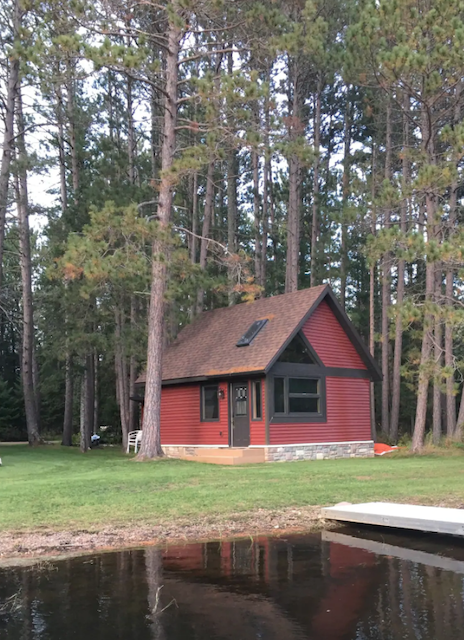 You can bring your own boat and explore or opt for kayaks on site. There is a fire pit where you can relax and enjoy the lake view as you unwind after a great day in town or indoors. Enjoy fun activities like stargazing, fishing, hunting, swimming, paddle boarding, 4 wheelings, nature walks, hiking, snowmobiling, cross-country skiing and so much more!