Welcome to Lake Tahoe, one of the most spectacular wonders here in the United States which hold a few interesting records. From being one of the oldest lakes in the world at 2 million years to be the second deepest lake in the US and tenth in the world, this is definitely a place to visit! 
Nicknamed the 'Beach in the Mountains', this is one of the top vacation spots in the world and offers some pretty remarkable places to stay whilst here. Let us dive into our top picks for the Best Cabins to rent whilst in the wondrous Lake Tahoe.
South Lake Tahoe Cabins
Bear Haus Chalet Near Ski Resorts
Located in South Lake Tahoe, this cabin is one of the most popular cabins in the region mostly because of its general location which is really convenient for all the thrill-seekers out there. This space has been updated recently to make it even more comfortable for its occupants. Nearby, we have the Heavenly Valley Ski Resort as well as the absolutely gorgeous Emerald Bay shores!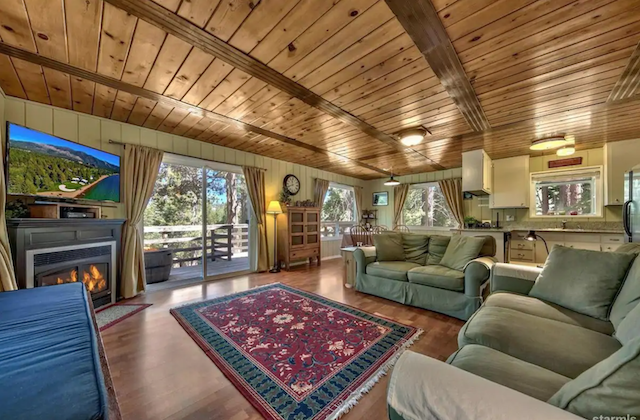 As for the cabin, it is quite spacious with 4 bedrooms housing 6 beds, 2 bathrooms, a convenient kitchen as well as other in-house amenities. These include an indoor fireplace, high speed Wi-Fi, TV, smoke alarms, BBQ grill as well as board games and other forms of entertainment making it a suitable vacation home for the entire family.
Tahoe Lake Cabin Gem, 3 Short Blocks To The Lake
Next up on our list is this newly renovated 3BR Cabin near the Lake which is situated in a favorable location that allows the occupants to be able to access the top tourist resorts. These include Regan's Park/Beach and Heavenly Valley Gondola which is less than 3 miles away. As for the cabin, it is finished in a stunning mix of cream and brown accents combined with the furniture, and the whole space screams 'Lavish!'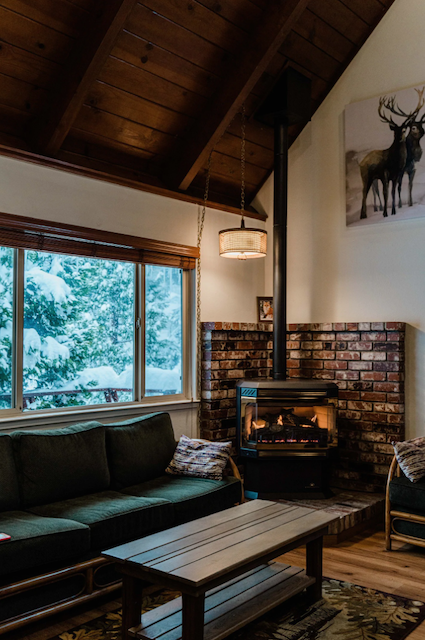 There is a single bed as well as 3 queen sized beds in the cabin as well as 2 baths which contribute to its ability to accommodate 6 guests. Visitors can also expect air conditioning, hot water, heating, a dedicated workspace and a modest kitchen stuffed with all the necessary goodies to make your stay even more comfortable.
Cozy Rustic Log Cabin Oasis
Nestled amongst the beautiful pines in the secluded Lake Tahoe wilderness, this cabin offers a truly authentic experience for those seeking to disconnect from the outside world and just rewind. From the wonderful exterior which boasts a rich wood finish to the stunning view of the vicinity around, this is absolutely the place to be.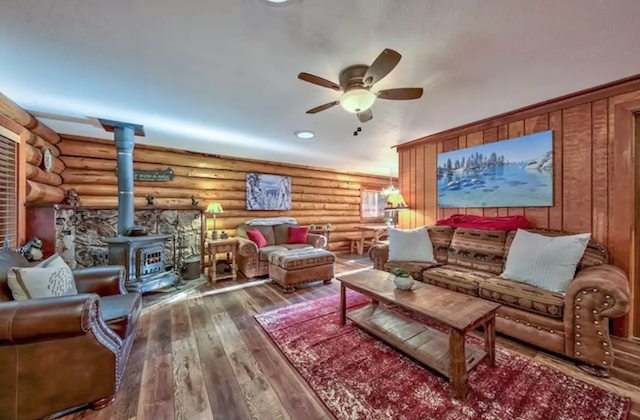 The cabin is really spacious and can hold up to 6 guests and is equipped with all the latest amenities despite being located up in the mountains. You can look forward to having Cable TV, internet, well-fixed kitchen, a hot tub, indoor fireplace, basic essentials such towels, soap, bed linens as well as other comforts that are waiting for you so make a plan and get out there!
Modern Mountain Studio with Incredible Views
As the name suggests, this is one of the most scenic places around Lake Tahoe here in Stateline, Nevada with this cabin offering one of the most majestic views around. The interior is elegant and gorgeous with a nice green/teal color around the whole space which greatly complements the wood finish throughout the cabin. Large windows enable the occupants to absorb the stunning views in and around the vicinity.
As for perks, the cabin has all the basic amenities with the few notable being room-darkening shades, extra pillows & blankets, TV, a kitchen, and 2 beds being able to take in up to 2 guests. This is a really great place to spend with your partner whilst enjoying Lake Tahoe!
Beautiful Remodeled South Tahoe Cabin
This remodeled cabin is perfectly located near the Ski Resort and can accommodate up to 6 adults with the space being very spacious and it's fitted with 3 queen-sized beds among other few amenities.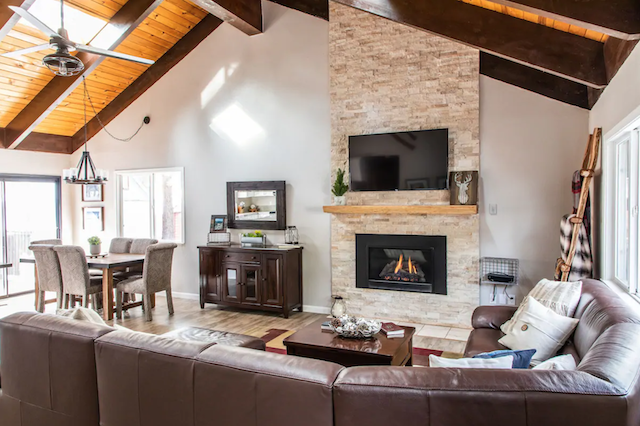 Even though the area is surrounded by beautiful pine trees, it gets cooler inside with comforts such as a large plate screen TV, a hot tub, washer & dryer, a kitchen to prepare tasty meats as well as heating and a balcony.
Al Tahoe Oasis Cabins
Our next pick is this relaxing cabin which can be accessed by families or couples located just 5 minutes away from Regan's Beach. The area is quite loaded with casinos, skiing resorts, dining, and entertainment around the cabin making it a great place to rent as all these can be accessed efficiently from this property.
The cabin is also quite cozy with the space also having an amazing interior which is complemented by the kitchen which is stocked with day-to-day cookware, 2 roomy bedrooms, a smart TV, a gas grill, washer/dryer as well as other amenities.
Tahoe Cabin Oasis
Welcome to this modest compact cabin situated in South Lake Tahoe. If the 'Al Tahoe Oasis' is unavailable for booking, feel free to get this as a possible alternative. This cozy cabin has been recently updated to make it feel more comfortable as well as to make it give off home away from the home sensation.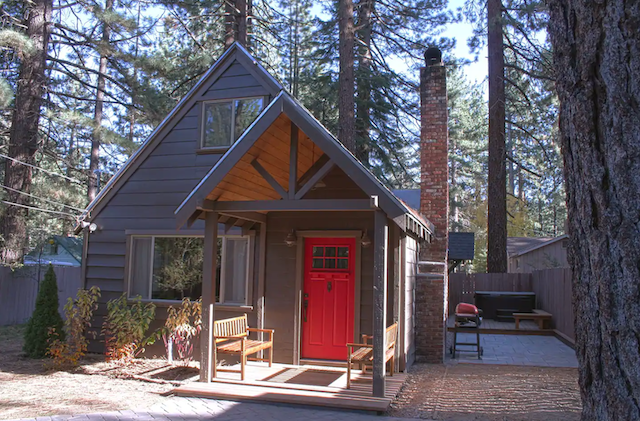 The area is quite loaded with great places to spend time at but we are proud to let you know that entertainment here is also quite up to standard as the cabin has Apple TV as well as the ability to access Netflix through your personal accounts. Other perks include heating, a hot tub, an outdoor relaxing area with furniture, BBQ grill among others!
North Lake Tahoe
Mid Century Modern Tahoe Cabin
Let us now move from the basic and conventional cabins to something a bit more interesting and different. Meet this Mid Century Modern Cabin which is a structural marvel with space being built on a stunning 'A frame'. Located in Homewood on 1,260 square feet of land, this cabin is really one of a kind with its intricate design and lavish interior.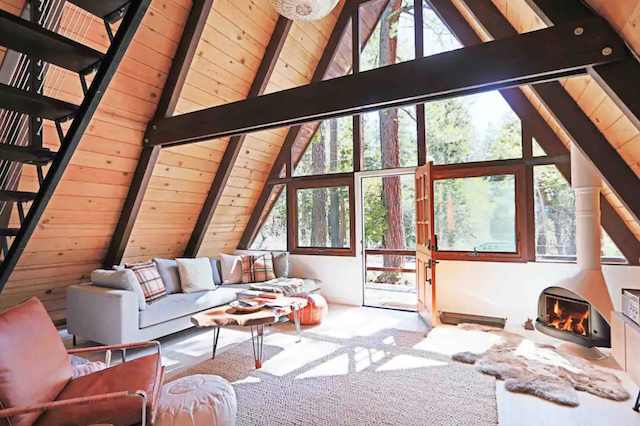 This space is also pet-friendly so you should be sure to tag your furry best friend along as well. The cabin is also fitted with modern comforts which include a kitchen, indoor fireplace, Cable TV, hot water, a hot tub among other features.
Modern Mountain A-Frame Cabin
In Carnelian Bay is an A frame cabin which is also as amazing as the one above but with a few minor differences. For starters, this cabin is a bit more modern in terms of design since it was remodeled recently. It is located between Tahoe City, Kings Beach, Northstar, and Squaw making it a top pick due to its accessibility. The area is also full of interesting activities to do which include hiking, biking, and fishing to name but a few.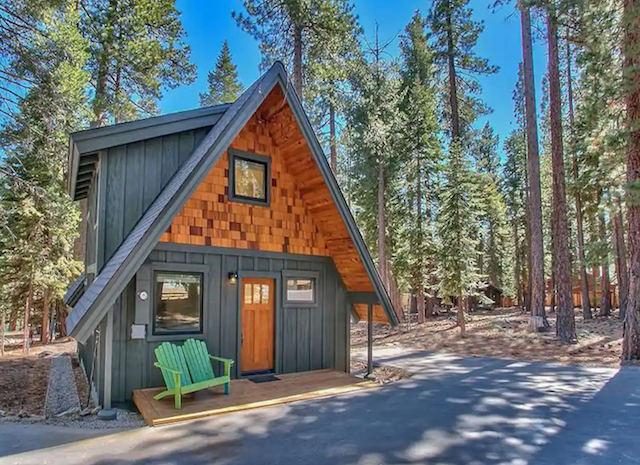 As for the amenities, this cabin is equipped with Nest & Sono wireless speakers, a gas fireplace, a stuffed kitchen, Wi-Fi, a bathtub as well as other essentials such as towels and bed linens.
Beautiful Tahoe Cabin In The Trees
Welcome to this beautiful cabin situated in Tahoe City nestled in the secluded woods of North Shore Tahoe. The scenery around this place is truly magical as the trees really give off an exploration vibe which will surely make the whole experience authentic and one to remember. Nearby is the Burton Creek State Park as well as the Tahoe XC cross country ski/hike/mountain bike center.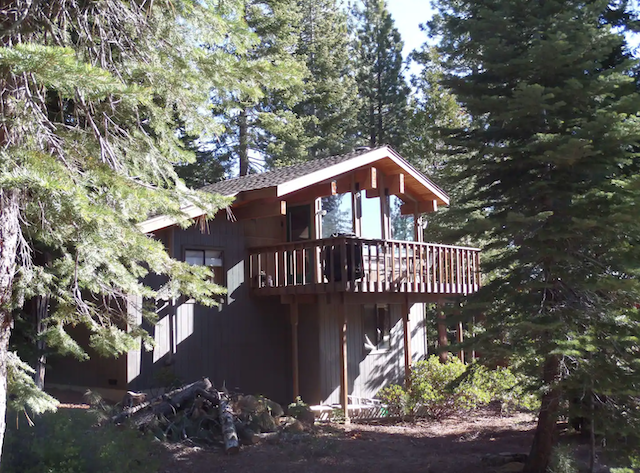 Inside the cabin, the space is very roomy and is well decorated with fine furniture as well as other accessories. Entertainmentwise, the place just got a new LG flat-screen TV on top of the high-speed internet as well as other in-house amenities which include a kitchen, smoke alarm, heating, and indoor fireplace among others.
Incline Creekside Cabin
When people go on vacations, it's really important to have enough space to truly unwind and relax and this cabin certainly does a good job at accomplishing this. Found in Incline Village, Nevada, this home is spacious as well as comfortable and able to take in up to 6 guests. There several nearby private & local beaches, restaurants, ski resorts, casinos, hiking, and bike trails among other exciting adventures to undertake.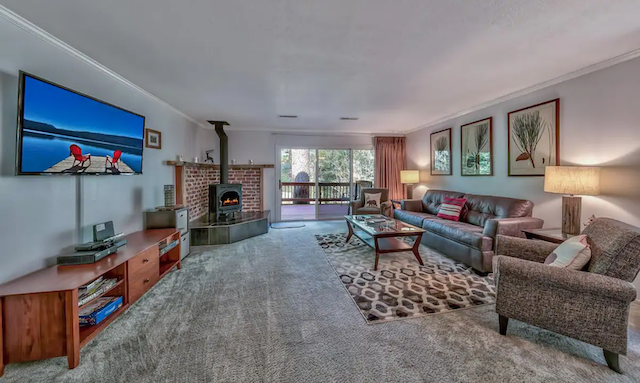 The cabin is dog-friendly and can support up to 2 pets. The home also has a 65' flat screen smart TV in the living room as well as an Xbox One for games and other entertainment purposes. There is also a pool, indoor fireplace, full kitchen, balcony, and BBQ grill.
Charming Rustic Tahoe Vista Cabin
If you are planning on visiting Tahoe, we recommend you check out this cabin which is located about half a mile from the Lake and a block away from the Tahoe Regional Park.
Surrounded by pine and fir trees all around, this is one of the few authentic rustic cabins out here with a modest design but up to date amenities which include a large game room, heating, Cable TV, basic essentials like towels, bedsheets, soap as well as a washer & dryer. Whilst in the area consider also popping by the nearby ski resorts and do something exciting like riding the steep slopes!
Top of the World Tahoe Cabin
Before we finish off our list, we thought to include this newly built cabin in Kings Beach secluded on two and a half acres of tall pine trees. This cabin is equipped with a lot of amazing features which include a beautiful top deck balcony that allows the occupants to view the wonderful surroundings, 2 master suites among others like room-darkening shades, Wi-Fi, TV, and a well-prepared kitchen.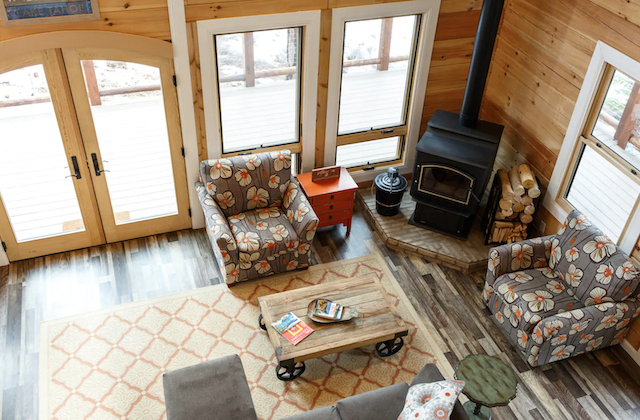 As for appearance, the area outside the cabin has a nice stone design that greatly intertwines with the rich wood to give it both that rustic but modern sensation. Lots of room to unwind and relax is also provided.
Cozy Carnelian Bay Cabin
For those looking for an escape from the hectic day-to-day hustles of life, then this cabin is calling your name. The space is very straightforward and modest with everything being quite simple to operate around the whole cabin. It is located between Tahoe City and Kinds Beach so pretty much everything north shore has to offer is a stone-throw away.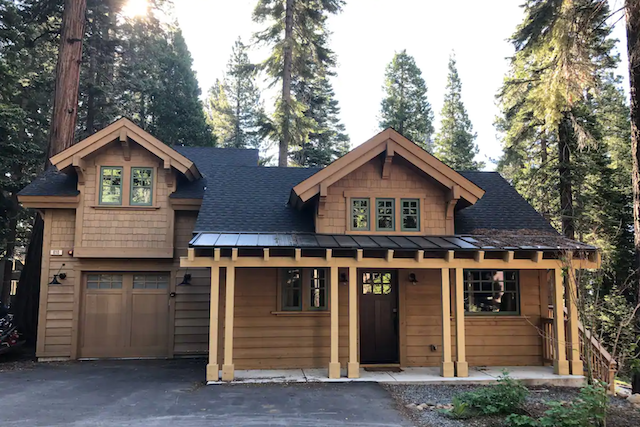 If you get tired from hiking and biking, you can surely escape to your cozy cabin and enjoy amenities such as TV, hot water, heating, basic household accessories like washer & dryer as well as cookware including an oven, refrigerator and a microwave.
Revamped Midcentury Modern A-Frame Cabin
We have finally reached the last cabin on our list and as the saying goes, "Save the Best for last", we present to you our final and possibly the best cabin Lake Tahoe has to offer. From the stunning A-frame to the amazing interior and exterior, this cabin is truly in a league of its own. This 3 bedrooms 2 bathroom establishment can accommodate 6 guests in its slick but spacious rooms. This space is such a hit owing to the great view of the Lake it has and other adventure-filled sports to undertake which are nearby.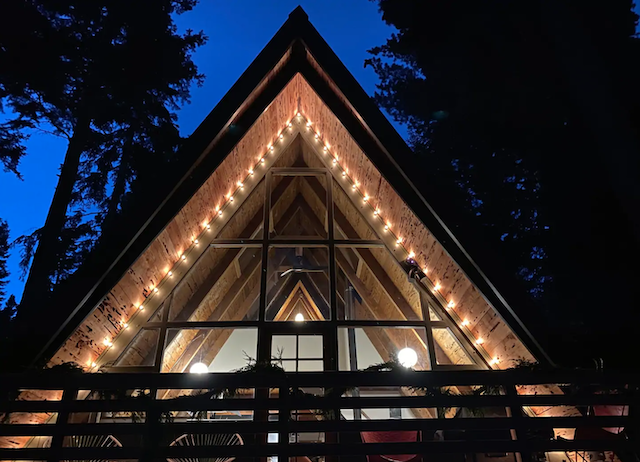 The cabin is fitted with fast wireless internet and a souped-up kitchen with all the basic bells and whistles. Other amenities include a gaming console, TV, EV charger, smoke alarm, extra pillows as well as beach essentials such as umbrellas and snorkeling gear to name a few.