Combine 'glamour', 'camping' and the Great Smoky Mountains for an exciting outdoor experience. Over the years, more and more people have become intrigued by glamping and it's no wonder way the Great Smoky Mountains are mostly renowned primarily owing to this.
 Located on the Tennessee-North Carolina border in the southeast of the United States, this mountain range is one of the most popular outdoor paradises around. The Great Smoky Mountains National Park also happens to be the most visited national park in the US racking over 12 million visits annually. The following are the Best Glamping Spots we guarantee will make your visit even more spectacular!
Smoky Mountains Glamping Tiny House
We start our list at this little but cozy house nestled in the Smoky Mountains. This Tiny House' is located in Pigeon Forge, Tennessee at a convenient placement where you can get comfortable with the surrounding outdoors with the property situated on a 140-acre pleasant farm next to a classic red barn.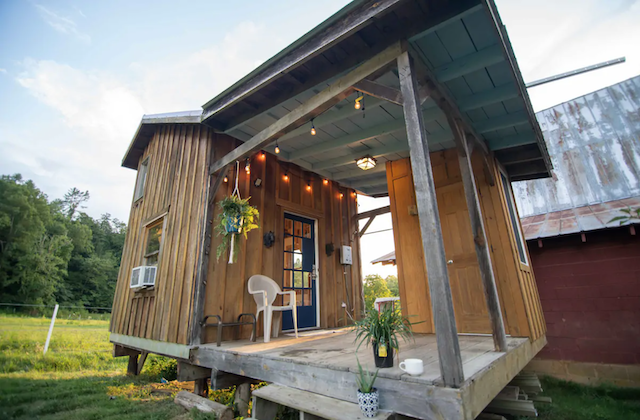 In spite of the house being a little bit small as compared to a regular house, it is fitted with modern conveniences which include air conditioning, Wi-Fi, a comfortable couch and other typical household essentials such as towels, shampoo etc. It is truly a wonderful place to seclude yourself and enjoy Mother Nature.
The TreEscape Glamping Treehouses
Well, this one is a no-brainer! All the critical adventurers who are really passionate about making their stay even more amazing should definitely consider this Treehouse Escape!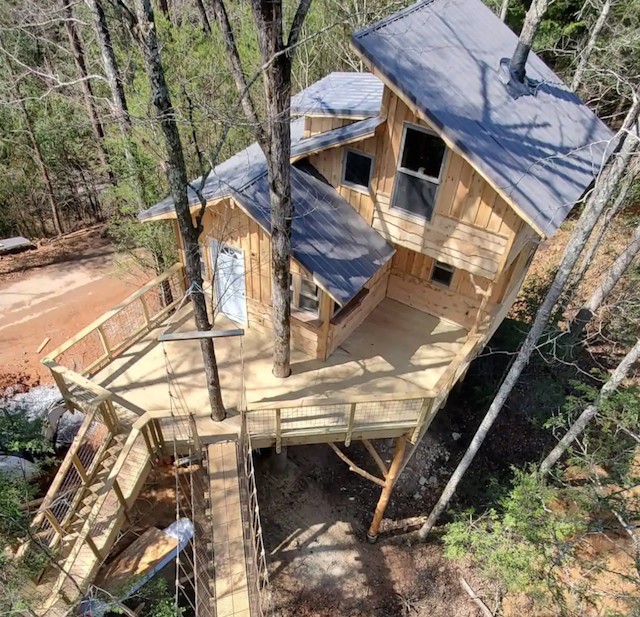 On the exterior, the property is finished in a beautifully intricate design that complements the wondrous surrounding area. What makes this truly one of the kind in the area is the fact that it was constructed by well-known Treehouse Fabricators who are regularly featured on the DIY network show.
On the inside, you can expect to be treated to some awesome amenities which include heating, AC, a hot tub, a well-stuffed kitchen, and a patio among others.
Canopy Ridge Tents
Located in Pigeon Forge, Canopy Ridge is a glamping spot with several safari tents available.
Canopy Ridge Safari Tent 1
Next up on our list is a wonderful deck that is fitted with a pretty conventional-looking tent that has a few perks which really add the 'glamour' in glamping! Situated on the Smoky Mountains forest canopy, you can be sure to enjoy the full outdoor experience including the enchanting sounds of the surrounding nature.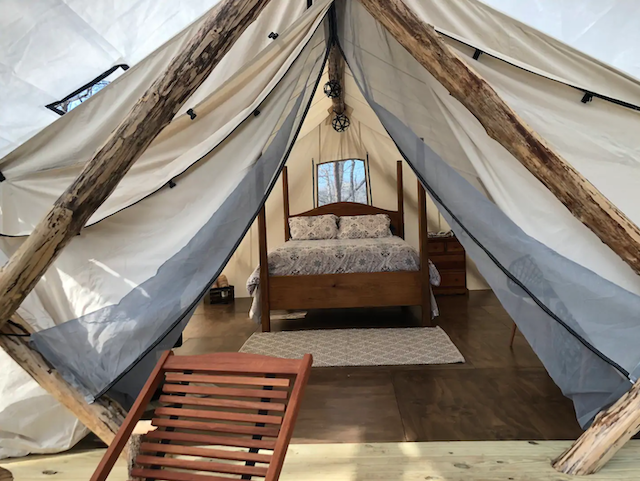 Tent 1 has a comfy queen-sized bed, indoor Russian wood stove, in-door fireplace, BBQ grill on the small patio among other necessary essentials such as soap, towels, and bedsheets. To enhance your nights, we encourage you to light up candles to make the experience even more unforgettable.
Canopy Ridge Safari Tent 2
Still on tents, if the above one is booked we got you covered. Glamping Tent 2 is quite similar to the first tent but with a few minor differences such as a king-sized bed as well as other amenities which include a smoke and carbon monoxide alarm, indoor heating, first aid kit, household conveniences among others.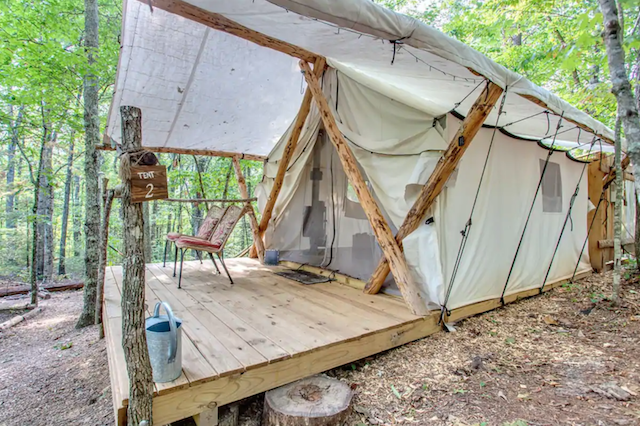 The area is located on a quiet piece of land which really has a lot of interesting activities to help you pass your time in the wild. During your stay, be sure to experience the outdoors and reconnect with the inner you!
Canopy Ridge Safari Glamping Tent 3
This last tent in the area is the most accessible of the three as it is located just a few feet from the parking and bathhouse. This is perfect for those who are not too familiar with glamping and are just starting off. The place is quite simple and not overly complicated so be sure to visit tent 3 if it's your first time glamping in the Smoky Mountain.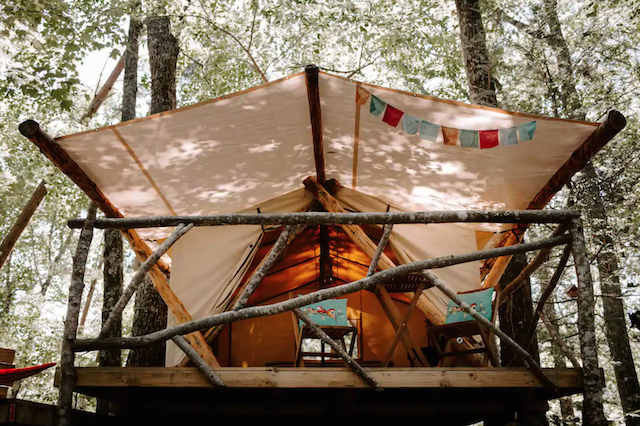 As for amenities, the tent features a queen sized bed, fire extinguisher, heating, bed linens, BBQ grill as well as a backyard with stunning views.
Modern Smoky Mountain Tiny House
This modern glamping tiny home in the Smokies has a pretty blue color-scheme and a compact appearance. Situated in Pigeon Forge, this space boasts a nice white aesthetic inside which is also complemented with the lavish furniture. Inside this glamping spot, you can expect to find day-to-day amenities that will give off a home-away home feeling.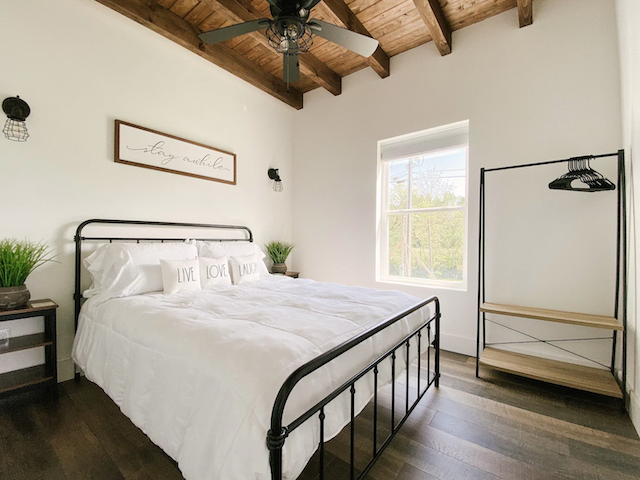 The space has a well-prepared kitchen with all the proper utensils, cable TV, air conditioning, 3 beds throughout the tiny house, Wi-Fi, a bathtub, outdoor dining area and grill!
"PORCH & PINE" Glamping Cabin
From Pigeon Forge, we move to Cosby, which has some unique and tasty restaurants on top of the already spectacular Smoky Mountains. Here we find this amazing Log cabin that offers both a rustic and modern experience. The cabin has a simple but charming design in and out and is fitted with essentials which are normally rare in a glamping adventure.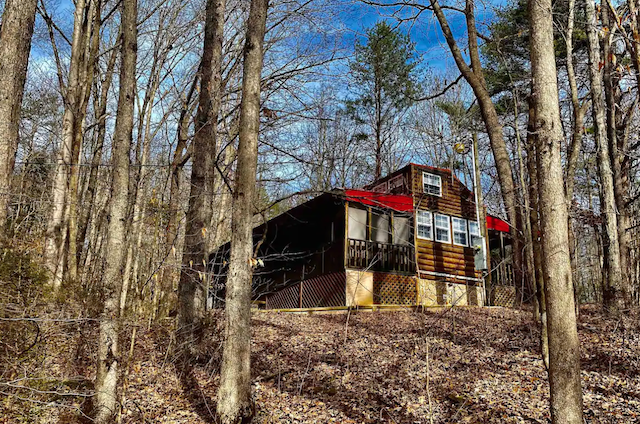 Amenities in this space include a full kitchen complete with cooking basics, oven stove, microwave and a refrigerator. A few more exciting perks include TV, Wi-Fi, washer, hot water, a dedicated workspace and a hot tub.
Camp G.R.I.T.S. Glamping Camper
Before we end off our list we would like to include something a bit more different and we have that in the form of this wonderful compact camper. This space is very secluded from the outside world. The vintage but stylish Red 1959 Shasta camper can accommodate up to 2 people who are interested in exploring the outdoors.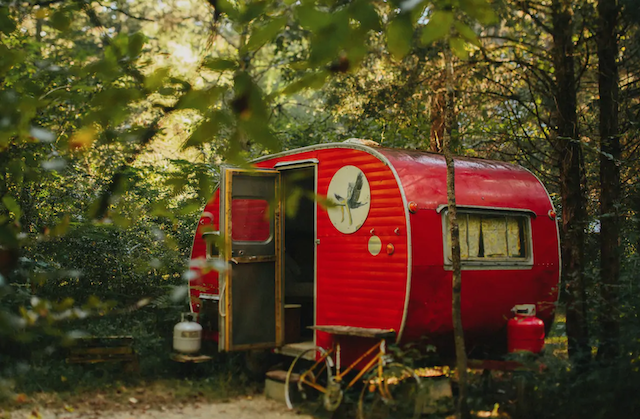 The space is also fitted with essentials which you might need during your outdoor experience and some of the amenities offered include a small kitchen, heating as well as towels and bed sheets.
Tree House Glamping
We are ending off our top picks for the best glamping spots in the Great Smoky Mountain with this stunning treehouse which has been perfectly integrated into the surrounding flora. The ting treehouse is located on the acreage bordering Cherokee National Park and the Great Smoky Mountains National Park. The space is quite eco-friendly with the treehouse powered by solar energy. The space is also pet-friendly so you can let your precious pets tag along with you on your amazing adventure.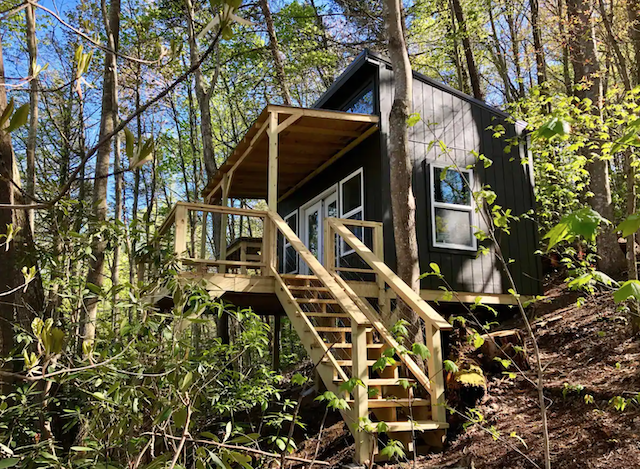 Amenities include a kitchenette with almost all the basic kitchen utensils, fire pit, smoke alarm, portable fans, outdoor furniture and dining. This is a really beautiful place to spend a day or two away from the hectic day-to-day stresses whilst enjoying the great outdoors!
The Maple in Treehouse Grove at Norton Creek in Gatlinburg
Often referred to as the Honeymoon Treehouse, this cabin is the perfect place to share a great time with that special person or close family and friends while enjoying the peaceful scene of surrounding trees. Established high amid the trees, the Maple treehouse offers a unique state of tranquility to its four guests' capacity.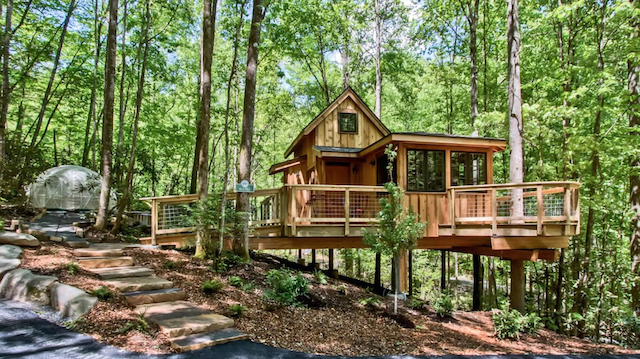 The Gatlinburg cabin comes with essentials in addition to a modern kitchenette, air conditioning, a laptop-friendly workspace, good Wi-Fi and TV, and a smart-lock keypad with a private entrance for your privacy and security.