Jackson Hole, Wyoming is known for its natural beauty at the base of the Teton Mountain Range, the wildlife and ski slopes, and charming towns with both rustic cabins and luxury lodges. These top-rated cabins in Jackson Hole will give you a chance to escape the city's bustling and enjoy beautiful attractions. It is a perfect getaway for families, couples, or anyone looking for a peaceful and quiet getaway.
Hall Haven Cabin in Jackson, Wyoming
Located a few blocks away from Snow King Resort in Jackson, Wyoming, this newly designed log cabin offers a perfect getaway for couples and families. You receive the taste of the ideal mountain getaway as you get to enjoy the cabin's open space with a great mountain view. It has high-end appliances that make sure you are warm and feel at home.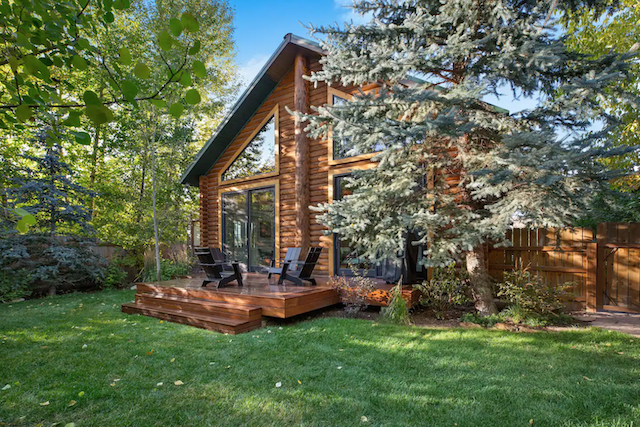 Although it is located at the back of hiking trails, you can always get to town with a quick bike ride. It is also within walking distance of the Snow King Resort and a few minutes of a car ride or 15 minutes walk to Jackson Hole's center, where you can locate some shops, bars, restaurants, art galleries, and much more.
Abode at Moosehead Cabin Close to Teton Village
The Abode at Moosehead Cabin offers you a quintessential mountainside retreat from the city's busy life. Its design is reminiscent of old western tradition.
It features a kitchen, dining room, and a living area, all in the great room. You can always keep warm around the fireplace in the center of the living area.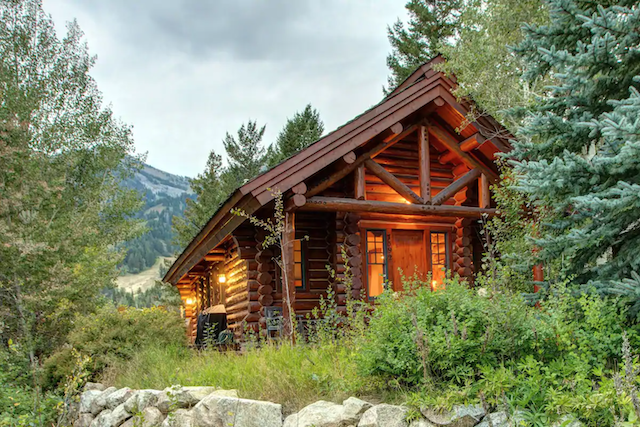 The large windows of the cabin let in the sunlight to illuminate the beautiful interior. The living area is decorated with fantastic arts on the walls and hand-built furniture. You can always turn the long sofa in the great room into a queen bed.
The lower level of the cabin features two guest bedrooms with luxurious bathrooms and a tub.
You can always enjoy the great outdoors as you take in your fill of the beautiful landscape. Get a taste of adventure as you go skiing and shopping in nearby Teton Village.
Well Equipped Cabin With Teton Views
Escape to this beautiful cabin well equipped with everything you would ever need for comfort. It's a perfect destination for couples where they can relax and chill.
Enjoy the benefits of a fully equipped kitchen with espresso and stainless steel appliances at your disposal. Also, the living room features a fireplace to keep you warm.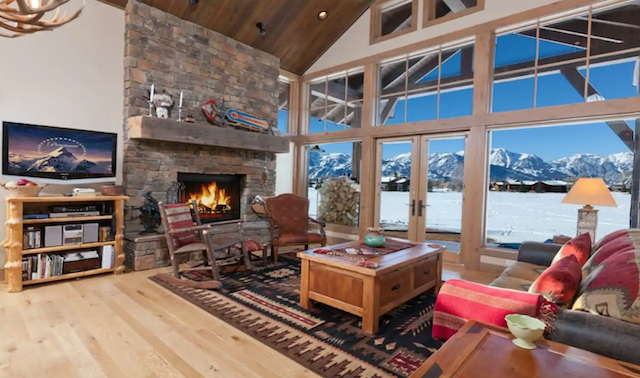 It is located only three miles away from Grand Teton National park in Jackson Hole and 10 miles from town. Feel free to go walking as you enjoy the beautiful views this location has to offer around Teton's surroundings or go to the famous National Museum of Wildlife Art.
Luxury Teton View Cabin
This is a secluded luxury cabin located in the mountainous area of Jackson Hole, Wyoming. Wake up every day to the beautiful Teton and a creek going through the back yard.
Its interior is incredibly spacious and full of home appliances and equipment, all made for comfort. You can stay warm indoors in the fireplace or enjoy a perfect cookout with the gas grill and outdoor dining area.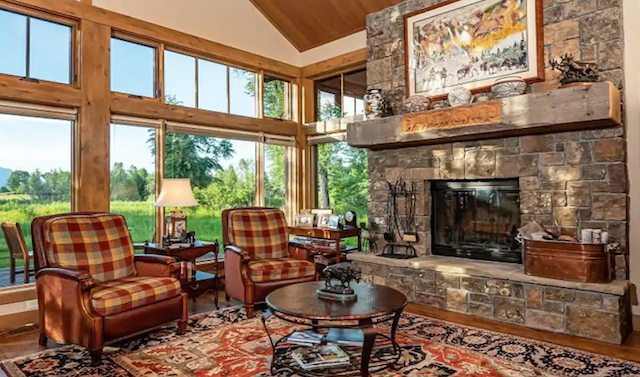 You get to stay with your friends and family in the living room beautifully furnished and cook your meals in the fully equipped kitchen.
One great benefit of this cabin is its location. You can go on adventures in the surrounding area of the Tetons or go skiing. You can also drive a few miles to Downtown Jackson to enjoy the different dining options, Jackson Hole Children's Museum, or the Grand Teton National Park.
RiverWood Log Cabin
Enjoy the benefit of this private and astonishing cabin located in Wilson, Wyoming, with its fully equipped kitchen and private deck.
This cabin has a long history with guests looking for an authentic hand-built log cabin. With a recently remodeled kitchen, you can be sure that everything in the house is up to date and modern.
The cabin's management pays great attention to cleaning and social distancing, so your safety is guaranteed.
Gabrielle Cabin At Historic Guest Ranch
Gabriel cabin is a peaceful and secluded cabin located on a former guest ranch in Jackson Hole. Although the farm was active in the 50s, 60s, and 70s, it is still as peaceful today as it was back then. It is located only 15 minutes drive away from downtown Jackson.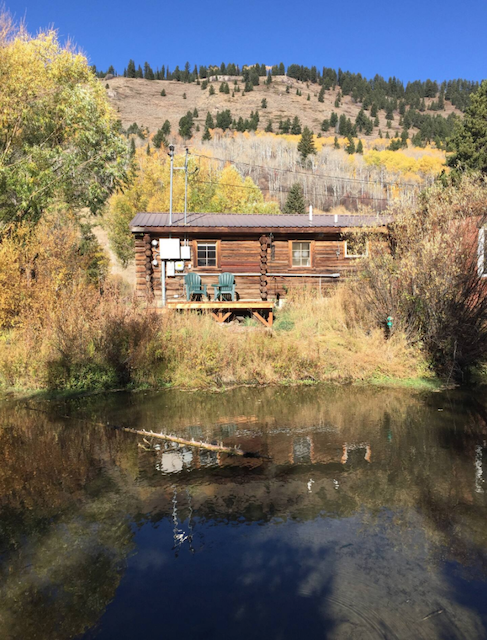 The cabin features a fully equipped kitchen and bedroom containing a queen-size bed. The living room has a twin-sized pullout sofa.
You get free wifi and a fabulous Back deck where you can view the tranquil pond. Feel free to stroll around the property and see the rich wildlife around the area.
Charming Jackson Hole Cabin Next to National Park
This beautiful cabin is located beside Grand Teton and Yellowstone National Parks.
Get a feel of the great view of the Grand Teton through the floor-to-ceiling windows at the front. You may even see an elk grazing on the lawn.
It has a massive rock fireplace, wood plank floors, a granite kitchen, and a Jacuzzi bathtub. There is also the marble tile bathroom with in-floor radiant heat to keep you warm at any time of the year.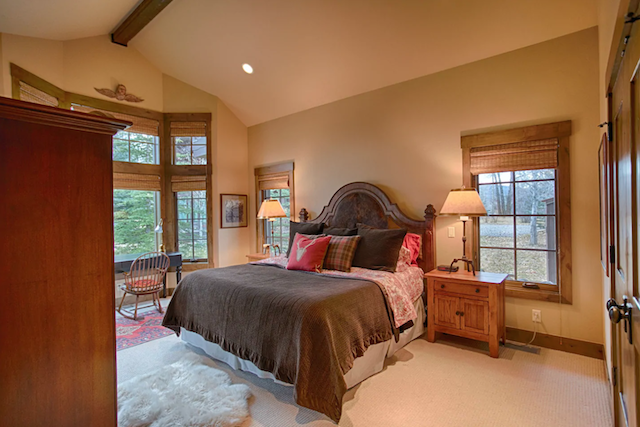 It has a great room that features a kitchen, dining, and living room area. You get to prepare your meals in the well-equipped kitchen and relax in the living room with a 60 inches flat-screen TV.
Go strolling outdoors and enjoy the landscape view, which is covered with snow in the winter.
Teton View Bed & Breakfast Cabin
This cabin is only 10 minutes drive away from south Grand Teton National Park. Its location is quiet and serene, perfect for getting away from the busy life of the city.
It has a shared outdoor hot tub and a clear view of Grand Teton. You can ask for tips on where you can dine, hike, and drive to see the area's rich wildlife.
The cabin features a main room containing a living room, a dining and kitchen area. Enjoy the cozy bedroom area with a queen-sized bed and a bedroom with a shower.
Double Queen Bunk Bed Log Cabin
This log cabin is a unique cabin that features a studio format with two double queen bunk beds.
The sofa can fold out into a full-sized sofa sleeper. The cabin also features a cozy kitchen to prepare your meals, a picnic table, and a front porch.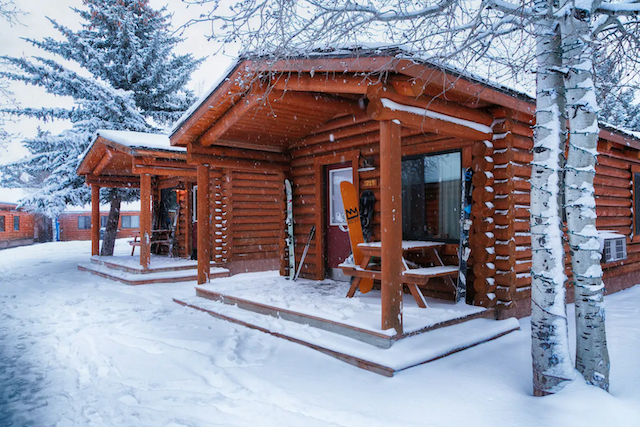 The surrounding area is peaceful and quiet, making it perfect for a head-clearing walk and a getaway from the city's noise.
Charming Jackson Hole Log Cabin
Located in Wilson, Wyoming, this beautiful and cozy log cabin is the perfect getaway for anyone looking for some peace and a taste of mountain life. It is surrounded by a National forest rich in wildlife and many other great skiing and biking activities.
The cabin features a fire pit, living area, and bedrooms.
You can go out for adventure as you explore around the forest. Go skiing, biking, and hiking as you take in the beautiful view of the surroundings.