When you visit Florida there are plenty of options from high end resorts to glamping spots, but we love the tiny house rentals on Airbnb. They give you all the amenities you would expect from a home but at a lower price without sacrificing location. Here are 13 of our favorites available on Airbnb to rent.
The Luxury Tiny House on Private Island
Experience the feel of lodging in a comfortable tiny home that is not necessarily a hotel. With a serene environment and proximity to places of attraction, this tiny house in Sarasota, Florida is a perfect place to relax and think alone.
This small house's attractive features are a queen-sized memory bed, a full-sized sofa to accommodate extra guests, and a well-equipped kitchen. Smoking, pets and parties are not allowed here.
Tiny House in Incredible Garden Redlands
Located in Homestead, Florida – this tiny house is beautifully situated in Texas's famous Japanese and Balinese garden. The house can comfortably accommodate two people, although there is provision for a larger group too.
Besides, you will also have access to viewing the koi fish pond, longan fruit trees, and the garden's general feel. Talking about a relaxing atmosphere, this tiny house is a top choice.
Tiny Beach House with Pool in Jacksonville Beach
Centrally located between Jacksonville Beach and Atlantic Beach in Florida, this tiny house offers a mix of comfort and adventure. Privacy is also top-notch here since the house is designed for just two people. Besides, you'll have access to a private bathroom and private kitchenette.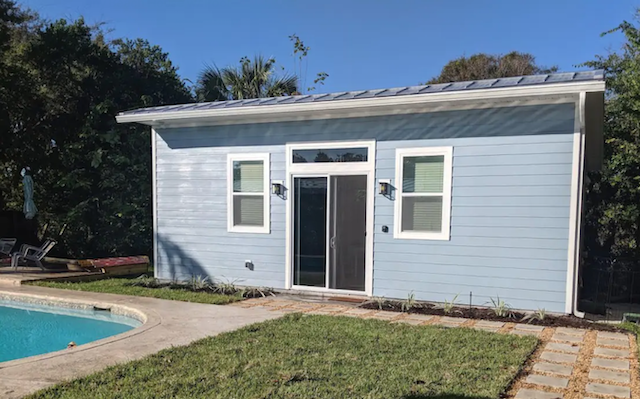 There are also two free bicycles to aid your movement from the house to the beach. As we said earlier, this place is unique for the comfort it provides. Amenities include an air conditioner, Wi-Fi access and TV. There are also security cameras too.
Charming Lake Escape in Spring Hill, Florida
If you're the nature-loving type (in search of a fair bargain for money), then this tiny dream cottage is for you. Situated in Spring Hill, Florida – this tiny house is excellent for those that will love to spend their time on the water. This rental also offers the luxury of bringing your boat/jet skis to the fishing dock. There is an option to kayak too!
In addition, basic amenities like TV, Wi-Fi and security cameras are in place. All you need to do is bring yourself to this magical escape priced at $60/night.
Pool & Spa, Lanai + Beaches – Tiny houses in Bradenton with Pool, Spa & Lanai
Just a little bit off the Palma Sola beaches and less than five miles from the world-famous Anna Maria Island beach, this tiny paradise is the ideal blend of beach and adventure. The house, designed for three and a maximum of four, contains three bedrooms and a bathroom.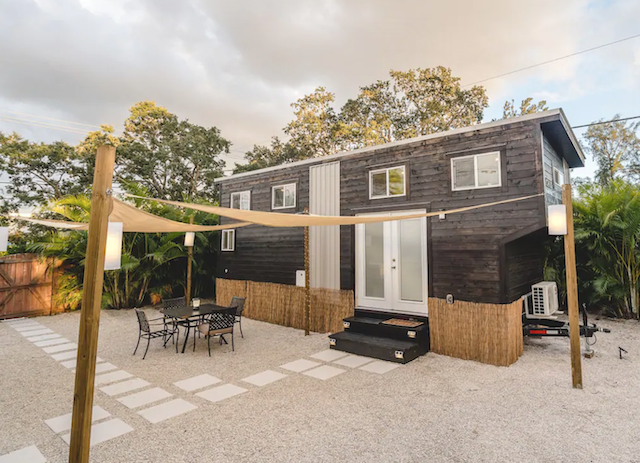 Priced at $151/night, you'll have access to a private driveway, large pool, water slide and a large backyard area just in case you bring kids – classy set up for a remarkable vacation. The owners are also pet friendly, so pets are allowed for a $50 fee.
The Goat House at Cypress Oaks Farm
Fondly referred to as "the Goat House" because of the owners' love for their little herd of fainting goats, this tiny house is a perfect description of a home away from home. Isolated on the outskirts of Live Oak, Florida – this charming escape from home can accommodate a maximum of three people.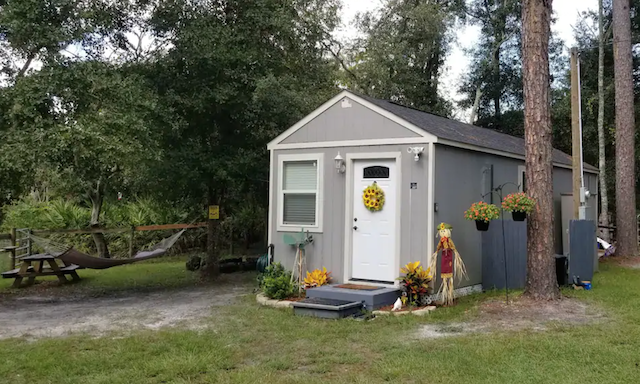 Yeah, the tiny house is pet-friendly and also provides essentials and basic amenities. The amenities include free parking on-premises. There is no TV access, and you might probably just stick to the Wi-Fi to stay updated. Besides, the surrounding is fenced and gated.
Tiny Barn at Windy Oaks in Crystal River
Secluded amid majestic live oak trees, the tiny barn situated in Crystal River, Florida – is suitable for a stress-free weekend vacation. With accommodation for up to four, this tiny house is just great for a relaxing time out with close friends.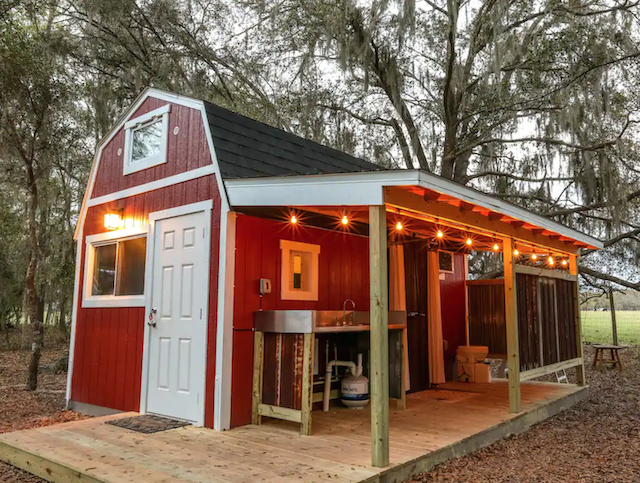 However, connectivity is quite low, so the owners provide a hard drive fully loaded with movies. You also get to enjoy evening bonfires and outdoor games in place of TV access.
Lil Cedar Tiny Home on Crooked Lake
With a sleeping arrangement of just two and located on Florida's most prestigious lakes – the Crooked Lake, Little Cedar tiny home is a top choice for the lovebirds.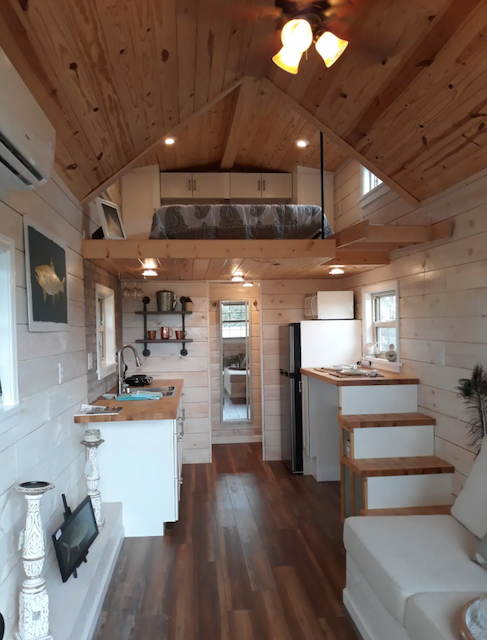 Often regarded as "the million-dollar view," the crooked lake overview at sunset is simply beautiful and romantic. Priced at $89/night, this tiny house with clear water and white sand beaches is a good bargain.
Award-Winning Barn Style Tiny House in Melbourne
Tucked amid orange and oak trees, this charming tiny house offers you serenity and intimacy at its peak. Situated in Melbourne, Florida – the luxury home that's currently priced at just $69/night is a hidden gem that's worth the value for money.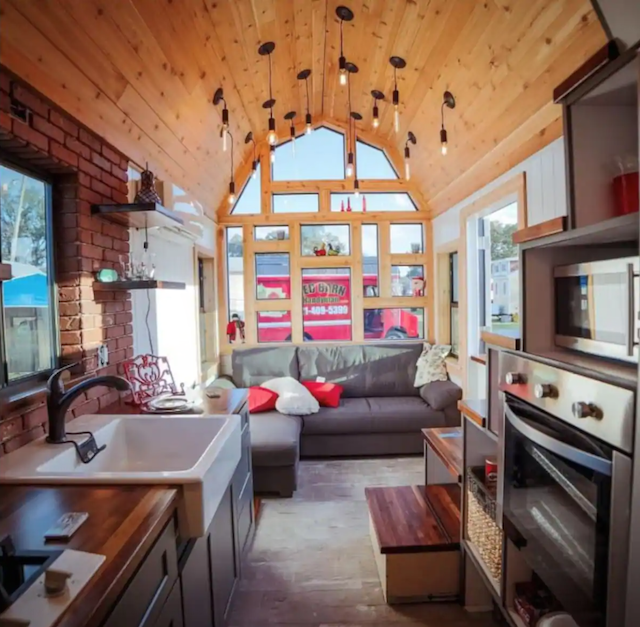 The craftsmanship and attention to detail are simply spectacular. With the roomy bathroom, fully equipped kitchen and lofty bed, this place provide you with all that is needed for a weekend away from the world.
Waterview Cabin on Grandaddy Oak
If you're a photo freak and would love to enjoy your weekend and while taking remarkable pictures for memory lane, then this adorable house in Florida is for you. With maximum accommodation for two, come and have a feel of paradise with your deserving partner.
The outdoor area is incredibly fantastic, with great attention to detail in the overall design. Taking an outdoor shower at night under the stars is one experience you would not want to miss out. You can book this place for your next vacation at a fair price of $100/night.
BOHO Bungalow in Miami
Surrounded by trees with lots of shade, this tiny house in Miami, Florida is an excellent escape from the urban stress. Considering it's in the middle of Miami, we will say the environment is tranquil with a spectacular backyard. Besides, with less than 15 minutes to Wynwood, this house is also a mix of outdoor fun and adventure.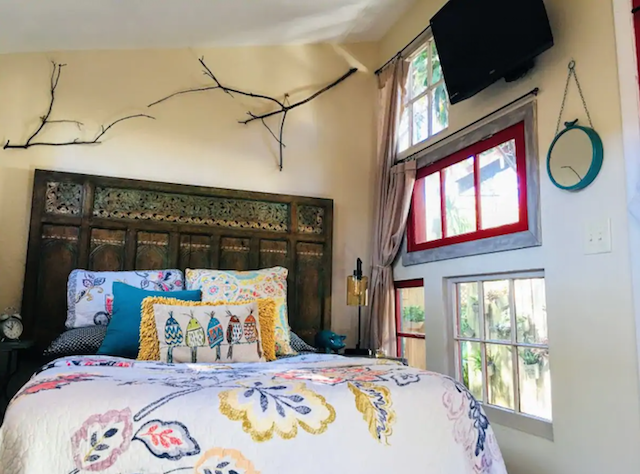 Equipped with essentials and basic amenities such as a queen-sized bed, comfy kitchenette, TV access and Wi-Fi, your comfort is assured here.
Waterfront Tiny Home in Orlando
Enjoy the lake view from the large windows of this comfortable tiny house. You also have the option of going up close with the aid of free paddleboard and kayak rentals around. Overall, this tiny house in Orlando, Florida – is an exciting place to relax and unwind.
The Little Treehouse 2 at Country Club of Orlando
Stay in this treehouse cabin to explore the beautiful neighborhood of Orlando City. With places like the Camping World Stadium and Disney just a few minutes away, you can enjoy the feel and adventure of this exciting city in Florida.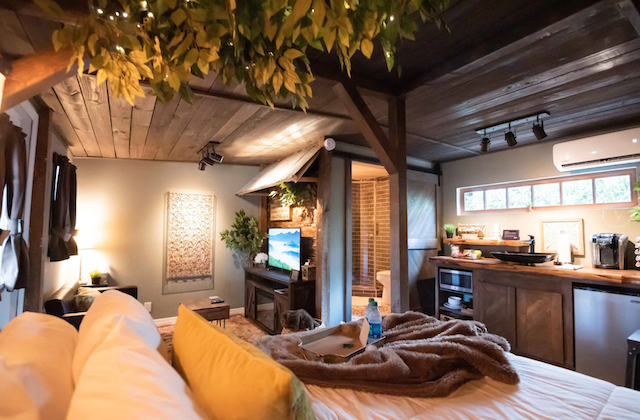 The tiny house in the form of a treehouse provides you with essentials and amenities like an equipped kitchenette and TV access.