Wintertime is here and the slopes are open! Skiing seems like a perfect activity during these times. Everyone is bundled up and even without Covid risks, people want to have neck gaiters and scarves to cover their mouths. Additionally, if you are on the slopes that means you are staying outside and in contact with very few people. The only thing you might worry about is the lodges, so instead, you can stay in a cozy cabin to keep you and your family. Here are seven cabins with ski access where you won't have to sacrifice the resort amenities.
Vista Verde Ranch – Steamboat Springs, CO
Vista Verde Ranch provides an all-inclusive experience with numerous activities available including skiing. The ranch has several cabins to choose from for your group ranging from one to four bedrooms. We have been to the resort twice, which you can read about here. We highly recommend Vista Verde for anyone looking for an perfect mix of luxury, amazing service and as much adventure as you would like.
Vista Verde offers backcountry skiing and skate skiing on the ranch. All the equipment you need is available and expert guides will show you how it is done. For downhill skiing, you can grab breakfast and a packed lunch and schedule a shuttle into town to enjoy the Steamboat Ski Resort. At the end of the day, a driver will be waiting to take you back to where you can relax in your cabin's hot tub until dinner is served.
Dunton Hot Springs – Dunton, CO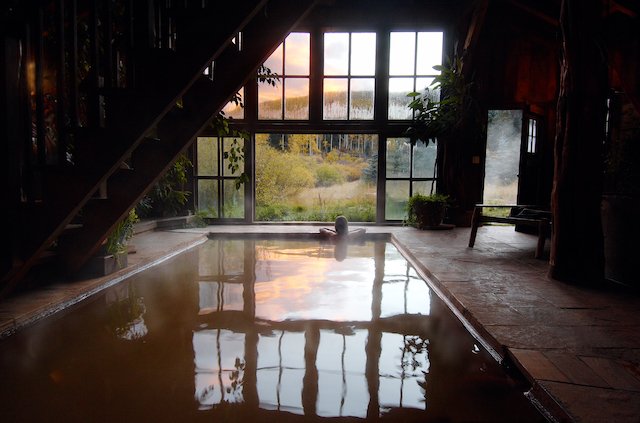 Located across the mountain from Telluride, Dunton Hot Springs is a restored ghost town with log cabins for accommodations. The resort offers a day that includes a day of cross country skiing, snowshoeing, ice skating, and horse-drawn sleigh rides or a Nordic Ski adventure which includes a Snow Cat ride into the high meadows and cross country skiing. For avid skiers, you can even enjoy Heli-Skiing where you can be taken by helicopter with a ski guide to untouched powder at some of the highest elevations in the country. For other downhill skiing, Telluride is about a 2-hour drive.
Tordrillo Mountain Lodge – Judd Lake, AK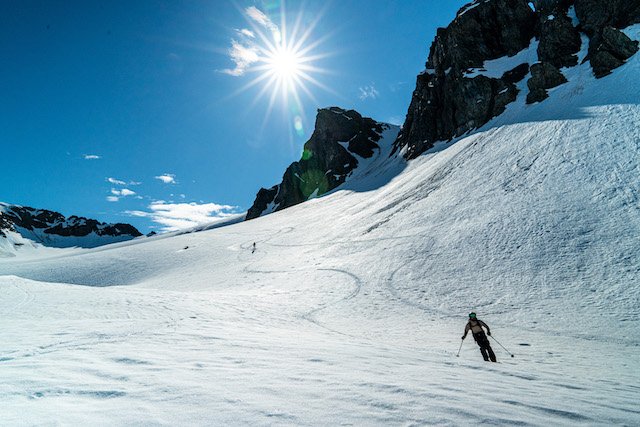 If you are looking for seclusion and amazing skiing, Tordrillo Mountain Lodge has a luxury one-bedroom cabins featuring one king-size bed and a full bathroom. The highlight of each cabin is the spacious front end lounge and glass fireplace. Relax and enjoy magnificent views through the floor-to-ceiling windows while you sip your morning coffee. The remote Tordrillo Mountain Lodge complex is within eye shot of two 11,000-foot volcanoes and Denali, North America's tallest peak.
Guests have private helicopters at their disposal for heli skiing providing unparalleled alpine adventure along with highly trained guides to help take your skiing to the next level.
Brasada Ranch – Bend, Oregon
Brasada Ranch features 65 recently renovated cabins ranging from two to four bedrooms and private hot tubs. From the ranch you can enjoy unmatched panoramic views of the Cascade Range on its nearly 2,000 acres of land and numerous activities.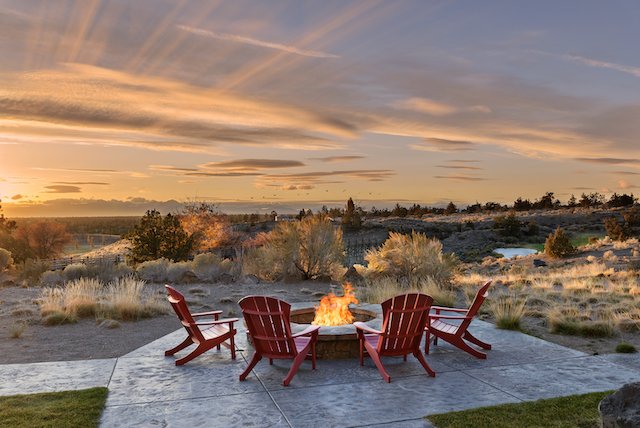 Located nearby is the world-class ski terrain at Mt. Bachelor, the 6th largest ski area in North America. After a day on the slopes, relax in a private jetted hot tub or bask in front of the crackling fire pits situated throughout the ranch. Order a local farmers market basket and ready to eat dinners from Brasada's celebrated chef, Doug MacFarland to satisfy your appetite after a long day.
The Ranch at Rock Creek – Philipsburg, MT
Beautifully located on a 19th-century homestead in the Rock Creek Valley, The Ranch at Rock Creek is a stunning high-end all-inclusive ranch resort with several cabins and luxury homes. Enjoy skiing 35 minutes away at the Discovery Ski Area where there are 67 trails. The Ranch also offers guided classic nordic skiing and novice to advanced skiers can set off on an off-Ranch excursion on groomed trails through alpine forests that stretch further into the pristine Montana wilderness.
Lone Mountain Ranch – Big Sky, MT
Situated on a sprawling, secluded ranch dating from 1915, Lone Mountain Ranch is an upscale resort where you can stay in a historic private cabin with all the elevated comforts of home in the West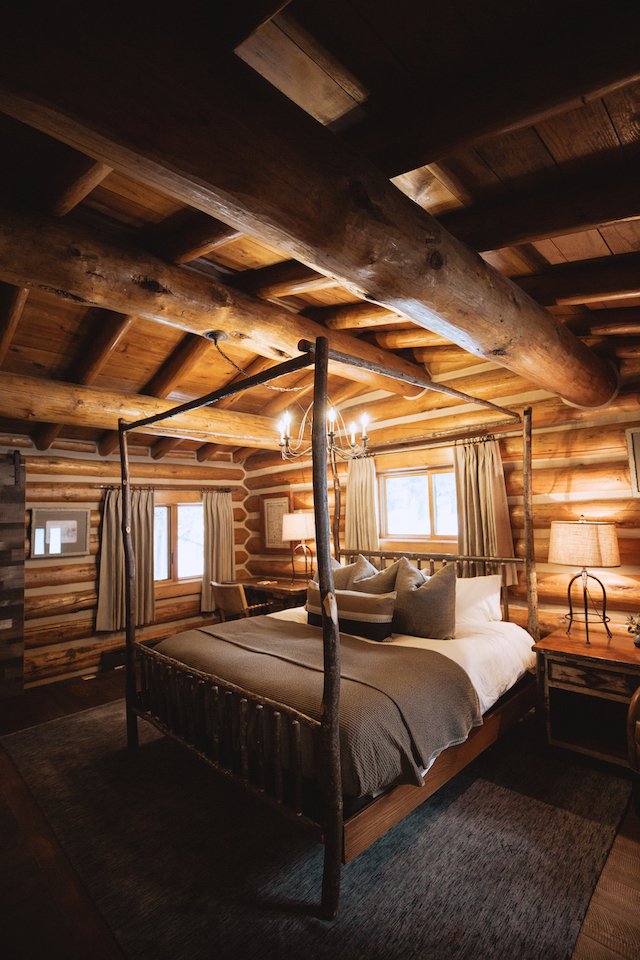 Ski over 80 miles of world class Nordic trails and see why it was voted Cross Country Skier magazine's #1 Nordic ski destination in North America. You can also head over to Big Sky Resort 10 minutes away where there are over 300 runs, 4 mountains, and an average of 400+ inches of annual snowfall.
Fireside Resort – Jackson Hole, WY
Located in Jackson Hole, Fireside Resort offers a hybrid between camping, luxury hotels, and private rental cabins all in one. Their tiny homes embrace a modern yet rustic design, allowing guests to get back to nature and enjoy the intimacy of a boutique hotel.
Located 10 minutes away is the Jackson Hole Mountain Resort is a must-visit. The ski resort offers 133 trails and 12 lifts across more than 2,500 acres. Well-groomed Nordic skiing, cross-country skiing, and snowshoeing trails are also available and ideal for skiers of all levels. Also nearby is the Snow King Mountain and the Grand Targhee Resort is about an hours drive.