Pass on the hotel room and stay in a tiny home during your next trip in Texas! Staying at a tiny home gives you most (if not all) of the amenities you would expect with renting a normal size home without the price tag. Most also put you deeper into nature, allowing you to enjoy the great outdoors of Texas. Here are a few of the top-rated tiny homes in Texas to rent on Airbnb.
The Glass House: Hill Country Tiny Home Escape – Tiny houses for Rent in Hondo
This tiny house in Hondo, Texas – is the perfect place for people looking to unwind and just forget about the world for a while. The accommodation for two gives the feel of privacy and seclusion at its best.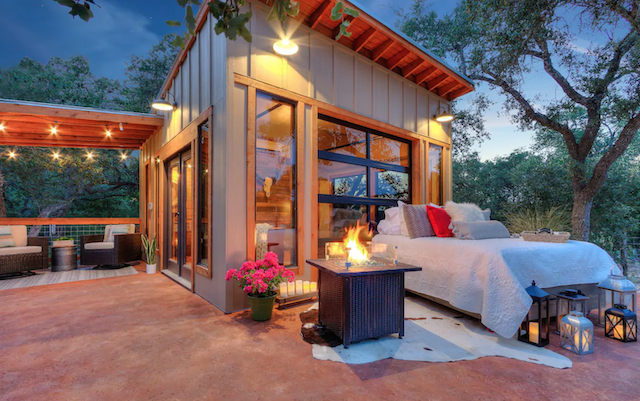 If you're planning a well-deserved vacation to renew your spirit and rest from prolonged stress, then you might just consider booking this house straightaway.
La Petite: a Tiny House Tucked in Nature Hot Tub – Tiny houses for Rent in Wimberly
Tucked away into the woods, the La Petite tiny house is an excellent place for couples who need some alone time away from distractions and friends. You'll be provided with a king-sized bed, one bathroom, and a fully stocked kitchenette.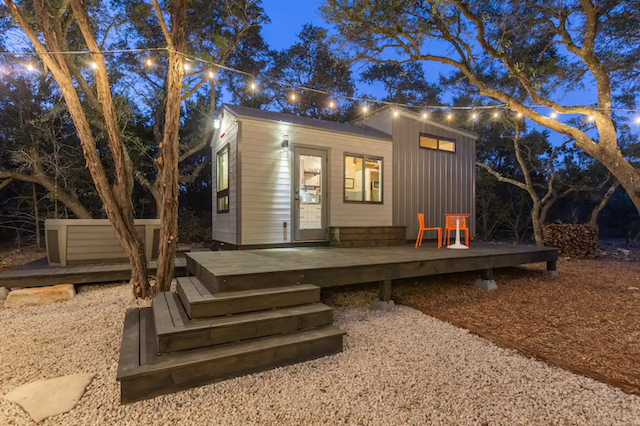 The house also contains amenities like a smart TV, Wi-Fi access, and an air conditioner. Everything you need is just available.
Sundown: a Designer's Gorgeous Tiny Home – Tiny houses for Rent in Wimberley
With well-constructed indoor and outdoor designs, Texas's Sundown tiny house is an exquisite choice for a couple's getaway. On the inside, you'll be spoilt for choice between the queen-sized bed and the loft bed. You'll also have access to a fully equipped kitchen with a Roku TV and Wi-Fi to keep you entertained.

Priced at $162/night, your comfort is the priority here. So, the outdoor area provides you a spacious and private yard where you can stay and watch the stars at night. There's also a hot tub for two on the outside.
The Tiny Farmhouse: Hill Country Tiny Home Retreat – Tiny houses for Rent in Hondo
Located in Hondo in the beautiful Texas Hill Country, this tiny house is a nice bargain for best friends or couples seeking private time alone. With access to your pool, private outdoor dining area and fencing around the yard, you will agree that your utmost privacy is guaranteed.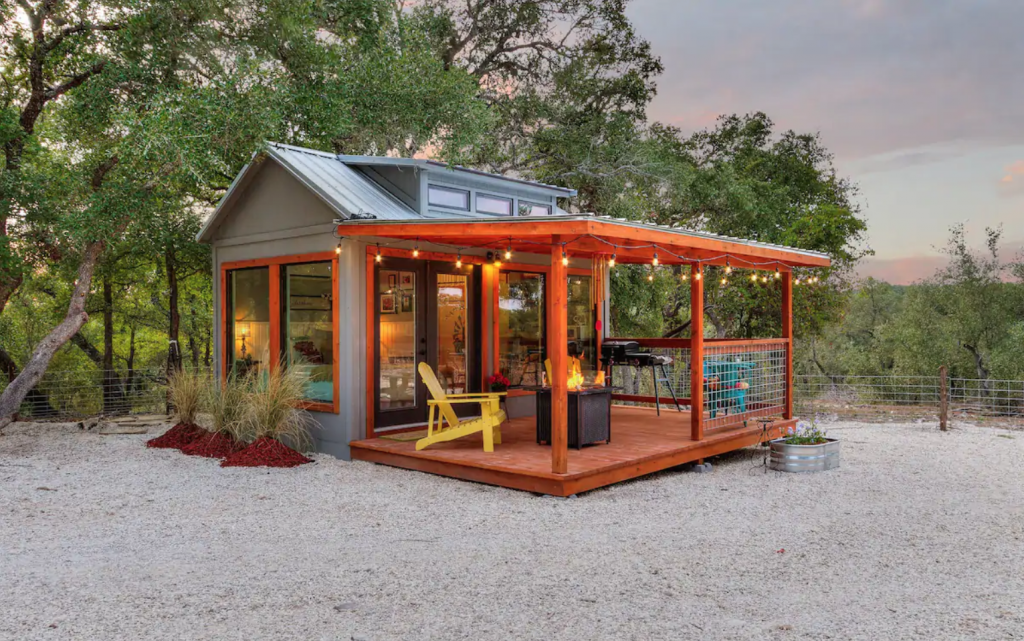 This tiny cabin at $80/night is just the ideal getaway from everything while having what you need close to you. With San Antonio just an hour away, there are so many places to explore.
The "Love Shack" in Historic Downtown McKinney – Tiny houses for Rent in McKinney
As the name implies, the "Love Shack" is cool and fun-oriented for a romantic night away. Newly renovated and situated in the heart of McKinney's historic district in Texas, this tiny home comes with all the amenities of a full-sized home.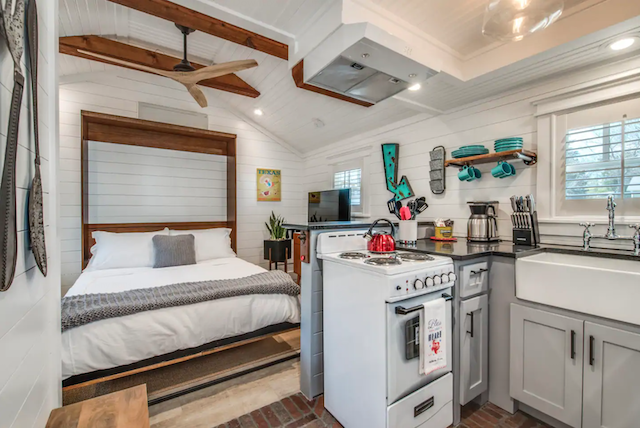 These includes a queen-sized bed with memory foam mattress that's super comfy and will also make you feel like staying in bed all day. Besides, with amenities such as the flat-screen TV, WIFI access and a covered front porch, you are sure to have a memorable stay here.
Tumbleweed Tiny Home on Gorgeous Private Lake – Tiny houses for Rent in Kingsland
Positioned on a private lake in Kingsland, Texas – this tiny cottage with a sleeping arrangement for just two people comes with the comfort of a full-sized home.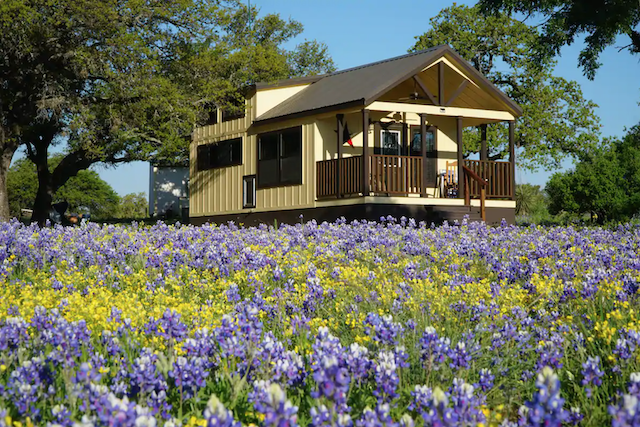 The interior living space, approximately 400 square feet, includes a bedroom with a queen-sized bed, a bathroom and a loft with a fold-up mattress – a simple setup for a private getaway.
Modern Tiny Cabin 3, SOCIAL DISTANCING HAVEN! – Tiny houses for Rent in Dripping Springs
Sited on top of a small hill in Dripping Springs, Texas – this tiny house has a beautiful view of the creek-wrought canyon area. Besides, the indoor design is splendid too with the natural light that colors everywhere.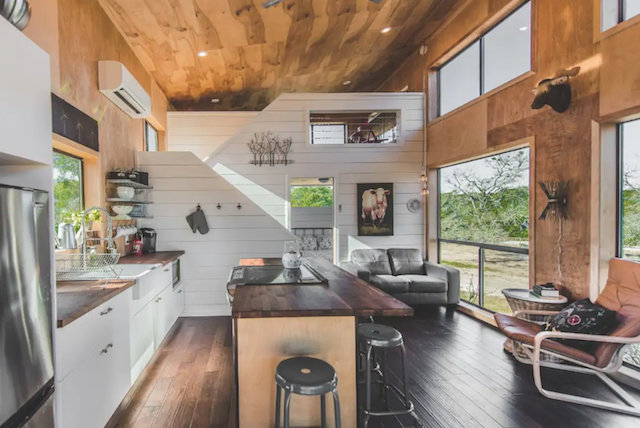 Priced at $130/night, this tiny cabin house with sleeping arrangement for three to four people is just great for a private small-family getaway. Besides, dogs are allowed but only with a fee of $20 per dog, per night.
Lone Star Mini Cabin at Palo Duro Canyon Rim – Tiny houses for Rent in Canyon
Known as the Lone Star Cabin and very close to the famous Palo Duro Canyon State Park in Texas, this modern tiny cabin is ideal for a relaxing weekend with immediate family and friends.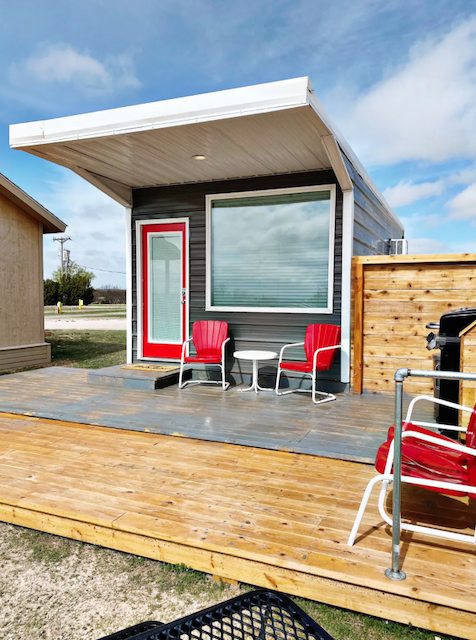 Also, this house can sleep up to four guests and provides essentials and amenities. These amenities include a smart WIFI TV for Netflix, an air conditioner and even a dedicated workspace (if you have serious business to do). Altogether, the fixed price of $109/night for this tiny house is cool.
Modern Cabin Retreat | Pool/Fresh Eggs/56 acre – Tiny houses for Rent in Austin
Just 18 miles off the 6th street, come and enjoy this unique tiny rental amid Texas Hill country. With a beautifully shared pool for the hot Texas summers, this private house offers an exclusively fun and exquisite experience.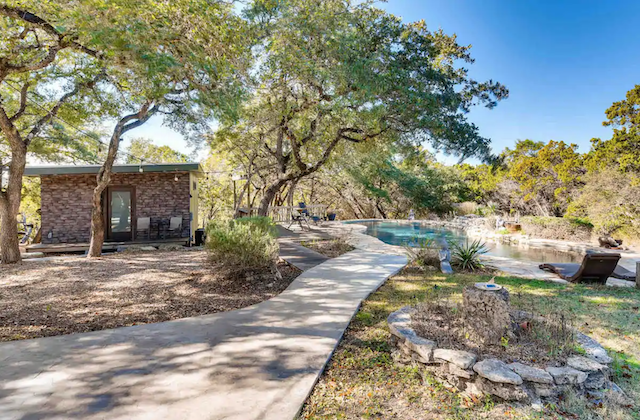 With your comfort as the priority, this tiny house provides a queen-sized bed for two. There is also a fully equipped kitchen and enough comfy space to relax both indoors and outdoors. Although pets are allowed, you will have to pay a cleaning fee of $50 per pet, up to 2 pets.
Lighthouse Mini Cabin at Palo Duro Canyon Rim – Tiny houses for Rent in Canyon
Overlooking the Palo Duro Canyon State Park, this tiny cabin is a great place for a romantic weekend. The cabin house is sited on edge on the edge of the Canyon at Palo Duro Zipline & RV Park.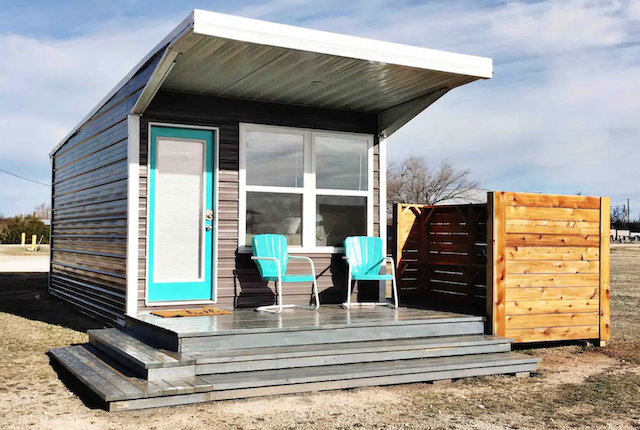 This tiny cabin house has a kitchen equipped with a microwave, small fridge and coffee maker too. There is also a propane grill with a burner on the deck that allows you to prepare a quick outdoor meal if you choose to.
Tiny House in the Woods with Beautiful Views – Tiny houses for Rent in Kemp
Centrally located between Dallas and Tyler in East Texas, this tiny house has an appealing view of the private lake. Its proximity to Cedar Creek Lake makes it a top choice to book in when going there on a visit.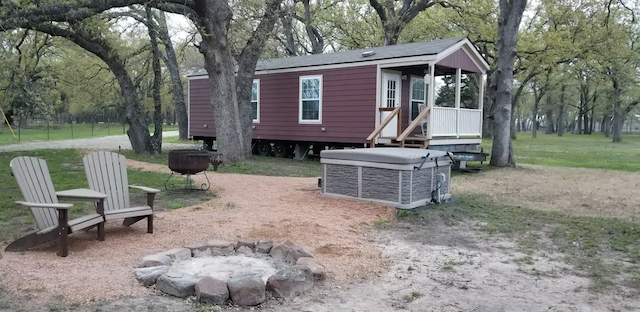 With a bedroom having a queen-sized bed and one sofa bed too, this rental for a maximum of four is best for an excellent small family get-together.
Hidden Treasure Tiny Harvest House-Near Ft. Worth – Tiny houses for Rent in Weatherford
This tiny secluded house in Weatherford, Texas – is a fantastic place to book for a private weekend with that particular person. Relatively isolated and just minutes from the Weatherford courthouse, you can be assured of having a very personal time. A unique indoor time is guaranteed too. Everything you need for a great indoor time is also provided here.
You'll have access to a good Netflix/Megalink WIFI plan that allows you to access your Netflix or Amazon account for movies. Also, the fridge is stocked with homemade wheat and snacks. If you're looking for a place to create long-lasting sweet memories with him/her, this place is definitely for you.
Aloha Beach Ohana in Port Aransas
Enjoy the Aloha Beach RV Resort's classy view from this classy tiny house located in Port Aransas, Texas. The house with a maximum accommodation of four is situated just adjacent to the RV park's pool and observation deck.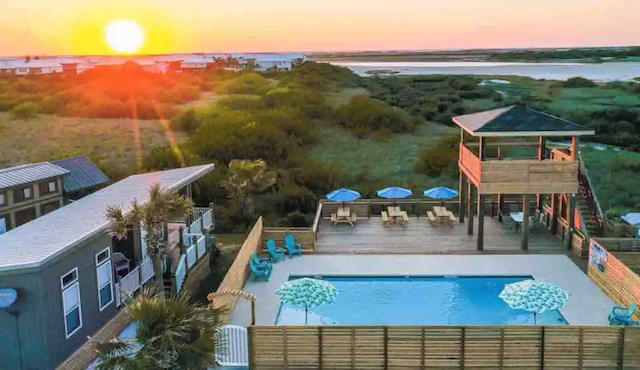 You also have an overview of the beautiful sandy beaches just minutes away. However, the owners have a strict no smoking, no partying and no pet policy.