Big Cedar Lodge is an expansive 4,600-acre lakeside retreat that promises guests comfort, relaxation, pampering, and a variety of nature-based experiences created by Johnny Morris, founder of Bass Pro Shops. It is an amazing resort that allows you to enjoy the outdoors in great comfort. No need to wonder what you will do on vacation or where you will eat since the resort has it all.
The resort was named the No. 1 resort in the Midwest by the readers of Travel + Leisure in 2016, 2017, and 2018, and it awaits guests with genuine hospitality and a breathtaking setting, in the heart of Missouri's Ozark Mountains, surrounded by thousands of acres of unspoiled wilderness.
If you want to unwind and take a break from the daily routine while establishing a fine connection with the outdoors and your travel companions, Big Cedar Lodge is an easy choice.
Accommodations
At Big Cedar Lodge, you'll find your choice of 317 private accommodations, including grand lodges, cozy cottages, private log cabins, and inviting camp-style units.
Lodge Rooms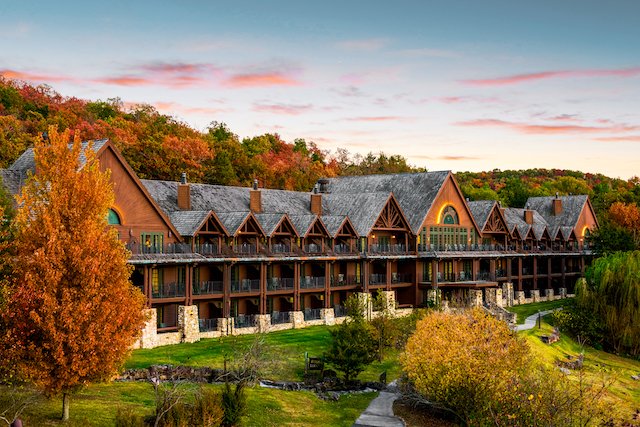 The newest option is coming in spring of 2021 at the Angler's Lodge which will include signature rustic finishes, outdoor details, and quality craftsmanship that guests love. Additional Lodges include Falls Lodge, Valley View Lodge, and Spring View Lodge with The Lodge at Top of the Rock opening in the future. Lodge rooms are best for those looking for an affordable vacation with rates starting around $150 for a queen bedroom and going up from there.
Cottages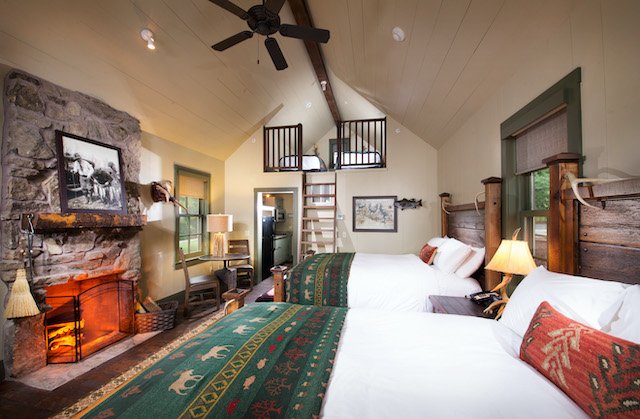 Be surrounded by nature at one of the charming cottages at Big Cedar Lodge. These cottages fit 2-6 people and provide the comforts of home with rustic charm. There are different floor plans and amenities available like luxury tubs, wood-burning fireplaces, grills, and private decks.
Cabins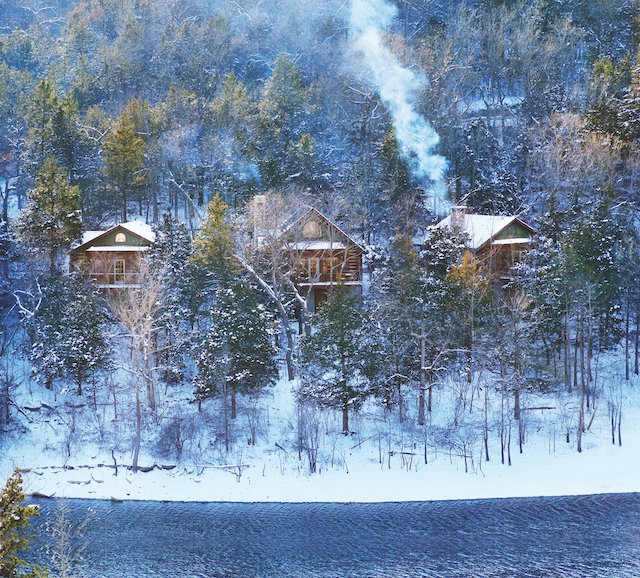 Wind down in one of the cozy log cabins at Camp Long Creek which recently opened. Tucked away in the timber or lakeside you can enjoy the homey atmosphere and relax by the wood-burning fireplace or in the luxury tub while still enjoying the outdoors.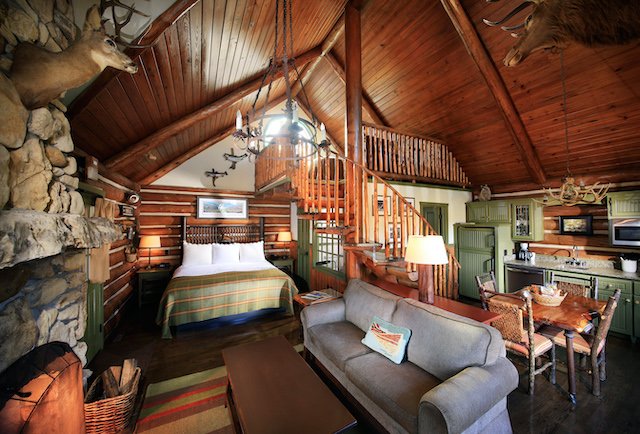 Glamping Tents
Combine camping and comfort, choosing one of the unique glamping tents. Each has its own firepit, picnic table, and outdoor tub with a privacy fence. You may be camping, but with air conditioning, heat, and a private raised deck to view the lake from.
Food & Beverage
Whether you prefer casual eats or you want to enhance your feasts and experience signature dishes at high-end venues, the genuine Ozarks hospitality will complement your meals every time.
Fine dining venues with lavish plates and local favorites with a Big Cedar twist, exceptional service, attention to detail, and delicious food are waiting to pamper you, offering not just a meal but a whole luxurious experience. Osage Restaurant provides upscale cuisine with a sweeping view of the Ozark Mountains. You can also take a brunch or dinner cruise on the Lady Liberty Yacht.
The casual dining options are great for most of your meals. You can enjoy the rustic, regional decor and unbeatable views of the Ozarks while letting your taste buds run wild. There are nine different options to choose from giving you plenty of variety and locations.
And, when you feel the need to relax in the comfort of your cabin, let the Room Service team spoil you with a full selection of breakfast, lunch, and dinner items. If you want to make yourself a delicious meal, ask about the Backyard Baskets.
Time for Fun
Big Cedar Lodge is a place for families to connect with nature and each other while enjoying high-end amenities, fun activities, and exciting outdoors adventures.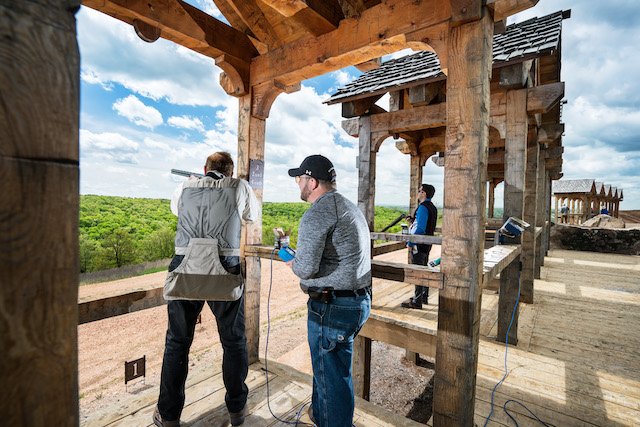 Top of the Rock is one of the Lodge's signature attractions, enchanting guests, especially food lovers and golf enthusiasts, with world-class golf, dining, and entertainment.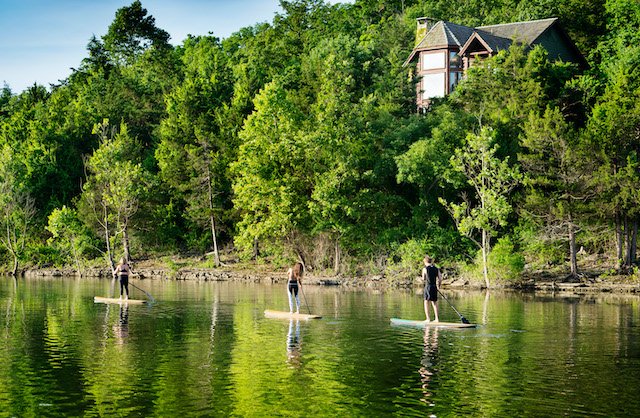 More active travelers prefer exploring nature through fishing, walking, hiking, and thrilling watersports. Nature lovers are always amazed by the Dogwood Canyon Nature Park, a spectacular 10,000-acre nonprofit wildlife preserve. Meanwhile, adventurous visitors love paddling through the water and see the historic Devil's Pool or enjoying a paddleboat ride around our cove on Table Rock Lake.
And, if you travel with the whole family, don't worry about the little ones. With plenty of educational activities for kids available, they can have fun discovering the great past at the Ancient Ozarks Natural History Museum or find out all about conserving the land at the Conservation Center at Dogwood Canyon.
Relaxation & Pampering
Created to embrace the natural landscape of the beautiful Ozark Mountains, Big Cedar Lodge is an oasis of tranquility for all visitors.
During your stay, not only can you feel and admire the beauty and serenity of the natural surroundings, but also indulge in a multitude of amenities meant to enhance your escapade.
Body and spirit rejuvenation moments at the spa are also great ways to enjoy your stay at Big Cedar Lodge. Spoil yourself at the 18,000-square-foot, outstanding Cedar Creek Spa & Salon.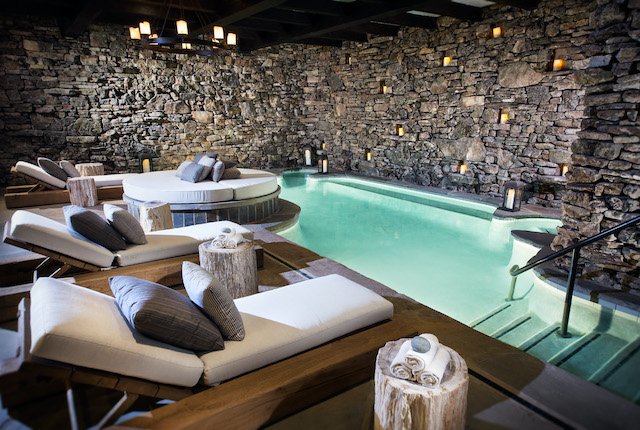 From a state-of-the-art fitness center to numerous pools and hot tubs, the property offers a superb mix of luxuries meant to satisfy all vacationers, whether they're in the mood for relaxation or non-stop action.
Have you been to the Big Cedar Lodge? Let us know what the favorite part of your vacation was!