Whether you plan to visit Horseshoe Bend, the Grand Canyon, or just enjoy some of the most stunning desert vistas in America, Arizona is one vacation destination you don't want to miss out on. With so much to see and do, it might be easy to overlook the accommodations. But this list of the top glamping spots in Arizona will help you make your next Arizona outing the best it can be. Read on to find your dream AirBnB in Arizona.
Bell Tent Glamping at Shash Dine-in Page, Arizona
Make your next glamping trip an eco-friendly one at this luxurious bell tent. Located on a working sheep ranch, you'll be treated to wide-open spaces and gorgeous night skies. The ranch is conveniently located near numerous attractions, including Antelope Canyon, Horseshoe Bend, and the Grand Canyon.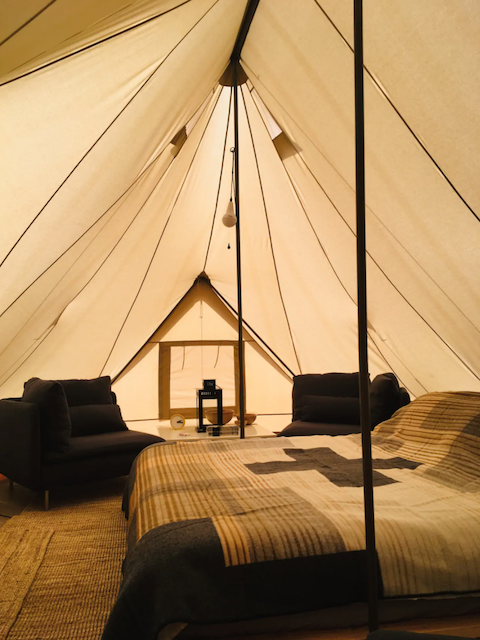 Entirely solar-powered, this luxurious tent has the amenities of a 5-star hotel and is easy on the environment. Features include a plush king-sized bed, several seating areas, and a camp shower.
ThunderHorse Ranch Rustic Glamping Experience Tent
Let the animals greet you at this charming glamping spot. You'll have access to a cozy tent situated on a sprawling ranch. With goats, turkeys, alpacas, and more roaming around, you'll have furry friends to keep you company.
The tent itself has two comfy twin beds and a wonderful outdoorsy atmosphere. Additionally, you'll have access to a covered porch area on the nearby cabin, and several activities to partake in, including a campfire cooking class.
Chris Craft Yacht at The Shady Dell
Experience having your very own luxury yacht without paying a fortune at this unique glamping destination. This renovated pleasure boat exudes both style and comfort. Kick back on the "dock" with a drink or a good book. Inside, the nautical décor will make you feel like a true captain on the high seas.
Cozy up on the bed or prepare dinner in the galley. If you're looking for something out of the ordinary on your next visit to Arizona, this delightful Airbnb is not to be missed.
Invigorate – 'Hidalgo' the Classic Silver Streak
This lovely camper perfectly combines rustic style with modern comfort. Situated among the gorgeous Arizona scenery, this renovated RV features all the amenities you desire. From the plush full-sized bed to the spacious kitchen and dining area, to the covered porch with video arcade and hammock, this glamping spot has it all.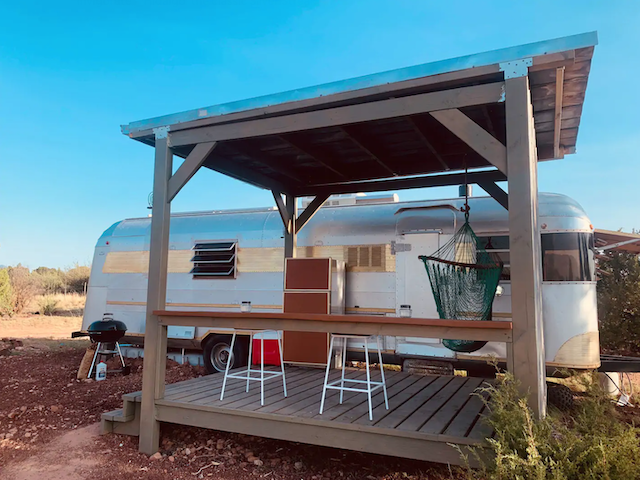 If you prefer to take your meals outside, there's also an outdoor breakfast bar for taking in the view while you eat. You can even snuggle up by the wood-burning stove at night after watching the stars come out.
Grand Canyon Yurt in Flagstaff, Arizona
If you're looking for the perfect basecamp for your Grand Canyon excursion, this wonderful yurt has you covered. Located a mere 45 minutes from the entrance to the Grand Canyon, you'll have a plethora of amazing places to visit right next door. Check out the Lava Tubes or go hiking up Kendrick Peak.
And when you've had your fill of outdoor activities, a host of amenities await you. The spacious yurt features a king-sized bed, a wood-burning stove, and so much more.
Family sized Tiny Home in Northern Arizona
Find big comfort at this tiny home, conveniently located just 30 minutes from downtown Flagstaff. Surrounded by beautiful forests, this awesome cabin features many wonderful amenities in a small package. The bright, modern interior creates a welcoming atmosphere.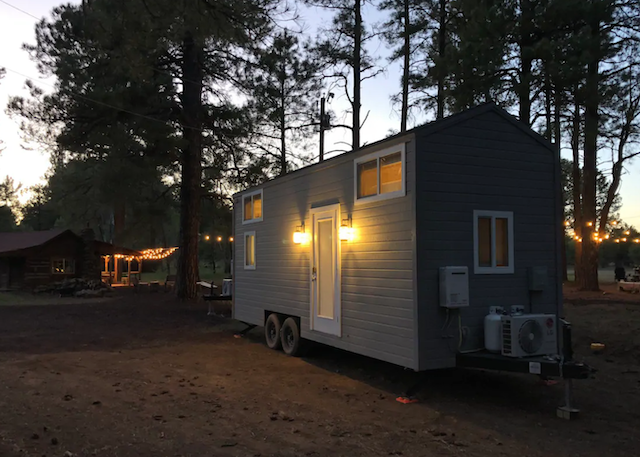 Two plush lofted beds and a sofa bed can easily sleep up to 5 guests. Additionally, you'll have access to a full kitchen and bath, as well as an outdoor fire pit.
Invigorate 'Red Beauty' Glamping Tents for Rent in Williams, Arizona
Come experience a modern frontier life at this stunning glamping location. With amazing vistas of the surrounding countryside, you may forget all about the hustle and bustle of city life. Inside this spacious tent, you'll find a well-appointed king bed, a comfy couch, and even an indoor shower.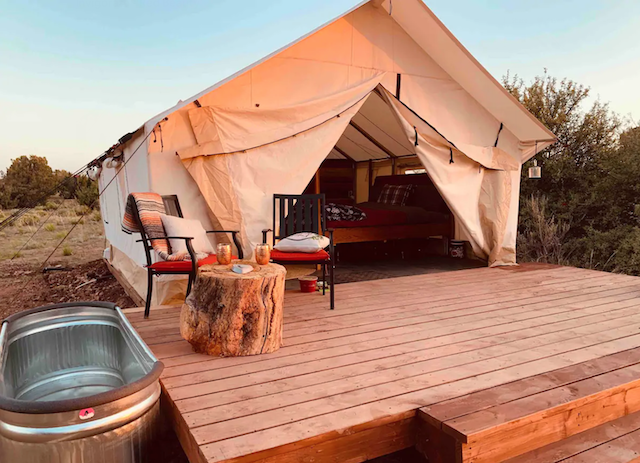 The exterior is equally as luxurious. Go for a swing in the hammock, or take a dip in the outdoor tub on a hot summer day. At night, you can kick your feet up on the porch and watch the stars glittering in the sky.
Coral Pink Cowboy Horse Ranch Cheyenne Tipi
Create memories to last a lifetime at this unique glamping spot. This cozy tipi will enchant you from the moment you lay eyes on it. The Native American styled décor and comfy double beds make for an inviting atmosphere. At night you can gather around the fire pit for smores and coffee.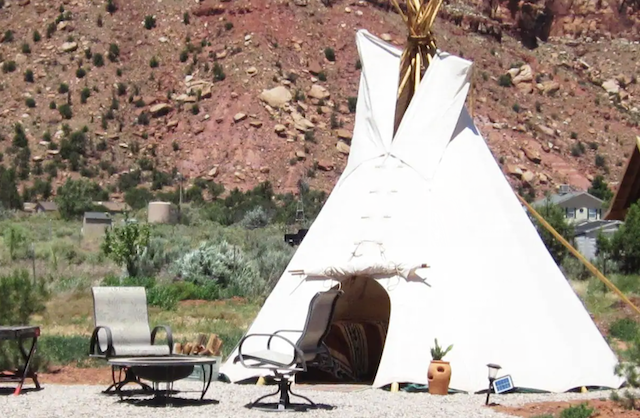 A nearby common area has all the other amenities you require. You'll have access to an outdoor cooking station, showers, and more. And of course, the Arizona countryside provides a view to remember.
Glamping in the Verde Valley in Cottonwood, Arizona
Add a little elegance to your next glamping outing at this incredible camper. With accommodations that rival any luxury hotel room, you may never want your vacation to end. The interior features a spacious lounge area, a dining nook, a full bath, and a queen-sized bed.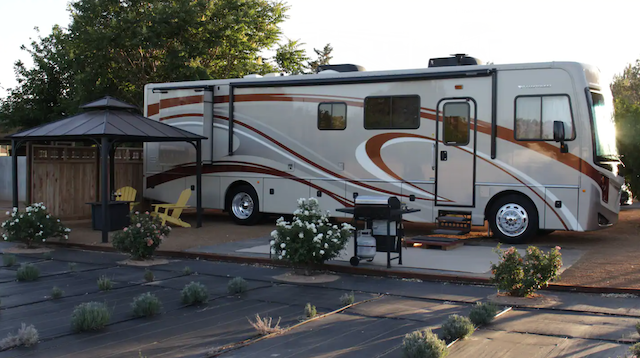 The warm atmosphere and sleek décor make it the perfect place for a little rest and relaxation. Outside, you'll find a covered fire pit, a grill, and a beautiful garden right next door.
Grow Cabin with Stargazing Hot Tub and Yoga Deck
Perched above a canyon in scenic Sedona, this unforgettable cabin will take your breath away. Out on the sprawling deck, you can take in the unbelievable view from the hot tub, or put up your feet with a glass of wine and watch the sunset.
Inside, all the comforts of a modern home are at your disposal. Cuddle up with a good book in the reading nook, or head up to the lofted queen bed and recharge for another day of fun. Other features include a full kitchen and bath, and an outdoor grill.
Luxury Tiny Home in Northern AZ Wilderness
Take your next glamping trip to the next level at this amazing tiny house. Located just a stone's throw from several swimming holes, you'll be able to enjoy fishing, boating, and more. When you need to recharge after a long day of fun in the sun, the accommodations at this cabin will satisfy your every need.
A cozy studio-style home awaits you. Relax in the living room next to the electric fireplace, or retire to the plush queen-sized bed. Additionally, you'll find a full kitchen and bath, as well as an outdoor fire pit.
Airstream Dreaming in Flagstaff, Arizona
Nestled among a serene field of flowers, this retro glamping destination is a sight to behold. Let the beautiful mountain views wash over you as you lounge outside around the fire pit, or grill up a meal under the stars.
Inside, the surprisingly spacious accommodations will instantly put a smile on your face. The cheerful décor is exactly what's needed to create a relaxing aura. A queen-sized bed awaits you, along with a full bath, sitting area and more.
The Love Shack Glamping Campers
If you've been searching for a romantic couple's getaway, look no further than this charming Airbnb cabin. This renovated camper is the ideal place for you and your loved one to escape to, and enjoy the grandeur of Arizona. The colorful and cozy interior will enchant you the moment you walk in the door.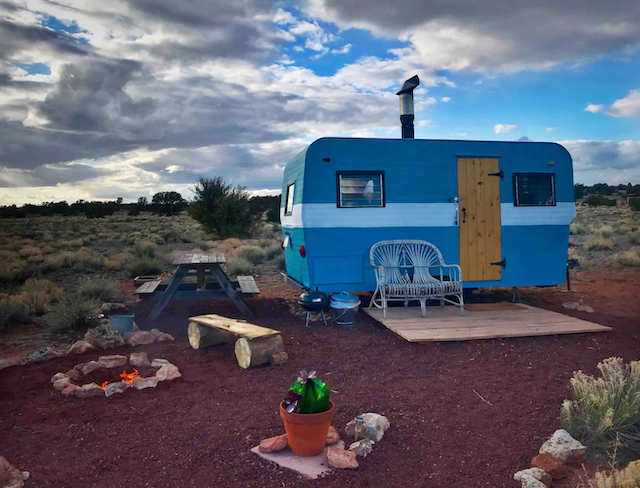 You'll have a wood-burning stove, kitchen and comfy double bed at your disposal. Outside, you can enjoy a meal with a view at the picnic table, or watch the sunrise from the loveseat.
Primitive Yurt Camping Tent in Fort Defiance, Arizona
Tucked away on a secluded ranch, you'll have all the peace and quiet you desire at this serene yurt. With roaming horse and sheep to keep you company, this yurt provides a haven amongst the rush of everyday life. The warm, relaxing interior is exactly the kind of place you want to retreat to.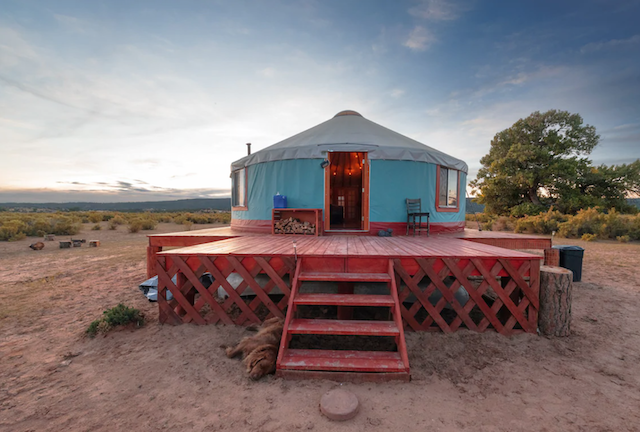 It features a queen-sized bed, full kitchen and bath and plenty of room to stretch out and refresh yourself. Outside, the views are as good as they get in Arizona.
Tiny House Mountain Haven in Patagonia, Arizona
You'll feel right at home in this charming tiny house. Its cozy interior is both colorful and comfortable, with all the amenities you'll need for a relaxing stay. Snuggle into the full-sized bed at night, then cook up a delicious breakfast in the fully stocked kitchen.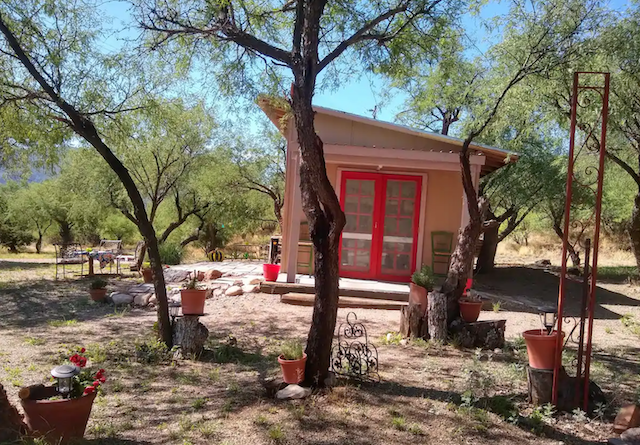 You can take your meals outside in the picnic area beneath the shade of the trees. Then take your time and wander the countryside, enjoying all the wonderful scenery that this beautiful state has to offer.
Glamping Tent at the Cane Beds Corral
Located just a short distance from Grand Canyon National Park, this incredible glamping spot is just what you need to turn your next vacation into a spectacular event. It has all the comforts of home and style to boot.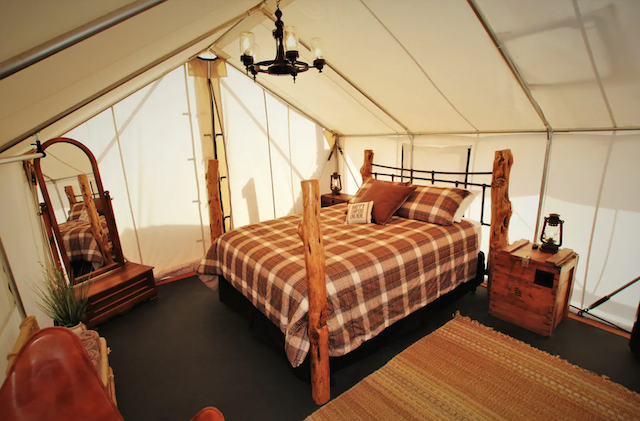 The interior has many custom, western-inspired touches and numerous amenities, from a queen-sized bed to a pair of trendy lounge chairs. Additionally, you'll find a private outdoor shower, cooking station and a fire pit.
The Ultimate Stargazing Experience for Two
For the absolute best view of the night sky, this amazing dome house provides you with an experience you won't soon forget. Gaze up at the stars from the plush queen bed or slip into one of the lounge chairs for a midnight show unlike any other.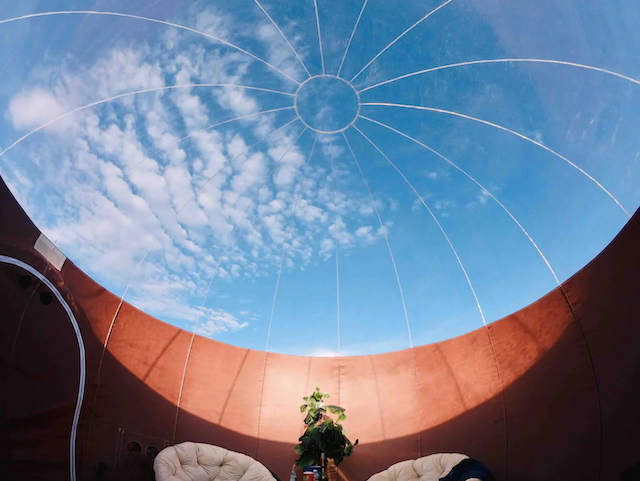 You'll feel the true grandeur of our solar system from the comfort of this awesome glamping destination.