The serene waters of Toledo Bend play host to some of the top bass fishing you'll find in the country. Additionally, the fantastic scenery around the lake makes for an ideal backdrop for your outdoor excursion. Whether you're staying on the Louisiana side of the Texas side, finding the perfect accommodations for your trip is a crucial step in turning your vacation into an unforgettable experience. If you're searching for a cabin that fits your every need, this list features the best that AirBnB has to offer. Make your next Toledo Bend visit a memorable one at one of these amazing cabins.
All-You-Need Cabin
Find beauty in simplicity at this lovely cabin. Located within easy distance of Toledo Bend Lake, you'll have a great opportunity to enjoy some of the best bass fishing in the country. After a long day of fun on the lake, the many comforts of this cabin will be waiting for you.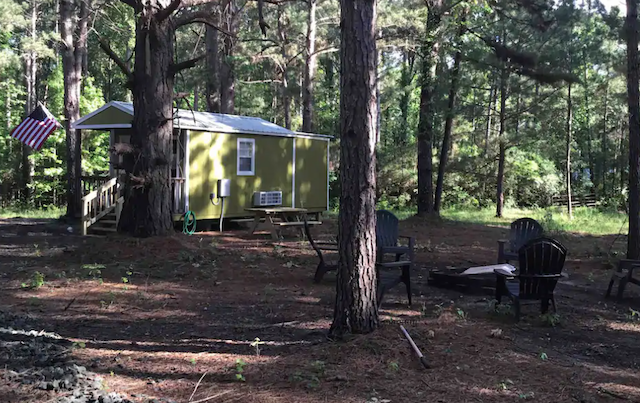 Relax out on the porch or around the picnic table. Then you can sink into the comfy double bed to recharge for another day.
Once the Beloved Shady Oak Lodge
This delightful cabin makes the ideal home away from home during your next Toledo Bend vacation. Bring the whole family along, as this spacious cabin has plenty of room and sleeping arrangements for up to 6 guests. The open floorplan living/dining/kitchen area is perfect for family gatherings.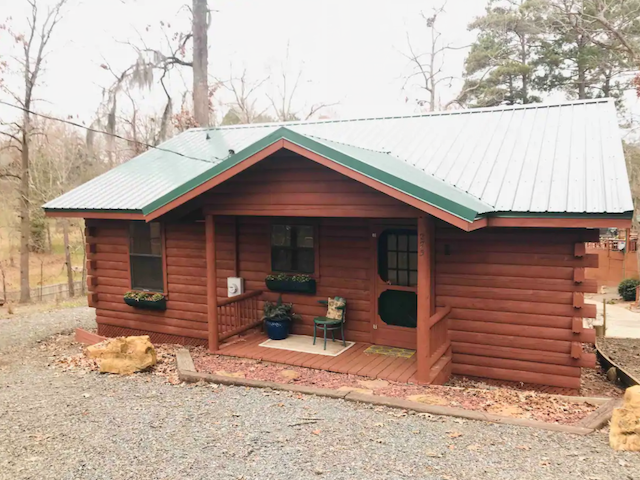 If you prefer a little outdoor fun, you can head out to the pavilion for a meal under the stars. The beautiful, tree-lined cove makes for a wonderful backdrop to your stay.
Dock Holiday Cabin
Take your Toledo Bend outing to the next level at this incredible lakeside cabin. It combines a rustic log cabin style with modern amenities. The cozy living room features a fireplace and several couches. There is plenty of room for the whole family, and a fully stocked kitchen as well.
Outside, you can take advantage of the peaceful scenery from the comfort of the screened porch. After you've reeled in the big catch, make use of the fish cleaning station right near the lake.
Redbud Lake Cabin Rental
Make yourself at home in this cozy cabin. It features numerous amenities and comforts that will put you at ease and ensure your getaway is as relaxing as can be. A full kitchen is available, as well as a breakfast bar and a comfy lounge area. The bedroom contains a double/twin bunk bed.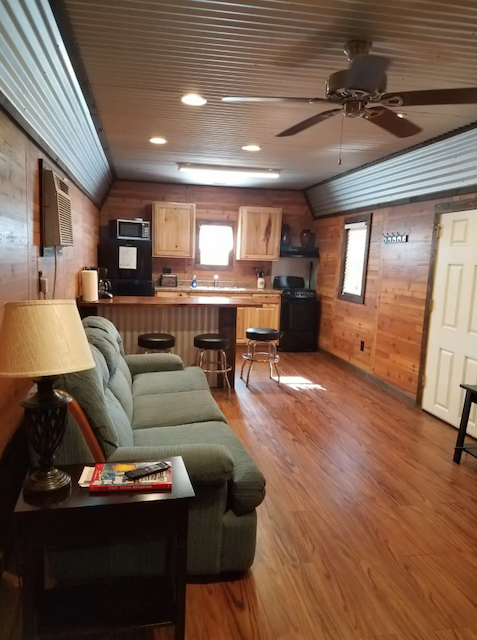 If you crave some fresh air, head out onto the porch and take in a beautiful Texas sunset. This is a true gem among AirBnB accommodations.
Our Back Porch on Toledo Bend
For your next family reunion or gathering, look no further than this spectacular cabin right on the lake. Take advantage of the wonderful fishing, or try out kayaking. The sprawling porch features tons of seating, including a charming swing bench and a hammock. And if you need to unwind, there is a private hot tub for your use as well.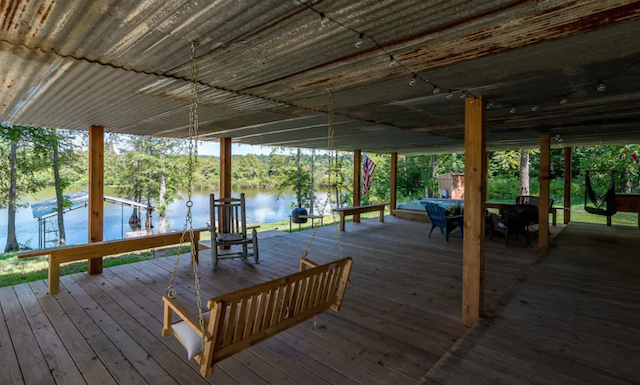 Inside, there is plenty of room for up to 11 guests. A huge kitchen, two full baths and a spacious living room complete this fantastic package.
Canadian Cedar Cabin
This bright, cheerful cabin will put a smile on your face the moment you walk in the door. The combination of warm wood interior and splashes of pastel make for a truly inviting atmosphere. You'll have lots of room to spread out and enjoy the many comforts of the cabin.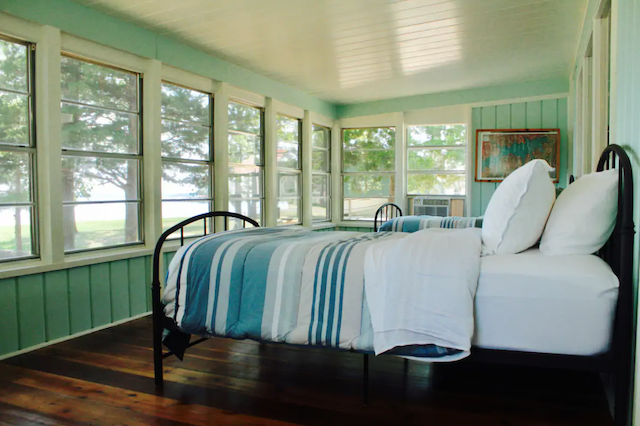 Enjoy a night in the sleeper porch, with two comfy beds on a fully contained porch. The living room is spacious and kitchen is fully stocked. Outside, you can feel free to make use of the picnic seating area.
Toledo Bend Overlook Cabin
Let the majesty of Toledo Bend wash over you at this stunning lakeside cabin. Situated just across the way from the Cypress Bend golf course, you'll have your pick of hitting the greens or the water for some outdoor fun. At the end of the day, you can relax on the porch and watch the sunset over the lake.
Inside, the open living, dining and kitchen area is a wonderful place for a little family time. Other accommodations include a queen bed, two bunk beds, a full bath and a fire pit.
Lakescape Getaway Cabin on Toledo Bend
You'll feel like royalty at this amazing lakefront cabin. With a private fishing pier, large deck area, and a one-of-a-kind view of the lake, you may spend more time outdoors than indoors when you visit. When you do decide to retire for the day, there are plenty of comforting touches to welcome you.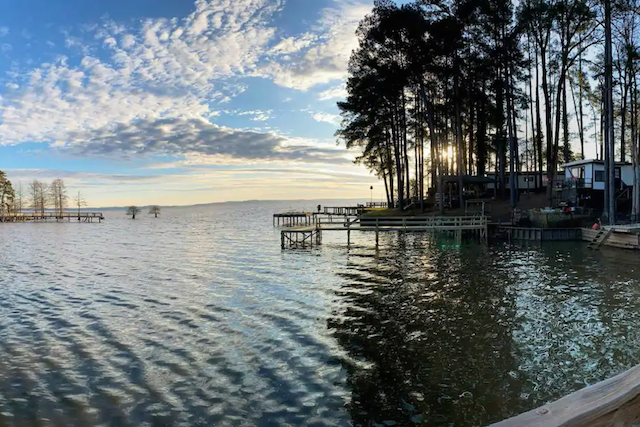 There is a large kitchen and dining area, as well as several lush couches in the living room. Additionally, you'll find sleeping arrangements for 9 guests, two full baths, and a huge closet for all your storage needs.
Cozy Fishing Cabin With Sunset Views On Toledo Bend
Nestled among the trees next to the vast expanse of Toledo Bend, this secluded cabin will make you feel like you've stepped into a dreamland. With the lake right outside your door, there's no end to the fun you'll have. Hop in a canoe or a kayak, or try your hand at fishing from the private pier.
A screened porch is the perfect place to take in the unbelievable view. Other amenities include a full kitchen and bath, an open living and dining area, a comfy double bed, and plenty of board games for a rainy day.
Lakefront Cabin on Toledo Bend
This homey cabin is a fisherman's dream come true. Situated right on the shoreline, you'll have easy access to the lake from the moment you step out the door. There's even a private pier if you want to take a boat out on the water. Once you've caught your dinner, there's a fish cleaning station at your disposal.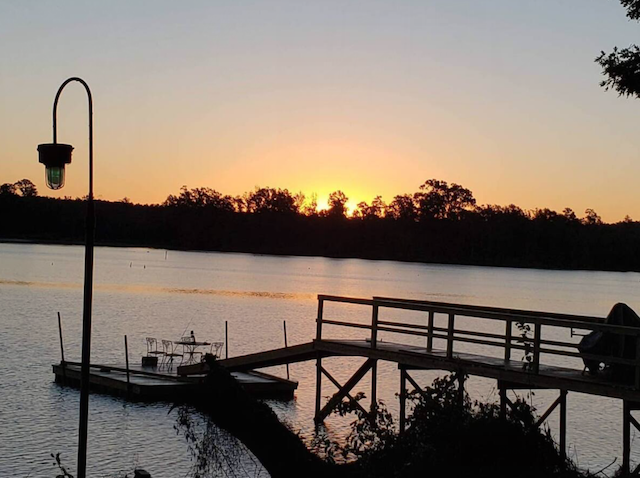 The covered porch is an ideal place to kick back and watch a sunset. Inside, the comfortable accommodations will help you recharge for another day of fun. Features include a full kitchen and bath, a spacious living room and sleeping arrangements for up to 6 guests.