If you are dreaming of a high-end vacation at a Montana dude ranch, look no further. We've compiled a list of the top 10 best luxury dude ranches in Montana, so you can find fabulous stays all across this beautiful state.
A beautiful destination all year round, Montana is home to some of the most famous national parks and forests, such as Yellowstone National Park and Flathead National Forest. This makes it arguably one of the most scenic mountainous regions in the United States and one of the best places for a luxury ranch stay.
The Resort at Paws Up
Located in the heart of Blackfoot Valley, surrounded by 37,000 acres of stunning wilderness, The Resort At Paws Up is arguably one of the most high-end ranch resorts in all of Montana.
Paws Up provides fine dining at a variety of eateries as well as a stunning spa and fitness center. They also offer a huge range of unique experiences such as hot air balloon rides, dog sledding, and various shooting sports, as well as more relaxed options such as painting and photography.
Accommodations consist of a range of beautiful and luxurious houses (both modern and rustic), cabins, lodges, and glamping tents.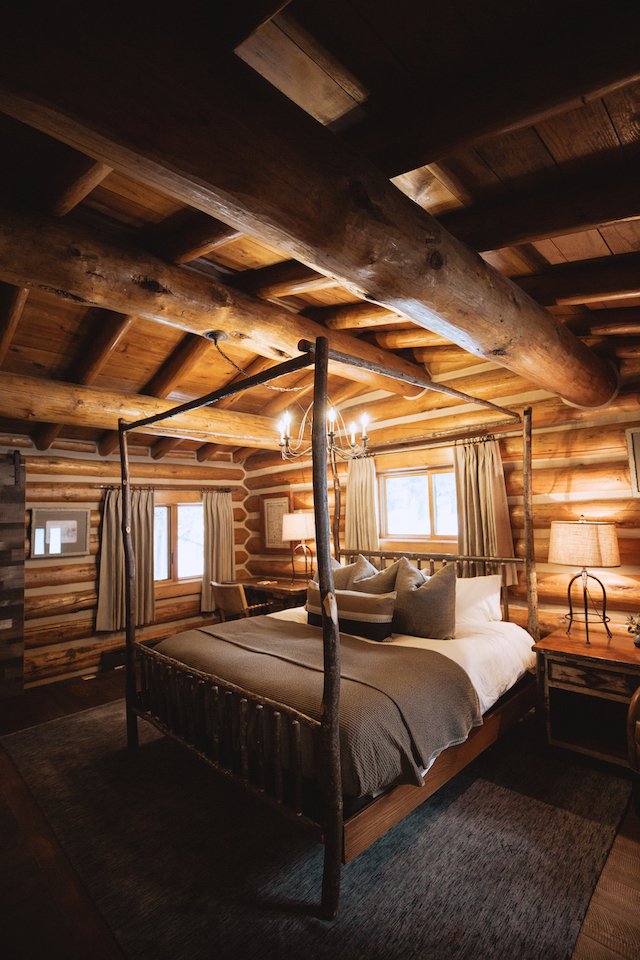 Lone Mountain Ranch
Situated just north of Yellowstone National Park, Lone Mountain Ranch is one of the best luxury dude ranches in Montana that specializes in ski retreats. Much like others on this list, it's a beautiful place to visit year round, but this is the place to be in winter.
This is a great place to visit if you're interested in honeymoon or elopement packages too, as their cabins are some of the most luxurious on this list – a gorgeous combination of rustic and modern, it certainly brings the Wild West to the modern day.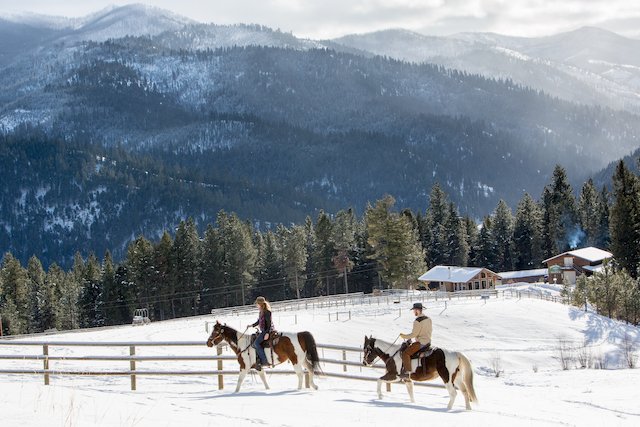 Triple Creek Ranch
Located in the heart of the stunning Bitterroot Mountain Range of the Montana Rockies, Triple Creek Ranch provides high-end all-inclusive vacations which you can customize.
From candle making and wine tasting to dog sledding and cattle drives, this Montana luxury dude ranch provides a wide range of activities to suit just about anyone. They also host events throughout the year such as artist workshops and vineyard visits.
Choose from a variety of cabins, suites, and homes, each decorated to combine luxury and a traditional ranch style. Outfitted with all the amenities you could ask for, some include indoor hot tubs and fireplaces.
The Ranch at Rock Creek
The Ranch at Rock Creek is a posh all-inclusive resort, making it the perfect place for spa getaways, weddings, and wine tasting retreats. Choose from a wide variety of activities such as horseback riding, ice skating, and archery, or just enjoy the relaxed and laid-back atmosphere at this luxury dude ranch in Montana.
At The Ranch at Rock Creek, you can stay in a glamping cabin, lodge, barn, or luxury home, all of which are beautifully designed and guaranteed to make you feel pampered.
Mountain Sky Ranch
Aptly named, Mountain Sky Ranch is situated at the heart of Paradise Valley with stunning views of the surrounding mountains.
Here you can go white water rafting, enjoy a relaxing day at the spa, or indulge in delicious cuisine. This luxury Montana dude ranch is perfect for romantic couples' getaways and fun family vacations alike.
Stay at any of the cabins, each with its own unique charm, and you'll feel like you're in an western paradise of your very own.
320 Guest Ranch
320 Guest Ranch offers a traditional and authentic experience in a wonderfully relaxed atmosphere.
This is one of the best-located luxury dude ranches in Montana, as it is perfectly situated between Big Sky and Yellowstone National Park. Explore the area by horseback or spend a day soap making; however you choose to spend your time, you're guaranteed to be met with impeccable service and a warm and welcoming atmosphere here.
Choose from a selection of modern cabins and chalets; you're sure to find the perfect spot whether you're on a romantic trip for two or a family retreat.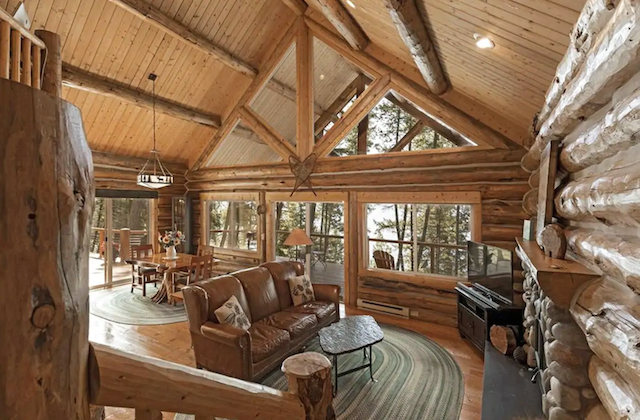 Flathead Lake Lodge
Located on the shores of Flathead Lake in northwest Montana, Flathead Lake Lodge prides itself on being a family-oriented dude ranch. Though not technically a "luxury" ranch, we've included it in this list due to the beautiful selection of accommodations and abundance of activities and amenities onsite. There aren't many dude ranches with a lakeside swimming pool!
Flathead Lake Lodge offers a welcoming atmosphere where they strive to make every guest feel like they're part of the family. Accommodations are rustic and beautifully decorated; choose from lodge rooms, cabins, and suites.
Rainbow Ranch Lodge
For guests who want a classy, unique, and sophisticated experience, Rainbow Ranch Lodge delivers. This luxury Montana dude ranch offers exceptional food and wine and is a top destination wedding venue. There's even a bridal suite cabin.
If you're not getting married, you can choose between the cozy and well-decorated lodge, a pond-side room, or a riverside room. There is also a gorgeous centrally located hot tub, big enough to fit you and your guests, where you can relax and unwind at the end of the day.
Holland Peak Ranch
Holland Peak Ranch is arguably one of the most exclusive ranch resorts in the U.S., so it definitely belongs on our list of top Montana luxury dude ranches. Set on a thousand acres of land, it is known for its privacy, stunning views, and fine food. They also offer a variety of onsite activities, like horseback riding and cross-country skiing.
Whether you're looking to have a vacation free of other guests, rent it exclusively for your honeymoon, or have a private family getaway, this is the spot for you. Accommodations are ulta-luxe and consist of a main house and two separate cabins.
Sage Lodge
Situated on the banks of the Yellowstone River, Sage Lodge is a luxury resort that includes all the activities you'd want to experience during a dude ranch stay. They primarily cater to weddings, elopements, romantic getaways, and large group stays, but are also a great choice if you're looking for a couples' getaway or vacation with friends.
Sage Lodge has wonderful options for dining, as well as an on-site spa. Choose from one of the many guest rooms at the main lodge or a ranch house, depending on the size of your group.
What is a luxury dude ranch?
A luxury dude ranch offers you a ranch-style experience on your vacation plus some extra pampering. While horseback riding and hiking are still staples of this kind of vacation, so are spa evenings and fine dining!
Most luxury dude ranches are all inclusive, which means your accommodations, meals, and activities are included in your rate.
Of course, luxury dude ranches typically cost a little more, but they tend to be well worth the price. They are a great choice for those who love the dude ranch experience but want to treat themselves to something special.
Why choose a luxury dude ranch in Montana?
Known for its stunning natural landscapes and breathtaking views, Montana is a beautiful place to visit at any time of year. Whether you're looking for spring and summer fishing and hiking adventures, cool fall evenings by the fire, or a winter ski holiday, Montana is a fantastic and popular destination.
Here is our list of the best luxury dude ranches in Montana.