Many live the life of a cowboy vicariously through TV shows like "Yellowstone," while few live the life for real. However, that doesn't mean you can't experience it for yourself, minus the wild west violence in the show.
There are plenty of horse ranches throughout the United States that offer vacation packages and activities to give you a taste of cowboy life. Most of these ranches have activities such as horseback riding, roping, trap shooting, archery, and more. There are many types of horse ranches (also known as dude ranches) to choose from. You can find them all over the U.S., including Wyoming, Texas, Colorado, Arizona, California, Montana, Idaho, Jackson Hole, Tucson, and even New York.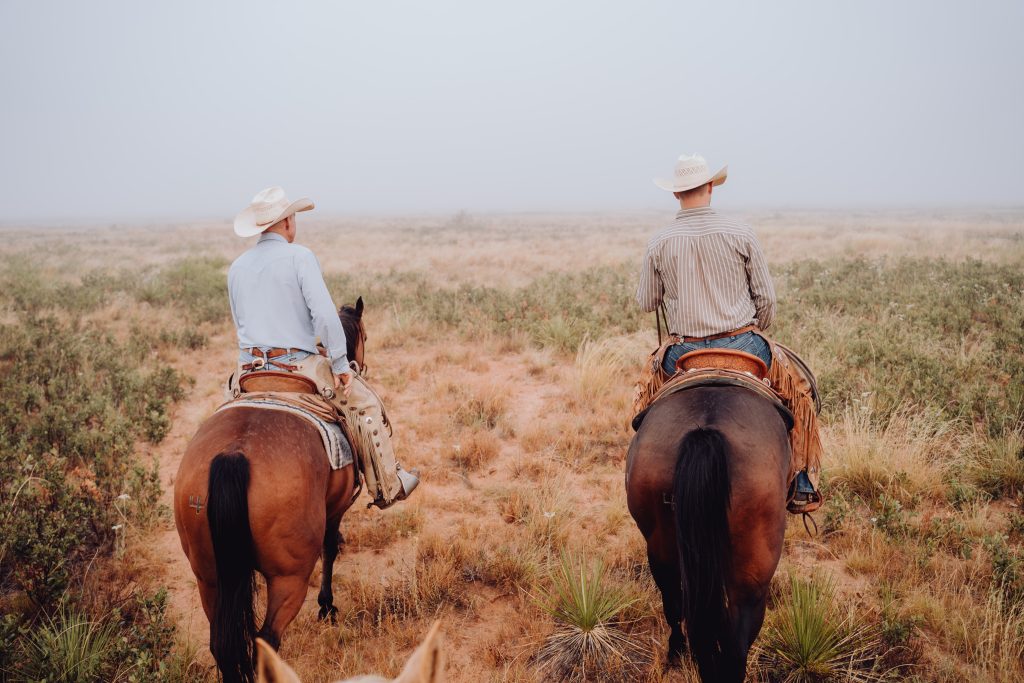 Some are small, family-owned businesses that give guests a more intimate experience. Others are like five-star resorts situated on a vast prairie or tucked in the mountains. Guests can book for a few nights or even a week or longer depending on the ranch.
Many dude ranches offer all-inclusive packages where your accommodation, meals, and some activities are included in your stay. However, the packages may not include some or all alcoholic beverages, certain activities, spa treatments, and other amenities. Depending on the ranch, the cost can vary from a few hundred dollars a night to thousands of dollars a week.
If you're ready to escape the hustle and bustle of city life, grab your boots and hat and saddle up for a real cowboy experience. Here are some of the top horse ranches in the U.S.
Darwin Ranch, Jackson, Wyoming
If you are looking to escape the city lights and sleep under the stars, then the Darwin Ranch outside of Jackson, Wyoming, just might be your place. Located three hours from the city, Darwin Ranch is one of the most remote dude ranches in the nation.
While here, not only can you expect delicious home-cooked meals, but you can also find a wide range of activities on the menu, such as hiking, fishing, horseback riding, and more. When you are done exploring for the day, relax in the hot tub or wood-fire sauna.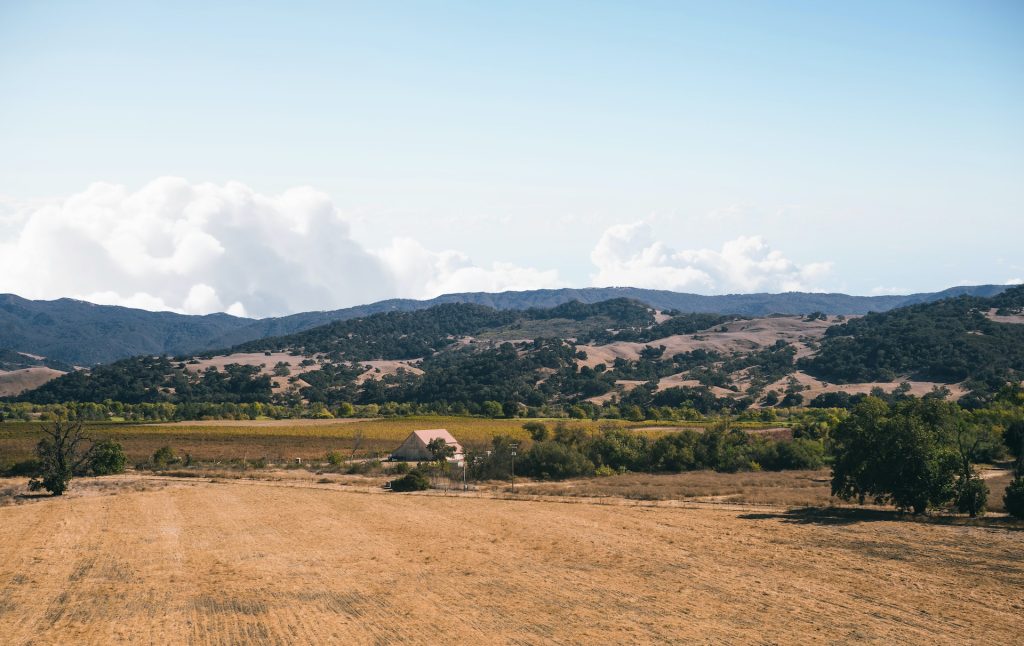 Alisal Ranch, Solvang, California
Alisal Ranch is a family-owned and operated guest ranch situated on 10,500 acres. While the land is expansive, guests will be blown away by the picture-perfect view of the Santa Ynez mountains. Don't be fooled by this horse ranch being family-owned because it is nothing less than luxurious, with 73 private western cottages ranging from studios to three-bedroom suites. 
There are many horse ranches to choose from, but if you want activities that will take your cowboy experience to the next level, then Alisal Ranch is your place. The ranch has 100 trained horses that beginners and experts can ride. You can do barrel racing, hay wagon rides, corral lessons, trail rides, and more.
Guests can also go to the 110-acre lake and enjoy activities such as fishing, kayaking, swimming, and canoeing. Most nightly rates are all-inclusive, with some activities costing an extra fee.
320 Guest Ranch, Gallatin Gateway, Montana
Nestled between Big Sky, Montana, and West Yellowstone, 320 Guest Ranch was once a historic homestead and is now a dude ranch. If you love fly fishing or want to learn how to do it, this is the perfect place, as the Gallatin River runs right through the property.
Guests looking to find their inner cowboy can ride with the on-site wranglers. These expert wranglers will take you on horseback trails ranging over 2,000 miles of property. Guests can choose to either do an hour ride or book a full-day trip that includes lunch by the lake.
Nightly rates here just include breakfast.With its close proximity to Yellowstone National Park, it is worth making the 320 Guest Ranch part of your vacation.
Vista Verde Ranch, Colorado
One of the best all-inclusive horse ranches for couples as well as families, Vista Verde offers guests an authentic ranch experience with a touch of luxury nestled in the Elk River Valley.
Hike in the Rocky Mountains, fish in any of the surrounding lakes, explore the area on skis or a snowmobile, or learn how to drive your very own dog sled. Newbie horseback riders can hone their skills through Vista Verde's year-round riding programs. Experienced riders can join the fall cattle round-up, which usually takes place during the last few weeks of August and into September. 
Several weeks out of the year are set aside for adults only, and this is one of the most romantic dude ranches around. Vista Verde's rustic log cabins offer luxe comfort. Delicious meals expertly paired with wine are served family-style, outdoors when the weather permits.
C Lazy U Ranch, Granby, Colorado
Situated in the Colorado Mountains 90 miles north of Denver, C Lazy U Ranch offers luxury stays year-round. The 8,500-acre property has over 200 horses, and both beginners and expert riders can enjoy the trails, 
Guests can also enjoy trap shooting, jeep tours, hikes, mountain biking, fly fishing, and even cattle pushing. Those looking to vacation in the winter will be excited to find out that this horse ranch also offers ice skating, ice hockey, sleigh rides, cross-country skiing, snowmobiling, snow tubing, and more.
Most activities and all meals are covered with the all-inclusive packages. If you are looking for a romantic getaway, C Lazy U Ranch also has adult-only packages.
The Hideout Lodge & Guest House, Shell, Wyoming
Located 68 miles east of Cody, Wyoming, in the Bighorn Mountains, the Hideout Lodge & Guest House is an all-inclusive horse ranch that combines luxury and Western charm. Even though it's on a whopping 650,000 acres with elevations ranging from 4,200 to 13,100 feet, guests can expect a more intimate experience.
Not only are the owners of the ranch hands-on, but they only host up to 25 people a week. Guests can choose to stay in log cabins or a luxury home with master suites. If you are interested in horsemanship, then you can experience clinics, retreats, stockmanship, cattle work, and more. The ranch has several trucks and trailers that can also take you to remote areas for horseback riding.
The all-inclusive rate includes accommodations, meals, cocktail hours, and some activities, including hiking, mountain biking, swimming, archery, and more. For honeymooners or those celebrating a special occasion, you can rent the entire ranch during the off-season.
Tanque Verde Ranch, Tuscon, Arizona
The Tanque Verde Ranch is situated on 60,000 acres of desert terrain near the Rincon Mountains near Tuscon, Arizona. With southwestern accents, this cattle ranch gives you an authentic cowboy experience.
The dude ranch borders the Saguaro National Park East, and guests can go for horseback rides in the deserts, hike in the mountains, fish, swim in the heated pool, or go for a walk on the grounds.
One of the cool things about Tanque Verde Ranch is the accommodations. No two rooms are the same, and guests can choose from studios, junior suites, and master suites. The rooms are spacious enough for couples or families to be comfortable.
Like other horse ranches on the list, Tanque Verde Ranch has all-inclusive packages. However, there are no weekly minimums, and guests can stay for two or three nights if they choose.
The Western Pleasure Guest Ranch, Sandpoint, Idaho
The Western Pleasure Guest Ranch has been in operation in Idaho's Panhandle since 1939. Depending on the time of the year, the activities vary, and guests can choose between lodge studios and log cabins.
For example, in the winter, you can expect sleigh rides, while in the spring and fall you can go horseback riding. There are also educational programs for young cowboys and cowgirls where they learn how to care for the animals.
Guests can book all-inclusive packages during the summer, including three meals a day, horseback rides, evening entertainment, and other activities. From October through May, guests can book bed-and-breakfast stays.
Bar W Guest Ranch, Whitefish, Montana
Located along Spencer Lake in Whitefish, Montana, Bar W Guest Ranch is a family-friendly horse ranch that hosts up to 60 guests per week. Unlike other guest ranches on the list, Bar W only offers 6-night stays.
However, the packages include meals, horseback riding, cattle working, horsemanship lessons, archery, hatchet throwing, and more. Guests can also go boating or fishing on the lake or hike throughout the property. For evening entertainment, there is dancing, campfire songs, and wagon rides.
Bar W Guest Ranch offers several packages depending on the time of the year. Guests can book summer packages from mid-June until the end of August, or adult-only trips from mid-May through the end of October.
For accommodations, guests can either stay in the ranch lodge that accommodates up to 29 people or log cabins. Luxury tents are also available if you want to try glamping during the months of May through October. The Bar W Guest Ranch is only 30 southwest of Glacier National Park, so if you get the chance, it's worth driving through it.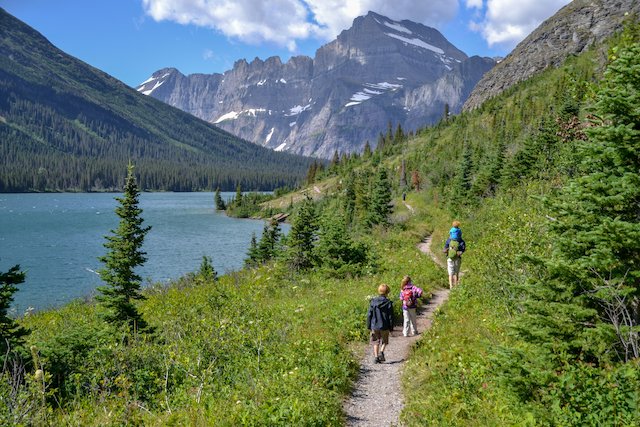 Rainbow Trout Ranch, Antonito, Colorado
Rainbow Trout Ranch is located 9,000 feet into the Colorado Rockies and offers an authentic western dude ranch experience. This family-owned and operated horse ranch offers six-night summer vacations with accommodations ranging from two or three-bedroom log cabins to the historical Grand Lodge.
There is no shortage of activities on the Rainbow Trout Ranch. Activities include full-day raft trips, fishing, trap shooting, hayrides, hiking, horseback riding, river cookouts, and more. The ranch also offers special programs for kids of all ages so they can learn more about the way of life on a working ranch. If that's not enough, guests can show what they learned at the end of the week by participating in the guest rodeo.
The all-inclusive rates are similar to other guest ranch packages and include all meals, on-site activities, and accommodations.
Why Do They Call It a Dude Ranch?
Today, the word "dude" doesn't mean what it used back in the old West days. In the late 1800s and early 1900s, cowboys would call city-dwellers a "dude." After a while, people from the cities saw these cattle ranches as a great way to escape the hustle and bustle of city life.
As more and more cattle ranches welcomed urbanites to stay, the tourism business grew, and the term "dude ranches" was born. In other words, a dude ranch is a vacation destination where tourists can experience Western activities and lifestyles.
No matter if you call them horse ranches, dude ranches, or guest ranches, they all offer a unique experience. Interested in booking a dude ranch vacation? We have articles that might help you plan your trip, including the 35 Best Dude Ranches in the U.S., 10 Best Dude Ranches in Texas for the Ultimate Backcountry Experience, 10 Best Colorado Dude Ranches, Top 15 Dude Ranches in California, and more.