A dude ranch vacation provides the chance to enjoy unspoiled nature with fun activities like horseback riding and campfires. It can help you unplug, leave behind the stress of everyday life, and reconnect with yourself and your loved ones. But there are so many dude ranches in the United States!
There are dude ranches across the country, in western states like California, Colorado, Wyoming, Montana, and Arizona; southern states like Texas; and eastern states like New York.
You might be wondering, how do you pick a dude ranch vacation? To help you decide, we've rounded up our picks for the 35 best dude ranches in the U.S. for families and for couples.
Vista Verde Ranch, Colorado
One of the best all-inclusive dude ranches for couples as well as families, Vista Verde offers guests an authentic ranch experience with a touch of luxury. Nestled in the Elk River Valley, the land was originally purchased in 1916 and began welcoming guests around 1974.
Come in the warmer seasons and take a hike in the Rocky Mountains or cast your rod in any of the lakes that surround Vista Verde. If you visit during the winter months, explore the area on skis or a snowmobile, or learn how to drive your very own dog sled.
Newbie horseback riders can hone their skills through Vista Verde's year-round riding programs. Experienced riders can join the fall cattle round-up, which usually takes place during the last few weeks of August and into September, although exact dates vary by season.
Vista Verde's rustic log cabins offer luxe comfort. All 12 cabins feature private outdoor hot tubs, fireplaces, cozy bedding, and stunning views of the ranch grounds. This is one of the most romantic Colorado dude ranches around.
Meals are served family-style, outdoors when the weather permits. Vista Verde employs a team of culinary geniuses to create delicious dishes expertly paired with the perfect wine. Home cooks might want to take a day off of ranching to partake in Vista Verde's cooking classes or wine tastings.
This all-inclusive Colorado dude ranch is closed a couple of times each year in the spring and winter due to weather. Families are welcome during the peak of summer and towards the end of winter, but several weeks out of the year are set aside for adults only. Vista Verde is the perfect place for couples and friend groups to enjoy some time away, or for the solo traveler to enjoy the peace and quiet.
Holland Peak Ranch, Montana
Holland Peak Ranch is arguably one of the most exclusive and best all-inclusive dude ranch resorts in the U.S. An "exclusive use" dude ranch, you will have the whole place to yourselves.
Set on a thousand acres of land, Holland Peak Ranch is known for its privacy, stunning views, and fine food. They also offer a variety of onsite activities, like horseback riding and cross-country skiing.
Whether you're looking to have a vacation free of other guests, rent it exclusively for your honeymoon, or have a private family getaway, this is the spot for you. Accommodations are ultra-luxe and consist of a main house and two separate cabins. Up to 14 people can stay here, making it one of the best dude ranches for families if you want to be able to focus just on each other.
Elkhorn Ranch, Arizona
Located 50 miles southwest of Tucson, Elkhorn Ranch is situated in the Baboquivari Mountains, in the heart of the Sonoran Desert. This traditional Tucson dude ranch has 20 guest cabins and welcomes solo travelers, families, and multi-generational groups for stays of a week or longer.
They have a variety of events throughout the year, with artists and musicians in residence, to allow you to combine your vacation with learning a new skill (in between hikes and horseback riding adventures, of course!).
Cabins are single, double, or family-sized, and furnished with a modern take on the Western vibe. This is one of the few Arizona dude ranches that cater to solo travelers, so if you're looking to get a taste of the wild west alone, Elkhorn Ranch could just be the place for you.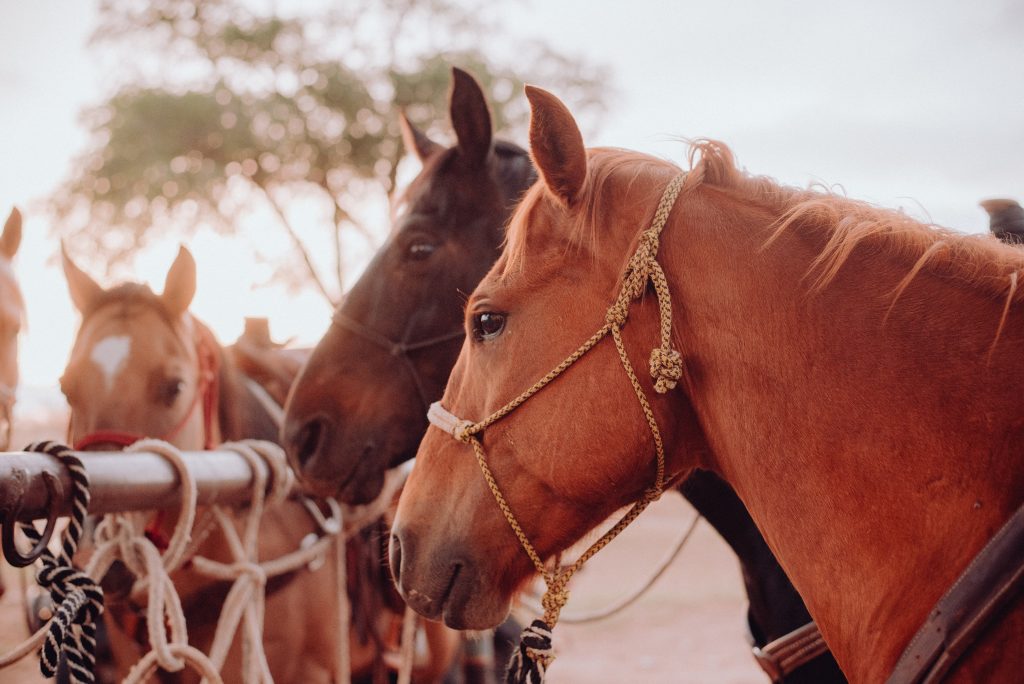 Triple J Wilderness Ranch, Montana
Triple J, also known as JJJ Wilderness Ranch, is one of the most popular dude ranches in Montana. They tend to book up well in advance, so if this one appeals to you, make sure you book early.
Located on the outskirts of Flathead National Forest and the Rocky Mountains, Triple J offers wonderful wilderness adventures tailored to each guest. They have a dedicated kids' program, adults-only weeks, and discounts for repeat visitors and non-riders.
You can choose from six beautiful and rustic log cabins, all with amenities such as toiletries, wood stoves, and a daily housekeeping service.
Drowsy Water Ranch, Colorado
This all-inclusive dude ranch sits on 700 acres of private property and houses more than 100 horses. One of the best dude ranches in U.S. for families, Drowsy Water Ranch features a carefully thought-out weekly schedule that includes white water rafting, zip lining, and kids' programs to guarantee that each guest get the most immersive experience possible.
Riding programs are highly customizable depending on the guests' skill level. Golf courses, ski hills, and bike trails are also easily accessible from the ranch. Nightly entertainment includes hayrides, teepee building, and country dances.
Home-cooked meals are hearty and served family-style, with several outdoor cookouts and mountain-top breakfasts scheduled throughout the week. Cozy cabins can easily accommodate solo travelers, couples, or large families. The main lodge provides plenty of opportunities to get to know other guests over a fresh cup of coffee or snuggle into a comfy chair with a good book.
The season typically runs from the end of May until the middle of September. Reservations can be made for 6 nights and 7 days only and include accommodation and meals. Special discounts are available at the start and end of the season. The last two weeks are set aside for adults only, when this becomes one of the best dude ranches for couples in the U.S.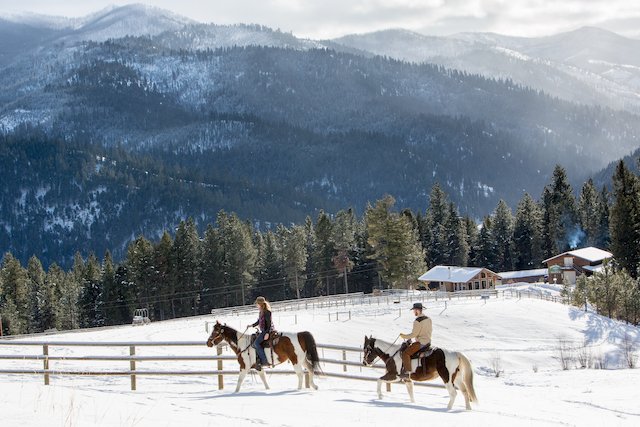 Triple Creek Ranch, Montana
Located in the heart of the stunning Bitterroot Mountain Range of the Montana Rockies, Triple Creek Ranch provides luxury all-inclusive dude ranch which you can customize.
From candle making and wine tasting to dog sledding and cattle drives, this Montana luxury dude ranch provides a wide range of activities to suit just about anyone. They also host events throughout the year such as artist workshops and vineyard visits.
Choose from a variety of cabins, suites, and homes, each decorated to combine luxury and a traditional ranch style. Outfitted with all the amenities you could ask for, some include indoor hot tubs and fireplaces.
Darwin Ranch, Wyoming
Inspired by the safari lodges of East Africa, Darwin Ranch provides the utmost hospitality to make your dude ranch vacation an unforgettable and luxurious experience. Located on the edge of the Bridger-Teton forest, the ranch offers farm-to-table meals, a stunning view of the Gros Ventre River, and a wood-fired hot tub to relax under the stars.
Hand-built cabins have been reconstructed from 100-year-old structures, preserving what's remaining of the area's original homestead. Each includes wood-burning stoves and private bathrooms. The Spruce Cabin is the most secluded and offers beautiful valley views from the porch.
During the day, head out on a hike or horseback ride. Guided rides range from hours to days long on expertly trained mustangs. The nearby river provides excellent fly fishing for Spotted Cutthroat Trout as well as Rocky Mountain Whitefish.
Darwin Ranch is open for the summer season for week-long stays. For adventurous holiday makers looking for a true wilderness getaway, a hike to Upper Camp Falls can be added on after your stay for 2 or 3 nights of glamping. Folks vacationing in the winter can enjoy the region's excellent skiing by booking an all-inclusive ski trip.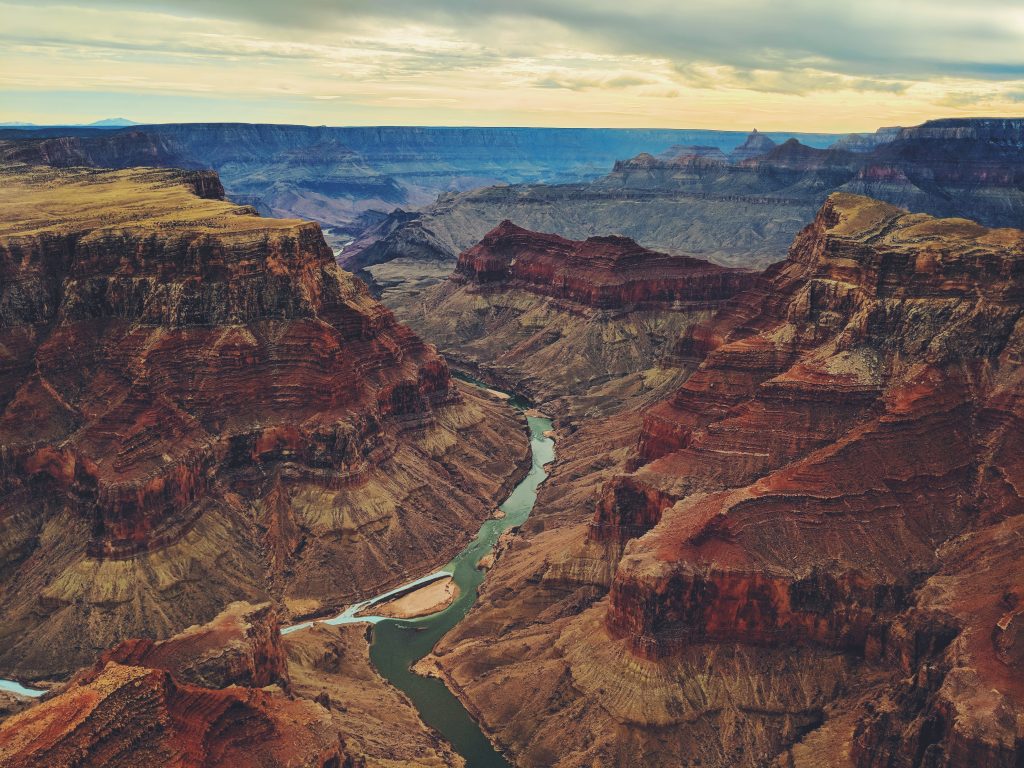 Bar 10 Ranch, Arizona
Bar 10 Ranch is situated in a picture-perfect location: on the north rim of the Grand Canyon! This location makes it the best Arizona dude ranch from which to explore the Grand Canyon on a horseback ride. Views from this resort are spectacular.
As with most ranches, there are a variety of activities on offer, though at this particular ranch, the majority of them are geared toward exploring the Grand Canyon. Here you can go hiking, river rafting, and skeet shooting, and even take a helicopter tour.
At Bar 10 Ranch the accommodation is a little different. Here you can expect a comfortable stay, but if it's luxury you're looking for, this might not be the one for you. Their lodging is made up of 5 dormitory-style rooms at the main lodge (perfect for solo travelers, groups of friends, or families) and 13 Conestoga-covered wagons, each with a double or queen-size mattress (making for a very cozy place for couples).
Deep Canyon Guest Ranch, Montana
Located near Rocky Mountain Front, Deep Canyon prides itself on offering a full range of outdoor activities, including wildlife viewing, birdwatching, fishing, and hiking. They also offer unlimited horseback riding, so this is one of the best Montana dude ranches for avid riders.
Accommodations are rustic yet still luxurious; they offer a range of log cabins, an A-Frame cabin, and a house for those traveling with a large family or a group of friends.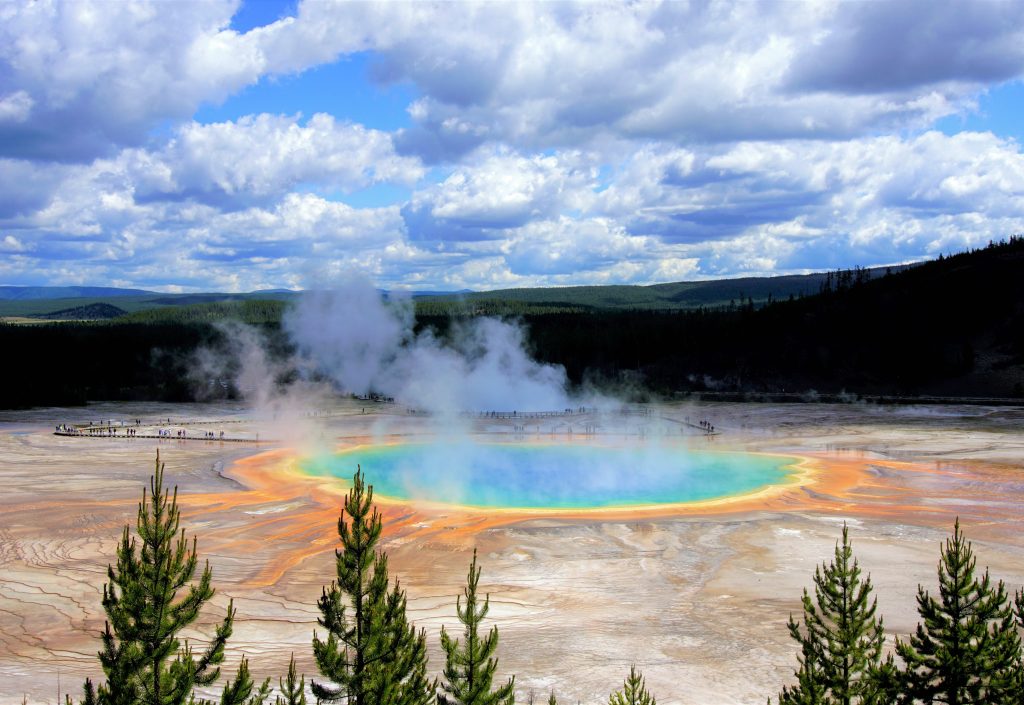 CM Ranch, Wyoming
Located in Dubois, Wyoming near Yellowstone National Park, CM Ranch provides its guests with an authentic Old West experience.
Twelve charming cabins built from hand-cut logs dot the property. Meals are served family style and feature traditional western favorites like prime rib, steak, and homemade bread.
Less than an hour from the ranch is the south entrance to Yellowstone National Park and its many geysers, making this one of the best dude ranches for families who want to visit the iconic park.
Hiking trails into the Fitzpatrick Wilderness are also easily accessible from the ranch. Onsite, the Jakey's Fork of the Wind River makes for superb fly-fishing. There are loads of other good locations including Torrey, Ring, and Trail lakes for brown, rainbow, and brook trout.
CM Ranch operates during the summer season only. Couples looking for a quieter time to get away can come during the last two weeks of the season, for an "adults-only" week. This makes CM Ranch another of the best dude ranches for couples.
A Bar A Ranch, Wyoming
A Bar A Ranch sits on nearly 100,000 acres of prime land in the Medicine Bow Mountains. Its location on the North Platte River provides excellent access to world-class fly fishing in nearby streams and lakes, not to mention numerous hiking and riding trails through the National Forest. Relaxing massages, a pool, tennis, golf, and river and shooting sports are also available.
Unlike some other dude ranches in Wyoming, A Bar A charges on a per-night basis, not per week. That means you can customize your dude ranch holiday for just the right amount of time. Experienced pilots can even fly into A Bar A Ranch.
For a fully immersive experience, book a 5-day Classic Expedition. Combine fishing, riding, hiking, and clay-shooting into one unforgettable experience. All-inclusive dude ranch packages include private cabins, daily activities led by experienced guides, a private chef, and a custom-made itinerary.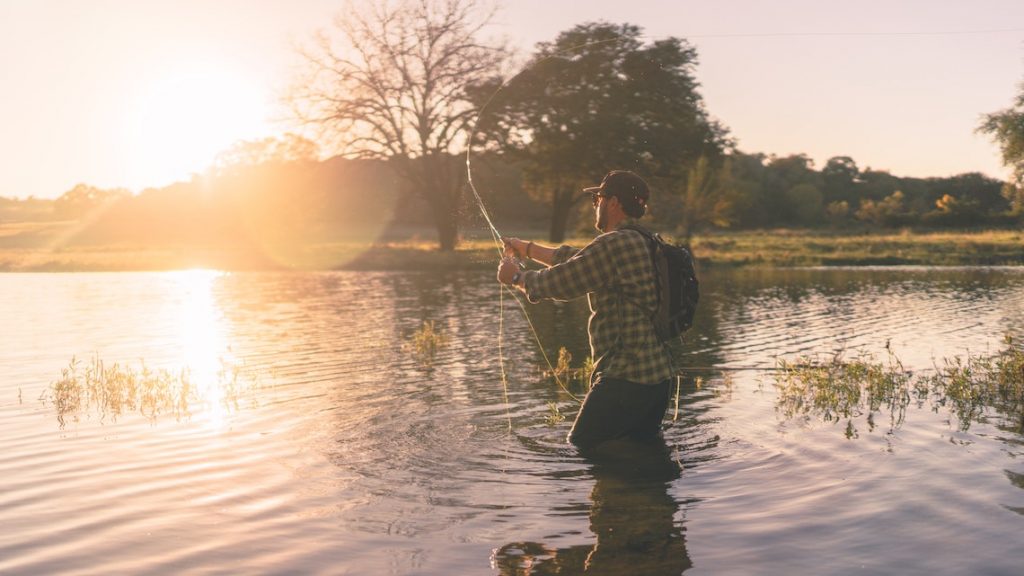 C Lazy U Ranch, Colorado
C Lazy U Ranch, named for the shape of nearby Willow Creek before it was dammed in the 1940s, actually began as two separate ranches early in the 1900s. It has been a working guest ranch since about 1925, and many of the original structures are still standing.
Crisp mountain air, rolling green pastures, and fresh spring water have kept guests coming back to this historic Colorado dude ranch for nearly a century. Available ranch activities include trap shooting, hiking, archery, fly fishing, and mountain biking.
This all-inclusive dude ranch also offers a variety of horseback riding and horsemanship programs to suit any ability. Wintertime visitors will enjoy cross-country skiing, sleigh rides, and outdoor hockey on the frozen pond.
The folks at C Lazy U can also help you organize the many off-site activities that Colorado is famous for. Downhill ski packages at the nearby ski resorts or white water rafting are a couple of seasonal options.
The ranch also features a spa, fitness center, heated pool and hot tub, games room, tennis courts, and a variety of other activities for guests to take part in. Get a feel of what ranch life is all about by tagging along on a feed drive or cattle-pushing excursion.
Cabins are spacious and quaint with features like stone fireplaces, pinewood beds with plush bedding, and patios for taking in the stunning scenery that surrounds the ranch. Seasonal menus combine fine and rustic dining to create a one-of-a-kind gourmet experience. Meals are expertly paired with world-class wines and beer.
C Lazy U ranch operates year-round and is divided into 5 seasons. A 2-night stay is a minimum requirement for most of the year, except for the summer, which requires a 7-night minimum stay.
Latigo Ranch, Colorado
This family-owned Colorado dude ranch is easily accessible from several cities and has been named one of the top 50 ranches in the whole world. Surrounded by mountains, Latigo Ranch offers endless ways to explore the terrain no matter the season.
Ranch staff can help you choose the right trail to suit your abilities and interests. If you want to learn more about riding and horse care, experienced wranglers can teach you horsemanship skills or how to work with cattle. Rides are scheduled twice daily, with a few time slots designated for family rides.
One of the best dude ranches in U.S. for families as well as couples, there are kids' programs to suit all ages available throughout the day so mom and dad can enjoy some adult-only time. Guests who want a day out of the saddle can head out with an experienced angler to nearby streams and rivers for some incredible fly fishing.
With typical snowfall of up to 200 inches, Latigo Ranch does not offer trail rides during the winter. Instead, guests can explore the surroundings via cross-country skis, fat bikes, or snow shoes.
Breakfast and lunch are served buffet or cookout style, and an impressive dinner menu has something for everyone, including expertly paired beer and wine. A simple kid's menu is also available for guests with smaller tummies.
Latigo Ranch's cozy log cabins include wood-burning stoves and are fully stocked with free sodas and homemade caramel corn. Guests can relax in their cabin during downtime or head to the main lodge to socialize over a game of foosball or ping pong, or relax in the hot tub.
Devil's Thumb Ranch Resort and Spa, Colorado
Located in Tabernash, Colorado, Devil's Thumb Ranch Resort and Spa combines a luxury getaway with authentic ranch life. The original homestead was built in the 1930s. It operated as a dairy until 1946, when the ranch started welcoming guests.
With over 70 horses housed at nearby Cabin Creek Stables, guests of all riding abilities can find the perfect companion for their horseback riding adventures. Half-day trail rides, pony rides for children, grooming lessons, and private riding lessons for adults are all offered at the stables.
Hiking is a Colorado staple and is amply available at Devil's Thumb. In addition to the spectacular year-round hiking at the ranch, the nearby Arapaho National Forest and Rocky Mountain National Park have plenty of trailheads to choose from.
Guest bookings come with admission to the interactive Headwaters River Journey. Other ranch activities include fly fishing, zip-lining, mountain biking, archery, and wagon rides. In the winter, take in the sights on a cross-country ski trail or hit the slopes at the nearby Winter Park Resort.
In between ranch activities, relax and recharge at the Ranch Creek Spa where a full menu of services is offered including packages and maternity treatments.
Guests can choose between 1, 2, and 4-bedroom cabins or book a room in the main lodge. Large parties can reserve the High Lonesome Lodge or either of the two large 4-bedroom guest houses located less than two miles from the main resort site.
Dig in at the two on-site restaurants or get your caffeine fix at the Hallowed Grounds Coffee Shop.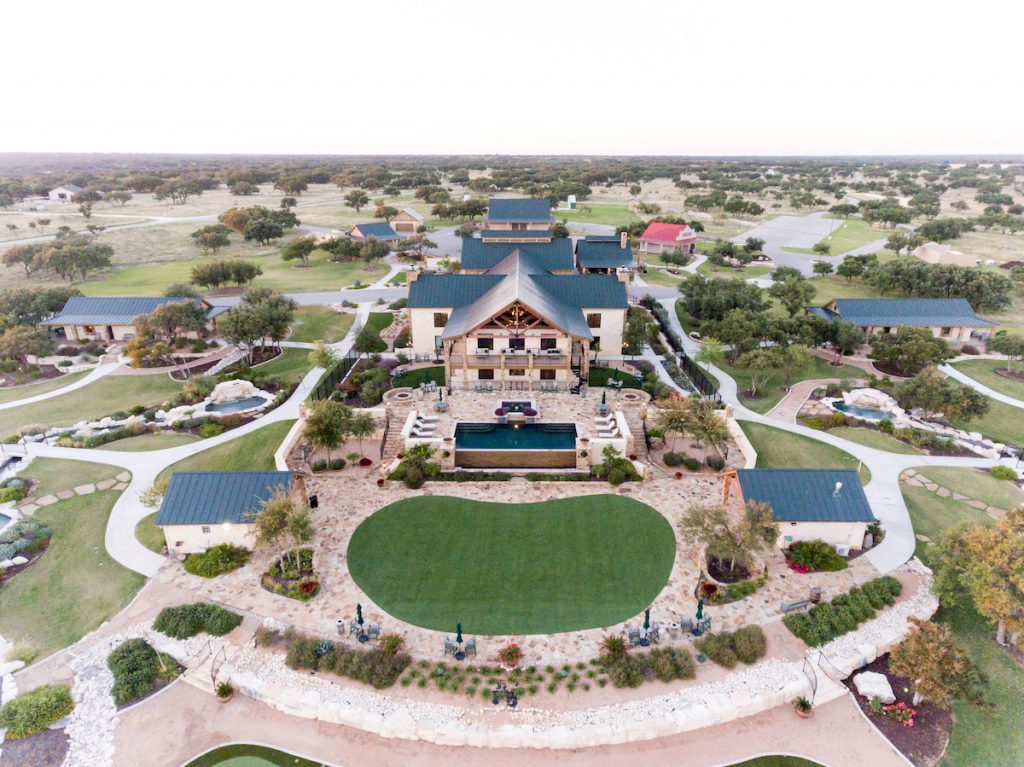 The JL Bar Ranch Resort and Spa, Texas
Nestled in the Texas Hill Country, The JL Bar Ranch Resort and Spa is a 13,000-acre Texas dude ranch that pampers its guests in a luxurious country atmosphere. The ranch even has its own airport and FBO.
The JL Ranch does not have a set itinerary. Guests can tailor-make their ranch getaway with plenty of exciting activities to choose from, including skeet shooting, biking, hiking, golfing, archery, star gazing, and a wide range of equestrian activities beyond just trail riding.
The ranch grounds have everything you could need, but a general store is fully stocked just in case they've missed anything. Come together during some downtime and partake in the available yard games or enjoy a spa day.
The restaurant features a seasonally rotating menu that highlights the best locally sourced in-season ingredients. Dishes can be expertly paired with the ranch's extensive wine selection. For an extra-special dining experience, couples will love a private dinner in the JL Bar's wine cellar. Wine, whiskey, and tequila tasting are also offered.
Finally, this amazing ranch features luxury accommodations in either a private cabin or expansive guest room, all of which have been outfitted with one-of-a-kind furniture and plush bedding. Because of all this, JL Bar is one of the best dude ranches for adults.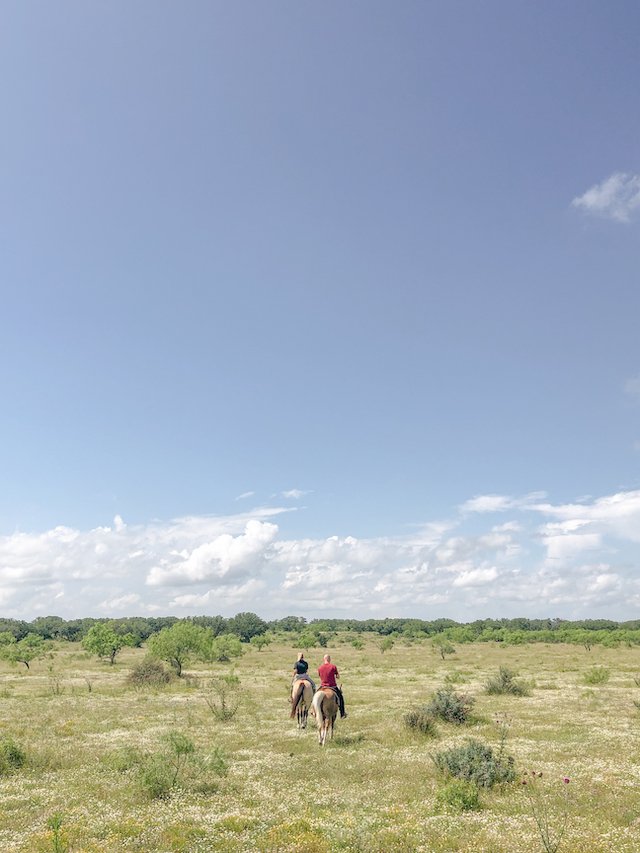 Canyon of the Ancients Guest Ranch, Texas
Right on the outskirts of Mesa Verde National Park lies the Canyon of the Ancients Guest Ranch, a sprawling property riddled with ancient archeological sites that any history buff will love exploring. One of the best dude ranches for couples, this family-owned dude ranch welcomes guests to lodge in any of their 5 cozy rental cabins, all of which have been uniquely designed with accents that reflect the Indigenous culture of the area.
Several tourist hotspots are easily accessible within 3 hours of Canyon of the Ancients, making this Colorado dude ranch the perfect base for exploring the Four Corners. Besides the typical ranch activities guests would expect such as horseback riding and hiking, visitors to Canyon of the Ancients can enjoy wine tastings thanks to the easy access to Sutcliffe Vineyards. There are also plenty of hot springs nearby to relax your tired muscles after a busy day.
Delicious farm-to-table meals are served daily. Fresh, organic produce and meat are available for purchase as well so you can take a piece of the ranch home with you.
Cozy, intimate, and far off the beaten path, Canyon of the Ancients Guest Ranch is the perfect choice for holidaymakers who are craving a taste of country life. Booking a 2-night minimum stay is required, but once you get there you may never want to leave. Luckily, long-term rentals are available as well.
Cibolo Creek Ranch, Texas
In the heart of west Texas at the base of the Chinati Mountains, you'll find a sprawling 30,000-acre country paradise offering guests a peaceful and luxurious getaway.
Cibolo Creek Ranch features its own airport, historical forts that double as accommodations, and an impressive collection of antiques, artifacts, and art in its museum. A wide range of activities are available both on and off-site including mountain tours, horseback riding, bird watching, shooting, and hunting. Fort Davis and Big Bend National Park are just a stone's throw away to satisfy the nature enthusiast and history buffs in your group.
Finally, 60-minute yoga and meditation sessions followed by a tea ceremony can be arranged for an additional cost, and massage therapy services are available on weekends. There is also a pool, media room, library, and fitness center for guests to use.
Refurbished forts can accommodate parties of up to 25. Singles, couples, and families will be comfortable in any of the ranch's cozy guest suites that include fireplaces and handwoven blankets and rugs.
Finally, Cibolo Creek's impressive dining menu combines local dishes with traditional Mexican cuisine and adds an upscale twist. Meals are served in a spacious dining room that provides stunning views of the rolling green hills that tumble down to meet the ranch.
Mayan Dude Ranch, Texas
Just outside of San Antonio, Texas, Mayan Dude Ranch welcomes guests with old-fashioned Southern hospitality as one of the best dude ranches for couples or families.
A typical day on the ranch starts with a trail ride or hayride followed by a hearty open-air breakfast. After you've had your fill, climb back in the saddle and keep exploring the sprawling ranch grounds. Alternatively, guests can enjoy breakfast in the dining room and take part in an afternoon trail ride.
After a leisurely lunch, spend the afternoon at the pool or riverside, enjoying a good book, playing games, or wandering around the ranch grounds appreciating the scenery. Golfers can head off-site to the nearby golf course, and anglers can cast a line in the stream.
Dinner time promises heaping plates of homemade Texas classics like ribs, biscuits, and plenty of sides to fill you up after a day of fun. Mexican night each Thursday offers authentic dishes served south of the border and fun pinatas for the kids to crack open. Nightly entertainment includes barn dances, bonfires, plays and musicals.
Cottages and lodges are simple and cozy and can accommodate families with one, two, or three bedrooms. All-inclusive vacation packages cover the cost of your room, trail rides, and 3 meals per day.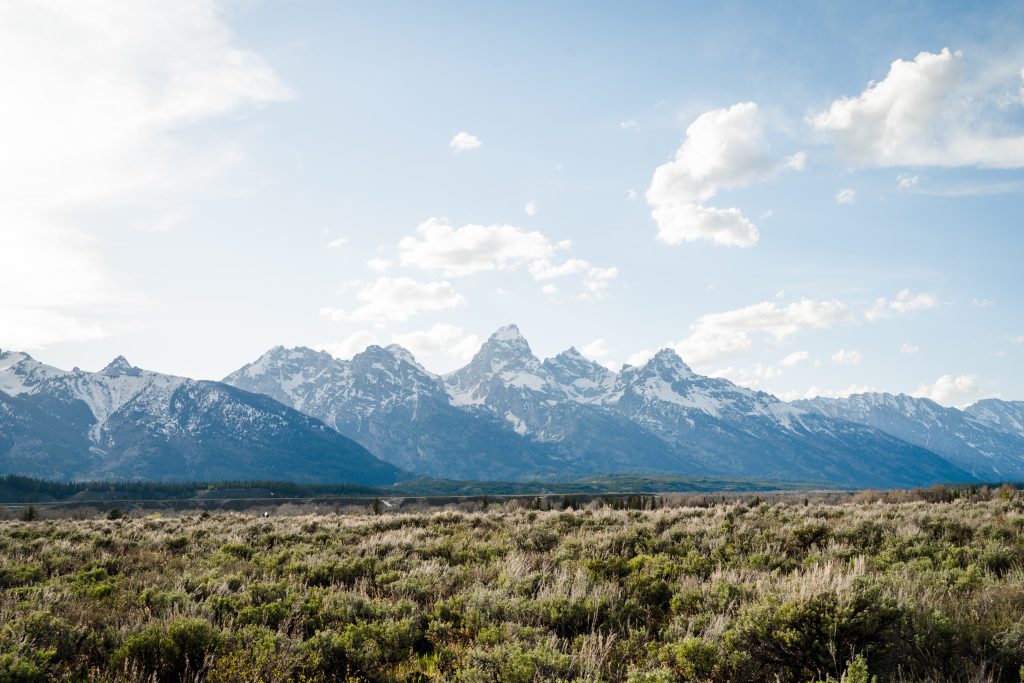 Lost Creek, Wyoming
Lost Creek has been snuggled into the valley of Jackson Hole for over 12 decades. Located near the Snake River Overlook, this Western paradise provides guests with a dramatic panorama of the Teton Mountains.
Fall asleep in cozy cabins after a long day breathing in the fresh country air. Ranch activities include daily horseback rides (with lessons if you need them), hayrides, guided hikes, scenic floats, and fishing trips.
In the main lodge, gourmet meals are made to order with fresh local ingredients like bison and trout. There are also dance nights with live country music. Soak in the outdoor hot tub surrounded by some of the most breathtaking scenery, including the sunset behind the valley.
Lazy L&B Ranch, Wyoming
This award-winning, family-owned ranch is roughly equal distance from both Grand Teton National Park and Yellowstone National Park, making it a perfect home base for exploring both in addition to ranch activities. It can accommodate up to 35 guests and offers a more intimate, personalized experience.
Lazy L&B Ranch hosts a horseback riding program for all abilities, as well as a rifle range; easy access to acres of forest for hiking, birdwatching, swimming, and fishing; nightly activities like square dancing; and more.
Couples will love their cozy log cabins with picturesque views right from the front porch. In the main lodge, warm up in front of the fireplace before tucking into a hearty 3-course dinner.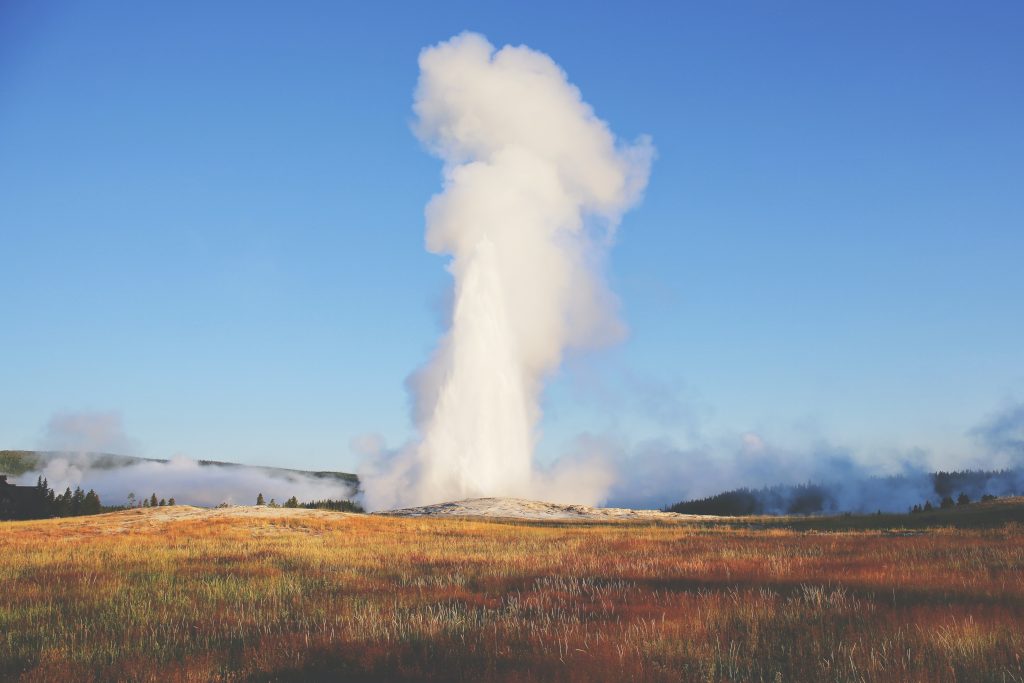 Red Rock Ranch, Wyoming
Located in the heart of the Bridger-Teton Wilderness and within driving distance of Yellowstone National Park and Grand Teton National Park, Red Rock Ranch has been a family-owned-and-operated dude ranch in Jackson Hole, Wyoming since 1974. Surrounded by rolling hills, its natural beauty sets the tone for an awesome dude ranch holiday.
Log cabins provide electric heating as well as a wood stove and a good night's sleep on comfortable beds. The Sioux and Navajo cabins are especially well-suited for couples and provide a stunning view of the mountains from the front porch.
In the main lodge, you'll find the dining room, and a library. A fire is lit in the lodge each morning before breakfast. Dining options include family-style buffet dining, camp cookouts, or gourmet plated dinners at the Red Rock Saloon.
Experienced and beginner horseback riders can take advantage of mountain trail rides through the ranges of the Grand Teton, Wind River, and Absaroka Mountains each morning and afternoon. Crystal Creek flows through the dude ranch, making for plentiful fly-fishing for cutthroat trout. There's also a pool onsite.
The dude ranch operates in the summer season, but private cabins can be booked for off-grid winter escapes during the off-season.
The Ranch at Rock Creek, Montana
If you're looking for a dude ranch that's less dude and more deluxe, then this luxury Montana dude ranch could be just what you're looking for.
One of the best dude ranches for couples, The Ranch at Rock Creek is a posh all-inclusive resort, making it the perfect place for spa getaways, weddings, and wine tasting retreats. Choose from a wide variety of activities such as horseback riding, ice skating, and archery, or just enjoy the relaxed and laid-back atmosphere at this luxury dude ranch in Montana.
At The Ranch at Rock Creek, you can stay in a glamping cabin, lodge, barn, or luxury home, all of which are beautifully designed and guaranteed to make you feel pampered.
Elkhorn Ranch, Montana
Elkhorn Ranch is a family-oriented dude ranch offering a traditional and authentic experience. This is one of the best dude ranches for families in Montana, as they focus on giving kids a confidence-building experience and cater to riders of all abilities. Nervous or first-time riders will be well taken care of here.
Accommodations are both rustic and cozy. There's no TV or WiFi, so you can spend quality time together as a family, without the typical distractions of the modern-day.
Hidden Hollow Hideaway Cattle & Guest Ranch, Montana
Hidden Hollow Hideaway is located near the Missouri River and is geared toward those looking for a traditional ranch experience. Activities here include horseback riding, hunting trips, wildlife watching, and historical adventures.
Accommodation consists of 3 cozy cabins, each with its own unique spin on Western-style décor. There is also a communal lodge where meals are served and you can relax in the living area.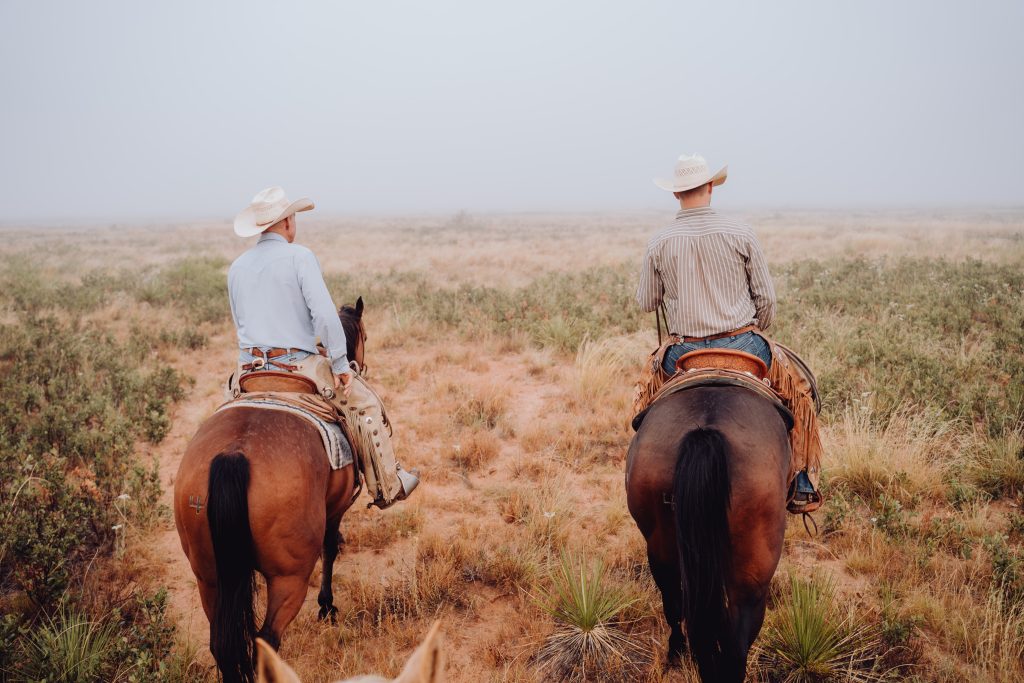 Rancho Cortez, Texas
Outside of San Antonio, Rancho Cortez welcomes guests to experience ranch life for as long as they like. This classic Texas dude ranch offers day visits, horseback riding lessons, summer camps, week-long stays, and even fitness programs.
Come for a half or full-day visit and enjoy a scenic horseback ride followed by a delicious meal plus more ranch activities like lasso-throwing, cattle feeding, and wagon rides. Afterwards, head to the pool or hot tub before ending the day around the campfire.
Week-long ranch stays are all-inclusive and follow a similar itinerary, and guests can stay anywhere from 2-6 nights or longer.
However, what sets Rancho Cortez apart from any other dude ranch in Texas is their unique cowboy wellness program. It is available year-round for a period of one or two weeks and helps guests get back in shape by completing obstacle courses, hikes, boot camps, and fitness classes held in their on-site gym.
Not only that, but folks who are serious about getting their fitness back on track can enroll in their 2-month ranch work program. Push your body to the limit by participating in ranch chores and fuel up with delicious homecooked, healthy meals.
With comfortable accommodations, amenities like a pool, hot tub, and spa, and acres upon acres of pristine Texas countryside, a visit to Rancho Cortez is more than just a holiday.
Rich's Montana Guest Ranch, Montana
Rich's Montana Guest Ranch prides itself on providing guests with a traditional dude ranch experience as well as a wide variety of outdoor adventures. Here you can experience everything from fly fishing to hunting to horseback riding to pack trips to snowmobiling.
This family-owned ranch hosts just 24 guests a week, allowing the staff to provide personalized service. All-inclusive dude ranch packages cover activities, accommodations, and all meals, as well as access to amenities like the onsite lake and hot tub.
Flathead Lake Lodge, Montana
Located on the shores of Flathead Lake in northwest Montana, Flathead Lake Lodge is another of the best dude ranches for families. It offers a beautiful selection of accommodations and an abundance of activities and amenities onsite. There aren't many dude ranches with a lakeside swimming pool!
Flathead Lake Lodge offers a welcoming atmosphere where they strive to make every guest feel like they're part of the family. Accommodations are rustic and beautifully decorated; choose from lodge rooms, cabins, and suites.
Hawley Mountain Guest Ranch, Montana
Located in a pristine wilderness just north of Yellowstone National Park, Hawley Mountain Guest Ranch offers stunning views and a serene atmosphere. Here you can go horseback riding, fly fishing, or mountain hiking; take trips on a Jeep or boat; and more.
Accommodations at this all-inclusive Montana dude ranch are cozy and comfortable, with a choice of rooms in the main lodge or separate cabins. The delicious, hearty food is served buffet-style, making it a great choice if you're traveling with picky eaters.
B&B Ranch, New York
B&B Ranch is a luxury New York dude ranch. With only five guest houses, it is known for privacy, stunning views, and fine dining experiences. They also offer a variety of onsite activities, like horseback riding and game hunting.
Whether you're looking to have a quiet, romantic vacation or rent it exclusively for a family reunion or company retreat here, B&B Ranch offers luxurious accommodations and great service.
This is another of the best dude ranches for adults, especially those who want a peaceful and upscale experience.
Sweet Grass Ranch, Montana
Situated in a picture-perfect wilderness, Sweet Grass Ranch is a family-owned sixth-generation working cattle farm. Being able to work with these cattle and direct them by horseback is one of the things that attracts many visitors to this ranch, as you'll get to experience feeling like a real cowboy.
They also offer the usual dude ranch activities like horseback riding, fishing, hiking, and campfires. You can choose to stay in a cabin, a yurt, or a comfortable room at the historic lodge.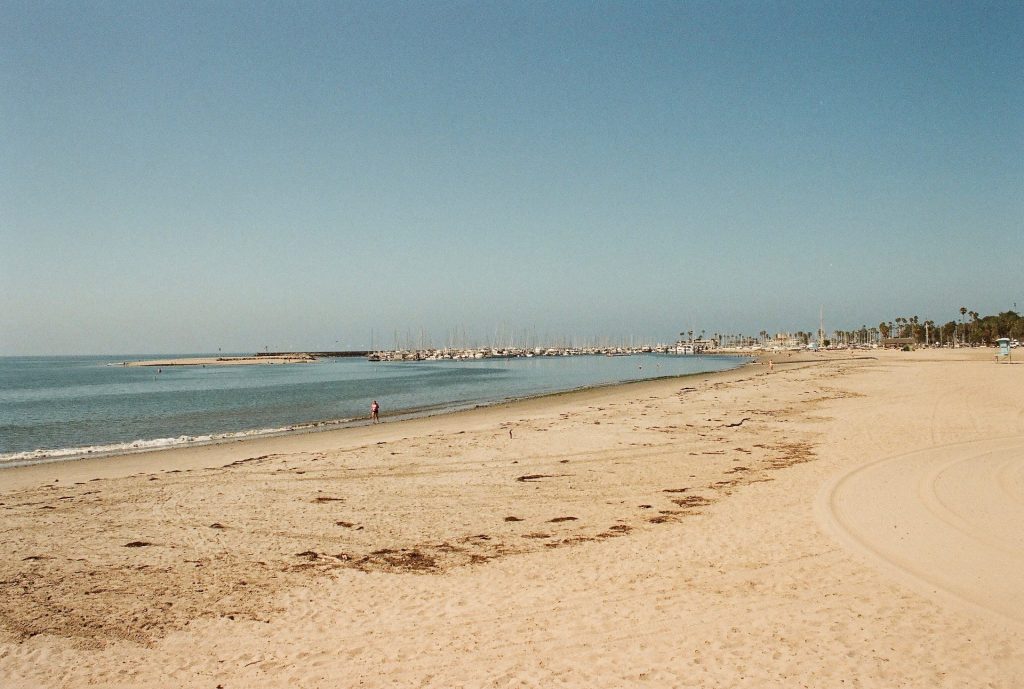 Circle Bar B Guest Ranch & Stables, California
Situated in Refugio Canyon, Santa Barbara, Circle Bar B Guest Ranch & Stables is the perfect place for horse lovers. Especially popular with those who like to live the ranch lifestyle, they cater to guests who bring their own horses.
For those who don't have their own horse, they also offer 1.5-hour rides, 2.5-hour rides, and half-day rides. Circle Bar B is also near the beach, making this a great place to experience beachfront rides.
This well-known California dude ranch has been pleasing visitors for more than 80 years. Accommodations include a variety of comfortable and rustic rooms, cabins, and homesteads.
Alisal Guest Ranch & Resort, California
Alisal Guest Ranch & Resort is luxurious and beautiful, offering a laid-back, restful vacation. Situated in Santa Ynez Valley, amongst the rolling hills of Santa Barbara wine country, this California dude ranch makes a great base for exploring the area.
Here you can do a huge variety of activities, from rifle shooting to rodeos and from wine tasting to washing hogs! Stay at one of their stunning modern cottages or homes; with some of the most tastefully rustic décor around, you'll feel more than at home in these gorgeous surroundings.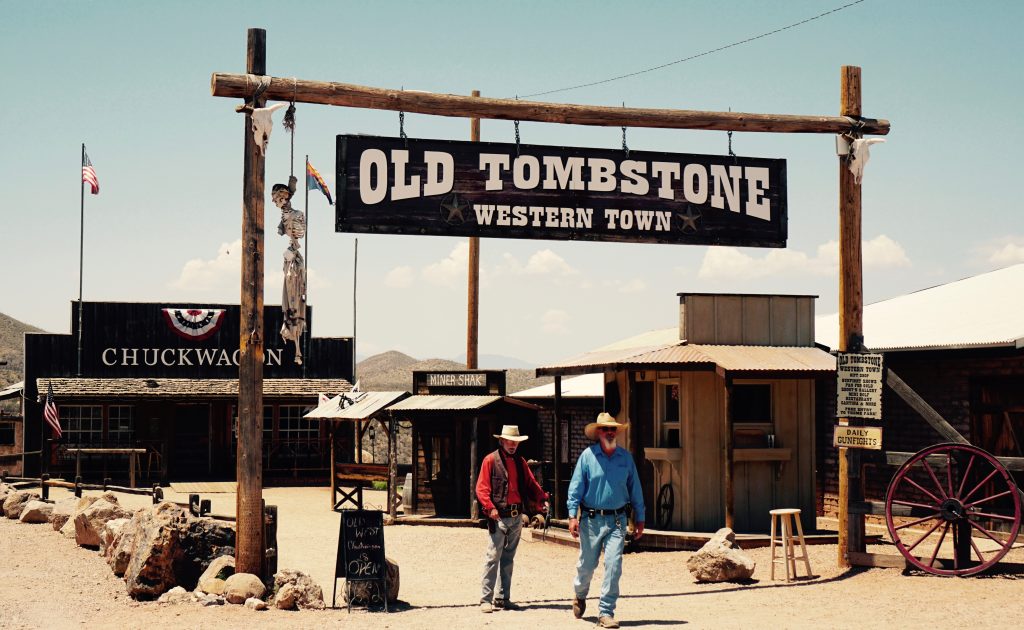 Tombstone Monument Ranch, Arizona
Tombstone Monument Ranch is a truly unique dude ranch in the Tucson area, located just two miles from historic Tombstone, Arizona. It is built to resemble an Old West town.
This working cattle ranch offers authentic experiences like cattle drives, horseback riding, and cookouts. You can also try shooting and archery, and there is a swimming pool onsite.
Classic Western accommodations line the street of the "town" and range from standard rooms to premium suites. Spend evenings in the saloon, where you can play cards and enjoy live entertainment.
White Stallion Ranch, Arizona
If a traditional ranch experience is your thing, look no further than White Stallion Ranch. At this dude ranch in Tucson, you can go horseback riding, rock climbing, or shooting at their on-site range.
White Stallion Ranch is easy to get to, conveniently located between Tucson and Phoenix, just 35 minutes from the Tucson airport.
They have 43 guest rooms, all decorated in a rustic, Western theme. If you're traveling with a larger group, you can also stay at the Hacienda, a lovely four-bedroom, three-bathroom home. This makes White Stallion another of the best dude ranches for families.
All meals, snacks, and drinks are provided, and food is cooked on-site with fresh ingredients from home-style recipes.
Stagecoach Trails Guest Ranch, Arizona
Stagecoach Trails is an all-inclusive dude ranch in a secluded wilderness, 2 hours south of Las Vegas, Nevada, and 2 hours away from the Grand Canyon's West Rim.
Here, they offer wonderful activities tailored to a variety of guests. With campfire evenings, a shooting range, two horseback rides a day, and plenty more to choose from, Stagecoach Trails has something for everyone.
Accommodations have the feel of an old Western movie and offer plenty of comfort. Choose to stay in the Mojave and Rawhide buildings, in one of the suites, or even in the Pioneer Wagon.
Circle Z Ranch, Arizona
Situated just an hour south of Tucson, Circle Z Ranch prides itself on providing a traditional ranch experience for the whole family to enjoy. They have a huge variety of activities, including horseback riding, campfire nights, and cocktail hour, as well as separate kids' activities to keep the whole family entertained. (This makes it one of the best dude ranches for adults as well!)
Circle Z strives to create the perfect family ranch vacation. With a variety of standard and adjoining rooms, suites, and cottages, there's plenty of space for everyone. Circle Z is well known for offering amazing food at its buffet-style meals and old-fashioned cookouts, held three times per week.
Ridin Hy Ranch Resort, New York
Ridin Hy Ranch Resort is one of the most fun, family-friendly dude ranches in New York. This makes it another of the best dude ranches for families, especially those who live on the East Coast.
Operating since 1940, with three generations of experience, it is known for offering exceptional care and service. An all-inclusive dude ranch set in Adirondack State Park on Lake Sherman, it features beautiful scenery and nearly 700 miles of riding trails.
At Ridin Hy, you can find all sorts of onsite activities, like horseback riding, boating, fishing, and waterskiiing. There's also a gym and a heated indoor pool. Accommodations consist of a variety of homey cabins, some of which have outdoor space and views of the lake. There's also a 5-bedroom house.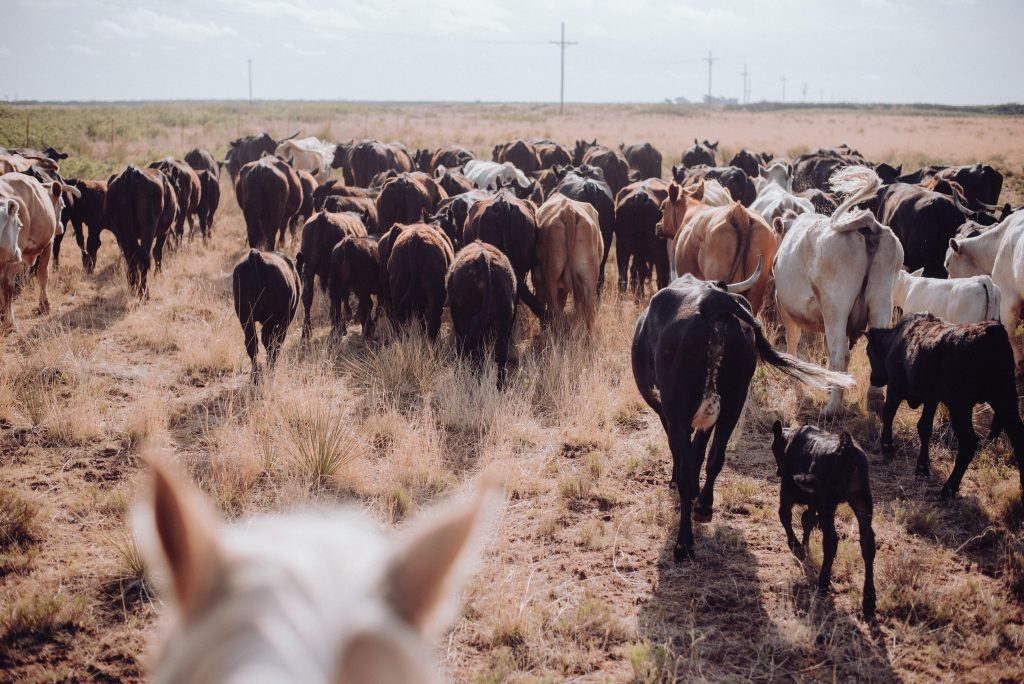 Dude Ranch FAQ
What is a dude ranch?
A dude ranch is a working cattle ranch that welcomes guests, or a resort that offers a ranch-style setting and activities. Usually located on a large plot of land, they are most prominent in the western and southern United States, but can be found throughout the country–even in New York. Usually, guests spend at least a week on a dude ranch. In fact, most dude ranches require a minimum 6-night booking.
Some dude ranches encourage their guests to participate in ranch chores like feeding, branding, and cattle driving to get a fully immersive experience. Horseback riding is the most popular activity on dude ranches, and all-inclusive dude ranch packages usually include several rides.
Other activities may include fishing, hiking, and off-site activities that the area offers like skiing or exploring a national park. Luxury dude ranches often include extra amenities like spas, stores, pools, and outdoor hot tubs.
How much does a dude ranch vacation cost?
A dude ranch vacation cost will range depending on the type of ranch you choose, the length of your stay, and what time of year you go. Most dude ranches are all-inclusive, meaning that one fee covers accommodations, meals, and activities.
What time of year is best for dude ranch vacations?
The best time of year for dude ranch vacations depends on where your dude ranch is located. In states with cold winters, late spring to early fall is the best time to visit a dude ranch. Summer tends to be the most popular time for family dude ranch vacations.
Some dude ranches operate through the winter, depending on the climate, although typical ranch activities like pack trips may not be possible then. However, you may be able to enjoy winter-specific activities like snowmobiling, sleigh rides, and cross-country skiing.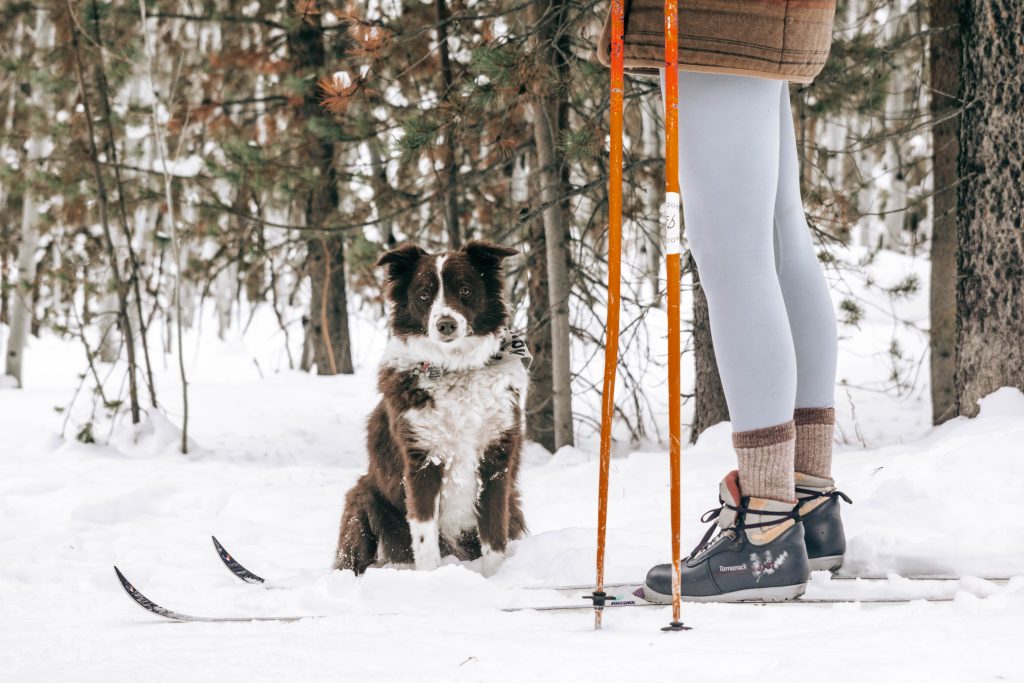 What should I pack for a dude ranch?
What you pack for your dude ranch vacation will depend on the location of the ranch and the season you're visiting. In the summer, pack comfortable clothes that you can layer and that are suited for warm weather and sunshine, although long pants and sleeves are ideal to keep bugs away and avoid sunburn.
Even in summer, evenings might get chilly so bring outer layers made of fleece or wool. It's also a good idea to pack plenty of socks and a pair of hiking boots, a wide-brimmed hat for sun protection, and a raincoat.
In the fall, spring, or winter, bring clothes for cold weather, including gloves, hats, and scarves. No matter when you visit, think about the activities you'll be doing and bring the appropriate clothing–for example, boots for hiking, jeans for horseback riding, ski clothes, a swimsuit, etc.
Now that you've read our list of the 35 best dude ranches in the U.S., what do you think? Will you book a vacation at one of them? Let us know in the comments!